Lean budgets, thin children
Prevention and timely treatment of childhood diseases are important in fighting wasting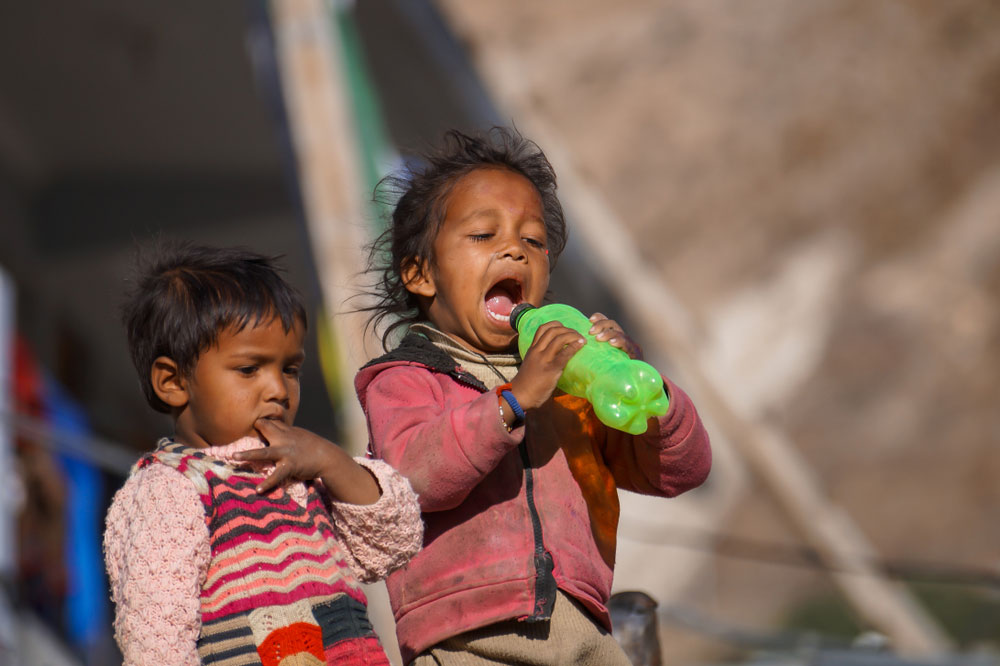 The factors causing undernutrition among children are interlinked. Wasting is the result of inadequate diet and diseases. In spite of shouldering a high burden of wasted children, Bengal has failed to invest in supportive interventions to combat the problem.
(Shutterstock)
---
Published 03.12.19, 08:32 PM
|
---
The Comprehensive National Nutrition Survey was recently released by the ministry of health and family welfare. While the progress in reducing stunting (short stature or low height-for-age) is encouraging (34.7 per cent in 2016-18 from 48 per cent in 2005-06), the prevalence of wasting (low weight for height) continues to be worrisome. As many as 193 lakh children in the country are wasted, of which about 6.6 per cent live in West Bengal. Every fifth child in the state is thin for his/her height. Wasting is more severe in districts in the southwest, with prevalence levels as high as 34.6 per cent in Purulia. There are a range of interventions which, if implemented well, can address the problem in the state. These include behavioural change communication for improving breastfeeding practices, provision of supplementary nutrition, micronutrient supplementation to children and pregnant and lactating women, and the provision of potable water as well as a hygienic environment. But these investments remain isolated and inadequate in Bengal.
Unlike stunting, which results from long-term deprivation of nutrition, wasting is an outcome of a sudden reduction in food intake and/or illness (such as diarrhoea) among children. Wasting, in turn, causes loss of appetite and increased susceptibility to infection, thus trapping the child in an infection-malnutrition cycle. Studies have shown that infants below 24 months are more vulnerable to wasting as the demand for nutrients is high and they are prone to infectious diseases. If left untreated, severe wasting can be fatal for children.
Wasting is reversible only if addressed in the critical period of the first two years in a child's life. An important intervention is the provision of nutrient-dense food to pregnant women and children. Through a vast network of anganwadi centres, the government provides supplementary nutrition to children below six and to P&L women. The allocation for the supplementary nutrition programme, which is part of a larger programme for children — the Integrated Child Development Services — by the state was about Rs 1,235 crore in the fiscal year, 2019-20. But this amount is not sufficient to provide the SNP meal as per the existing number of registered beneficiaries and the prevalent unit costs per beneficiary per day specified by the Government of India. There also exist gaps in the total number of anganwadi centres functioning for the implementation of the ICDS: 4,163 anganwadi centres are not operational against a sanctioned number of 1.19 lakh. The implementation is doubly hit owing to vacancies among ICDS functionaries — 66 per cent for supervisors, 10 per cent for anganwadi workers and 15 per cent for helpers.
Further, exclusive breastfeeding remains low at 47.5 per cent in Bengal, and less than half the children are breastfed within an hour of birth. For 48 per cent of infants, introduction of complementary food (between 6 and 23 months of age) is also not timely. Only a fifth received adequate diet during this crucial period. Counselling by ASHAs and AWWs for the promotion of breastfeeding and complementary feeding is critical for positive behaviour change. Yet, investments in this intervention are minimal. Less than three crore was approved for reaching out to caregivers of more than 70 lakh children of the state.
Prevention and timely treatment of childhood diseases are important in fighting wasting. Micronutrient supplementation, which is necessary to prevent child mortality and to ensure optimal growth, has received attention from the state government. As per the CNNS, almost 68 per cent of Bengal's children received Vitamin A supplements compared to 31.7 per cent in 2005-06. The rates of folic acid supplementation and full immunization have also shown improvement. The state allocated Rs 2.8 crore for Vitamin A supplements, Rs 3.8 crore for treatment of diarrhoea and Rs 11 crore for IFA supplementation for 2019-20. However, as per the government's programme implementation plan report, the funds for IFA supplementation were enough to reach only 21 per cent of the targeted population. No funds were allocated for providing iron supplements to P&L women or for deworming women and children.
Nutrition Resource Centres have been established as treatment of severe acute malnutrition children is critical. About Rs 12 crore was allocated for these centres in 2019-20 to cover approximately 274 lakh SAM children. The budgets are extremely low to provide stipulated treatment and dietary therapy to SAM children along with required investments in infrastructure and human resources.
Unsafe water, inadequate sanitation and insufficient hygiene remain leading causes of childhood diseases. More than 25 per cent of the state population defecates in the open, and only half of the households have access to improved drinking water at home. The spending on drinking water supply programme was about Rs 1,674 crore in 2019-20 and Rs 1,643 crore for the Swachh Bharat campaign. Together, they constitute only about 1.5 per cent of Bengal's total budget.
The factors causing undernutrition among children are interlinked. Wasting is the result of inadequate diet and diseases. In spite of shouldering a high burden of wasted children, Bengal has failed to invest in supportive interventions to combat the problem. A part of the problem lies in its failure to have an integrated vision for a range of interventions and not allocating enough funds for these.