Optics are as important as keeping the country safe
Opposition prioritises sensitivity over politics, while ruling party leaders have other pressing concerns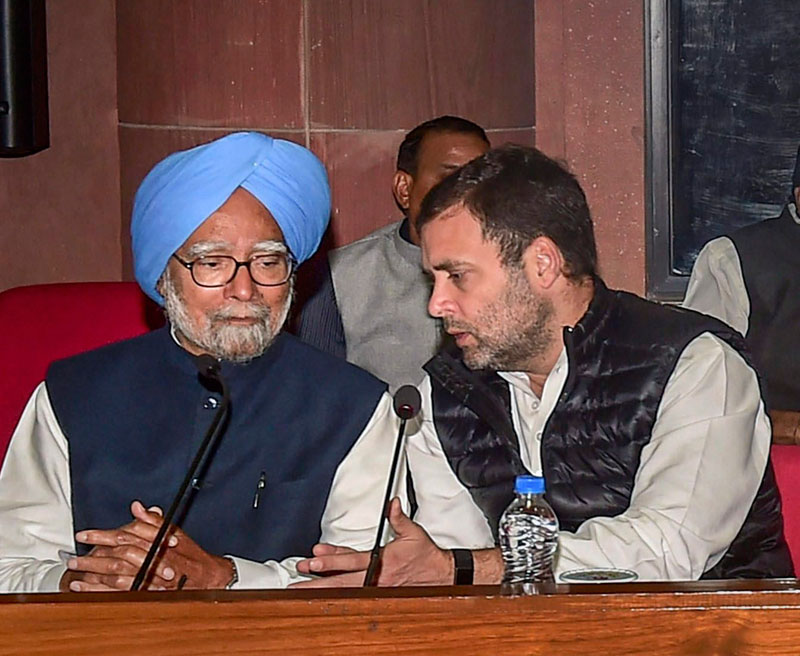 Former prime minister Manmohan Singh and Congress president Rahul Gandhi at the Opposition parties' meeting in New Delhi on Wednesday, February 27.
(PTI)
---
Published 01.03.19, 03:14 AM
|
---
A national crisis demands its own code of ethics. The Opposition seems to be mindful of such an imperative. Given the solemnity of the hour, a low-level conflict waging at the border in which an Indian pilot had been taken as a prisoner of war by Pakistan, the Congress president took a principled stand when he cancelled not only a meeting of the Congress Working Committee but also an impressive public rally that was to follow later. By deciding to prioritize sensitivity over politics, Rahul Gandhi has shown, once again, that he has his heart in the right place. Other members of the Opposition have expressly pledged their solidarity with the army. Leaders of 21 parties lauded the courage of the armed forces that carried out the 'pre-emptive strike' on a facility harbouring militants across the border. Surprisingly, those who lead the party in power that claims to have a monopoly on patriotism seem to have rather pressing engagements. The prime minister has found the time to address public rallies; he spoke at an event touted as the 'biggest video conference in the world'. He also launched a mobile application on the day airplanes from Pakistan violated Indian airspace. Neither did Narendra Modi think twice about going on a foreign tour — the Seoul Peace Prize was awaiting him — a few days after the shocking attack on Indian soldiers in Pulwama. Perhaps optics are as important as keeping the nation safe.
Mr Modi's colleagues are busy too, heating the electoral pot. B.S. Yeddyurappa, the former chief minister of Karnataka, has proclaimed that the air strikes launched by India would help the Bharatiya Janata Party win a large number of seats in the general elections that are imminent. Mr Yeddyurappa's eagerness to politicize a valiant act undertaken by the army to secure the nation seems to have shamed even one of his colleagues — a former army chief — who has spoken out against the remark. The censure may have something to do with the outrage that has met Mr Yeddyurappa's statement. The Opposition has accused the BJP of milking a crisis; public opinion on Mr Yeddyurappa's insensitivity is likely to be adverse as well. Taken together, the conduct of the leaders of the Opposition and those in power offers a study in contrast. Mr Gandhi and his peers have been earnest in upholding the dignity of soldiers at a critical time, while it appears to be business as usual for their principal rival.