The goddess returns
Durga Puja unites Bengal in the truest sense. But why is this amity seasonal?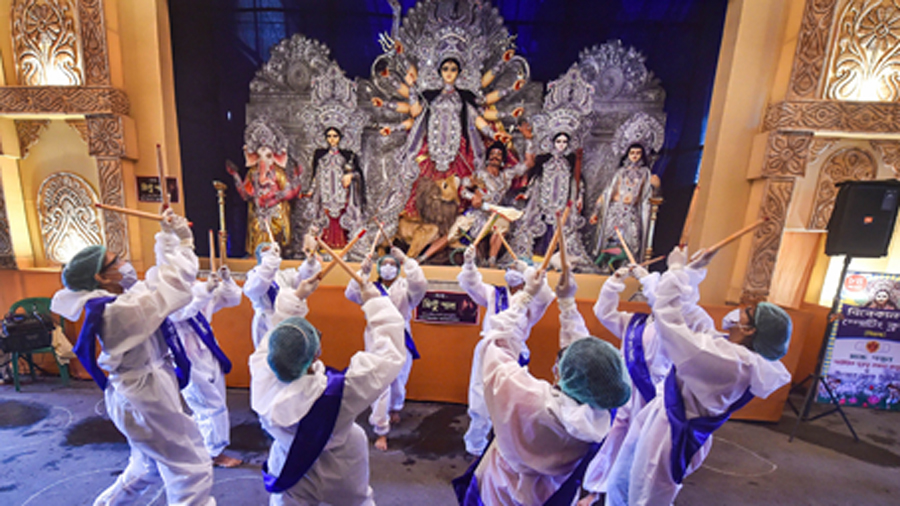 ---
---
India, to the wide-eyed visitor, could, for very good reasons, look like the land of ceaseless festivals. One such festival — the argumentative Bengali believes it to be the fairest of them all — has now graced this part of India. What makes Durga Puja truly unique is its ability to make a diverse set of forces — the religious and the secular, spiritualism and materialism, the community and the individual — coexist peacefully in a fascinating potpourri for a while. Where else but in autumnal Bengal can one see people engage in conspicuous consumption — even a virulent virus did not quite deter the Puja shopper — as well as unprecedented acts of humanitarianism? Several philanthropic entities lend a helping hand to the needy this time every year and the Year of the Pandemic has not been an exception. Where else but in Bengal would one see the committed, year-long atheist bow his/her head in reverence in front of a magnificent idol of the goddess in a poignant moment that fuses faith and temporality? The devi does make Bengal work in mysterious ways.
Even Karl Marx, that original revolutionary, would have been mystified by this melting pot of contradictions. His followers had attempted to teach Bengal for over three decades that religion is the opium of the masses. Yet, Durga Puja continues to be an occasion that heightens public awareness of prevailing human conditions. Art and craft are central to this periodic emancipation. This year, some of the dominant social themes — these are the central motifs in the architecture of pandals — include the suffering of the constituency of migrant workers who lost their livelihood and, on some occasions, their lives on account of an uncaring government and its hastily imposed lockdown; elsewhere, Durga is seen exterminating the coronasur. Had it not been for Durga, the average Bengali could have remained afflicted with the frog-in-the-well syndrome eternally, thereby remaining oblivious to the suffering of others. The artisans, the men and women who breathe life into these novel ideas with the help of clay, cloth, bamboo and even lights, have suffered immensely this year with their businesses adversely affected by low-key celebrations. But saviours — human and divine — have come calling. There have been reports of several crowd-funding initiatives to raise money for them.
Unfortunately, the change of heart that is brought about by the turn of season remains as ephemeral as the autumn light. Darkness returns with the devi's departure as people return to their insular, toxic shells. There is legitimate concern that the political virus — Bengal goes to the polls next year — could snuff out the dimming flame of fraternity and communal harmony. The challenge, therefore, would be to retain the spirit of amity across all seasons. If Bengal can show India the way of achieving this rare feat, it would be the best way of honouring the goddess.