Bhubaneswar's Mo Bus to head for Cuttack
Notification for Puri put on hold as jurisdiction overlaps with Bhubaneswar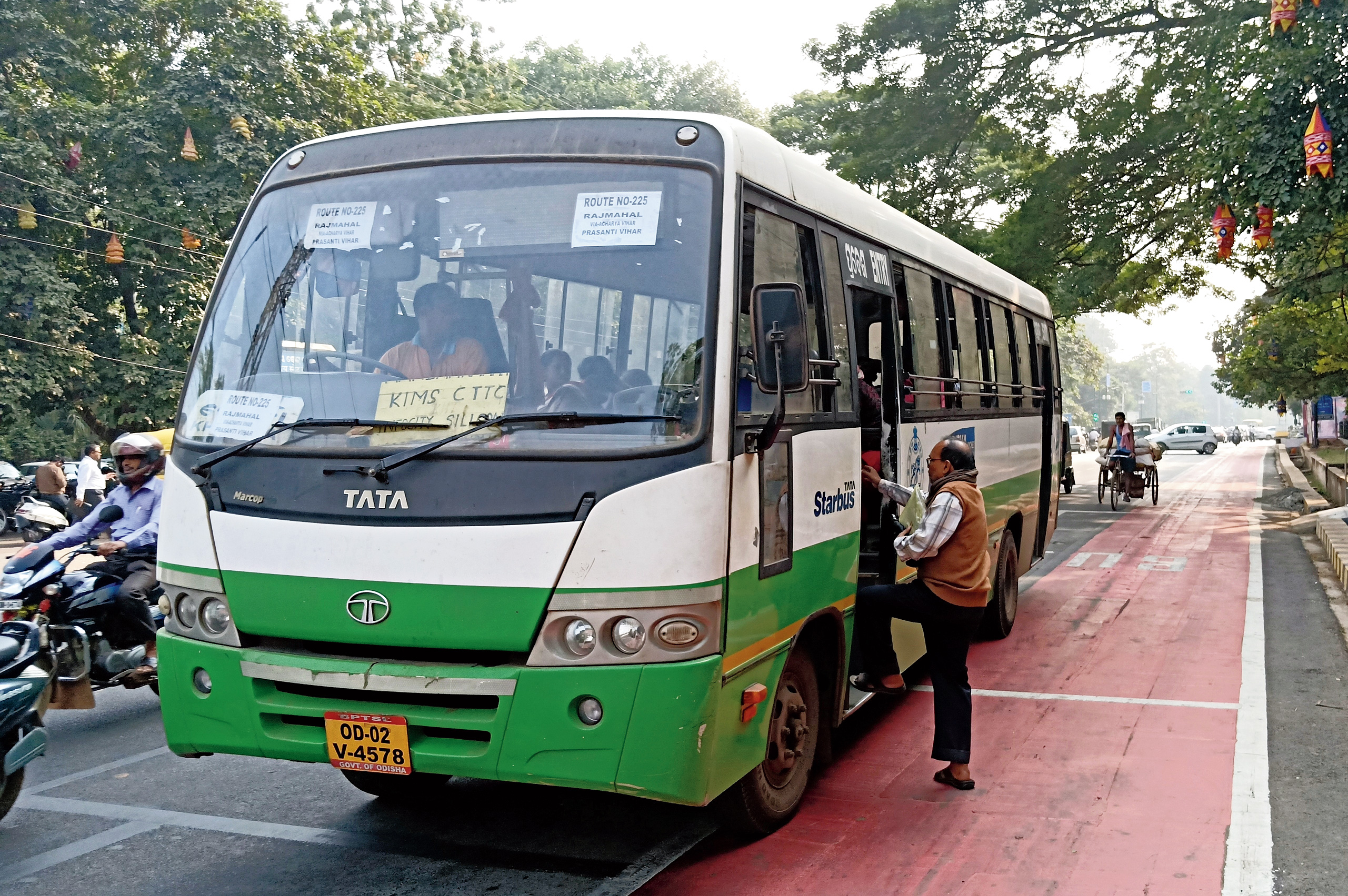 A city bus plies near Rabindra Mandap in Bhubaneswar.
Ashwinee Pati
---
Bhubaneswar
|
Published 05.12.18, 07:08 PM
|
---
Capital Region Urban Transport (Crut) is all set to extend the recently launched Mo Bus service to neighbouring Cuttack with the commerce and transport department issuing the final notification for the Cuttack urban transport area.
The transport department issued the notification for the transport area on Tuesday and included the district's 156 revenue villages that the city bus service will connect.
The Crut had submitted the proposal to the state transport department on November 16.
"After receiving the proposal, experts of the department scrutinised it before issuing the notification for Cuttack Urban Transport Area.
Crut will now extend the city bus service to the 156 revenue villages of Cuttack, which include the city and other parts," said a department official.
However, problems arose for notifying the transport area for Puri as transport department feels that several areas of the pilgrim district fell under the jurisdiction of Bhubaneswar Development Authority (BDA).
"The areas coming under the BDA will be included in the Bhubaneswar Urban Transport Area," he said.
Though the Crut had submitted proposals for the two cities on the same day, the overlapping of jurisdiction has put on hold the notification for Puri.
"Crut had submitted the proposal for Puri to extend the bus services to 238 revenue villages. But 109 of these revenue villages fell in the jurisdiction of the BDA, while the rest is part of the Puri-Konark Development Authority. It is not feasible to notify the area in such situation," said the official.
The erstwhile Bhubaneswar-Puri Transport Services Limited has been restructured to Crut for extension of a revamped city bus service to Cuttack, Puri, Konark and Bhubaneswar. It was planned to extend the city bus services beyond the municipal limit to areas under various development authorities.
"We have got the permission to run Mo Bus in the city, which is running smoothly in Bhubaneswar. We will now extend the service to Cuttack.
In case of Puri, however, we will submit the proposal again and get permit for areas coming under the BDA by including them in the Bhubaneswar Urban Transport Area," said Crut managing director Krishan Kumar.
Nandan Vihar resident Kalpana Hota said that the Mo Bus service in the city was really good.
"The vehicles are very comfortable and I like the frequency of the buses. It will be of great help if the authorities extend the services to Puri, Cuttack and Konark," said Hota, a homemaker.