Balangir people press govt for bypass road
Home guard run over by tanker; citizens upset that heavy vehicles pass through town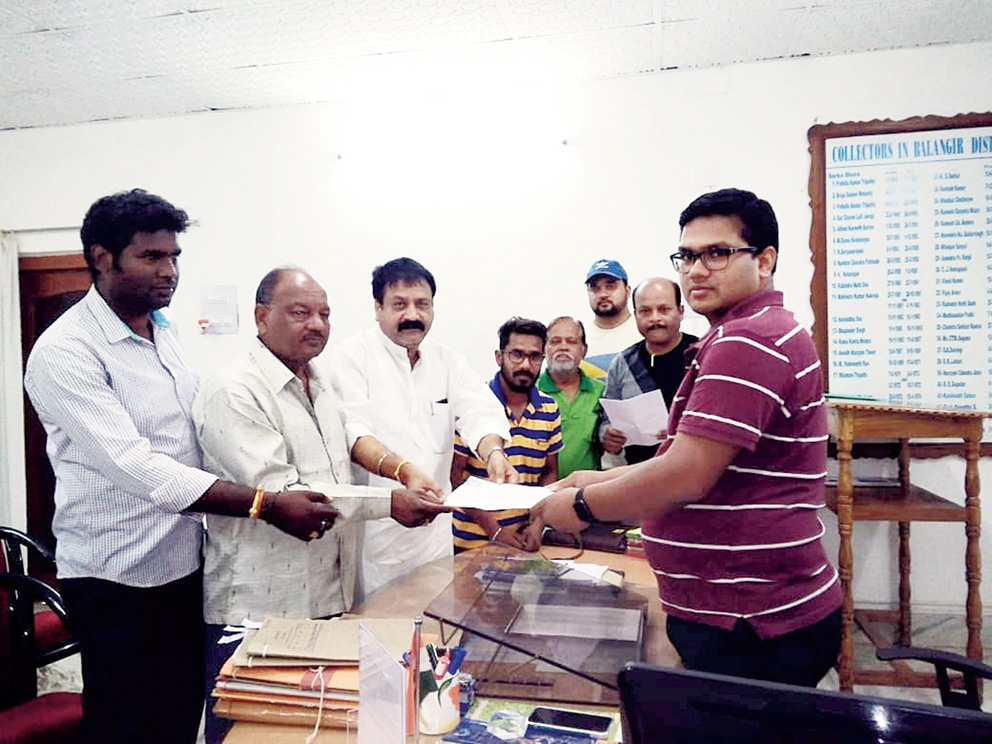 Balangir Action Committee members hand over the memorandum to collector Arindam Dakua.
Telegraph picture
---
Published 29.10.18, 06:38 PM
|
---
The Balangir Action Committee on Monday took up the issue of a bypass road with the district collector after a home guard was killed when he was run over by a tanker on Kalamandal Road in the town on Sunday night.
A committee delegation, headed by its convener Gopaljee Panigrahi, met district collector Arindam Dakua and handed over a memorandum, demanding compensation for the family of the deceased and action by the district administration to start construction of the bypass road. The committee members also demanded revision of the heavy vehicles' entry time inside the town from 11pm to 6am. Now, heavy vehicles are allowed to ply inside the town from 10pm to 6am.
Panigrahi said it was unfortunate that lives were being lost because of the absence of a bypass road in Balangir. "A home guard lost his life after he was run over by a tanker. Heavy vehicles are being allowed to ply on the roads inside the town, which are narrow and can hardly accommodate such traffic. This results in frequent accidents," he said.
Panigrahi said the action committee had been agitating for a bypass road around the town for long.
"We have been demanding for the bypass road for quite some time now. It is unfortunate to notice the queer silence of various political parties regarding this important demand. They only appear on the scene to make some statements when accidents occur and lives are lost," he said.
"We also want that the administration formulate strict rules to regulate movement of vehicles in the town," Panigrahi said.
Several organisations and political parties had observed two-day Balangir strike on August 9 and 10, demanding a bypass road after a girl student was mowed down by a truck at Satyanayanpada on the NH-26 in the town. Delay in land acquisition and forest clearances have stalled the progress of the much awaited bypass road here.