Three states observe Statehood Day
Narendra Modi on Tuesday greeted the people of all three states and hailed their traditions and culture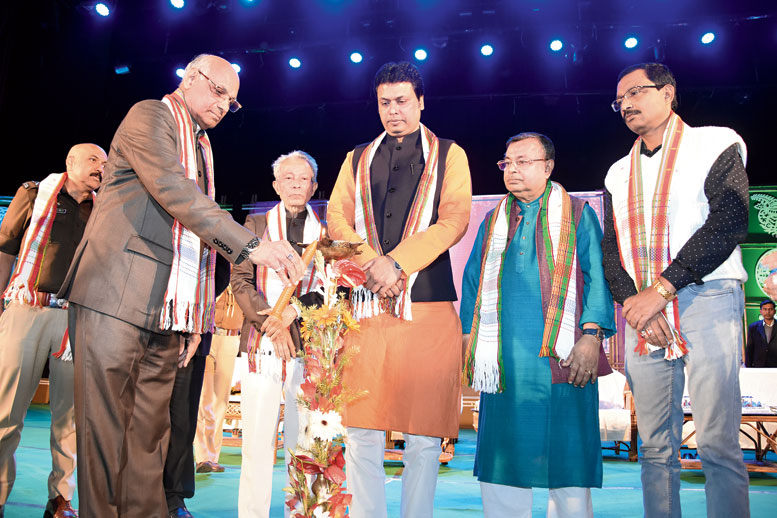 Tripura governor Ramesh Bais lights the inaugural lamp of the event in Agartala on Tuesday as chief minister Biplab Kumar Deb looks on
Picture by Tanmoy Chakraborty
---
Agartala
|
Published 21.01.20, 08:37 PM
|
---
Tripura, Meghalaya and Manipur celebrated their 48th Statehood Day on Tuesday with stress on becoming self-reliant and an appeal to move forward through collective effort.
On this day in 1972, all the three states became full-fledged states under the North Eastern Region (Reorganisation) Act, 1971.
Prime Minister Narendra Modi on Tuesday greeted the people of all three states and hailed their traditions and culture. "On Manipur's Statehood Day, my greetings to the people of the wonderful state. Manipur is known for its vibrant culture. People from Manipur have made a mark in various fields. May the state keep progressing in the years ahead.
"The people of Meghalaya are known for their kind and compassionate nature. From sports, music to conservation of nature, there is much to learn from them. Praying for Meghalaya's development in the coming years," he tweeted.
Modi also greeted the people of Tripura and said he was proud of the state's exemplary traditions and contribution to national development. "Its people are known for their industrious nature. I pray for the continued prosperity and well-being of Tripura's citizens," he said.
Tripura chief minister Biplab Kumar Deb on Tuesday claimed though Tripura became a full-fledged state on this day in 1972, the state is still dependent on the Centre.
At an inaugural event of the 48th Tripura Statehood Day at Rabindra Shatabrshiki Bhawan here, Deb said: "When Tripura will become self-reliant, then only it will be known as a full-fledged state. It has been 48 years since Tripura became a full-fledged state and still we are depending on the Centre. It could not fulfil many requirements. However, the state is going ahead to achieve its goal of becoming not only self-reliant but also efficient with transparent governance."
Deb claimed that in the last 48 years the tax revenue of Tripura was 11 per cent and after the BJP-IPFT government was formed, the tax revenue has increased to 26 per cent.
He said Tripura has achieved total success in PDS, electrification, eradication of malaria, implementation of Aadhaar card, Ujjwala Yojana and among others and it has open-defecation free (ODF) status. "Due to proper implementation of Ujjwala Yojana, gas cylinders have been given to 91 per cent households and e-tendering has been introduced to ensure transparency. The Centre has sanctioned Rs 8,000 crore for widening and development of the national highways. Due to signing of the new standard operating procedure (SOP) between Bangladesh and India, Tripura will now get access to the Chittagong port." Deb said, adding the government is trying to become self-reliant.
Education minister Ratan Lal Nath, who was also present at the event, urged all political parties of the state, including the CPM, Congress, (IPFT) and the Indigenous Nationalist Party of Twipra (INPT), to join hands for "Ek Tripura, Srestha Tripura".
He hoped in future Tripura would be the best state in the country.
Tripura governor Ramesh Bais praised the state government for its development work.
As Meghalaya is approaching 50 years of statehood, chief minister Conrad K. Sangma has urged all to work towards making Meghalaya a number one state in various sectors by 2022. Addressing the 48th Statehood Day celebrated here at U Soso Tham Auditorium on Tuesday, Conrad said the state should move forward through collective effort.
He said from April, a challenge would be set for employees who had different ideas and wanted to do something for the state and its people.
"We will start this challenge because I know there are employees who want to do something and be part of the change to help the state move forward," Conrad said while appealing to government employees to take up the "challenge". He said 15 best ideas would be selected.
Minister for information and public relations A.L. Hek and other ministers attended the programme.
The Meghalaya Day Excellence Awards were given to government employees for their dedicated service.