Protest over Bengali booklets for Gunotsav in Assam
The All Assam Students' Union is demanding the use of Assamese in all evaluation booklets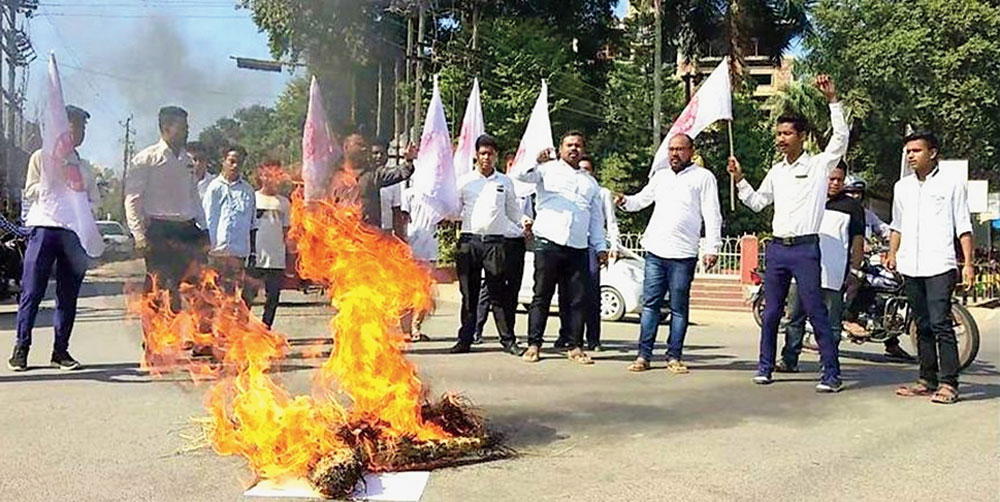 AASU activists burn an effigy of Siddhartha Bhattacharyya at Golaghat on Wednesday.
Picture by Ritupallab Saikia
---
Golaghat
|
Published 31.10.18, 06:40 PM
|
---
Members of the All Assam Students' Union (AASU) on Wednesday burnt the effigy of education minister Siddhartha Bhattacharyya to protest against the use of Bengali in the evaluation directives under Gunotsav (assessment exercise).
Aongchuman Borua and Biswajit Gogoi, president and secretary of the Golaghat unit of AASU, said in a statement that the use of Bengali in Gunotsav evaluation directives cannot be accepted.
"At the time when the Union and the state government are trying their best to pass the controversial Citizenship (Amendment) Bill, 2016, we smell conspiracy in the use of Bengali in Gunotsav evaluation directives. We will not allow them to gain success in their motive," it said.
"The government should learn to give respect to martyrs like Ranjit Borpujari who sacrificed their lives in the language movement of 1960 in order to implement Assamese as an official language of the state," it added.
AASU members shouted slogans like "stop playing with the sentiments of mother tongue", "education department murdabad".
Rashida Begum, district programme officer, Sarva Shiksha Abhiyan, said the majority of the evaluation directive booklets were printed in Assamese and English.
On the use of Bengali in some booklets, she said those were meant to be distributed in Bengali-medium schools in the district. "We have not received any complaint so far from any evaluators regarding those booklets," she said.
Launched last year, Gunotsav is a quality enhancement initiative of the state for bringing improvement in learning level of students at elementary level. This year, the second phase of the Gunotsav is being implemented from Wednesday to Saturday across 17 districts.
In Golaghat, Gunotsav II will be carried out in 1,557 schools.