Pandemic getting bigger in Guwahati: Govt
Highest single-day spike in Assam, city under 14-day lockdown since June 29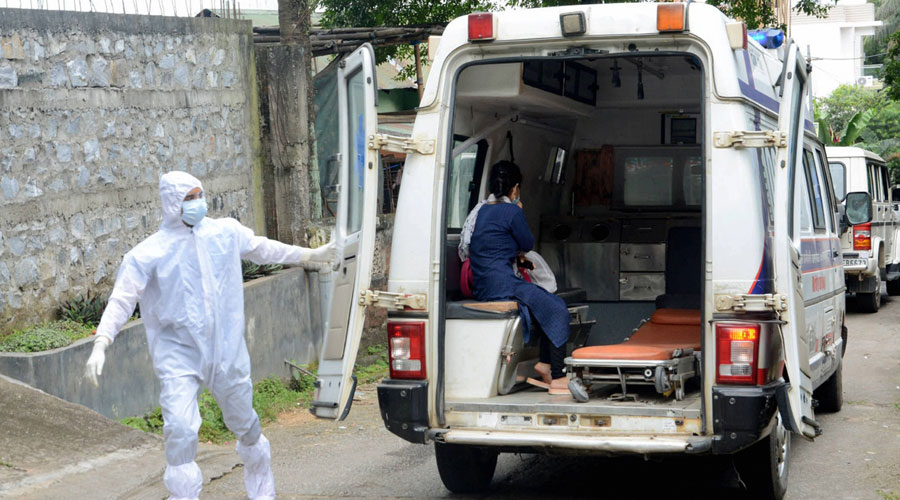 A suspected Covid-19 woman being taken to a hospital to curb the spread of the novel coronavirus in Guwahati on Saturday.
PTI Photo
---
Guwahati
|
Published 06.07.20, 12:55 AM
|
---
The Assam government on Sunday said Guwahati was in the grip of the Covid pandemic and it was getting "bigger and bigger", a day after the state registered its highest single-day spike of 1,202 cases, 777 of which were from the capital city.
Assam health minister Himanta Biswa Sarma, urging people to be extra vigilant to check the spread of the virus, said, "Now the pandemic in Guwahati, becoming bigger and bigger. It is real. It is from the community. We have detected 2,741 positive cases since June 24 without travel history in the city. We need to be patient and adhere to lockdown rules to come out of this crisis."
According to him, the state has 11,001 cases with 14 deaths till Sunday evening. As many as 125 more cases were detected in city on Sunday.
Since June 24, the state had detected 4,945 positive cases, including 196 policemen. "Good thing is our recovery rate, which is 61.29 per cent and death rate which is 0.13 per cent," Sarma said.
In an apparent bid to convey the gravity of the situation, Sarma released a video of his visit to the Guwahati Medical College and Hospital Covid ICU in full PPE kit.
"Some people say Covid is cough-and-cold but it is more than that. Several of them are on ventilators. Our health staff is doing everything possible for the patients," he said, without showing the face of the patients.
After Kamrup (Metro) district under which the city falls, Nagaon with 304 cases and Sonitpur 223 are the other worst affected districts. "Of the overall test results declared on Sunday, 30 per cent cases were from Guwahati," Sarma said.
Guwahati is under 14-day lockdown since June 29 and it is being strictly implemented.
"The response to the lockdown this time is better than before. The positive cases we have detected are of tests conducted before the lockdown. We are hopeful the cases will come down when the results of samples tested after the lockdown came into force. But we need to adhere to the lockdown rules," he said.
The district administration has allowed the reopening of standalone grocery shops from Monday to Friday to allow people to buy essentials. " Since grocery shops will remain open from 9.30 am to 4 pm, there is no need to rush. Everyone should adhere to social distancing and wear masks. Extending the lockdown or not extending will depend on the test results which will come out by Wednesday-Thursday," Sarma said.
Sarma also said Assam is now fourth on the list of tests per million.
The Nagaon district administration in central Assam on Sunday afternoon imposed seven-day lockdown on several villages under Juria police station, impacting a population of around 10,000.
The measure is seen as part of a crackdown to send a strong message to lockdown violators after over 15,000 people attended the last rites of Mufti Khairul Islam, vice-president of the All India Jamiat Ulema-e-Hind.
Nagaon DC Jadav Saikia told The Telegraph: "There was violation of lockdown norms. Most people were seen without masks and not maintaining social distancing. Given the huge turnout we decided to concentrate on swift and safe dispersal of the crowd. But now through the lockdown we will test them for Covid to check if there is any spread or not so that remedial measures can be taken."