NGO denies mining in Dehing
Finger on groups misleading people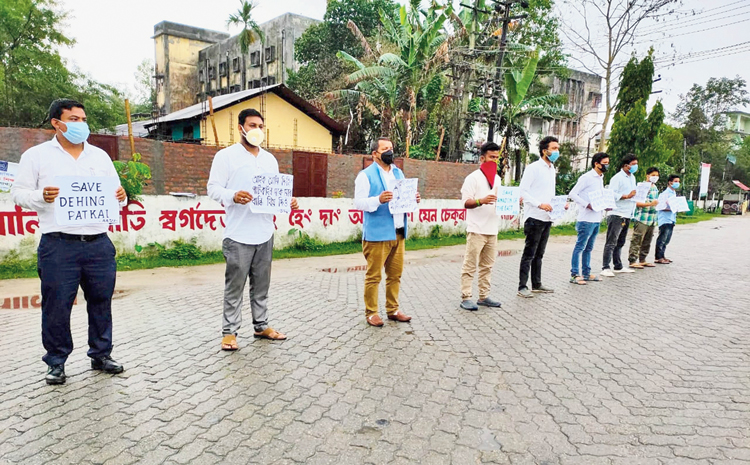 Lakhimpur Regional Students Union stages a protest to save Dehing Patkai wildlife sanctuary on Saturday.
Picture by UB Photos
---
Dibrugarh
|
Published 23.05.20, 10:34 PM
|
---
Nature's Beckon, an environmental group, has denied that coal is being mined in Dehing Patkai wildlife sanctuary. Its founder and president, Soumyadeep Dutta, on Saturday said some groups were misleading people.
"We fought for conservation of Dehing Patkai after which it was declared a wildlife sanctuary in 2004. Without our efforts, it would have been lost to coal mining," Dutta said.
Coming down heavily on groups who are "misleading" people, he said, "I don't know why they are circulating false news of coal mining in Dehing Patkai. I respect the persons who are raising their voice for Dehing Patkai but the wildlife sanctuary is already a conserved forest."
Some NGOs and student organisations of Assam are protesting against alleged open cast coal mining at Salekhi in Dehing Patkai elephant reserve, which includes the Dehing Patkai wildlife sanctuary and covers 111.19 square km of rain forest and reserve forests in Sivasagar, Dibrugarh and Tinsukia districts. A standing committee of the National Board for Wildlife had on April 7 discussed a proposal to use 98.59 hectares of land from the proposed reserve forest for coal mining by the North Eastern Coal Field, a unit of Coal India.
Recently, a mass campaign on social media has been going on to save the site. The "I am Dehing Patkai" campaign has gained momentum on social media and students from various institutions have raised their voices against coal mining there.
"The state government and the Centre have no plan to destroy the wildlife sanctuary by undertaking coal mining inside the sanctuary. The groups and some persons are circulating false propaganda against Dehing Patkai," Dutta said.
Chief minister Sarbananda Sonowal has on Friday said they were committed to protect Assam's environment and biodiversity. He said he had directed forest minister Parimal Suklabaidya to visit Dehing Patkai to take stock of the situation and based on his report, the government would take steps. Suklabaidya, however, could not visit the reserve because of inclement weather, his office informed.