Modi gifts Manipur projects worth Rs 1500cr
8 key development projects inaugurated, foundation stones laid for 4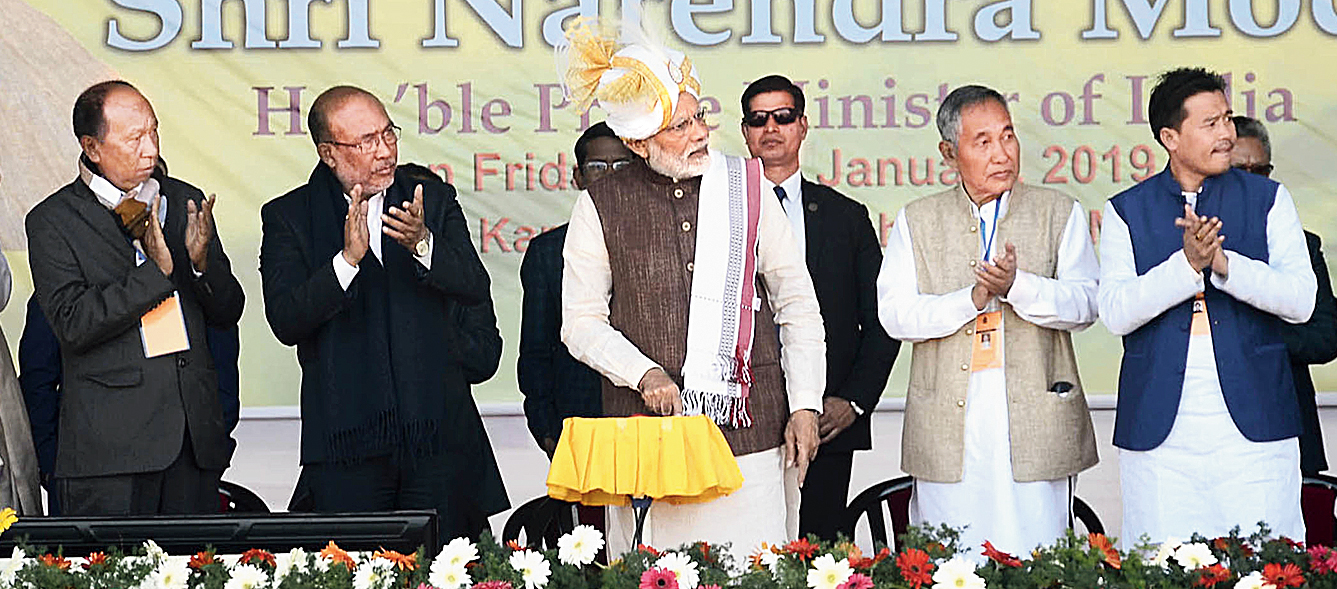 ---
|
Imphal
|
Published 04.01.19, 06:49 PM
---
Prime Minister Narendra Modi, during a visit to Manipur on Friday, inaugurated eight key development projects and laid the foundation stones for four schemes, worth Rs 1,500 crore, during a public rally at Hapta Kangjeibung in Imphal East district.
The projects include an integrated checkpost at the Indo-Myanmar border town of Moreh, Dolaithabi barrage, a Food Corporation of India storage godown in Imphal East and a buffer water reservoir at Shirui village in Ukhrul. He also inaugurated improved and upgraded water supply for Churachandpur zone-III, eco-tourism complex at Thangal Surung in Kangpokpi district, integrated tourist destination at Tupul in Noney district and the water supply scheme at Jawahar Nabodaya Vidyalaya, Lambui, in Ukhrul and its surrounding villages.
The Prime Minister also dedicated a 400kV double-circuit Silchar-Imphal line to the nation.
He laid the foundation stones for infrastructure development of Dhanamanjuri University in Imphal West district, flood lighting of hockey stadium and at the main stadium of Khuman Lampak Sports Complex in Imphal East and an astroturf football ground at Langjing Achouba in Imphal West.
Modi said five helipads will be constructed under UDAN scheme in the state. Imphal International Airport will be expanded and an air cargo terminal will become functional soon at the Imphal airport.
Besides, road and railway connectivity and information ways will be introduced, connecting every district and panchayat with broadband.
Modi said three new women's markets will be constructed in the state soon.
The government will also set up a mini sports complex, an infectious disease centre in Imphal and community health centres in the state.
In the last four years, around 1,500km of national highways has been added in the Northeast, of which 300km has been added in Manipur, he added.
Modi said he has visited the Northeast about 30 times in the last four-and-a-half years of his tenure.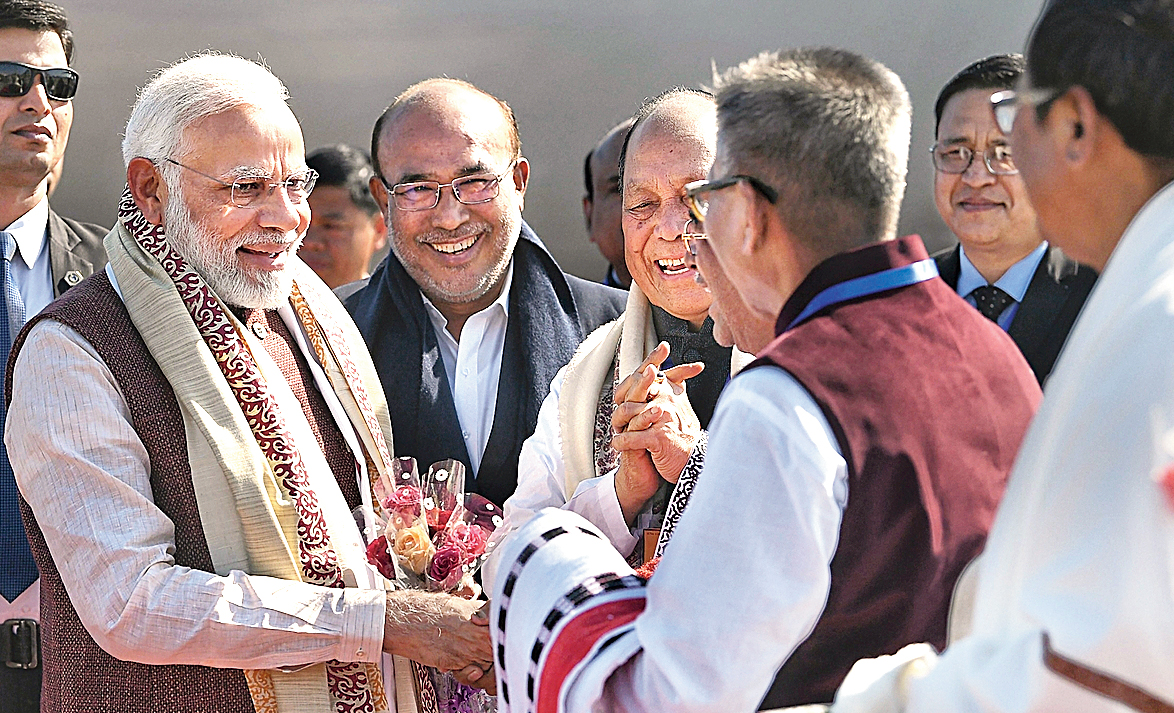 The Northeast is being transformed and projects stuck for decades are being completed, he said.
He said the integrated check post, built at a cost of over Rs 125 crore, will not be just a check post, but would have dozens of features. It will have offices to facilitate custom clearance, foreign currency exchange, and immigration clearance, among others.
Modi said the projects he inaugurated in Manipur reflect the Union government's commitment to the state's development.
He said the Dolaithabi barrage project, conceived in 1987, was speeded up only after 2014 and was now complete.
He said work on the FCI godown at Sawombung began in December 2016 but had already been completed. He gave similar illustrations for various water supply projects.
Elaborating on the Centre's purposeful approach to completion of projects, Modi said the PRAGATI system set up in the Prime Minister's Office enables monitoring of stalled projects through video conferencing. He said PRAGATI meetings have so far resolved issues relating to stalled projects worth nearly Rs 12 lakh crore.
The Prime Minister said the Union and Manipur governments were both working with the vision of sabka saath sabka vikas (support for all, development for all).
He praised the "go to hills" and "go to villages" mission programme of the state government.
He paid homage to freedom fighters, especially the women fighters of Manipur. He recalled that undivided India's first interim government had been established at Moirang in Manipur.
He also recalled the support that Azad Hind Fauj had received from the people in the Northeast.
He said Manipur has an important role to play in New India's growth story.
He said Manipur has been a front-runner in the field of women empowerment, symbolised by sporting icon Mary Kom.
The Northeast, he said, has a key role to play in making India a sports superpower.