State announces judicial probe into ex-HNLC leader encounter
The Meghalaya govt also extended the curfew till Wednesday, and banned Internet services in four of its 11 districts following the breakdown in law and order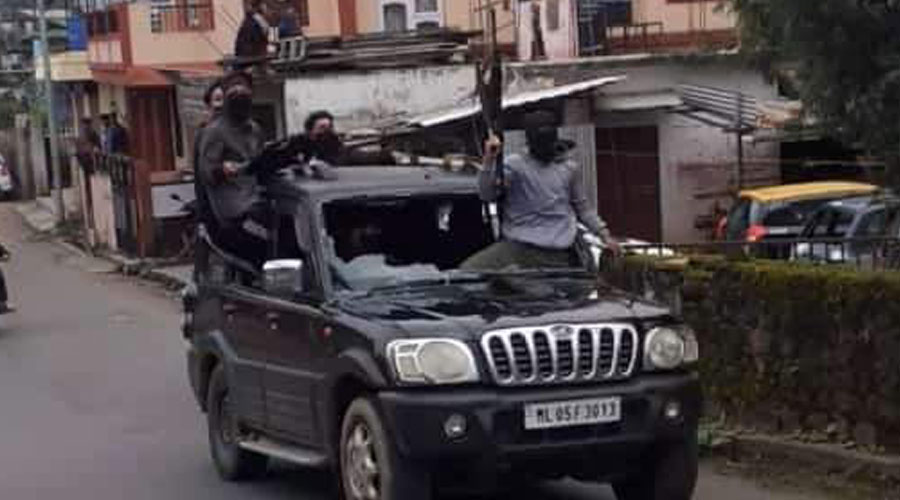 ---
Guwahati
|
Published 17.08.21, 12:51 AM
|
---
The Meghalaya government on Monday announced a judicial probe into the death of a former rebel leader in an encounter to stem the tide of resentment against the ruling dispensation that led to the imposition of curfew in Shillong and its adjoining areas on Sunday night.
The government initially imposed curfew till Tuesday, which has since been extended till Wednesday, and banned Internet services in four of its 11 districts following the breakdown in law and order, the trigger being the simmering tension in the Mehalaya capital since the death of former Hynniewtrep National Liberation Council leader Cheristerfield Thangkhiew in an encounter with the police at his residence on August 13.
The Meghalaya cabinet met under chief minister Conrad Sangma on Monday in the wake of the " current law and order situation " in Shillong and took the following decisions:
⚫ Constitution of a judicial inquiry under the Commission of Inquiry Act to look into the events that took place on August 13 morning resulting in the death of the former HNLC leader.
⚫Setting up a peace committee, which will be chaired by deputy chief minister Prestone Tynsong and have cabinet ministers Hamletson Dohling and Renikton Tongkhar Lyngdoh as members. The committee will co-opt other members from the civil society, including religious organisations and other stakeholders.
⚫Constitution of a sub-committee for security and law and order to be headed by the chief minister, deputy chief minister and home minister. This committee will look into the different aspects of law and order.
⚫ Extension of curfew till 5am on Wednesday keeping in mind the overall situation in Shillong city. The curfew was to end at 5am on Tuesday. Ban on mobile Internet service in East Khasi Hills, West Khasi Hills, South West Khasi Hills and Ri Bhoi districts to be extended for the next 24 hours.
Though no untoward incident was reported during the day, tension is palpable in and around Shillong, sources said, something which might have influenced the decision to extend the curfew at one of the popular tourist destinations of the Northeast.
Five additional companies of BSF and CRPF are being deployed in the city to ensure order. Assam police have advised people from the state not to travel to Shillong till the curfew remains in force.
Incidents of arson, stone-pelting and theft were reported on Sunday and there was the possibility of things getting worse leading to the imposition of curfew at 8pm.
Sources said four unidentified men seized a police vehicle from the Mawlai area and drove it in the city brandishing weapons left behind by fleeing cops before setting it ablaze in the Jaiaw area in the afternoon. Three constables were suspended on Monday for leaving their arms behind in the vehicle.
Thousands attended Thangkhiew's funeral on Sunday. His family claims the encounter was staged.