Double whammy in Assam with Covid-19 spike
Rain, floods wreak havoc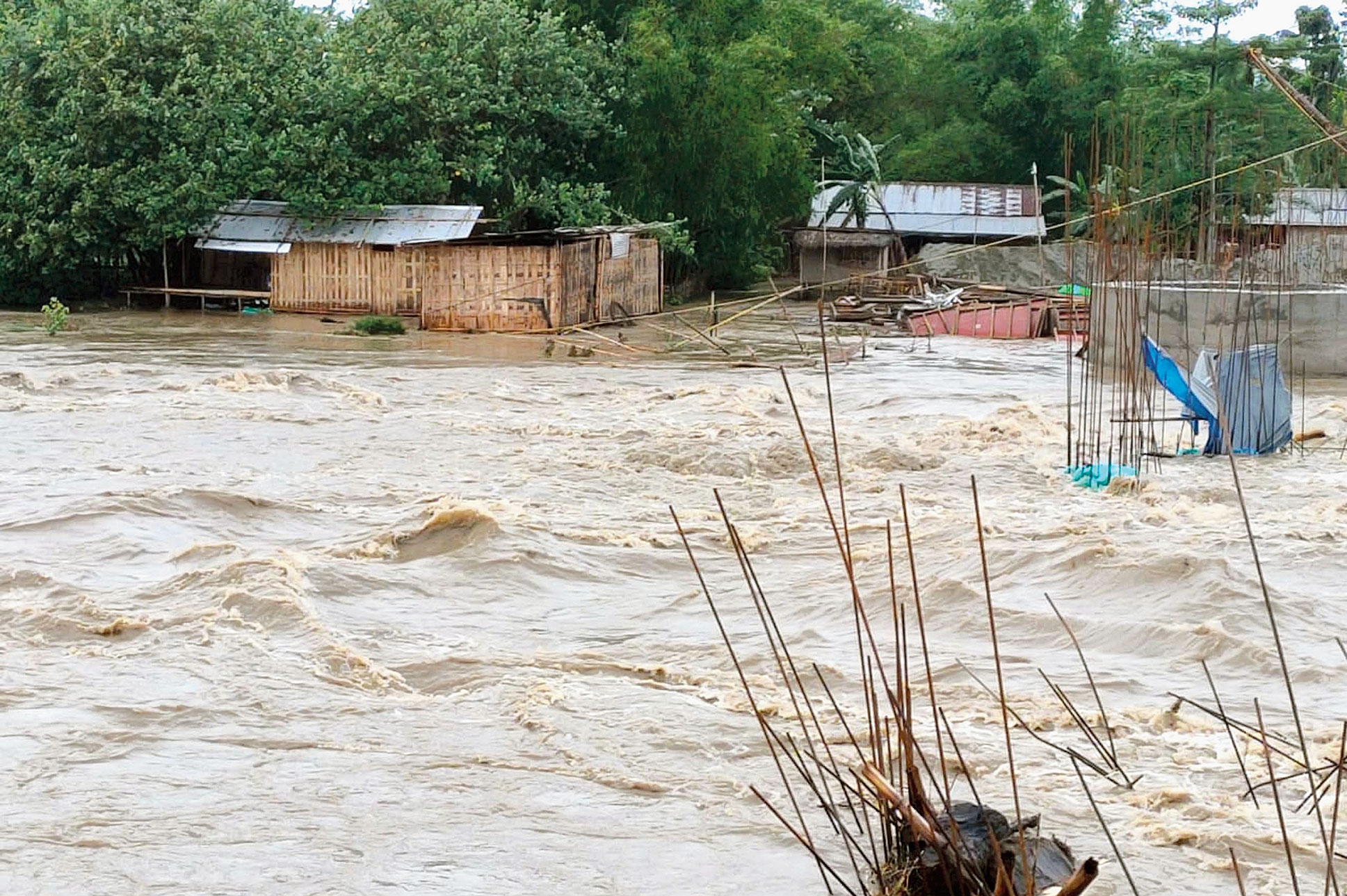 The Ranganadi in spate at Bogolijan in Assam's Lakhimpur district on Friday, after Neepco released water from its hydroelectric project.
Picture by UB Photos
---
Barpeta
|
Published 22.05.20, 10:24 PM
|
---
Hundreds have been hit in Assam by the first wave of floods caused by over 48 hours of torrential rain and release of excess water from two dams.
Cyclone Amphan, after wreaking havoc in West Bengal and Odisha, has been lashing the state with heavy rainfall since Wednesday evening, As a result, many rivers in the state are overflowing. Release of water by Kurichu dam in neighbouring Bhutan and the Neepco's Ranganadi project in the state has worsened the situation.
An Assam State Disaster Management Authority (ASDMA) bulletin said floods have hit Kalgachia revenue circle in Barpeta district, about 100km from Guwahati, affecting 630 people in two villages.
Nagaon, Darrang and North Lakhimpur districts have also been partially hit. Locals in Barpeta, however, said far more people have been affected than the official figure.
Jorina Khatun, 50, a resident of Barpeta, whose house was inundated by the overflowing Beki, said, "All our belongings like rice, household things and livestock have been damaged or washed away as the water entered around midnight when we were sleeping. Had an alert been sounded on Thursday, we could have saved our things. My entire three bighas of cropland is under water. What will we do now?"
Guwahati received 18.8mm rainfall while North Lakhimpur received 82.4mm from 8am till 8pm on Friday. The meteorological office has warned of heavy rain over the next 24 hours in Assam and its neighbouring states.
The release of excess water from Kurichu dam in Bhutan, about 30km from Barpeta Road in Barpeta district at 5pm on Thursday caused the Beki, Manas, Pagladia, Kaldia and Pohumara rivers to swell which, in turn, affected the lower Assam districts of Nalbari, Baksa, Barpeta, Chirang and Bongaigaon.
The Beki was flowing at 43.61m, 2.31m above its danger level on Friday. The Brahmaputra also continued to flow above the danger level in Barpeta district and the Jia Bharali in Sonitpur district.
A message from Kurichu hydropower plant in Bhutan had on Thursday warned the Barpeta district administration of "high discharge" and asked it to take necessary action. "The Kurichu river reached an inflow of more than 800 cumecs at 5pm on Thursday. It may rise further and the same will be discharged through the spillway gates."
A Barpeta district official told The Telegraph on Friday, "We thought that the excess water mentioned would not have much impact as the water levels of the rivers were below the danger level and maximum water bodies were more or less empty. But the dam official released more water than the official communication mentioned."
The excess water released by Neepco Hydro Electric Project from its Ranganadi project on Friday also affected several villages in Lakhimpur and Dhemaji districts and washed away many footbridges. The floods are an annual woe for the villagers of Lakhimpur as an embankment breached three years ago has not been repaired yet.
Any rise in the water level of the Ranganadi inundates nearly 100 villages on the western bank and the villagers lose their harvest on which they depend the entire year.
In Nagaon district, the Borpani flooded 11 villages, submerged several hectares of crop land and washed away a portion of the PWD road near Kampur.
Last year, the river had breached the Madhabpara-Jurirpar road-cum-embankment at Rajaali village. Through this breached portion, the rising waters of the Borpani inundated the croplands this year.
In Darrang district, four villages were affected under Dalgaon revenue circle.
Additional reporting by Vinod Kumar Singh in Dhemaji