Call to civil society on handling returnee rush in Nagaland
People may soon start coming back on their own with the resumption of trains and other modes of transport by the Centre: CM Rio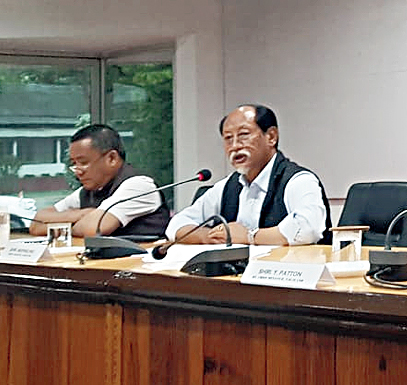 ---
|
Dimapur
|
Published 13.05.20, 09:59 PM
---
Nagaland chief minister Neiphiu Rio on Wednesday sought suggestions from civil societies on how to handle the situation when the stranded people arrive in the state in large numbers.
Rio called an emergency meeting with all civil society groups of Dimapur to seek their views, concerns and suggestions on the return of stranded people, at Rhododendron hall in Chumukedima police complex here.
"If people staying outside come, virus might come to Nagaland, which is still a green zone. However, we cannot disown our own children, brothers and sisters," he said.
Rio said return of inter-district stranded people, which started on May 7, is almost complete and people have started arriving from other states since Tuesday evening. He said people might start coming on their own with the resumption of trains and other modes of transport by the Centre.
As far as Nagaland is concerned, the village authorities implemented the lockdown very strictly with unity, he said.
Rio said he was satisfied with the arrangements at the quarantine centres in Dimapur and advised the leaders of civil societies to visit the centres.
He expressed gratitude to civil societies, church leaders, district administration police, public and all concerned for their concerted efforts in preventing coronavirus and sincerely implementing the standard operating procedures.
Rio said even DoNER minister Jitendra Singh lauded the Northeast people for their efforts to fight the virus and asked other states to be disciplined like the northeasterners. "Make Nagaland a new Nagaland by taking the Covid crisis as a wake-up call," Rio said.
Chief secretary Temjen Toy said 18,000 stranded people have already registered on the website iamstranded.nagaland.gov.in, expressing their desire to come home.
He said 70 per cent of the returnees from different states would be quarantined in Dimapur, while 30 per cent will be sent to Kohima according to advice from the medical department.
Toy clarified that Rs 10,000 offered by the government to the stranded people as an appeasement not to come home but to extend help if they do not desire to return even after registration and are facing financial problems.
He said the period, if needed, will be extended for the convenience of the returnees and to properly set up arrangements.
Western Sumi Hoho president Kakheto Zhimomi observed that the Nagas are modern yet "uncivilised".
Stressing on precautions, he said the Nagas are very panicky because of ignorance. He suggested for arrangement of buses for bringing the stranded people.
He said there are many compassionate Nagas who are ready to help.
Leaders of Chakrhoma Public Organisation, Western Chakesang Hoho, Lotha Hoho, Ao Senso Telongjem Dimapur, Eastern Nagaland Public Organisation, Rengma Organization Dimapur, Naga Women Hoho Dimapur, Dimapur District Gaonburhas' Association, Dimapur Naga Students Union, Dimapur Christian Forum, Dimapur District Village Councils' Association, among others, expressed their desire to cooperate and work with the government if required.
Toy on Tuesday said the state government is working on a new standard operating procedure to put in place the required quarantine and other protocols before the arrival of stranded citizens.
Toy also cautioned that systems have been put in place to check fraudulent claims and punish them.