China border road cut off
The development comes amid reports of landslides and floods wreaking havoc in West Kameng district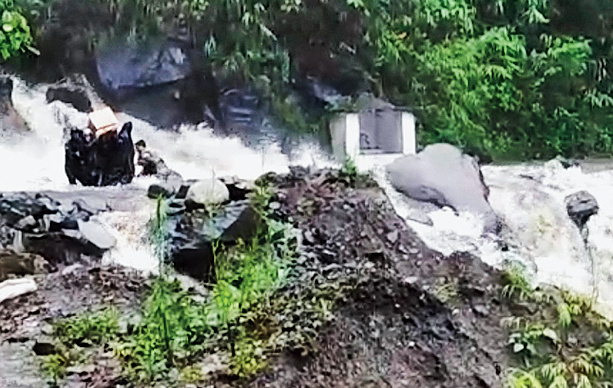 ---
|
Tinsukia
|
Published 14.07.19, 09:07 PM
---
Road connectivity between the army's Dao division at Dinjan in Assam and areas near Arunachal Pradesh's eastern boundary with China has snapped since the past week owing to landslides and floods at multiple locations triggered by heavy rainfall in the hills.
Kibithu, on the easternmost border with China, that witnessed the Sino-Indian War of 1962, and Walong, the last administrative town in Arunachal Pradesh's Anjaw district have been cut off from the nation since July 6.
The development comes amid reports of landslides and floods wreaking havoc in West Kameng district. The Balipara-Charduar-Tawang (BCT) road had to be closed earlier this week.
Anjaw deputy commissioner Digbam Riba told The Telegraph, "The link between Hayuliang and Kibithu is cut off as the water is overflowing from Moddy nala, around 25km from Hayuliang towards Walong-Kibithu."
"I have taken up the matter with the Border Roads Organisation, which has handed it over to a private company."
Commander of the 48 Border Road Task Force, Rajeev Dhingra, said the sector between Arrowa, 2km short of Tidding bridge, and Chagwanti via Hayuliang, around 78km, is under the National Highways and Infrastructure Development Corporation (NHIDCL) for double-laning and maintenance. "The NHIDCL had given the stretch between Hayuliang and Chagwanti to a Hyderabad-based company, Sushi Infrastructure Private Ltd, and they both are primarily responsible for maintenance and restoration of road for traffic in this stretch."
"The deputy commissioner wanted us to build a temporary bridge over Moddy nala but we have not received any such requisition from the district administration," he said.
"Had we received a written requisition, we would have launched a Bailey bridge in less than seven days. We are responsible for maintaining the route between Chagwanti and Kibithu and the entire stretch is open," he added.
A source in the BRO said the failure of the civil administration to give it a written requisition and take up the issue strongly with NHIDCL has led to the closure of traffic between Hayuliang-Walong-Kibithu sector for a week now, leaving civilians to suffer and affecting movement of troops.
"There is also a landslide at Payu, 6km ahead of Tidding bridge, again under NHIDCL, affecting movement of vehicles from Tezu to Hayuliang," he added.
The Hayuliang-Walong-Kibithu sector, a 120km stretch, is a sensitive sector from the defence point of view.
The source said the route is closed to all vehicles, public and army convoys, stalling smooth flow of essential commodities.
"The army is using transhipment mode in emergency situations to transfer men and goods to and from border areas. Civilians are dependent on whatever local resources are available with the supply chain remaining cut off over a week now," he said.
"The situation is grim and the civil administration is helpless," the source said.