Calendar portrays wildlife protection
The calendar, released in Calcutta a few days back with the message 'defining biodiversity in tea plantations'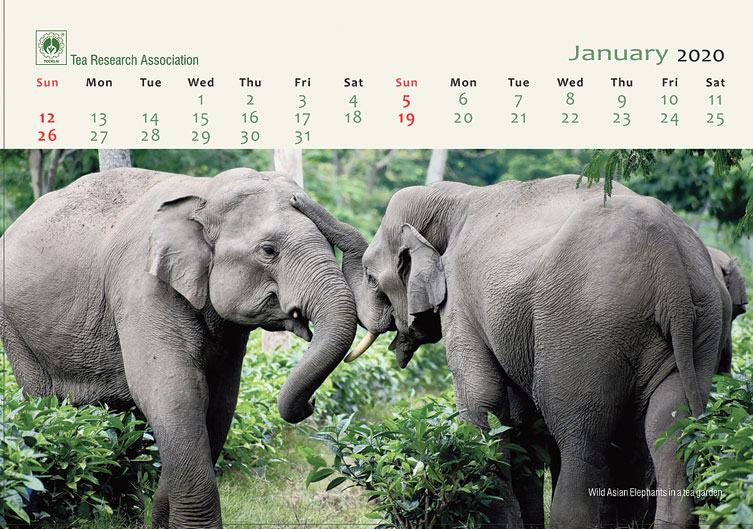 ---
|
Jorhat
|
Published 25.01.20, 06:56 PM
---
The Tea Research Association (TRA) has released a New Year calendar sending a message to the industry to protect and preserve the biodiversity in the tea gardens.
The calendar, released in Calcutta a few days back with the message "defining biodiversity in tea plantations", comes at a time when conflicts between human and animals, especially elephants, have become frequent in tea estates across Assam.
"Tea gardens in India mimic an environment of agro-forestry with a lot of biodiversity. We thought of highlighting the same so that people are aware of the industry's contributions apart from producing the wonderful healthy beverage of tea," TRA secretary Joydeep Phukon told The Telegraph.
The table calendar has some beautiful photographs of animals and birds found in the tea gardens of India. The pictures are captured by Niraj Mani Chourasia, a tea garden executive of the Goodricke Group based in Assam.
Phukan said the calendar, which is in its 11th edition this year, is very popular among tea planters. It has been sponsored by Godrej Agrovet, an animal feed and agribusiness company.
Tea gardens in India are home to a number of animals and birds and are almost like a secondary forest. Leopards and deer are sighted frequently inside tea estates while elephants use tea gardens to move from one place to another and take shelter.
Many tea companies in India have tied up with various green organisations to preserve and protect the wild animals and birds found in the estates.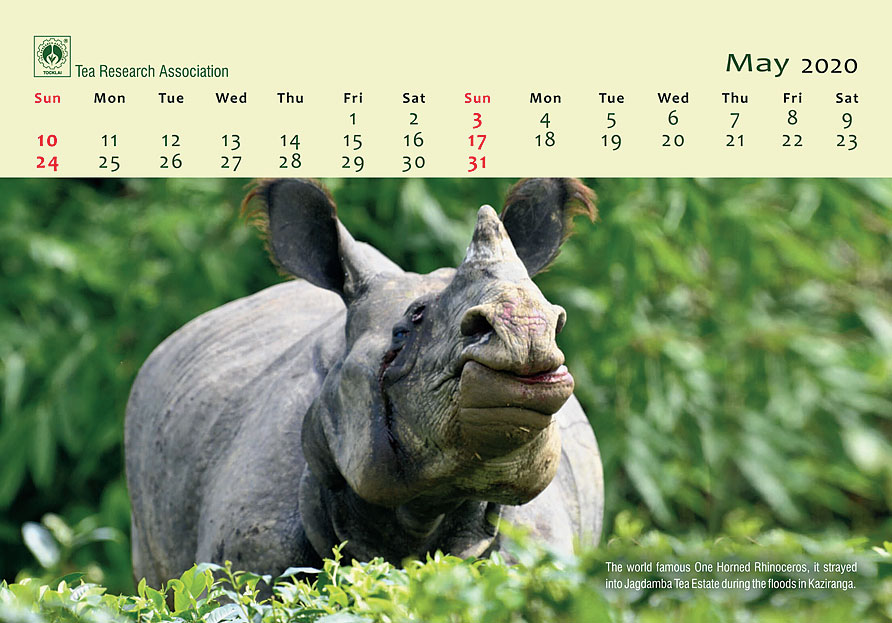 "Our company has erected posters and banners at vantage points inside tea gardens, banning hunting and killing of wild animals and birds," a manager of the Goodricke Group said.
A tea estate in Golaghat district of Upper Assam has left a patch of forest inside the estate untouched so that elephants and other wildlife can take shelter there.
"With forest cover depleting all around, it's natural for wildlife and birds to take shelter in tea estates. They find tea estates to be suitable places," a tea garden manager here said.
His garden, located near Gibbon wildlife sanctuary, is frequently visited by elephants and leopards.
"We have to learn to co-exist with the wild animals," he said.
Parts of Hatikhuli tea estate of Amalgamated Plantation Private Limited, near Kaziranga National Park, was made fully organic so that no harm is caused to animals frequenting the estate by the pesticides used in tea bushes.
The calendar also contains a to-do list for the tea planters in various months of the year to keep the garden healthy.