Bihu feasting becomes dearer
Bhogali Bihu is here; Machkhowa Samiti to revive Uruka Night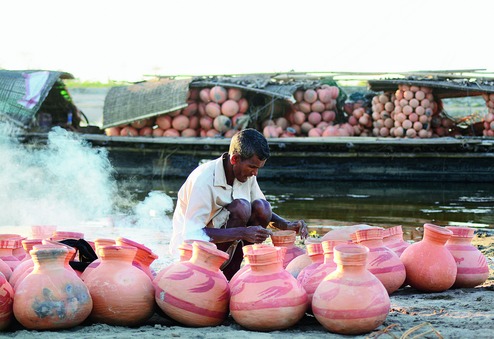 ---
Guwahati
|
Published 10.01.18, 12:00 AM
|
---
Guwahati: The prices of pitha, laru, curd, cream, jaggery, chira (flattened rice) and other food items essential to Magh Bihu or Bhogali Bihu celebrations have spiralled this year.
At pre-Bihu fairs that started on Tuesday, a packet of pithas (rice powder rolls with a filling of either coconut or sesame seeds with jaggery), containing 10 pieces, cost anything between Rs 60 and Rs 100. A similar packet had cost between Rs 40-60 last year. Cream from Sorbhog in Barpeta, considered to be the best, is being sold for Rs 500 per kilogram, up from Rs 350-400 per kg last year. Curd from the same area is priced at Rs 140 per kg, an increase of Rs 20-40. A packet containing three pieces of palm jaggery, which cost between Rs 30 and Rs 40 last year, is now priced at Rs 50. The prices of chira, bora rice, kumal chawl, hurum, akhoi and laru are all higher.
A pre-Bihu mela of 35 stalls has been organised by Chiro Seuj Kalakrishti Kendra at Lakhiram Baruah Sadan. One of its highlights is women preparing rice powder in traditional dheki (pounding tool) and making pithas in front of customers. Another fair, Bor Axom Bhogali Mela, having 30 stalls has been set up at at Siddhinath Sarma Bhawan near Dighalipukhuri.
The fairs are offering traditional food items. Some stall owners have travelled from Dhemaji and Lakhimpur districts. Such fairs are popular as people in the city prefer to buy the delicacies instead of making them.