'5 guarantees' approved by Manmohan Singh: Assam Congress
State PCC president Ripun Bora made the disclosure about Singh, also a "globally renowned" economist, primarily to reassure voters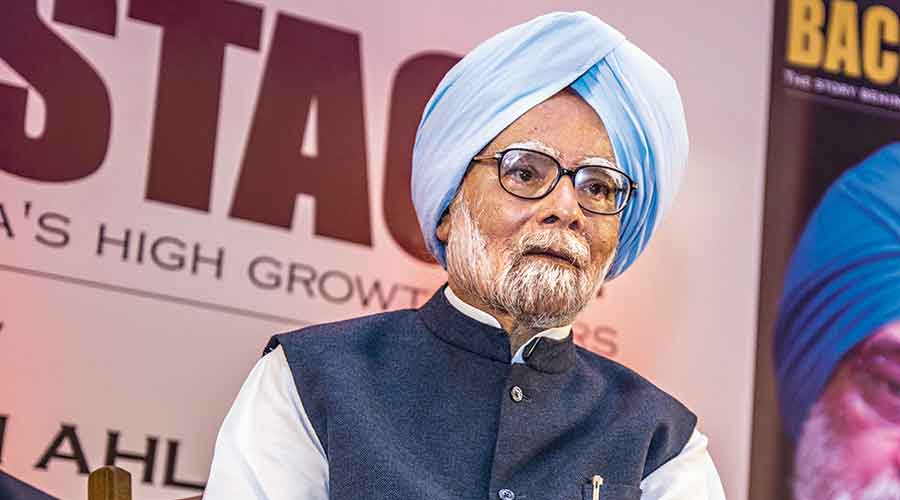 Manmohan Singh
File picture
---
Guwahati
|
Published 30.03.21, 12:43 AM
|
---
The Opposition Congress on Monday said its "5 guarantees" to the voters of Assam were made public only after a thorough examination and approval by none other than former Prime Minister Manmohan Singh.
Assam PCC president Ripun Bora made the disclosure about Singh, also a "globally renowned" economist, at the party headquarters here primarily to reassure voters that it had gone ahead with the guarantees after exhaustive deliberations about their feasibility and implementation unlike the promises made by the ruling BJP in the past.
The five guarantees, first announced by AICC general secretary Priyanka Gandhi Vadra at an election rally in Tezpur on March 2, included a law to nullify the contentious Citizenship (Amendment) Act, generation of five lakh government jobs, raising the daily wage of tea garden workers to Rs 365, free electricity up to 200 units per household and Rs 2,000 monthly income support to all housewives. The guarantees have been worked out by a core team which studied the economy of the state, she had said.
Bora said: "Our five guarantees were thoroughly examined by former Prime Minister and globally renowned economist Manmohan Singh ji. He is the person who has seen India through several economic crises. Only after he had endorsed the viability of the guarantees, we released it in the public.
"Our guarantees are working in the field, evident from the turnout in the first phase held on March 27. About 1.5 lakh youth have registered with our job portal. We have had interactions with them in 43 constituencies to answer their queries on job creation."
The PCC's media department chairperson, Bobbeeta Sharma, said that the guarantees have been structured based on ground assessment, the future vision for Assam and after consultations with revered scholars and economists.
"Dr Manmohan Singh has been pivotal in all big financial transformations in the country, and gave his approval on the feasibility and economics of our guarantees. Besides five lakh government jobs, we will also be creating 25 lakh jobs in the private sector," she said.
Singh had been Congress's Rajya Sabha MP from Assam between 1991 and 2019.
Though the former Prime Minister has not physically campaigned in the state, he had released a video message on the eve of the first phase of polls conveying his close ties with the people of Assam while urging them to vote for a government that will "uphold" the Constitution and the principles of democracy, ensure inclusive growth that will put Assam on the path of peace and development "once" again.
In his message, Singh also affirmed that his party had prepared a "Jan manifesto (people's manifesto)" with assurances which are "practical". He then stressed on the "5 guarantees", an integral part of the manifesto and a clear indication of the party's determination to lead the state on a path of prosperity.
The first phase of polls in Assam witnessed a turnout of 79.97 per cent.