AIDS epidemic spectre in Meghalaya
Activists fear disease has affected general population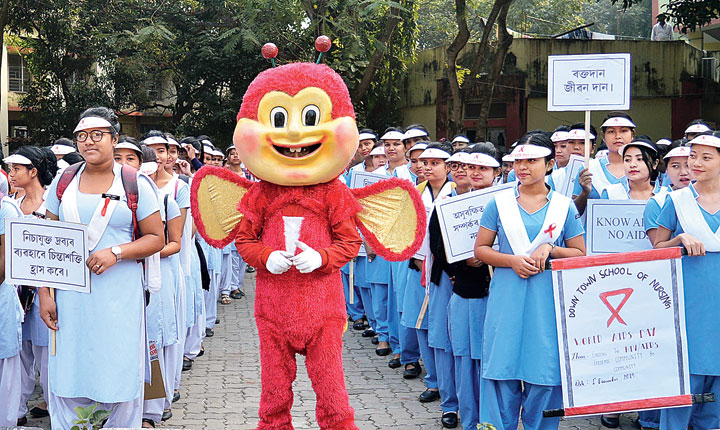 ---
|
Shillong
|
Published 01.12.19, 08:32 PM
---
Meghalaya is sitting on an AIDS time bomb, waiting to explode, activists fear.
On World AIDS Day on Sunday, the general secretary of the Meghalaya State Network for Positive People (MSNP), Barry Leslie Kharmalki, said the state's population was around 31 lakh, but only approximately two lakh had undergone HIV test and already 4,489 cases had been detected.
"It is not only the people living on the edge of society who are getting infected. In Meghalaya, HIV has penetrated into the general population," he said.
Kharmalki added that out of 4,489 people, around 500, who did not turn up for further treatment, were most likely to infect others.
He said out of 4,000-plus people living with HIV, only around 200 were in the high-risk group. "Only approximately 200 are drug users, sex workers or members of the gay community. The rest are just people with no high-risk behaviour such as wives, girlfriends and colleges students."
Kharmalki said in Meghalaya, there was no advanced treatment for people living with HIV and those who needed it had to go to Manipur.
He added that the National HCV (hepatitis C virus) programme was launched on August 26, 2019 in Meghalaya, but it had not yet taken off till date in the state. "HCV confirmatory test cannot be done in Meghalaya... people living with HIV will not die of HIV but will die of HCV if not treated early."
Kharmalki added the HIV Act, 2017, had not yet been implemented in Meghalaya.
This landmark act is one of its kind in Southeast Asia passed by Parliament.
Stating the difficulties faced by the patients who avail treatment, he said: "There is a specific scheme for people living with HIV (PLHIV). HIV drugs are not included in the 'essential drug list' but alcohol and drug addiction have been included in the Meghalaya Health Insurance Scheme."
According to Kharmalki, there is a need for communities to contribute to the AIDS response in different ways.
"Their leadership and advocacy must ensure that the response remains relevant and grounded, keeping people at the centre and leaving no one behind. Human rights must be respected. World AIDS Day offers an important platform to highlight the role of communities and greater mobilisation of communities is urgently required to address the barriers that stop communities from delivering services."
Kharmalki urged all to salute the communities who have been working hard to bring about changes to stop this epidemic.
"In the state there is the Meghalaya Legislators Forum on HIV/AIDS, but sadly the fund donated by MLAs is only being utilised for World AIDS Day. Apart from the World AIDS Day why not also look into free transport, nutritional and educational support for children? Assam is giving Rs 1 lakh to every widowed person living with HIV."
According to the data released by the Meghalaya AIDS Control Society on Saturday, till October this year, there are 4,525 registered people living with HIV in the state. Of them, 2,198 are females and 223 are children (104 boys and 119 girls).
Rally: The Family Strengthening Programme of SOS Children's Village, Hojai, on Sunday organised an AIDS awareness rally and a community-awareness programme at Pandit Jeevan Ram Barman MV School at Kumrakata.
Members of four youth homes of the village also participated in the event and staged a street play.
An AIDS awareness programme was organised for mothers and other community members at Dhanuharbasti in Hojai. 
Additional reporting by Nikhil Mundra in Hojai