AASU slams Sonowal on citizen bill
Student union asks Assam chief minister to explain silence, to meet Shah tomorrow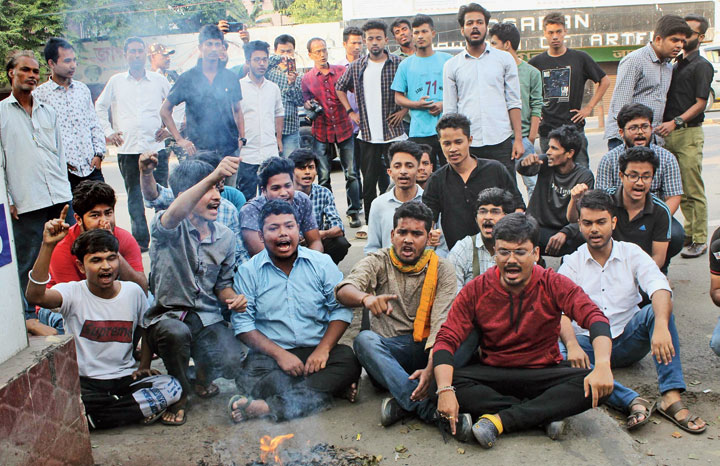 ---
|
Guwahati
|
Published 01.12.19, 08:31 PM
---
The All Assam Students' Union (AASU) on Sunday slammed Assam chief minister Sarbananda Sonowal for not opposing the Citizenship (Amendment) Bill like his Meghalaya and Nagaland counterparts.
"The chief ministers of neighbouring states like Meghalaya and Nagaland oppose the bill though these states enjoy special status. But the Assam chief minister is silent," said AASU general secretary Lurinjyoti Gogoi.
He said AASU leaders will meet Union home minister Amit Shah in New Delhi on Tuesday to discuss the bill and convey their "strong" opposition.
Shah is holding rounds of meetings with political and apolitical organisations from the Northeast on the bill before tabling it in Parliament.
The Northeast had witnessed a series of protests last year against the bill.
The AASU and other constituent organisations of the North East Students' Organisations (Neso) had spearheaded the movement across the region.
"If the Centre is thinking that it will be able to put the burden of illegal foreigners on us through the bill while offering implementation of Clause 6 of the Assam Accord then it is wrong. We will not accept the bill," said the general secretary. He added that the bill is unconstitutional and violates the secular character of the Constitution and the Assam Accord.
On the other hand, the students of Dibrugarh University in Upper Assam also joined the protests on Sunday.
The students organised a protest and announced that they would not allow the political leaders supporting the bill to enter the university. On Saturday, students of Gauhati University and Cotton University hit the streets against the bill.
The students of Cotton University on Sunday protested in front of the head office of the AGP at Ambari here to vent their ire on the alleged indirect support by the regional party to the bill.
They burnt effigies of AGP leaders, including its president Atul Bora.
"Through this protest we are warning the AGP leaders to be with the people of Assam. Otherwise, the people will give them a fitting reply," said a protester. The protesters also met Assam PCC president Ripun Bora and leader of the Opposition Debabrata Saikia to voice their opposition to the bill.
Duliajan rally
AASU's Duliajan unit also took out a bike rally on Sunday in protest against the citizenship bill. The protesters took part in the rally as part of the joint protests with 30 other organizations against the bill in the state.
Additional reporting by Pradip Kumar Neog in Duliajan