6 bodies retrieved from Arunachal crash site
The development came hours after the 20-member reinforcement team sent on foot to the wreckage site in Siang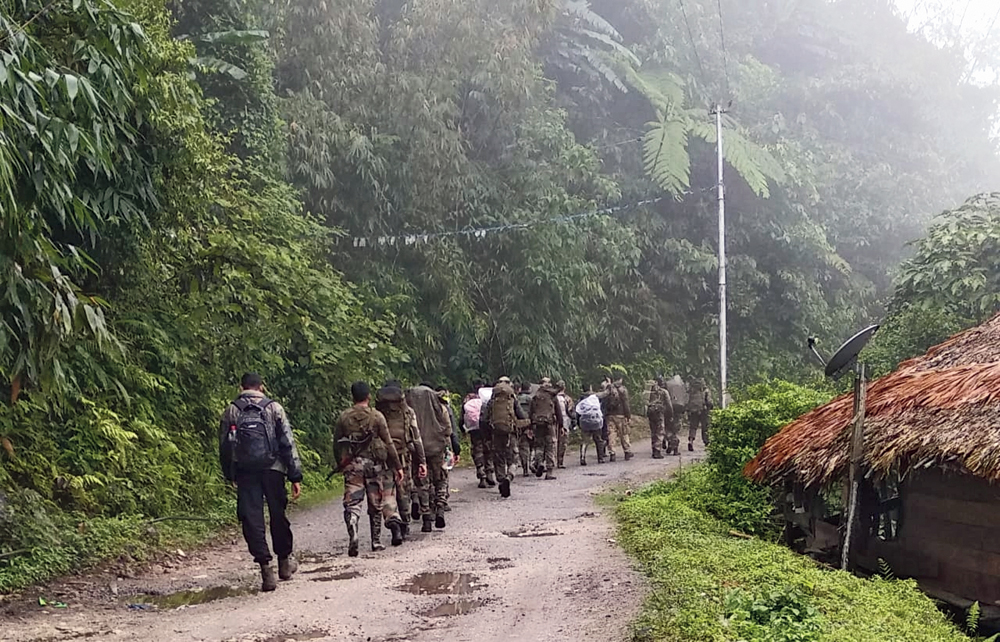 ---
|
Tinsukia
|
Published 19.06.19, 06:56 PM
---
Six bodies of air warriors killed in an IAF An-32 aircraft crash were retrieved and brought back to Aalo, the district headquarters of West Siang district in Arunachal Pradesh, at 5pm on Wednesday as the weather improved slightly.
The development came hours after the 20-member reinforcement team sent on foot to the wreckage site in Siang district on Monday to retrieve the bodies were called back on Wednesday, after having trekked over 20km. The foot team comprised four IAF Garud commandos, four Spear Corps (special forces) personnel of the army, one civilian hunter and 11 porters.
Confirming the development, Shi-Yomi district deputy commissioner Mito Dirchi said, "Six bodies have been retrieved and brought back to Aalo. If weather favours, other bodies will be retrieved on Thursday.
"The foot team was called back as it was too dangerous for them to reach the wreckage site. The team was inside deep jungles somewhere under Pidi circle in Shi-Yomi district when a communication was sent to them on Wednesday morning to fall back," Dirchi added.
A highly placed source said the foot team had been sent to carry rations for the mountaineers camping at the wreckage site and to bring back the bodies. "But engaging the ground team for retrieval of bodies was felt to be too perilous. Hence, they were directed to come back," he added.
Earlier in the day, Wing Commander Ratnakar Singh had said that no air-borne operation could be undertaken on Wednesday because of bad weather. However, the IAF managed to drop rations for those camping near the wreckage site through a small opening in the dense cloud cover.
The Russian-origin An-32 had gone off radar 35 minutes after taking off from Jorhat in Assam at 12.27pm for Mechuka advanced landing ground in Shi-Yomi district on June 3. Its last contact with ground forces was at 1pm.
Its wreckage was spotted at 12,000 feet on Pari hills by a search team aboard an Mi17 helicopter on June 11. The next day, a 15-member team, tasked to look for survivors and recover the aircraft's black box, was air-dropped 3km from the crash site. Three others were air-dropped on June 13. The team spotted seven bodies and recovered the black box.
Those who died in the crash are Wing Commander G.M. Charles, Squadron Leader H. Vinod, Flight Lieutenants L.R. Thapa, M.K. Garg, Ashish Tanwar and Sumit Mohanty, warrant officer K.K. Mishra, sergeant Anoop Kumar, corporal Sherin, leading aircraft men S.K. Singh and Pankaj and non-combatants (enrolled) Rajesh Kumar and Putali.