Every Kolkata foodie in London (and UK generally) is on a perpetual mission to find new restaurants that remind them of the city and its unique take on cuisines. I'm no exception. The journey is mostly filled with disappointment, but occasionally there is a Dishoom or Darjeeling Express that stands out amidst the sea of Chicken Tikka Masala- adorned 'Indian' dining offerings.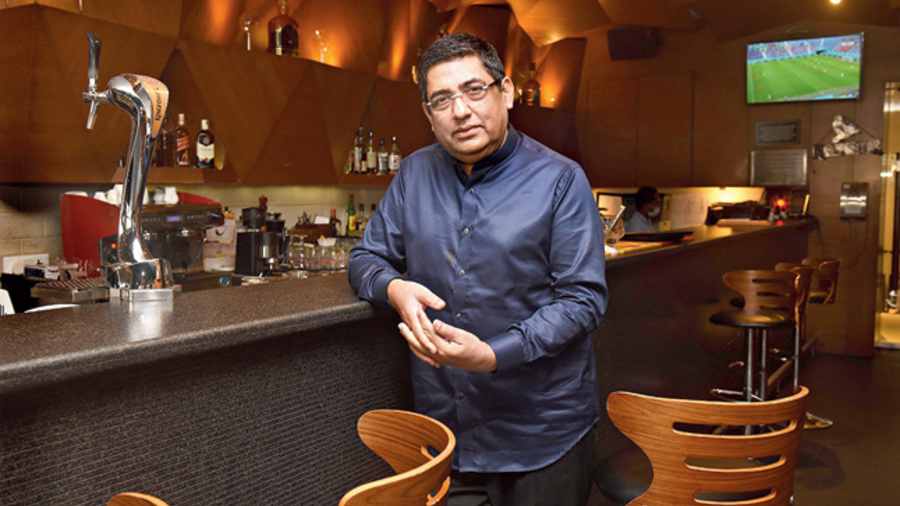 Chourangi is Anjan Chatterjee's first foray into the London restaurant scene
From a recent outing, the new kid in town to watch in that space is Chourangi, Anjan Chatterjee's first foray into the London restaurant scene.
Tucked away on Old Quebec Street, off Oxford Street, and metres away from the Marble Arch tube station, this mid-sized restaurant has started serving up old and new favourites under the tagline "Unexplored flavours of Calcutta".
'Contemporary takes on dishes eaten in Calcutta'
The decor is elegant and reminiscent of the city – the seating evoking beter chair memories for me, ceiling fans on low speed and walls showcasing scenes from the Coffee House, Ray with his eye on the camera, and of course, a shot of the Victoria Memorial.
According to its website, "Chourangi celebrates the harmonious blend of European, Mogul and Chinese cultures and food that has evolved in Calcutta" and stresses that the menu features "contemporary takes on dishes eaten in Calcutta".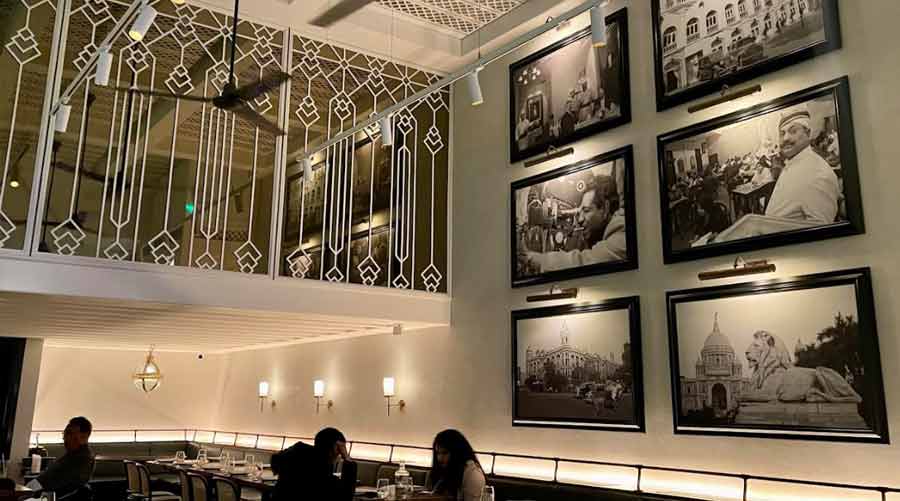 The decor is elegant and reminiscent of Kolkata
Calcutta Lamb Biryani… Aamada Maach… Paanch Phoran Lamb Rack
Speaking of the menu, it is small – fits in one page – but from our experience, this seemed an indication of a desire to get a few things right before expanding. There are the classics like biryani (choice of Awadhi, Calcutta Chicken or Calcutta Lamb), Bhapa Hilsa, Chingri Cutlet and even Palong Shaker Torkari. But also, the more 'unexplored flavours' like Paanch Phoran Lamb Rack, Aamada Maach and Kamal Kakdi Chaat.
We started with drinks. I went for a fresh lime soda (which had generous slices of pati-lebu) but there was an extensive list of cocktails (standout name being Aam Kashundi Harmony), mocktails (including a cranberry-mango-grenadine concoction called Godhuli) and a well-stocked bar behind us.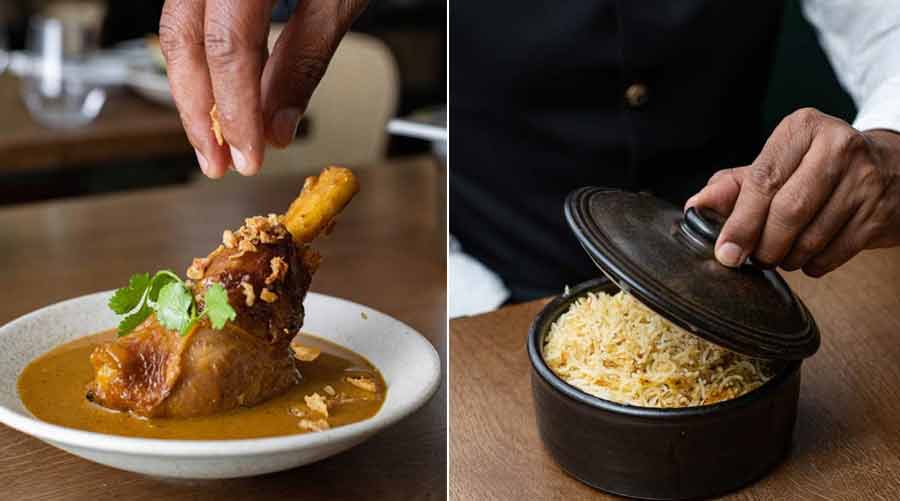 Paanch Phoran Lamb Rack and a biryani
The person serving us was very knowledgeable both in terms of navigating the menu and portions. And the overall service was excellent, including the culinary director stopping by every table to check and recommend dishes.
Kamal Kakdi Chaat to Kakra Chingri Bhapa to…
For starters, we went for the Nizami Malai Tikka served in a cute iron skillet and the Kakra Chingri Bhapa wrapped in banana leaf (an Oh Calcutta staple, my companion told me) which both lived up to our expected standards. We then tried the Kamal Kakdi Chaat – a novelty first for me – but the lotus stem-sweet potato-chutney mixture worked really well.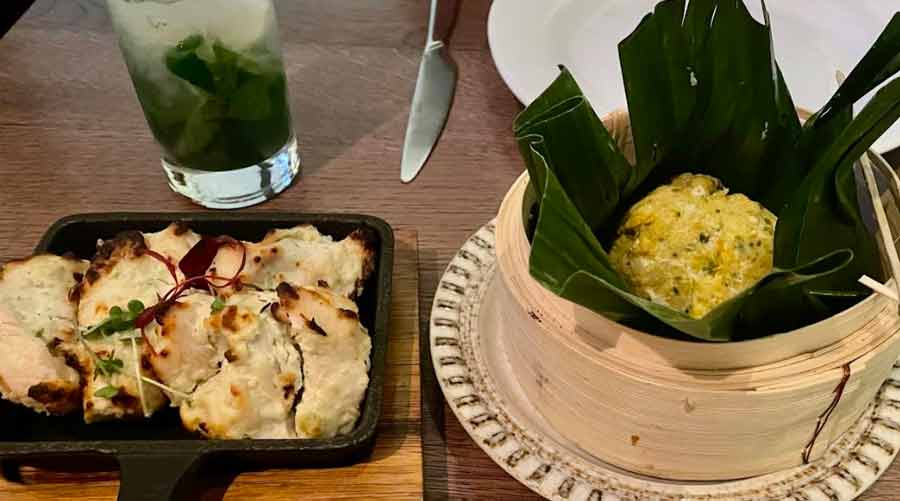 Nizami Malai Tikka served in a cute iron skillet and the Kakra Chingri Bhapa wrapped in a banana leaf
… Kosha Mangsho
For mains, we went for Kosha Mangsho with a bread basket (selection of kalonji naan, paratha and tandoori roti). The mangsho was actually kosha like in Kolkata and we didn't hesitate to suck the marrow as one does there.
By the time we finished these, despite both being hearty eaters, it felt surprisingly full. Wanting to leave room for dessert, we skipped the biryani which I definitely had my eye on.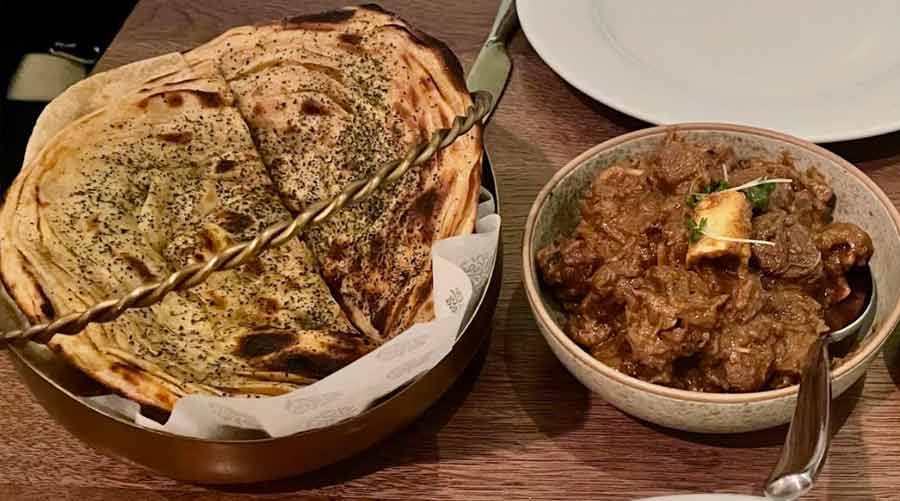 Kosha Mangsho with a bread basket
Kesar Pista Kulfi and Sondesh Tart
For dessert, my companion went for the Kesar Pista Kulfi and I opted for the Sondesh Tart. I was pleasantly surprised to both find the shondesh warm and having a crispy pastry base. The accompanying ice cream was coconut flavoured (not my preferred flavour for ice-cream, but it was mild and seemed to work well as a combo).
Not everything was Kolkata-like though: the kosha mangsho was Welsh lamb not mutton (apparently they're working on it) and an initial idea of nolen gur for the shondesh has proved tricky so far.
Price wise, it was slightly on the pricier side, though given the location and quality of food that's understandable. And there are also set menu lunch options.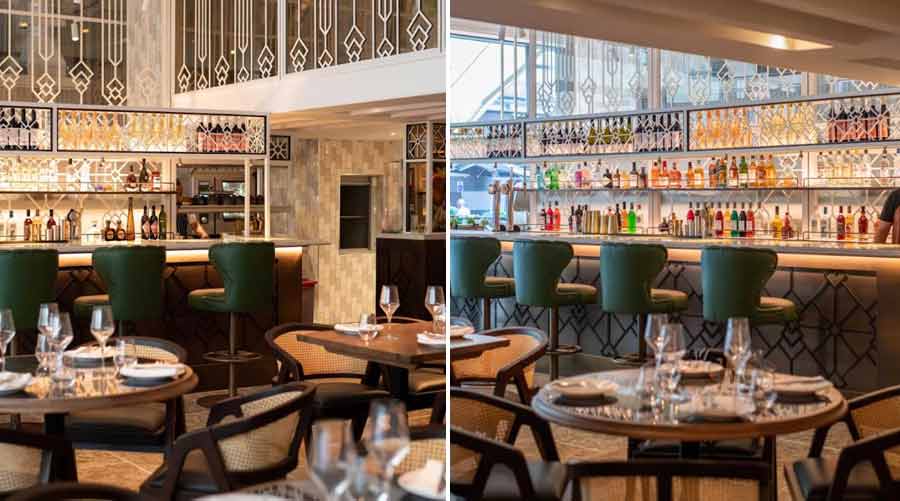 A closer look at the interiors
Worth a return? Definitely
Like most new interesting London joints, the word about Chourangi seems to be spreading quickly. Big names like Sourav Ganguly and Shreya Ghoshal have dropped in already, we were told. And even on a Wednesday evening the place was buzzing, with most tables full during the length of our stay.
Worth a return? Definitely. Not least to try out the Biryani and a few more dishes for a fuller appreciation of the menu. Though I suspect the queues will be a lot longer by then.
Subhajit Banerjee is a food enthusiast who grew up in Kolkata and is now a British civil servant based in London.