Born from his sustained love for feeding people, hospitality and "putting Bengali food on the global map"; Anjan Chatterjee's latest venture is a London restaurant that serves a menu that celebrates the food cultures of Bengal and is aptly named Chourangi. So how did it all start and what has it culminated into? Chatterjee tells The Telegraph.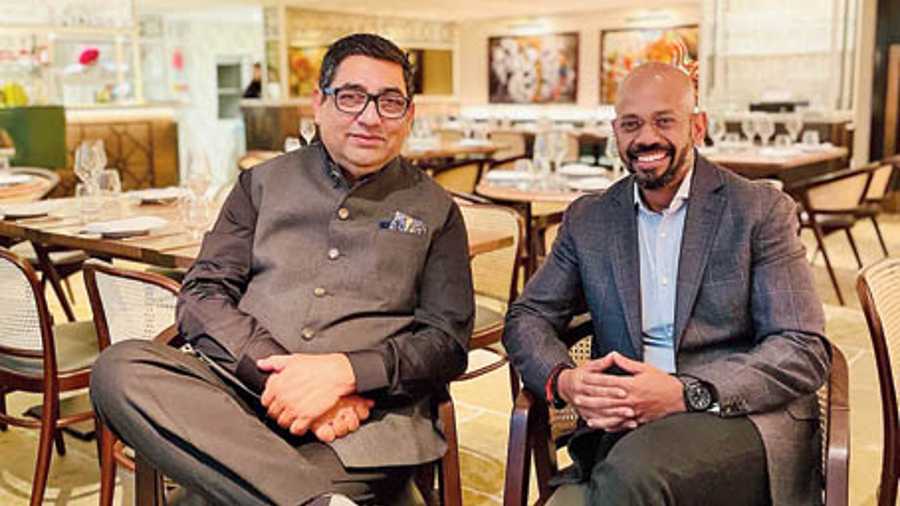 Anjan Chatterjee with Aditya Ghosh
How was the idea of taking Bengali food to London conceived?
India is not just one country — it is a country within a country. With every 100 miles, the "paani" and "vaani" change. Since I have been a marketing person myself, I have travelled to all parts of India and especially in Bengal. If you see Bengali cuisine, it's all about steam, bake and grill. All garam masala in India have a character and the unique garam masala of Bengal comprises cinnamon, cardamom and 10 per cent of cloves and it is much more exotic than the rest. Things like panch phoron, aam aada, gondhoraj, kasundi are just unparalleled. These are all very disruptive flavours and people tasting them now in London can't believe them!
Why Chourangi? Why not an extension of Oh! Kolkata in London?
When you are starting something in a city where you want to make it a global brand, I thought that I wouldn't make it 100 per cent city-centric. I'll take a piece of Kolkata and make it. I am a marketing person and we did a lot of dipstick research but what's in a name! But I thought that Chourangi has a fragrance and we were catering to a different clientele. Of course, Bengalis would come but we also wanted to present something that was authentic and relevant, without bastardising the cuisine. I knew we were relevant because London is infested with Indian food that is the same in content but different in presentation. I intentionally wanted to make it a little new and fresh because this was going to be a global brand as we are going to Singapore and the US so that's the global representation of Indian food for me. We have done a Lal Murgi'r Tikka that is flying off the shelves with the burnt masala that is used in Bengal. Chourangi gives the smell of Kolkata but is not in your face.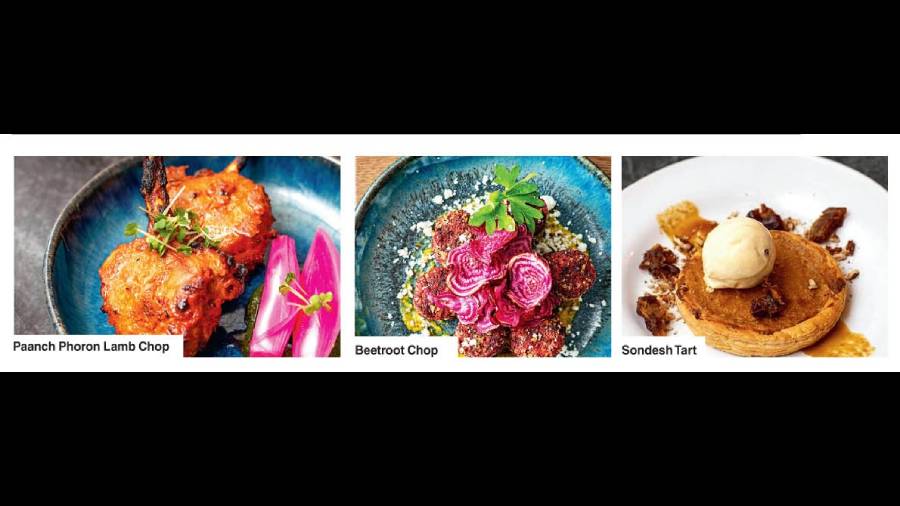 Why the interesting spelling of Chourangi?
This was based on dipstick research. The British were pronouncing it as Chow-rangi and people were wondering if it's a Chinese restaurant. According to Google, the old trade hub of Kolkata is pronounced as both Chowringhee and Chourangi. I chose the latter because I felt that the former could be more laboured to pronounce. It is also easy for non-Bengalis to say the name.
What led you to partner with Aditya Ghosh for this venture?
I haven't seen a bigger foodie than him. When he eats, he can have five jumbo prawns at one go by himself. He loves his food and especially, his Bengali food. He has been a big fan of Oh! Kolkata and we have known each other for a long time so it was over a drink that he asked me, "Anjan, what is next?" I told him that this was next and he was like, "I want to be a part of this." I thought it was just over conversation that he said that and God has been kind enough so that we did not need to ask for funds. So I knew the value he would add. It is a very complementing partnership of things that he brings to the table — whether it is running an institution or co-creating things for us. And our mindsets are the same. We don't need to ask each other as we know what we want. It's a long-term business and we need to establish things. He has been there for all our trials and there has been a lot of passion and fun in the whole game. The project was grounded for two years because of the pandemic but we stayed put that nothing doing, we had to start on a specific date.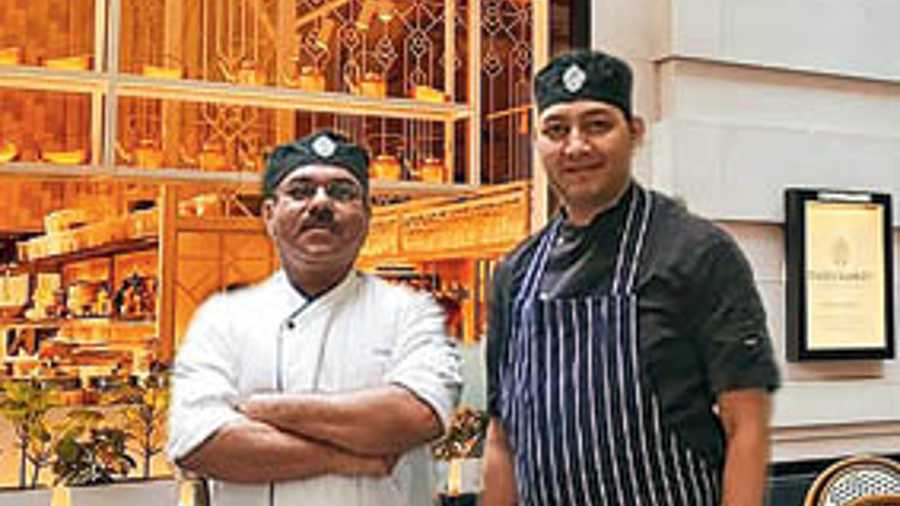 Chef Subir, head chef, and chef Sachin Thakur, associate head chef, Chourangi
How did you get the people to cook there?
Who would be able to cook this food apart from people who have cooked at home, who have been tutored in this cuisine to make this food. I do believe that only a Bengali person can make this food, unless someone is taught. So we had people go from here to create that feel and flavour. So while Surjan Singh Jolly is the culinary director, chef Subir is the head chef and chef Sachin Thakur is the associate head chef.
How would you describe the food at Chourangi?
It is highly inspired by the city of Kolkata and hence, Oh! Kolkata. But certain things like when we make lamb chops, we use Welsh lamb. So the food uses the produce of England and the ingredients and flavours are married to Kolkata. For example, the alternative to the Sea Bass there is the Stone Bass. We were facing some problems with the sourcing of the hilsa so we get it from Dhaka. We were not getting gondhoraj, so we got a vegetable importer to ask his friends to get us the limited quantity of the same. We do get a lot of fresh Indian and Bengali ingredients there but whatever we can't, we get them imported. And I also go quite often so I carry what I can. For example, I recently carried 25kg of garam masala that was made and tasted here. Serving authentic food is a mad drive for me.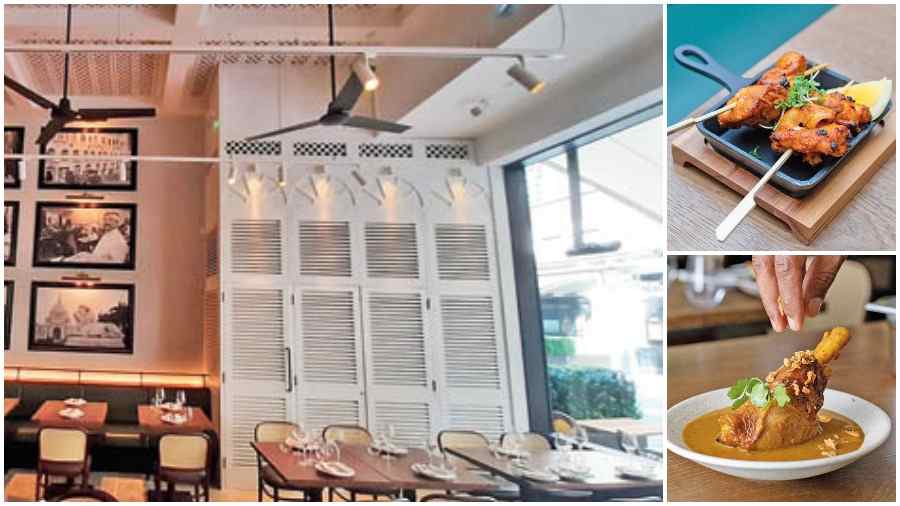 How did you come up with the menu?
We knew that panch phoron is a hero. We changed the fish tikka to lamb. We put kasundi in all our dips but have done a balance with cream for the local palate. Kosa Mangsho with a Welsh lamb and the Ossobuco cut, with the spices adjusted to suit the lamb, is also on the menu. We haven't brought down the spice levels too much also because we can see that the locals there are accepting a certain level. We have a Kakra Chingri Bhaapa with Blue Swimmer Crabs, which we pick up. So this is how we marry the best of local ingredients with Bengali flavours. We have restricted our menu to 45 items and all of them are Bengal-specific.
So how have you been navigating the waters, given the pandemic?
By god's grace! Initially, it was supposed to launch in April 2020 and it's been grounded since then. But our conviction was: "Korbo, lorbo, morbo re". So even if it happened a little late, we could not have not done it. "Onek hoyechhe Chicken Tikka Masala, Bangali khabar ta okhaney khawaboi," was our aim. When you have a good product and we had done the right work, we did not want to chicken out from the situation. It got delayed because since Brexit, there has been no manpower there and we took people from here. So it officially opened on October 7, on Mahalaya, and it couldn't have been a better day.
Though it's too early to say anything about a restaurant business before six months, I can say that the cuisine and the concept of the restaurant have been accepted and those are big things.
Pictures courtesy: Speciality Restaurants