A parents' body has started a bakery unit to train individuals with special needs in baking and provide them with an "avenue to gain independence" .
The vocational unit, opened by Behala Bodhayan, is teaching individuals with autism and intellectual and development disabilities in the age group of 16 to 40 how to bake cookies, cakes and buns.
The unit was inaugurated on May 3, which was the 21st birth anniversary of the organisation that is run by parents of children with special needs.
"The idea is to create different avenues for them so that they become financially independent. It is true that they will need some mentoring and we are also creating a resource team for that," said Soumen Upadhyay, working president of Behala Bodhayan.
"We have different kinds of individuals and we have to channelise them according to their abilities. Not everyone is interested in baking…. There are different vocational units. Learning to do something keeps them engaged and helps them pick up a skill," said Rikta Ghosh, general secretary of Behala Bodhayan and one of the eight people who started the organisation.
Behala Bodhayan trains 150 individuals with special needs, day boarders and residents.
Ghosh said the organisation was trying to create employability for them by empowering them with various skills.
"There are organisations that have recruited our students in cafés and offices. But not all of them can go out and work. A unit here would help them work and earn a living," Ghosh said.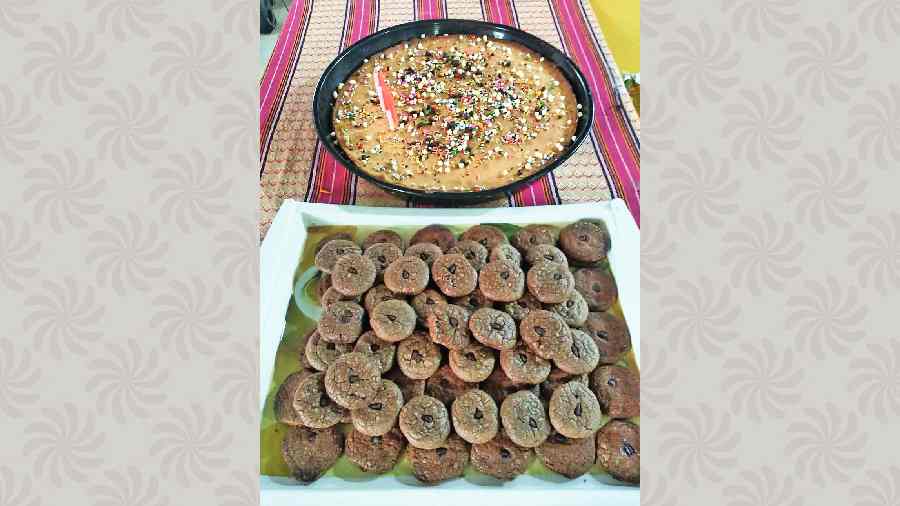 A cake and cookies made by trainees at Behala Bodhayan
Behala Bodhayan has a food processing unit and a boutique, both of which saw a dip in sales during the pandemic.
"But despite that we started the bakery unit because we have in-house consumption and for that we will be using what our students make. In fact we have decided that for the birthday celebrations of our students, we will bake our cakes," said Ghosh.
Once the training is over, the organisation would try to augment the sale of its products.
"With our students we cannot fix the duration of the training in advance. We have to give them the time they need to pick up the skills," Upadhyay said.
"Parents of children with special needs are worried about the future of their children. We have to think about the future of our children in our absence. If we do not create options for them how would they manage," said Ghosh.