At Cafe Positive, Asia's first cafe run by HIV+ people, coffee is served hot and sipped without reservations.
A brainchild of social activist Kallol Ghosh, the crowdfunded cafe at 64A, Lake View Road (near Deshapriya Park), has plans of branching out to other cities.
"We are in talks with multiple malls and airports for setting up small kiosks. We are planning to set up 30 cafeterias across the country like Delhi, Mumbai, Pune, Lucknow and Guwahati. For this, we will need to stay in constant touch with the HIV+ community in these cities and upskill them through practical training," says Ghosh.
He also plans to take this initiative abroad. "Asian Development Bank has proposed to invest Rs 150 crores to set up branches of Cafe Positive in various parts of Asia. But before we go forward, I want to establish the concept in India first," he adds.
How it all began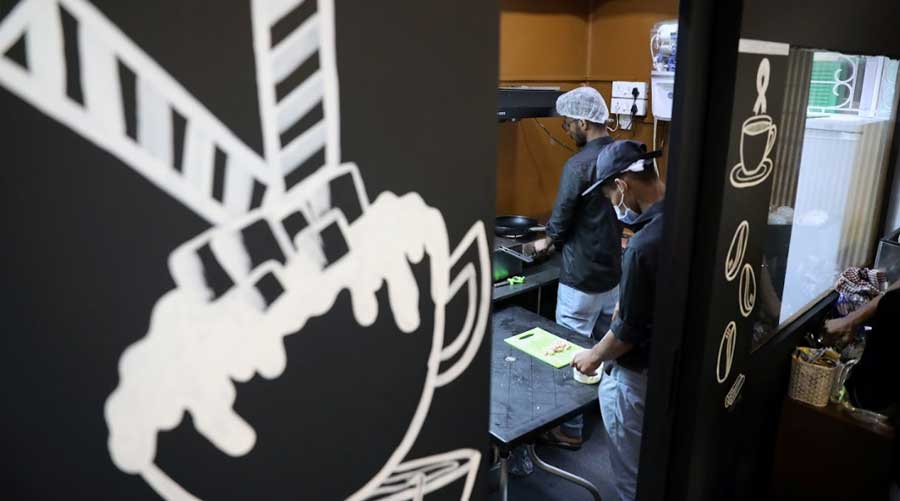 A restaurant in Munich that was run by HIV+ employees was the inspiration behind Cafe Positive. Cafe Positive aims to set up around 30 branches across India, according to Ghosh
Arijit Sen
The idea of creating a cafe that aims to counter social taboos came to Ghosh when he visited Germany and saw a restaurant in Munich being run by HIV+ people. But back home, he faced a big hurdle in finding an appropriate ambience to start the cafe. "Most people hesitated to rent us their space when they heard about our idea," said Ghosh.
So, Ghosh started Cafe Positive out of a small garage in Jodhpur Park in 2018. The cafe's roots are deeply embedded in Ghosh's aspiration of doing something for the HIV+ community. In 2000, Ghosh established Anandaghar, a care home for HIV+ orphans in the Gobindapur area in South 24 Parganas district. It continues its work even today, with around 70 children and youth benefitting from the social initiative. Today, Cafe Positive employs and provides for the same orphans.
'If they can, why not you?'
The 640 sq ft cafe moved to its present Lake View Road location in October, 2020. It is housed in the ground floor of a three-storeyed house.
On April 3, the cafe reopened its gates to coffee-lovers after a renovation of its interiors. Novel additions that impart a new look to the cafe include whitewashed exterior walls, glass and wooden furniture, spotlights in the interior seating area and outdoor seating right by the cafe front.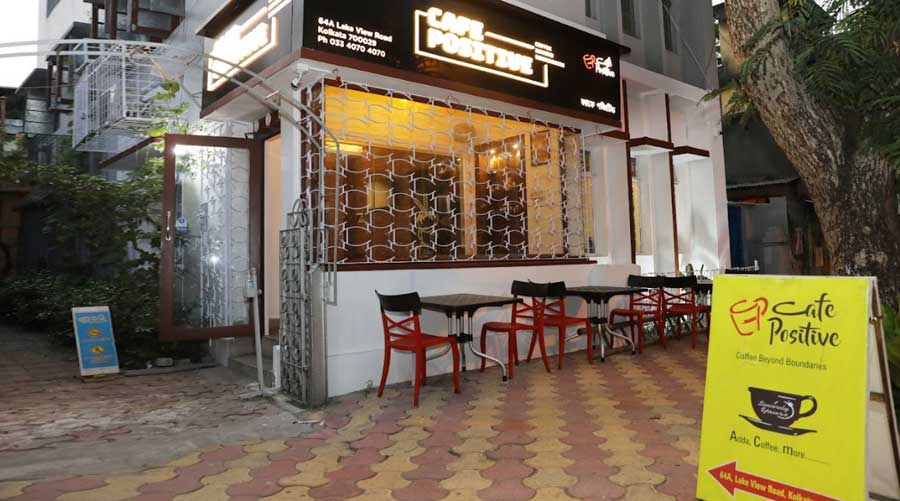 Cafe Positive, located at 64A, Lake View Road (near Deshapriya Park), reopened on April 3, 2022, after renovation
Arijit Sen
The interior walls are lined with motivational quotes from Gandhi, Tagore and Nelson Mandela, to name a few. To create a welcoming space for the eight staff workers, excerpts from the lives of prominent HIV+ personalities such as Chuck Panozzo, Jerry Herman and Viktor Luna have been framed. The intention is to implant the idea: "If they can, why not you?"
The munch menu
Flip through the essay collections of Salil Chowdhury to Amartya Sen's The Argumentative Indian, courtesy the cafe bookshelf, over a piping cup of hot latte or Darjeeling flush.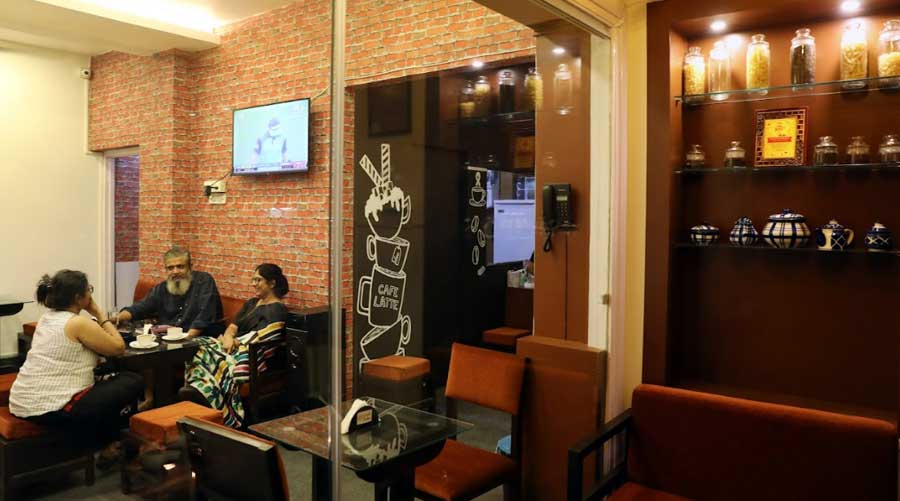 A glimpse of the interiors. Enjoy a cup of positivi-tea with a plate of Grilled Chicken Steak or Cottage Cheese Rice Bowl
Arijit Sen
Some of the pop picks at the cafe are Grilled Chicken Steak, Barbeque Pork Burger, Paneer Wrap, Meat Platter, Cottage Cheese Rice Bowl and Spaghetti Bolognese. End on a sweet note with muffins, cheesecakes and custards, all priced between Rs 90 and Rs 250. According to a cafe insider, the most popular dish is Fish and Chips.
In a bid to expand his initiative and create an employment ecosystem, Ghosh does not compromise on the quality of the food. "Neither me nor my children want visitors to return out of an emotional obligation," he says.
Why Kolkata?
Gulping his espresso down, Ghosh remarked, "This is a movement whose path can be shown only by Kolkata. It is not that HIV+ people do not live in other places of the country. Then why didn't it happen? This city is politically and socially sensitised and the people living here are proactive in their participation. There will always be problems, but Kolkata has a spirit."
The vision and the mission
The cafe continues to face financial and structural constraints, but Ghosh has enterprising ideas up his sleeve. During the pandemic, he made a short film involving the HIV+ community and uploaded it on an online crowdfunding platform. "It managed to raise Rs 20 lakh in nine days! Today, a lot of established professionals approach me to collaborate with us in our endeavour. This is the inclusion I want," he says.
Filmmaker and scriptwriter Utsav Mukherjee is a cafe regular and enjoys the "excellent coffee". "If I can be a part of this place on a daily basis, then I believe my friends and colleagues can also come here and collectively do something about the stigma that, unfortunately, is still in our society. It is important to normalise it," he says.