In Kolkata, when craving a madeleine or financier, Shuktara Cakes is almost always the name that comes to mind. Established in 2013 by Alain Cojean, director of Cojean restaurants in Paris, this Behala bakery soon became a crowd pleaser.
However, their story began years back in 1999 when British national David Earp started Shuktara as a charity to care for children and young adults with disabilities.
"In 2013, the boys were grown up and we wanted a way to empower them and make them independent. That's when Shuktara Cakes started," said Pappu Mishra, Chairman of Shuktara in a chat with My Kolkata at the Shuktara facility.
The bakery is spread over the rooms on the ground floor of a Behala home, which is also the NGO's care centre. A team of five men, who all grew up in that home, now create delicious sweet treats right there, spearheaded and supported by Somnath Sardar, manager of Shuktara Cakes.
There's a camaraderie only found in childhood friends who grew up together that can be witnessed between the men. In practised ISL (Indian Sign Language) they share jokes about things recent and from the past that makes you feel right at home in their presence. Bonus, their welcoming hospitality includes delicious madeleines to sample.
Meet the Team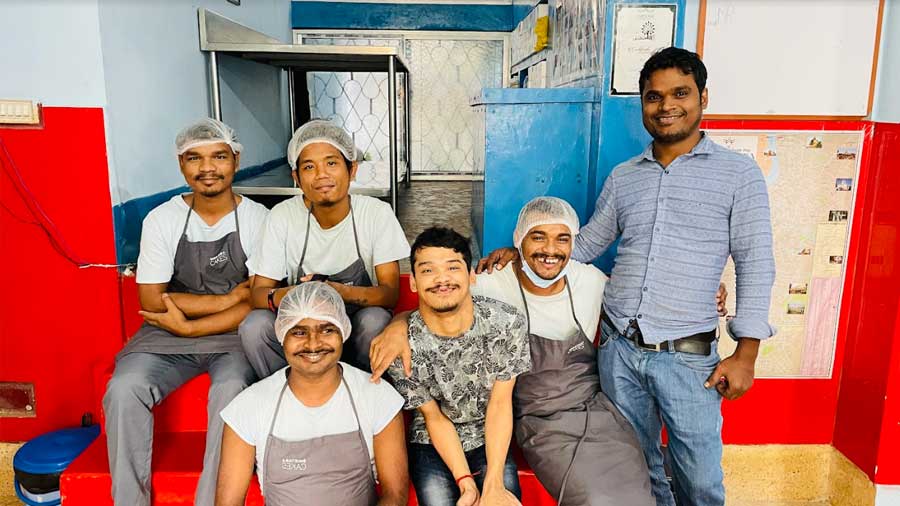 (L-R) Rajesh Roy, Raja Mohan Das, Sanjay Sarkar, Ashok Chettri, Raju Das and Somnath Sardar
Aatreyee Mohanta
Sanjay Sarkar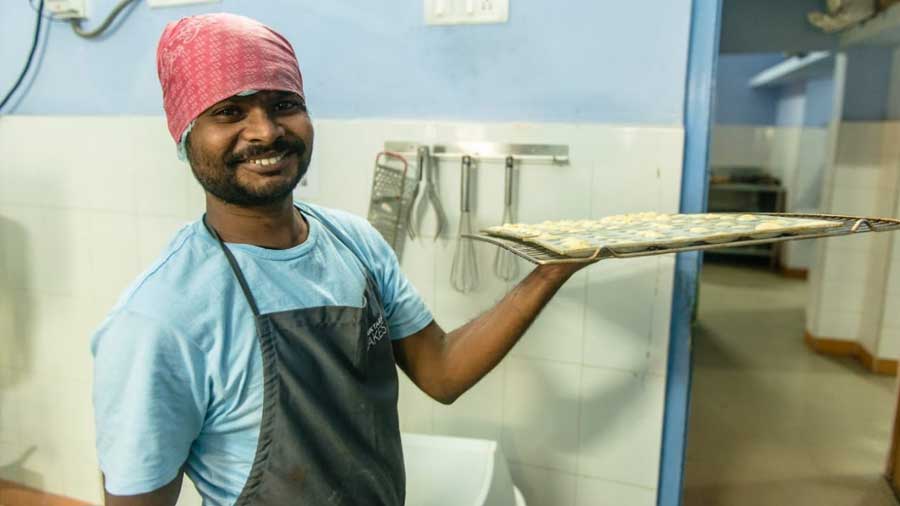 Sanjay Sarkar putting madeleines in the oven
Shuktara Cakes
Sarkar by the team. Now, the 28-year-old is a dedicated baker at Shuktara Cakes. Sanjay always has a smile and a cheery disposition, and he's often the one who takes the new boys who come to Shuktara under his wing. Sanya lives independently now with his lovely wife Munni, who also has the same disability, and their five-year-old daughter, Sumi.
Raja Mohan Das
Raja has been under Shuktara's care since 2006 when he was 15. Raja studied at the Oral School for the Deaf where he learned to sign, and is a keen painter with a love for cars and motorbikes. With the highest levels of confidence, 28-year-old Raja is a successful part of the team. He married Riya, who is also hearing imparied, in 2014 and is father to six-year-old Oindrila.
Rajesh Roy
Rajesh became a part of the Shuktara family in 2006. He is the shyest of the lot but has a warm smile that will make your day. He came to the home without a name, and from a list of options picked "Rajesh" and "Roy". From a mischievous child with a keen desire to learn, he has become a strong pillar of the family. He joined the bakery in 2017, after he finished school at the nearby Pragati School. Knowing that his diagnosis of Usher syndrome might eventually lead to blindness has not put a damper in the enthusiasm with which the 25-year-old takes on his responsibility in the team.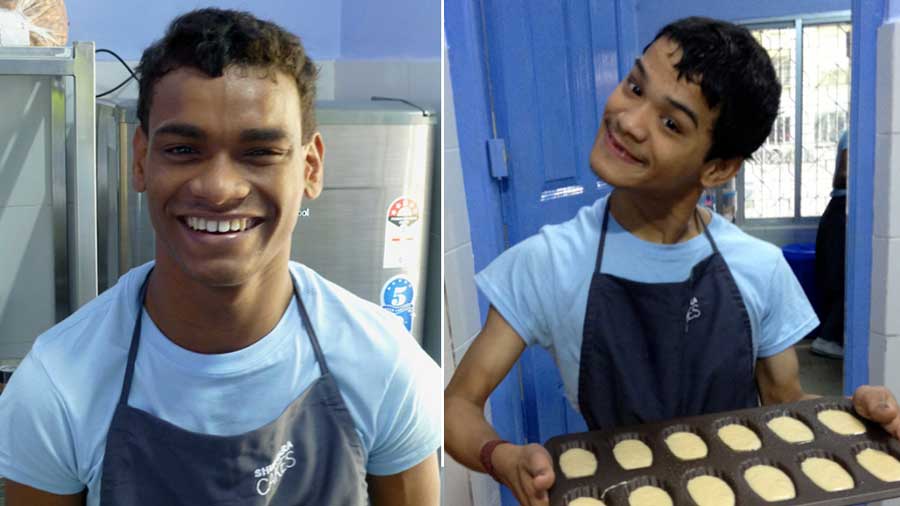 (L-R) Raju Das and Ashok Chettri
Shukhtara Cakes
Raju Das
One of the most enthusiastic members of the team is 25-year-old Raju. He was born in the roadside slums of Kalighat and was cared for by his grandmother, before he became a part of the Shuktara family. Raju has cerebral palsy, but that doesn't dampen his spirits one bit and he dreams of using his baking skills to have his own bakery one day. He is speaking and his first language is Bengali, but Raju is also one of the best sign language interpreters in the house. He cherishes his independence and is extremely proud of the phone he bought for himself with his earnings from the bakery.
Ashok Chettri
Ashok was brought to the home by an Irish nurse in 2003, when he was just 11 years old. He chose the 15th April for his birthday because it is the Bengali New Year. He is now 31 years old and has volunteered himself to work at the bakery. Having cerebral palsy his movements and speech is restricted, but he understands Hindi, English and Bengali and uses ISL to communicate. He has a great sense of humour, and also likes to turn the music really loud to dance and show off to the people he likes. He is the one always making jokes in the bakery and working harder than everyone else.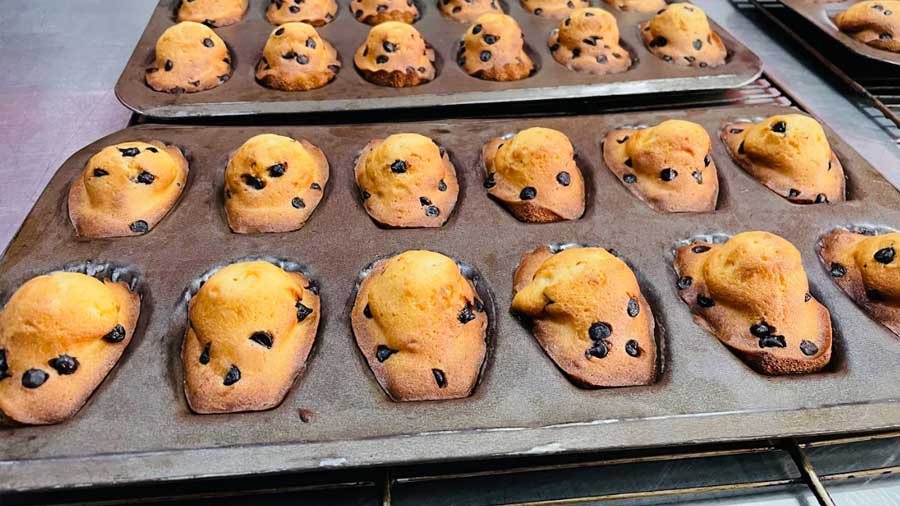 Madeleines fresh out of the oven at Shuktara Cakes' bakery
Aatreyee Mohanta
Everyone knows about the baked treats that Shuktara Cakes makes, but it is truly a revelation to meet the team behind it. Visits to NGOs and establishments run by charities can often be an overwhelming experience, wrapped in feelings of sympathy, but meeting the team at Shuktara Cakes is different. Their confidence in their skin unknowingly urges you to look past their struggle and see the inspirational, independent men they have become.
(Shuktara Cakes is known for their madeleines and financiers which they bake fresh when they receive an order. You can order cakes from Shuktara by contacting Somnath Sardar at +91 98743 49175.)