A sharp right just beyond Tangra's famous Chinese Kali Temple leads to an unassuming, unpaved bylane. Roughly 100 metres in is a slight bend, beyond which lies the humble family-run Chinese eatery, Ah Yung. A speck in comparison to neighbouring Tangra eateries.
After having been open only on weekends for approximately nine months due to the pandemic, the restaurant is now open full time. A Google search for the eatery will probably pull up results for a restaurant in Tangra called Ah Leung. According to owner Li Kiuo Jung, that was a mistake made by the person who put the eatery on Google. The restaurant is named after the family's name.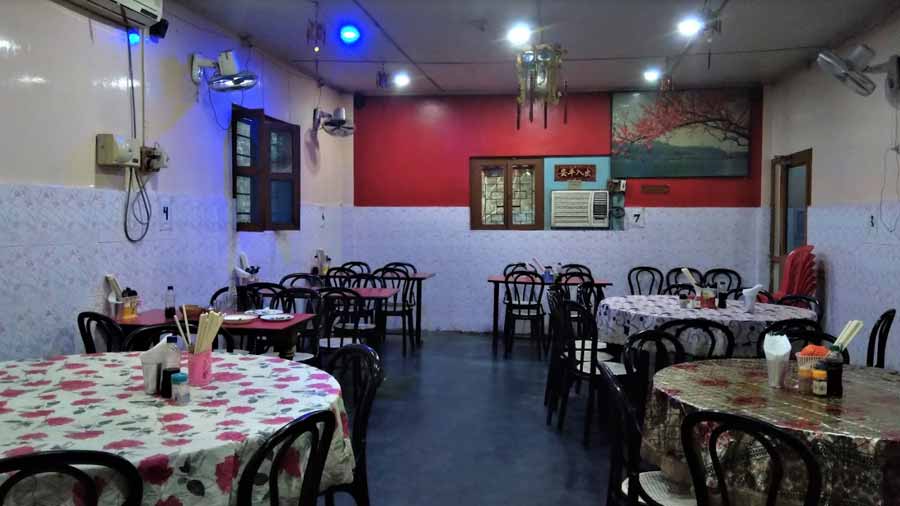 Tucked away at the end of an unassuming bylane, the restaurant has always had a steady stream of loyal patrons
Lygeia Gomes
Kiuo Jung set up Ah Yung 30 years ago. Today, the haunt is famed for serving the 'most authentic Chinese fare' in the city. "My parents, Li Kiuo Jun and Chu Li Ting, and I together run Ah Yung. But my great grandparents are the brains behind this restaurant — the recipes belong to them. We're the chefs but all credit goes to my great grandparents for the recipes," says Li Kit Sen, Kiuo Jung's son.
Chow down on that
Ah Yung is renowned in Kolkata for its breakfast delicacy of wanton noodles, better known as the shingara chow.
The dish is named after its hero — uniquely shaped wontons that resemble a Bengali shingara.
The shingara chow is a comforting combination of wonton mee noodles cooked with Chinese cabbage and steamed pork wontons, served with a bowl of piping-hot broth. A fistful of delicate pork pieces, a sprinkle of black pepper, a handful of crunchy spring onion and some pak choy tops it off. One drop of their in-house red chilli sauce and a swirl of soy sauce is recommended with every bite. 
"This dish is so tasty because we make the noodles and the wontons fresh. The wontons, of course, are prepped earlier but we steam them as and when orders are placed. It's homemade and handmade. We add in some pork lard right at the end which is the essence of the dish and makes it 'healthy' because we use pure pork oil," explains Li Kit Sen.
Affordable and delicious, this dish has attracted folk from every nook and cranny in the city. "Customers from all over the city come to eat our shingara chow. People often get lost in the lanes of Tangra but I've noticed that even if it takes a while, they never stop trying to find Ah Yung," says Li Kit Sen.
Patrons have walked kilometres trying to unearth this hidden gem. They've relied on muffled directions from locals, looped the lanes on cycle rickshaws, but few give up the chance to devour some shingara chow.
Happy tummies, happy pockets
The restaurant sells the noodles and the wontons separately. The noodles are Rs120 per plate while the wontons are Rs 5 per piece. "When we first began, we used to sell one wonton for 50 paise and a plate of noodles for Rs 15. We've come a long way," reminisces Li Kit Sen.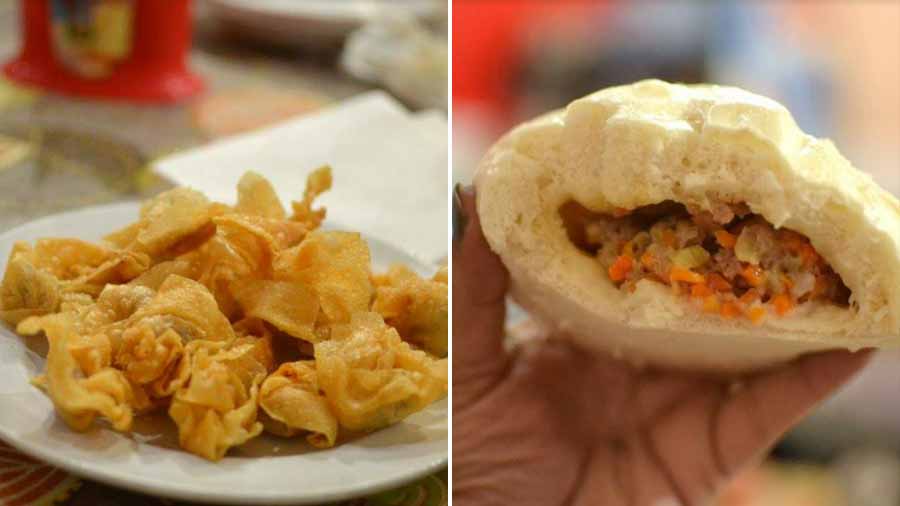 Popular pre-ordered dishes include roast chicken and pork, baos, steamed and fried moon wantons, and delicate sui moi dumplings
Poorna Banerjee
The joint has an oscillating daily menu, most commonly customised for the customer. "We don't have a fixed menu. Our customers know that we make every possible Chinese dish so they come in and order. They name it and we make it. Of course, if you want something extraordinary then you have to pre-order it," explains Li Kit Sen.
Popular dishes that are often pre-ordered are roast chicken and pork, chilli beef, baos, steamed and fried moon wantons that have a filling of chicken, prawn and assorted veggies, and delicate meat and bamboo shoot-filled sui moi dumplings. 
On a regular day, the bestsellers (apart from the shingara chow, of course!) include hakka noodles, crispy chilli chicken, honey chicken, sweet soy chowmein and kap tai. A type of dumpling, the kap tai is made using every part of the hog and comes in three versions — steamed and soupy, pan fried with a spicy sauce, and crispy fried. The special kap tai, made with char sui spice and a combination of sauces, needs to be pre-ordered. The chefs at Ah Yung prefer to purchase the char sui spice and sauces from China so the fare has an authentic flavour.
Star Moment
A stream of loyal patrons aside, the little joint's finest moment, according to Li Kit Sen, came last year when, "Sourav Ganguly reserved a table for his family. He pre-ordered our shingara chow and moon wontons!" Unfortunately the city's favourite Dada could not dine here because the restaurant closed due to the pandemic. Though, since it's open now, the lond-due meal might happen soon.