eat
Bread + meat + cheese = Perfect sandwich
Located at: Calcutta Deli, P-452-b Hemanta Mukhopadhyay Sarani, Keyatala
Published 29.09.21, 07:43 AM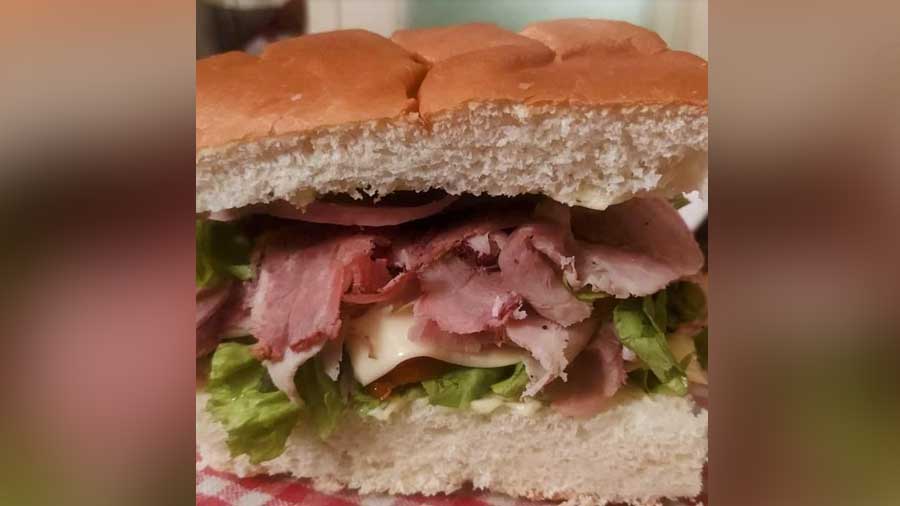 Pastrami & mustard on rye
Image courtesy: Calcutta Deli
If you don't have cake, eat this bread! Because a really good sandwich can make your day.
Calcutta Deli has rolled out a wide range of bread to match their reliable cold-cuts. From Brioche to Footlong French Baguettes, cornbread to French Milk Bread, there's a different bread for every day of the week. If you're one of those people who can make a meal out of bread alone, then we suggest focaccia or even the whole wheat multigrain bread which is baked with various seeds — sunflower, flax, chia, watermelon and pumpkin.
There's a range of meat as well, of course. Hand-cured and processed in-house, some of the best cuts of meat are served at Calcutta Deli. Smoked beef and ham are available if you like the lingering flavour of meat-on-charcoal. If you prefer your meat cooked and wet, consider the Sloppy Joe and Mutton Burger. Looking for a healthy crunch? The Pastrami Mustard Sandwich or Pastrami & Mustard on Rye balance out the bread and meat with some greens. And if you're absolutely starving, then look up the Biggermouth Burger!
Recent cheese additions at Calcutta Deli include Spiced Halloumi and Buffalo Camembert.
— Pooja Mitra