His eyes exude intensity and an unflinching focus. Decked in military uniform, his posture is one of purpose. His shoulders, broad and firm, project a commanding appearance, the kind that remains frozen in time. Perched upon a prancing horse, he keeps watch over one of the busiest junctions in all of Kolkata — the five-point crossing of Shyambazar.
He is, of course, Netaji Subhas Chandra Bose, whose bronze likeness adorns the heart of Shyambazar, the soul of North Kolkata. Sculpted by Nagesh Yoglekar and unveiled by the Kolkata Municipal Corporation (KMC) in 1969, the Netaji statue has evolved into a larger-than-life compass over time, with both locals and first-timers using it as a reference point to figure out the direction of their journeys. And no, figuring out directions while in Shyambazar is not the easiest thing in the world, with its intricate roads and blind alleys often proving confusing, even for Google Maps.
Club kochuri and Bangali mishti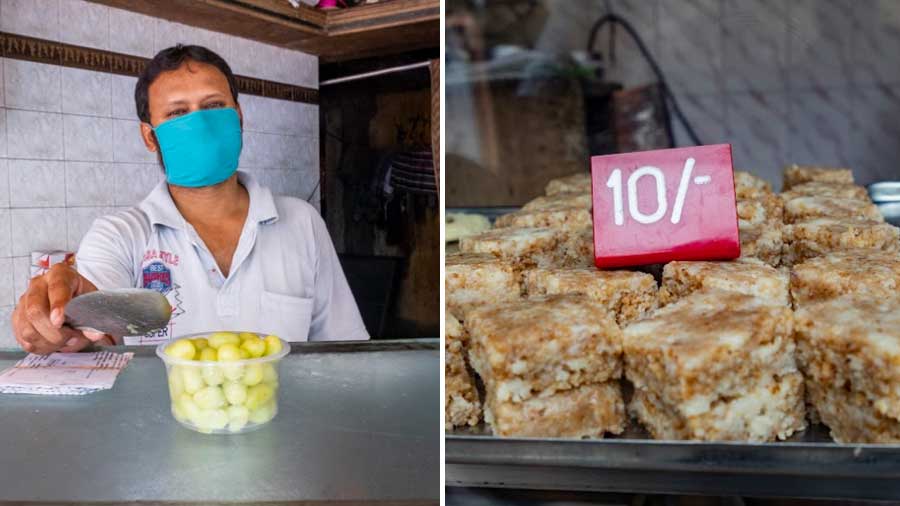 'Chhanar angur' sold at New Mukho Sweets (left) and 'Fried kalakand' at Tarama Sweets
Ritagnik Bhattacharya
"Shyambazar has its own way of doing things, its own culture and etiquette, which cannot be learnt in a matter of a few years. They take generations to understand. The addas in the paras, the club kochuris, the evenings spent singing, the wafting scent of timeless Bangali mishti, it's all here. Shyambazar is quintessential North Kolkata," notes Kaushik Chowdhury, 50, who was born and brought up in the area.
Widely regarded as the citadel of a bygone Bengali aristocracy and part of what was earlier called Sutanuti, Shyambazar covers wards 10, 11, and 12 of the KMC, combining nostalgia-filled lanes with urbane shopping centres, homely corner cafes with sprawling 'modern' restaurants. A reflection of what Kolkata was as well as what it has become, Shyambazar is one of the few remaining parts where one can experience the sense of travelling back and forth in time with every passing street.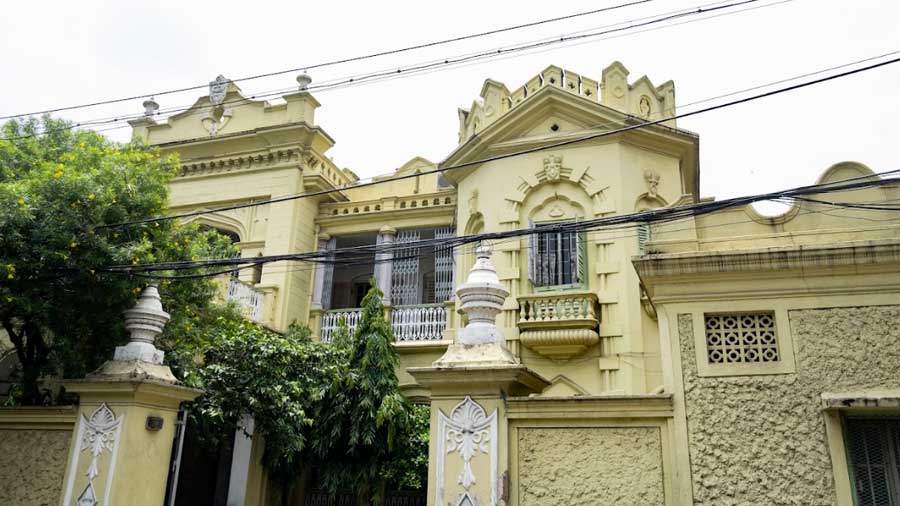 An old North Kolkata residence called Suktara
Ritagnik Bhattacharya
Take, for example, the part of Shyambazar that has quaint outlets like Tarama Sweets and New Mukho Sweets, a throwback to the days when sweet shops did not have to be spacious or glamorous to attract loyalists. At Tarama, one will find the exquisitely crunchy fried kalakand, a speciality, while at New Mukho, the chhanar angur intrigues the mind and palate alike. This is the Shyambazar that feels like a page out of colonial Kolkata, accentuated by the presence of patrician residences like the yellow marvel that is Suktara (located opposite Tarama).
Calcutta Bungalow bridges past and present
Then there are the typical high-rises, the KFCs and the Pizza Huts, the FBBs and Pantaloons that are more reflective of contemporary times. But there is also something else in Shyambazar, a place that fuses the past and present in an intoxicating fashion. This place is Calcutta Bungalow, a restored 1920s townhouse on Fariapukur's Radha Kanta Jew Street that has been designed to recapture the city's golden era. 
On stepping inside Calcutta Bungalow, one is immediately transported into an idyllic realm of old-school courtyards rumbling with conversation, luxurious rooms with fitting names like Jatrapara, Mochipara and Boipara, that come equipped with typewriters (which actually work), a delectably decorated terrace, and a handful of cats striking fabulous feline poses. 
In some ways, this heritage bed-and-breakfast lodge is reminiscent of the palatial house of Nabin Chandra Basu — situated a few miles and almost two centuries apart — where the Bangali babu had organised a production called Bidyasunder in 1835, based on the work of poet Bharatchandra Ray. Giving in-house theatre new meaning, Basu is believed to have spent some two lakh rupees on a single night of unadulterated entertainment. Neither Basu's house nor the vestiges of Bidyasunder have survived.
Mahendra Singh Dhoni bats for Shyambazar!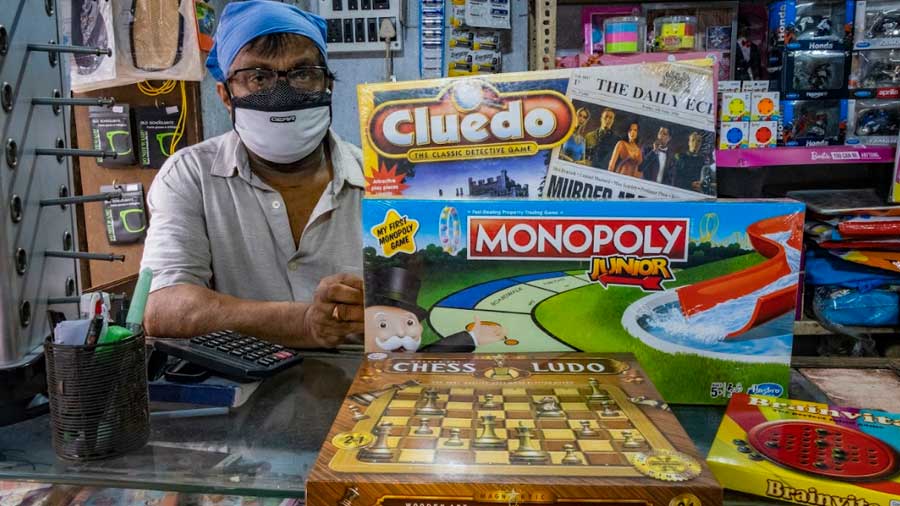 Lakshminarayan Mallick, the owner of the toyshop Striker, poses with the most popular board games in his store
Ritagnik Bhattacharya
A helicopter shot away from Calcutta Bungalow is Striker, the oldest toy shop in North Kolkata. Selling everything from classic board games like Monopoly to whatever tickles the fancy of Generation Alpha (those born in or after 2010), Striker has been around since 1981. 
"I started this because there were no toy shops in North Kolkata back then, and I did not want kids from here to travel to Park Street or New Market to get their dose of fun. With time, we have grown in size and I'm glad that we have been able to bring smiles on the faces of thousands of children over all these years," says Lakshminarayan Mallick, the owner of Striker.
The emergence of Striker spawned countless other toy shops in Shyambazar, mostly concentrated in Fariapukur, which is also home to a glut of stores selling sports kits and equipment (read mostly cricket kits and equipment). One wonders if Mahendra Singh Dhoni had the chance to sample any of them before stroking a swashbuckling double century for Shyambazar (yes, you read that right) in the Probir Sen Memorial Trophy in 2005 (barely two years before he led India to the T20 World Cup crown).
On Mohun Bagan Row, to the 11 we bow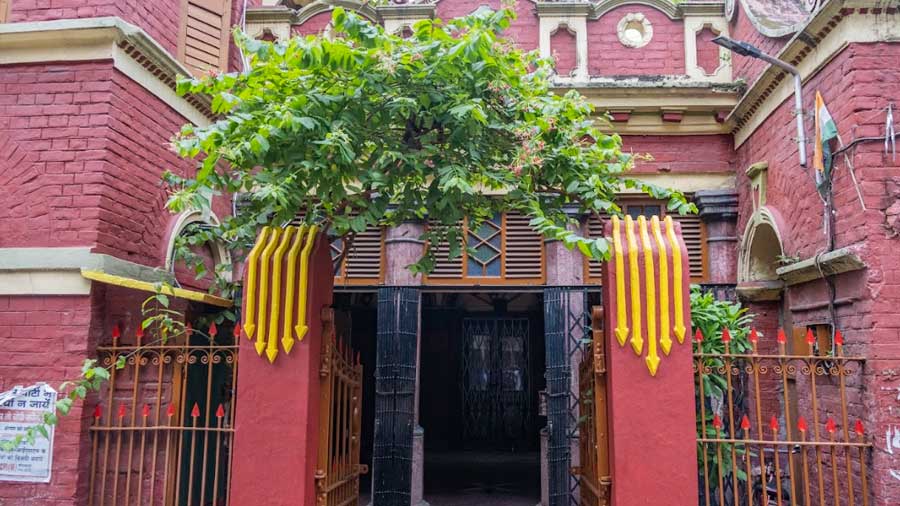 Chandi Bari, a temple to goddess Kali, which is more than 100 years old
Ritagnik Bhattacharya
Away from the hustle and bustle of Fariapukur, Shyambazar also has a more solemn, profound side. A visit to Chandi Kalibari, a brisk 15-minute walk away from the five-point crossing, is soothing and spiritually elevating. More than 100 years old, this temple to Goddess Kali is couched in one of those pockets of Shyambazar where apparent dead ends never really die. The large pavilion at Chandi Kalibari is ideal for devotees to spend some peaceful hours in contemplation of the divine.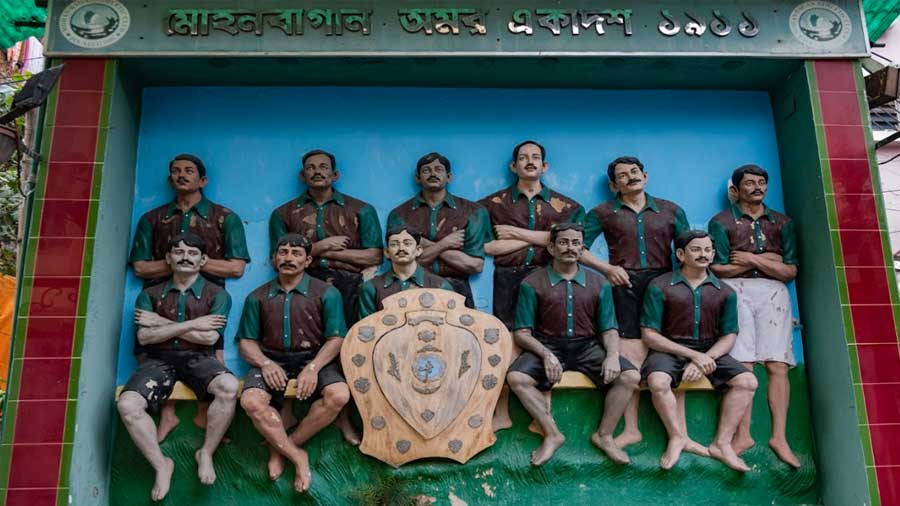 The Mohun Bagan players who took part in the IFA Shield in 1911 have been immortalised on Mohun Bagan Row
Ritagnik Bhattacharya
Sacred spots in Shyambazar, however, are not restricted to the worshipping of the divine. On Mohun Bagan Row, 11 men are worshipped day and night for conjuring a miracle in 1911. Beating the East Yorkshire Regiment 2-1 to win the IFA Shield, they galvanised an entire nation, proving that bare-footed Indians could hold their own against their well-heeled British opponents. These 11 men belong to Mohun Bagan AC (which has since become ATK Mohun Bagan) and have their figures immortalised on the very street where their beloved club was founded in 1889.
A mission called Geetabitan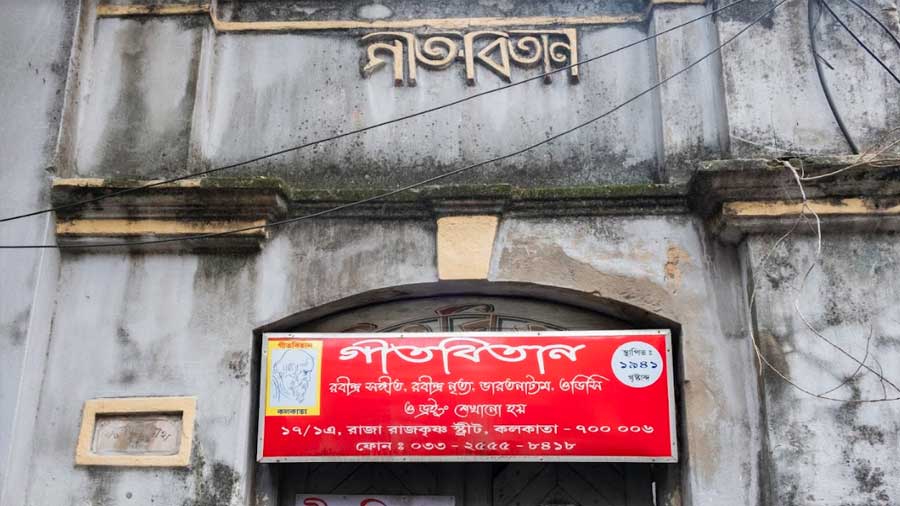 Geetabitan, a community training centre for Rabindrasangeet
Ritagnik Bhattacharya
If one has mentioned football in Shyambazar, can song and dance be far behind? Not any kind of song and dance, though. Only that of the highest order, at least according to Bengali sensibilities. 
Geetabitan, a community centre on Raja Rajkrishna Street, has been providing training in Rabindrasangeet for generations. Inaugurated in December 1941 in the presence of Pratima Devi, Rabindranath Tagore's daughter-in-law, Geetabitan was built with the aim of becoming the Santiniketan of Kolkata. According to a long-time member, "Geetabitan was a first-of-its-kind cultural institution in the city. To this day, it celebrates Rabindrasangeet in its purest form, without any proclivities for experimentation. Children enrolling for training here are sometimes as young as three, and are required to undertake a rigorous 11-year course. The teachers mostly work voluntarily, with the sole aim of maintaining a culture that seems increasingly under threat."
Mutton pantheras and steamed sandesh
Under no similar threat is Barua & Dey, a traditional North Kolkata cafe tucked inside a languid lane beside gate five of the Shyambazar Metro station. Every evening, food lovers make a beeline for this seven-decade-old eatery to satiate their fast-food cravings. Cutlets and fried chicken are among the most popular orders, but there is one dish that is the undisputed favourite of regulars at Barua & Dey — mutton pantheras.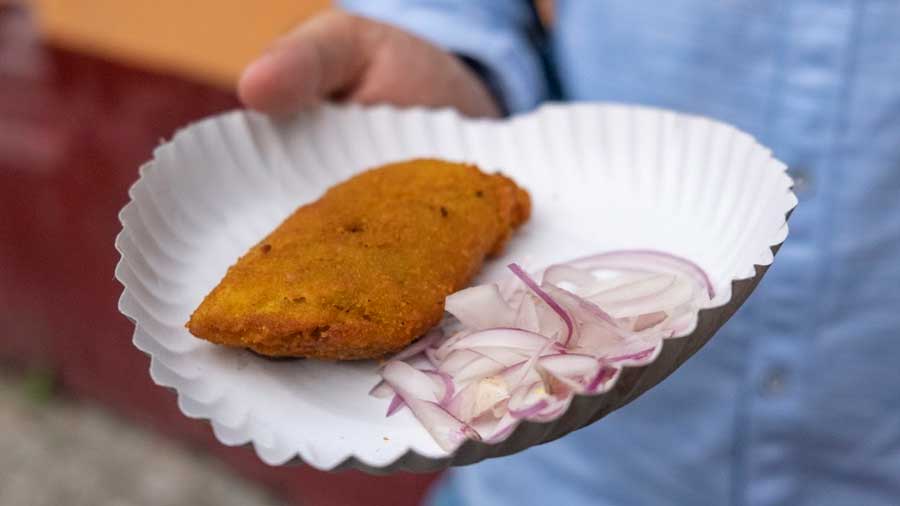 Barua & Dey's mutton pantheras in all its glory
Ritagnik Bhattacharya
For Rs 40 a piece, the pantheras is a deep-fried delight of mutton keema stuffed inside a simple crepe and coated in breadcrumbs. Barua & Dey generally opens around 5pm, but if one wants a taste of the mutton pantheras, it is wise not to waste time (which means get there by 4.45pm), for this is a delicacy that sells out faster than matinee shows did in the heydays of theatre in Shyambazar.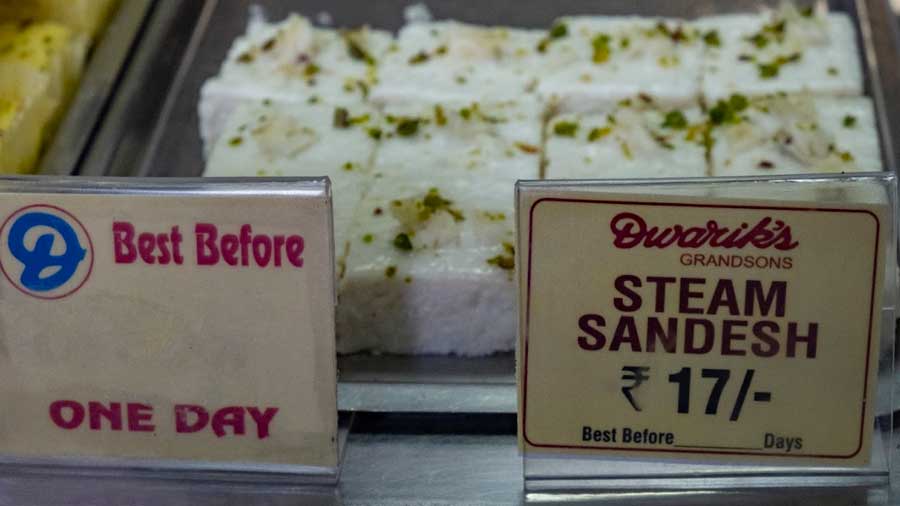 The trademark steamed sandesh sold at Dwarik's Grandsons, believed to be among the oldest sweet shops still open in Shyambazar
Ritagnik Bhattacharya
After a meaty indulgence, the perfect follow-up lies close by at Dwarik's Grandsons, where one's sweet tooth is easily spoiled for choice. The signature items at this 150-year-old gastronomical institution are the steamed sandesh and the baked rosogolla, both of which have a good habit of gently melting in the mouth.
An explosion of magic
Completing the Shyambazar experience is a rendezvous with Hatibagan, the nerve centre of Bengali shopping and the place where most of North Kolkata's residents acquire a PhD in bargaining. Hatibagan sells everything — clothes, jewellery, housewares, electronics — but the joy it brings to shoppers, especially ahead of festivals, is priceless.
It is a part of Hatibagan folklore that the Japanese had dropped a bomb in the area during World War II — a bomb that did not explode. But a different kind of explosion happens here every day, as indeed in most of Shyambazar. 
An explosion of colours, dins, aromas and attitudes, one that refuses to be classified, refuses to be tamed. This is the explosion that infuses magic into a metropolis, the magic that really makes Shyambazar.
Ritobhash Dey, 22, and a student of statistics, lives this magic on a daily basis: "The answer to what makes Shyambazar the place it is will always remain incomplete, but the essence of Shyambazar is the feeling of the neighbourhood being an extension of the family. The culture of this place is about togetherness, about the inexplicable fragrance of North Kolkata. It is about the cafes, both old and new, the ghats, and the fact that this is what home should feel like."
WHY 'SHYAMBAZAR'?
It is believed that Shyambazar was named in honour of the Hindu deity Krishna, who is also known by the name of Shyam. The name is supposed to have been conferred upon the area by Sobharam Basak, one of the wealthiest inhabitants of 18th century Kolkata. But this theory is not undisputed and some historians regard the name Shyambazar to be the legacy of Shyamcharan Mukhopadhyay, who used to be one of the most distinguished residents in the area. John Zephaniah Holwell, a member of the British East India Company, had temporarily changed the name of the place to Charles Bazar (an actual market of the same name used to exist back then), though the name Shyambazar was eventually reinstated.
WHERE IS SHYAMBAZAR?
Technically, Shyambazar comprises the following three wards of the Kolkata Municipal Corporation:
•    Ward 10, which covers parts of Sovabazar, Shyampukur and Hatibagan 
•    Ward 11, which covers parts of Sovabazar and Burtolla
•    Ward 12, which covers parts of Fariapukur
HOW TO GET TO SHYAMBAZAR?
Among the fastest and cheapest ways to get to Shyambazar is to avail the services of the North-South Metro. The Shyambazar Metro station is one of the biggest and best-connected in Kolkata; it is only a couple of minutes away from the five-point crossing.
If out on a leisurely evening with some time to spare, Shyambazar can be reached via the good old trams of Kolkata. Two tram routes connect Shyambazar to the rest of the city, one via Howrah and the other via Esplanade.
For train travelers, Bagbazar railway station is the closest to Shyambazar, located about a kilometre away.
There is no shortage of buses that can take one to Shyambazar, from the 11A that links Dum Dum and Howrah to the AC-9A connecting Golf Green and Dakshineswar to the S-48 that runs between the Netaji Subhas Chandra Bose International Airport and Behala Chowrasta.
Always a busy destination for cabs, one is unlikely to have a request for a ride to Shyambazar turned down, no matter the time.
NUMBERS TO KNOW WHEN IN SHYAMBAZAR
Shyampukur Police Station: 033 2555 7585
KMC office (for Borough no. II): 033 2555 9081/ 9111
CESC — North Regional Office: 1860 500 1912