My Kolkata: Congratulations on making it to Culinary Culture's list of #India'sTop30Chefs 2022!
Joel Basumatari: It was a very emotional moment for me. I have worked for almost 17 years in the industry, in a small state like Nagaland, and to get recognition at the national level really meant a lot.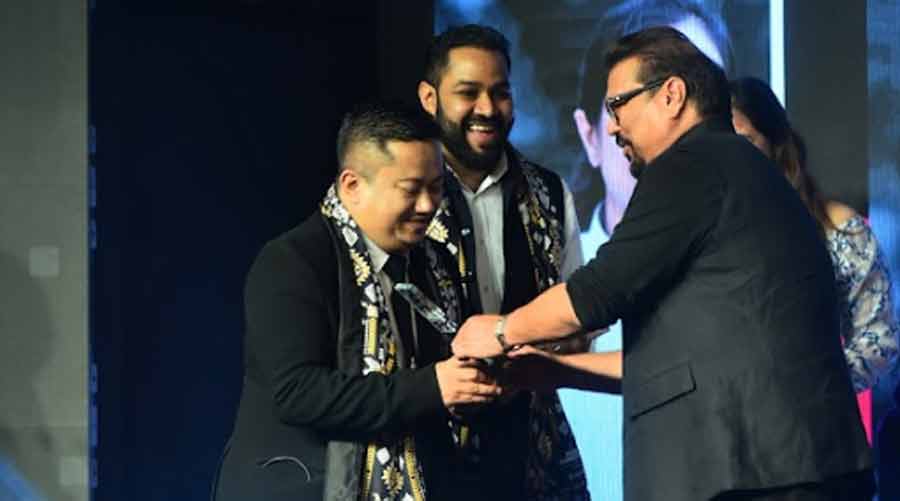 Joel, who ranked #27 on India's Top #30 Chefs list by Culinary Culture, receives the award from Vir Sanghvi on March 19, 2022
Courtesy: Culinary Culture
What, according to you, is the biggest challenge of indigenous cuisine?
Mainstream cuisine has its spot in the limelight, but indigenous cooking remains in the shadows. The biggest challenge is to stick to traditional recipes and yet appeal to the palate of the consumers. 
As the founder of the Nagaland chapter of the Slow Food movement, tell us more about slow food…
Slow food is about preserving the culture, tradition and indigenous values that our forefathers have taught us. The food we eat is the identity of our civilisation – it traces our roots and where we come from, so we have to treasure it.
We have a Slow Food Community in Nagaland, which started in 2018, with around 20 members, aimed at bio-diversity and heritage preservation. With the support of the leaders, village council and Y. Vikheho Swu, member of the Nagaland Legislative Assembly, we created a Village Community Garden in Ghathashi village in Zunheboto district. In 2019, we held a farmer's market where we helped farmers to sell their produce. The money raised from the two-day programme was given to the farmers.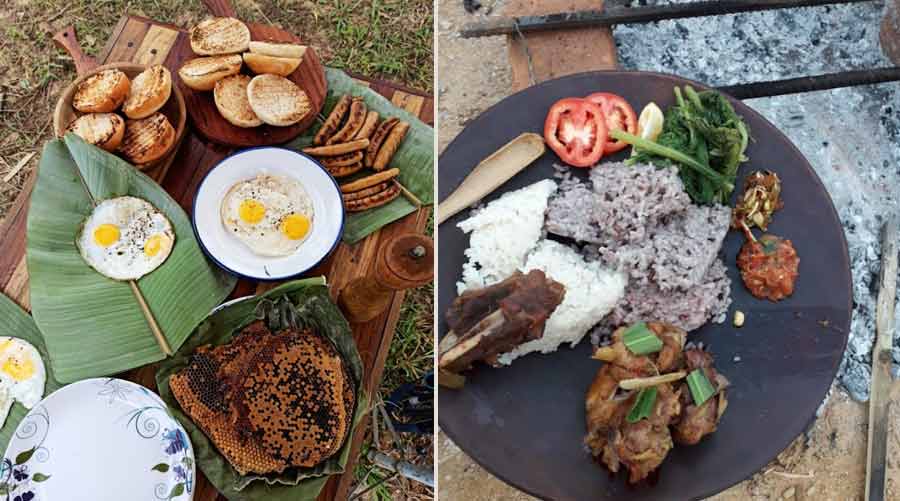 A village breakfast with wild local honey comb; (right) a Naga Thali in the traditional plate of the Sema tribe called asukhü
What role do the many festivals of the Northeast play in the Slow Food movement? 
Nagaland is known as the Land of Festivals, of which the Hornbill Festival is most popular. We have 16 major tribes and each tribe has its own festival, which is mainly to do with harvesting and celebrating the grains that the farmers sow in the fields. Food, as we know, is an intrinsic part of culture and these communal gatherings and festivals help retain that culture. 
When you returned from London after a year of industrial training, as part of your hotel management course in IIHM Kolkata, you started a restaurant in Dimapur. Why did you shut it? 
I opened Smokey Joe's in Dimapur when I returned from London in 2013. I ran the restaurant for five years and then shut it down as it didn't give me a chance to go into the interiors of the villages and learn about traditional food. 
Then you opened a sauce company…
In 2017, I opened Saucy Joe's, a sauce company where the sauces are made from locally-sourced ingredients. We make stuff like Smoked Chilli Sauce, King Chilli Sauce and Naga Spice Blend, and we provide local red rice and honey as well. 
I've been running that for four years and also promoting Naga food through pop-ups. In Kolkata, I have been part of food festivals at ITC Sonar Bangla and Novotel. 
But your real passion is to cook and create and break the stereotypical notions about Naga cuisine?
When people think of Nagaland, they think of it as a place where you only get meat and I want to break that stereotype. Nagaland, and the Northeast, does have vegetarian dishes to offer, and we use ingredients like pumpkin, squash, millet and local medicinal plants. The Northeast is not about 'chow-momo', as most people think. Every indigenous tribe has its own cuisine. It's not just about pork with bamboo shoots. We have to explore other dishes that are not yet in the mainstream market.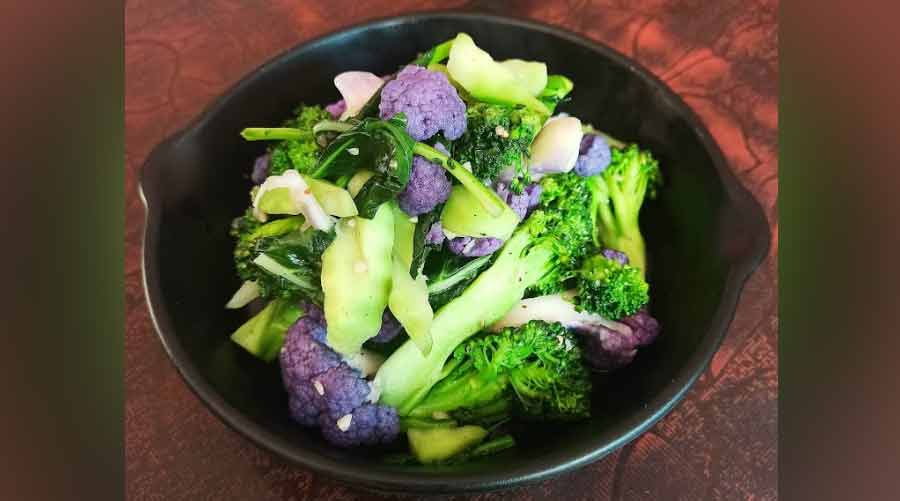 Stir fry purple cauliflower and tender broccoli. 'When people think of Nagaland, they think of it as a place where you only get meat and I want to break that stereotype,' says Basumatari
@Chef Joel Basumatari/Facebook
What are some of your fondest food memories of Kolkata? 
Having Maggi from roadside stalls and biryani for Rs 60, phuchkas, chilli chicken and dining at Bigg Boss in Tangra.
Chef Joel picks five lesser-known ingredients integral to Naga and Northeast cuisine…
Mejenga seeds: It is similar to Szechuan pepper yet different in terms of flavour profile, texture and taste. It is mostly used in pork dishes and chutneys. You will find Mejenga seeds in the majority of homes in Nagaland. 
Hibiscus flower or Roselle: The flower is used as a souring agent, especially by the Angami tribes while cooking smoked pork, chicken or Galho. Galho is kind of like a Naga khichdi.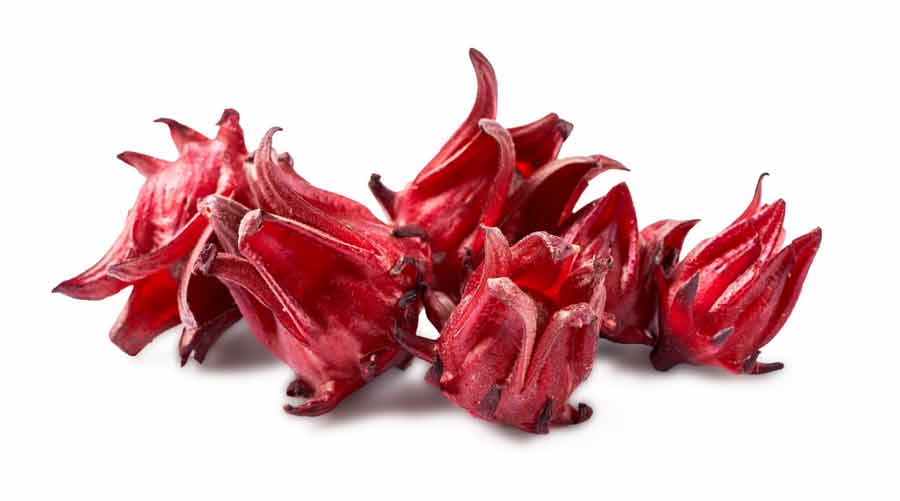 Hibiscus flowers
Shutterstock
Fermented mustard leaf paste: This is used in chutneys or to flavour dishes. It has an unami flavour with slight resemblance to Marmite. The process of making fermented mustard involves boiling the leaves for 10-12 hours until the water is reduced to a thick consistency. The paste can be had as chutney, mixed into salads or smeared on bread. 
Axone: Axone, or fermented soya beans, are similar to Korean bean paste. The Northeast has its own style of making fermented soya beans and the fermentation process varies from region to region, tribe to tribe. 
Perilla seeds: These aromatic seeds are high in Omega 3 fatty acids. We use it as a substitute to butter, and it can be used to make curries. It's considered a superfood.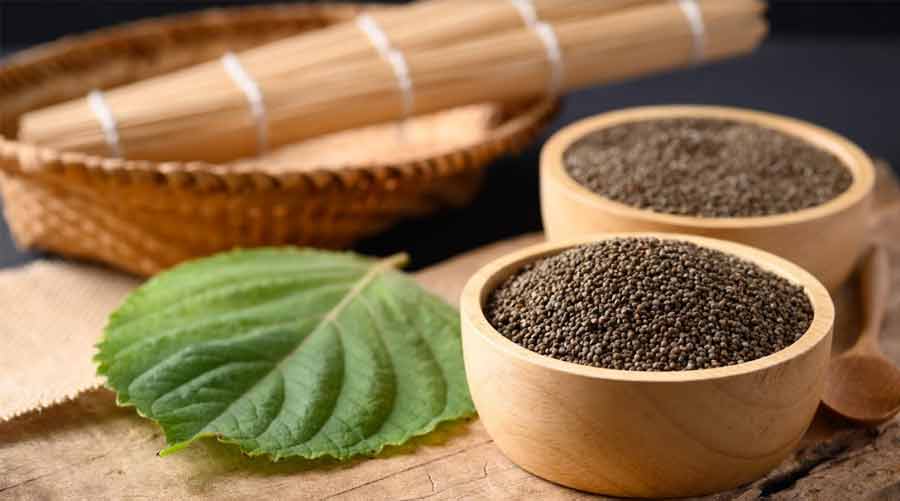 Perilla seeds
Shutterstock