If you're a true 'Instagram foodie' in Kolkata, you've probably seen the latest food craze: Phuchka Chop. Though the original post garnered its fair share of criticism, as they say, there's no publicity like bad publicity. With more than 100 pieces sold daily, this family-run shop has become an Insta(nt) sensation.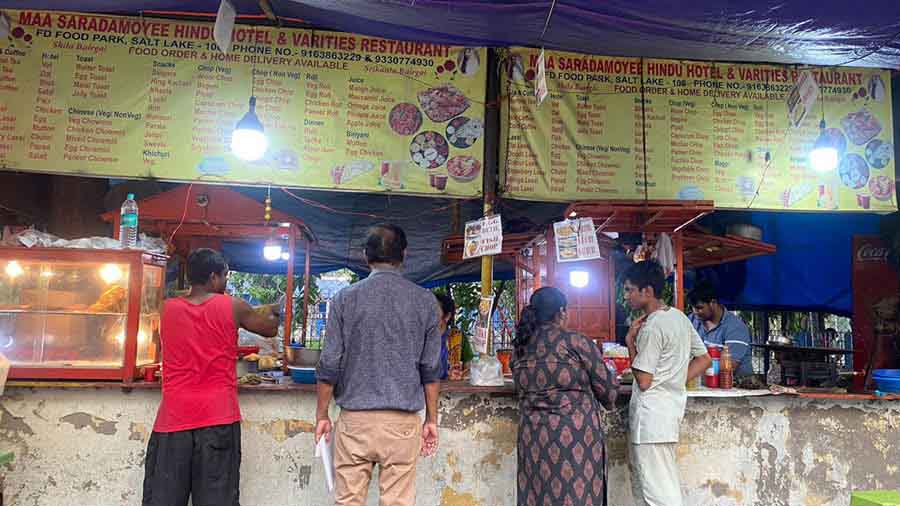 Maa Saradamoyee Hindu Hotel and Varieties Restaurant, home of the Phuchka Chop, transports you to a time of cosy 'para' shops and heartfelt camaraderie
Pooja Mitra
You can find this treat at the heart of Salt Lake's FD Block. Nestled among the bustling food stalls next to Poura Bhawan, Maa Saradamoyee Hindu Hotel and Varieties Restaurant (beside Aahar restaurant) stands out as the go-to spot for the viral Phuchka Chop.
A matriarch's culinary creation
Behind the success of Maa Saradamoyee Hindu Hotel and Varieties Restaurant lies the captivating story of the Bairagi family. What started as a humble endeavour by the late Shila Bairagi, the matriarch of the family, has now become a successful culinary hand-me-down. Inspired during the challenging times of the second phase of Covid-19, Shila, who used to be a cook at various households, had the ingenious idea to combine two beloved Kolkata street snacks, phuchka and chop.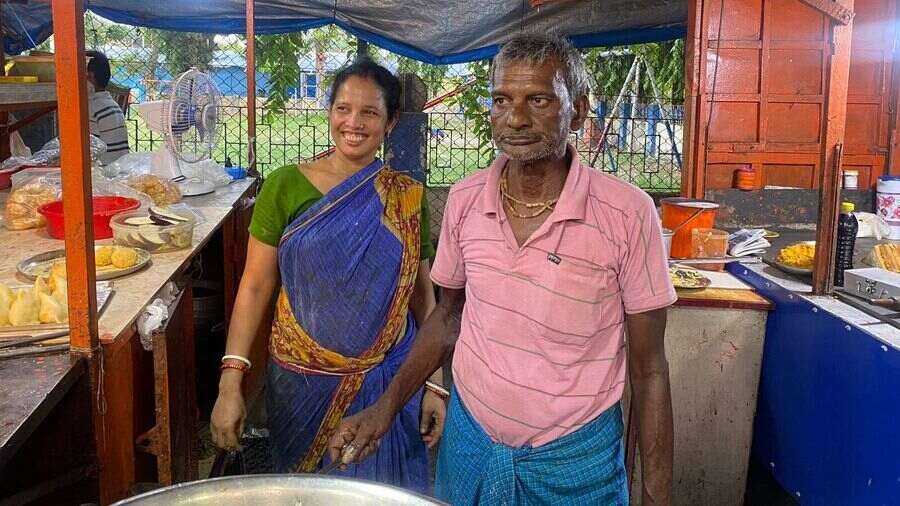 The little eatery is now run by the family — daughter-in-law Aparna and (right) husband Naresh — of Phuchka Chop's creator Shila Bairagi
Pooja Mitra
Naresh Bairagi reminisces about Shila's creative process. "One day she said, 'Everyone has phuchka with tamarind water. I'll try to make it with besan (chickpea flour) and serve'. She made it right here, in the shop, and served a customer who liked it. From there on, through word of mouth, Phuchka Chop garnered its fan base," said Naresh, frying batches of Phuchka Chop for eager customers waiting on the other side of the counter.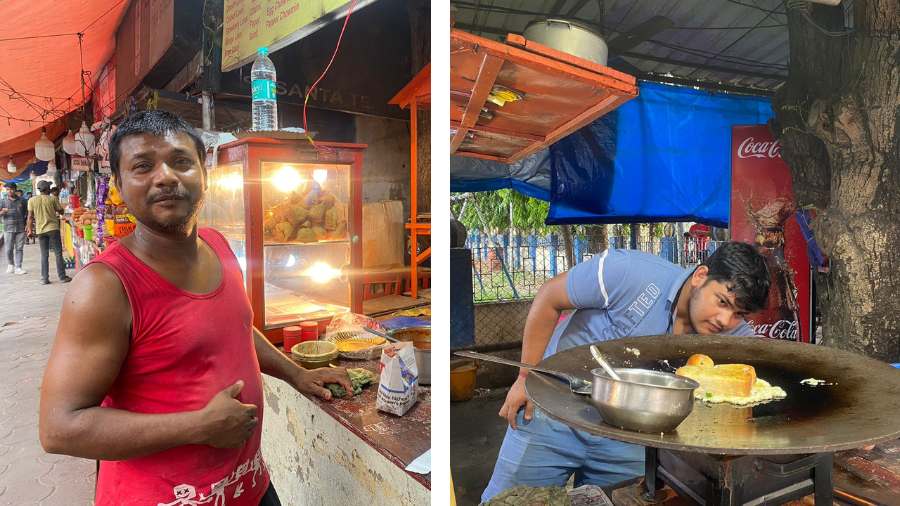 Shila's Bairagi's elder son Srikanta and (right) grandson Gourab — who recently passed the Higher Secondary Examination and plans to pursue a degree in B.Com — are also part of the crew running the shop
Pooja Mitra
Despite her unfortunate passing, her family — husband Naresh Bairagi, elder son Srikanta, daughter-in-law Aparna, and grandson Gourab — continue to carry her culinary torch forward.
Making of the Phuchka Chop 
The Phuchka Chop involves a three-part process — preparing the filling, making the batter and frying the fritters. Freshly boiled and mashed potatoes, carrots, onions, beans or borboti, capsicums, green chilies, and coriander leaves are mixed with a tantalising blend of spices. The spice mix includes bhaja masala, red chilli powder, tamarind water, tomato sauce, salt and sugar. This filling is then stuffed into phuchkas, which are dipped in a thick chickpea flour (besan) batter and fried until they turn golden brown. The result? A combination of crispy, spicy, and tangy flavours.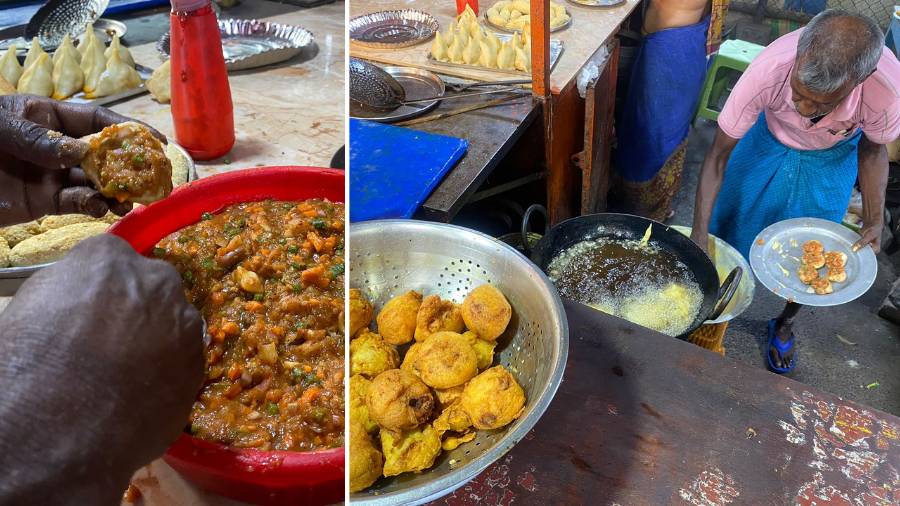 Stuffing phuchkas with the tangy alu-veg filling, and (right) frying the chops
Pooja Mitra
More on the munch menu
But that's not all — Maa Saradamoyee Hindu Hotel and Varieties Restaurant serves up more savoury snacks from succulent Prawn Chops to Chicken Singaras and crispy Chicken Pakodas.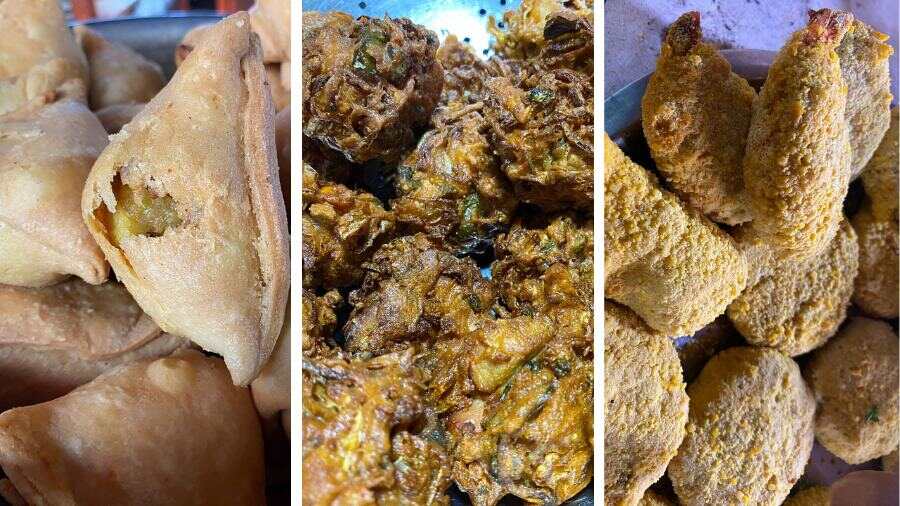 L-R: Shingara, Chicken Pakoda, and Fish and Prawn Chops
Pooja Mitra
Plus there are regular Singaras, Dimer Devil, Fish Chops, Alu Chops, Bread Pakodas and Vegetable Chops, as well as lunch and dinner options… this bhater hotel spoils you with choices. "From Chingrir Chop to Chicken Singara, every recipe was Maa's," says a proud Aparna, who travels from home in Labony in Salt Lake and opens the shop daily at the crack of dawn.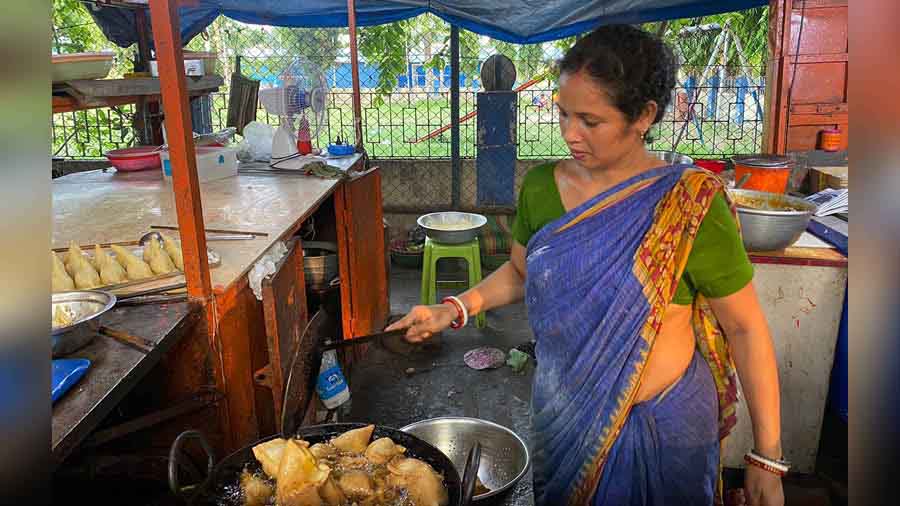 Aparna frying shingaras at the shop
Pooja Mitra
A growing fan base
Rini Biswas, a regular customer, raves about the Phuchka Chop. "The evening snacks from this shop have become a regular affair. We tried a few Phuchka Chops, and now we order them in large numbers."
Papiya Roy, a first-time visitor, was pleasantly surprised by the unique fusion. "I came here to have some tea, but chanced upon this tasty combination. I had no idea Phuchka Chop could be made!"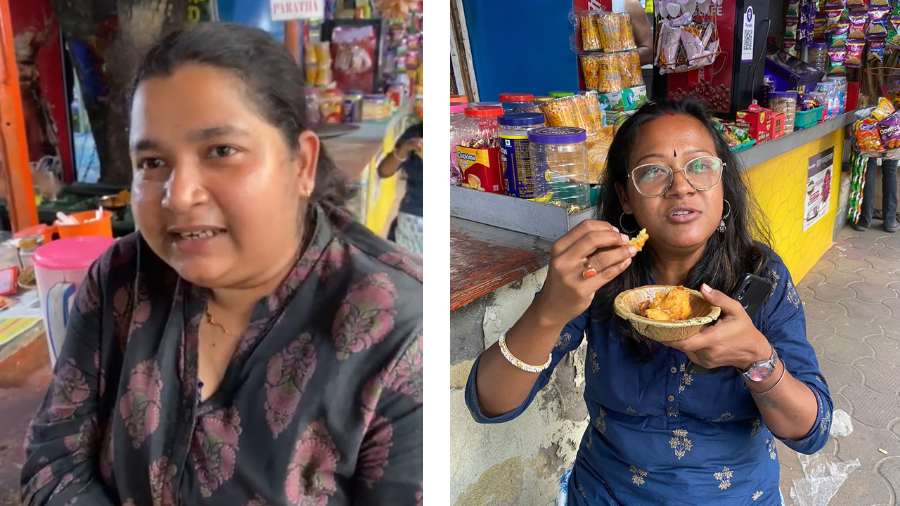 L-R: Rini Biswas and Papiya Roy
Pooja Mitra
With Phuchka Chops flying off the counter within an hour and a half each day, timing is crucial if you want to savour it. As more city influencers and customers visit the place, the Bairagi family ensures that the creation of Shila Bairagi lives on, one crispy Phuchka Chop at a time.
Also trending in Kolkata: Thums Up Phuchka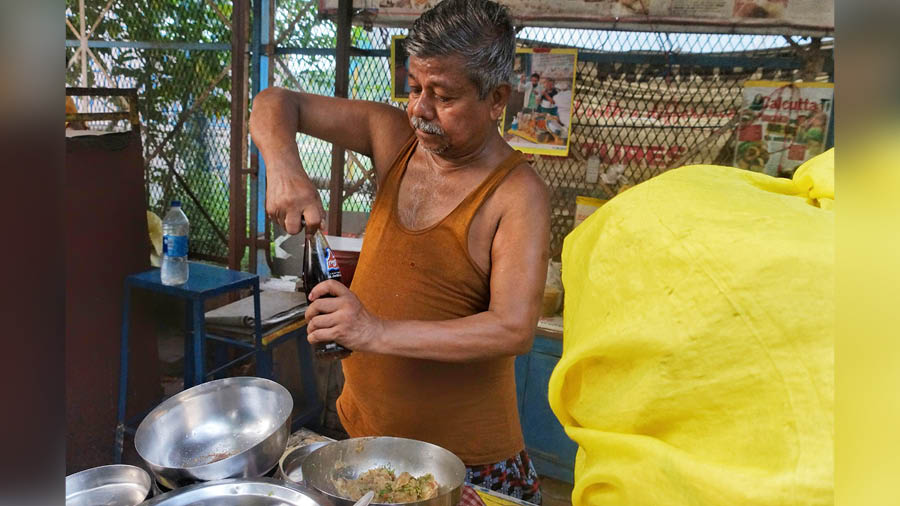 Dilip da opening a bottle of Thums Up for his Thums Up Phuchka
Soumyajit Dey
Along with Phuchka Chop in Salt Lake, Kolkata now is also home of Thums Up Phuchka. Yes, you read that right. Phuchka has undergone several makeovers in recent times, and the latest twist is truly fizzy.
Enter Maharaja Chat Centre, aka Dilip da's Phuchka, an iconic fast food outlet in Ballygunge that has embraced the trend of Thums Up Phuchka. While the potato filling is prepared using the traditional way with motor and aromatic masalas, the real twist comes when the phuchka is dipped in a masala concoction made with fizzy Thums Up cola.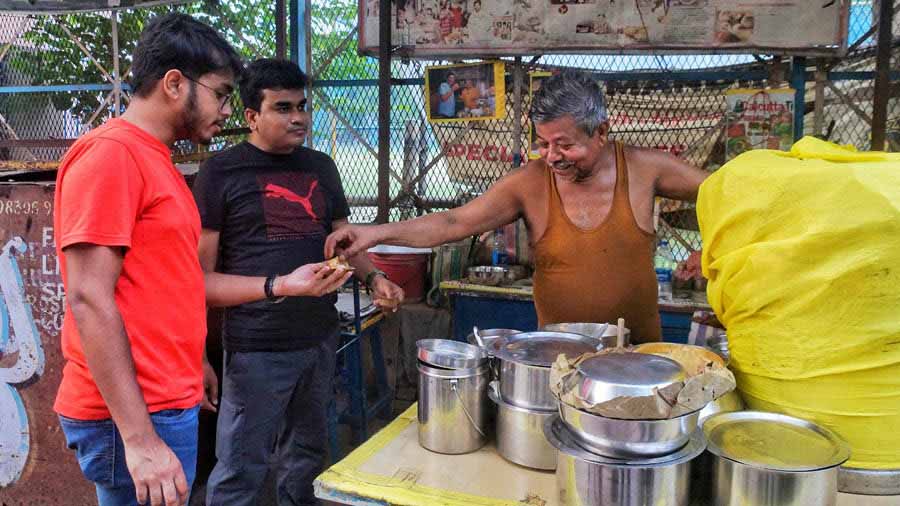 Dilip da has a steady flow of customers, some of whom come for the Thums Up Phuchka
Soumyajit Dey
Maharaja Chat Centre also accepts party orders, if you are thinking of an offbeat snack corner for your bachelorette or wedding.
ALL THE DETAILS:
PHUCHKA CHOP
Address: Food Stalls adjacent to FD Block Community Ground, Salt Lake
Phone number: 93307 74930
Opening hours: Monday to Sunday, 4-6pm
Price: Rs 10 per piece of Phuchka Chop
THUMS UP PHUCHKA
Address: G975+QHW, Kavi Bharati Sarani, Hemanta Mukherjee Sarani, Lake Terrace, Ballygunge
Phone Number: 92316 57931
Opening hours: Monday to Sunday, 4-10pm
Price: Rs 10 per piece of Thums Up Phuchka