There's every chance that you would have walked past it. On the way from Lake Mall to Kalighat Metro station. Your senses focussed on the sights and sounds of a brimming street.
Maybe you had even turned your head once towards it, looked at it, around it, as you paused mid-step, as a tourist does in a place never visited before, and then walked on, unaware that you had just crossed a century of history in a foot's stride.
That's how long Tarun Niketan has been here — 108 years to be exact — a low-profile, unobtrusive eatery off Rashbehari Avenue, tucked a little away from the main road, on the same side of the road Lake Mall stands. Perhaps one reason it's so inconspicuous.
Yet, despite being so easy to miss, No. 88/1B Rashbehari Avenue has held its own all these years, one among the many pice hotels that dotted the map of Kolkata's affordable eating options for those who craved Bengali home cuisine — a limited but delectable assortment of dishes such as 'kochi pathar mangsho' (tender mutton curry), 'kochu shaak ilisher matha' (mashed taro leaf with head of hilsa), or 'kochu shaak chingri' (mashed taro leaf with prawn). Today, Tarun Niketan is among the last of its kind that still remain in a city and state where hundreds once existed.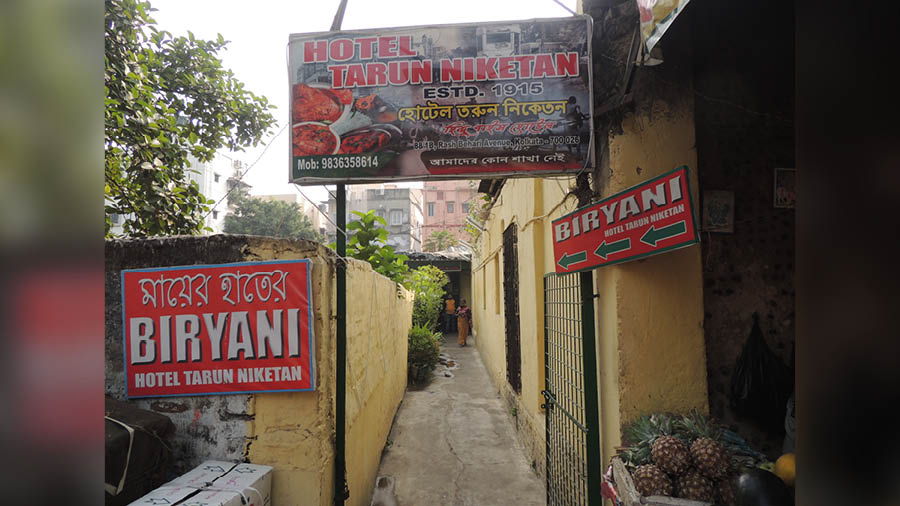 The entrance of the eatery on 88/1B Rashbehari Avenue
As the city evolved, through the turmoil of change and survival, it was these spare, no-frills eateries that would offer nourishment to the hundreds of thousands of migrants who would flock to the city in search of a better life, their modest but authentic spread an acceptable alternative to the comfort of home food. The pice hotels were popular too for another reason. Life in the big city was daunting; what these eateries offered in their threadbare simplicity was some sort of a surrogate familiarity with the life these migrant folks had left behind.
Fittingly, perhaps, Tarun Niketan too has a migrant link. Arun Deb, the current owner, says his grandfather, Tarun Deb, started the establishment in the year 1915. "Our family is originally from Cumilla district of undivided Bengal. It is now in Bangladesh," Deb told My Kolkata. The family had business interests in Dhaka too. But we'll return to Tarun Niketan in a bit; before that, a little about the term 'pice' and its innocuous blending into the lives of many.
The p(r)ice of innocuous blending
The word pice appears to have originated from the Hindi word 'paisa', at that time the accepted lowest denomination of the Indian currency system. The term pice thus denotes the total lack of frills when the food is served.
But lack of ostentation did not mean lack of distinctiveness. Deb explained that pice hotels were unique in more ways than one, with traits that some still maintain despite the passage of years. One prominent feature was that food would be served on banana leaves — a dying tradition now — and that everything on the leafy plate would be charged. This means, from the banana leaf to the slice of lemon and everything else that was served came at a price. The rate, of course, was always kind on the pocket.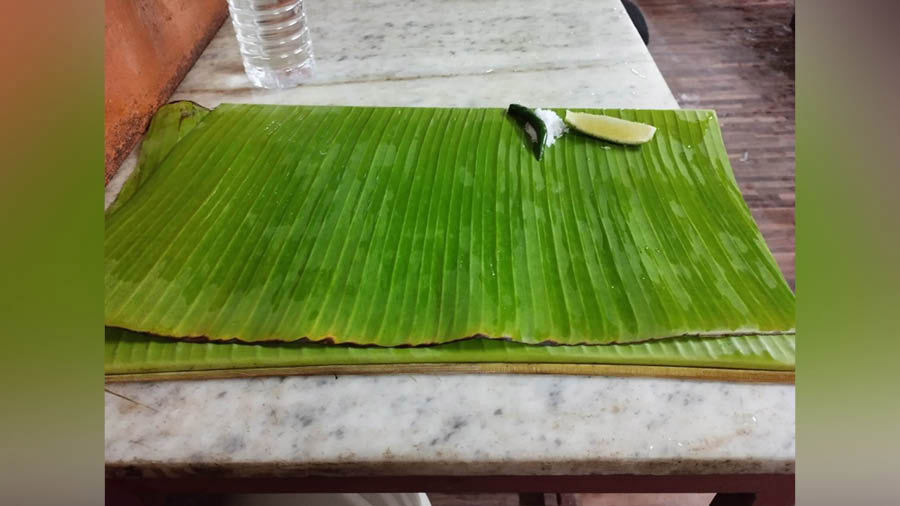 From the banana leaf to the slice of lemon and everything else that is served comes at a price
Another distinctive tradition was that patrons would sit on the floor, on chatai (straw mats), and eat. Today, pice hotels have tables, chairs and benches, another change dictated perhaps by modern habits.
Deb also spoke of a time when food would be served in large brass plates and water in brass containers. The brass plates would later be replaced by banana leaves, a way of serving food that some pice hotels still continue with.
Also unique to pice hotels was the blackboard that doubled as a menu card, where the special dishes available on a particular day would find mention, along with the regular stuff and their prices, all written by hand. The blackboard is still an integral part of many pice hotels.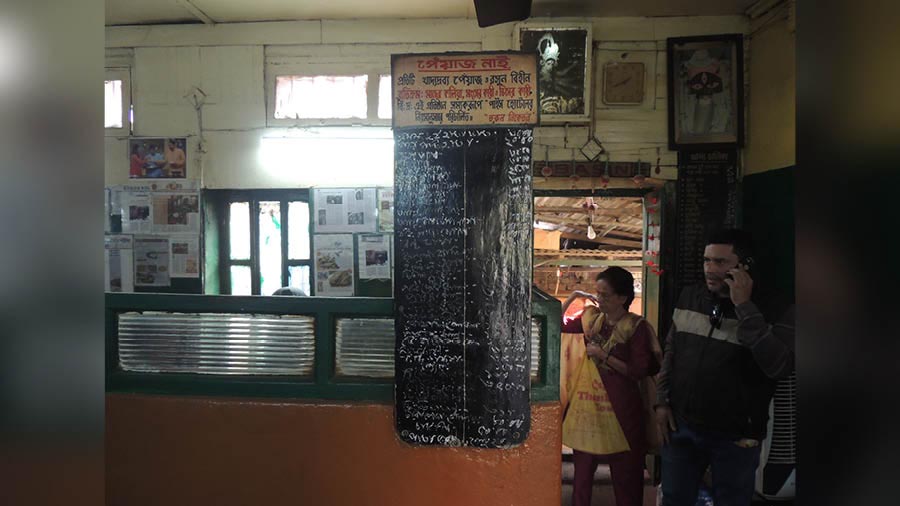 Also unique to pice hotels is the blackboard that doubles as a menu card
If the blackboard scrawl and the ambience offered a sort of rugged comfort, the choubachcha, or water tank, promised a home-away-from-home feel. There was a time when patrons would take a bath at the eatery, courtesy the river water that would be piped to Kolkata addresses and stored in water tanks, before having their meal.
As he chatted with My Kolkata, Deb reminisced about what might have led his grandfather to set up a pice hotel. "There were no grand plans as such. It was a natural evolution arising out of twin needs — that of business and to serve meals to people without fleecing them. These people were visitors to the city who would come for work or other reasons. Quite a few of these people were students or employees, mostly from underprivileged backgrounds, who missed the comfort of home food in a big city."
What helped the patrons was that everything was priced individually and they could decide on their own and according to the budget that suited each. As was the custom, these eateries would charge for every single item, including every slice of lemon, every serving of an item and even for the banana leaf on which the food would be served.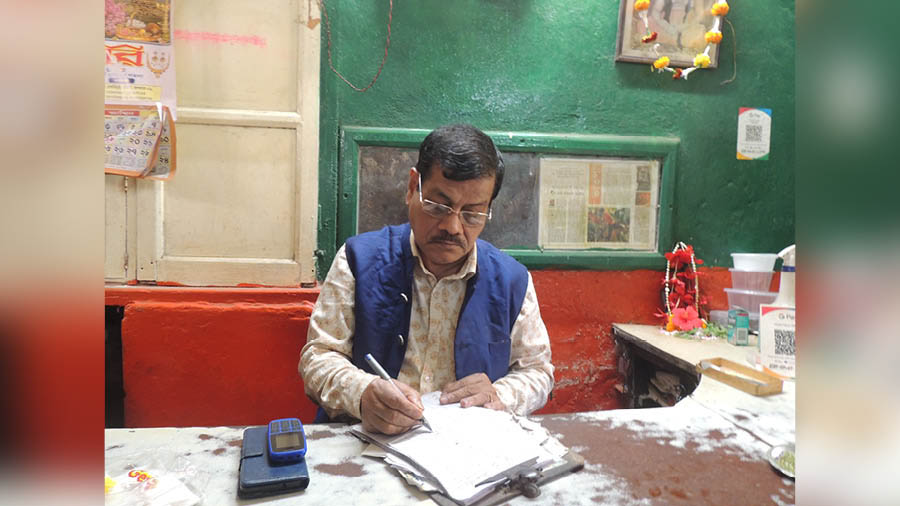 Arun Deb, the third-generation owner of the eatery
For those interested in knowing how much a banana leaf costs, the answer is Rs 5 for a single leaf. Back then, in the early days of Tarun Niketan, a single leaf would cost one paisa, or even less. A slice of lemon today comes for Rs 2. The prices vary, of course, depending upon market rates. Needless to say, the prices mentioned on the blackboard also change, subject to the rates and the availability of the ingredients. The only thing that has remained more or less constant is the menu. Modernity hasn't yet been able to make a dent here; tradition still holds.
As traditional as possible
At Tarun Niketan, too, the food that is served is as traditional as it can be, although the 'pice' has since delinked itself from the eatery's current avatar. Of the many varieties of food available at the eatery, the items that are mostly sought include kochi pathar mangsho, kochu shaak ilisher matha and kochu shaak chingri. The mutton curry carries a price tag of Rs 350 for four pieces of meat, while the taro items come for Rs 100 a plate. Among the other items that are popular, some are unique to Bengal. They include alu posto (potatoes with poppy seed paste), kumro phool bhaja (pumpkin blossom fritters) and chingri machher malai curry (prawns cooked in coconut milk), a favourite with most palates. Popular too is the humble alu chokha or mashed potato kneaded with oil and mixed sometimes with fried onion, dry chillies and coriander leaves. It's a recipe that has not changed, says Deb.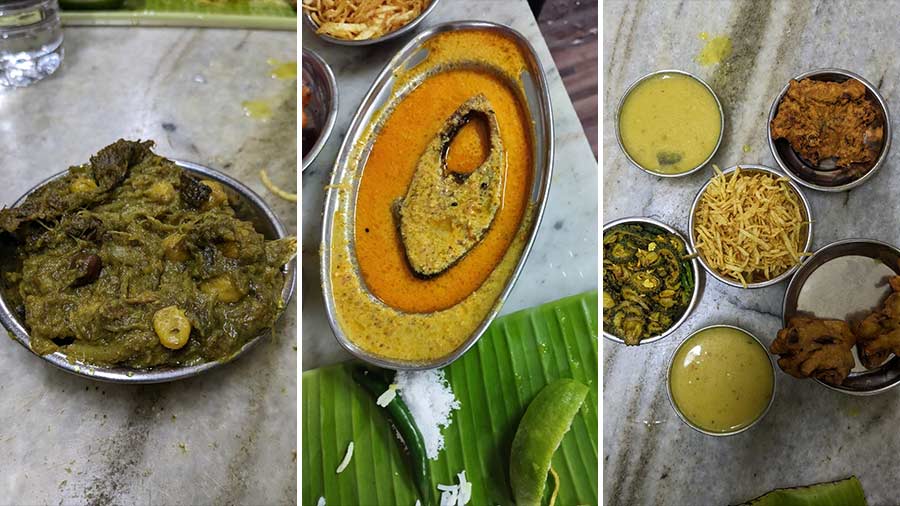 (L-R) Kochu shaak ilisher matha, shorshe ilish and different bhajas
Tarun Niketan also serves a dish called kobiraji jhol that is made with "jeera dhoney guro aar aada" or cumin, coriander powder and ginger. Variants of this are made each day with different ingredients such as raw bananas or lentil cakes (dhoka). This particular item is not only popular but is also believed to cure stomach ailments.
Deb says the spices or masalas are never bought, but crushed and prepared at the eatery itself to ensure the continuity of the flavours that have become a sort of trademark for Tarun Niketan.
By the time the customers leave, the more sweet-toothed among them would have also tasted the assortment of traditional desserts on offer: payesh, or rice and milk pudding, and rosogollas, with the freshest jaggery of the season if it happens to be winter.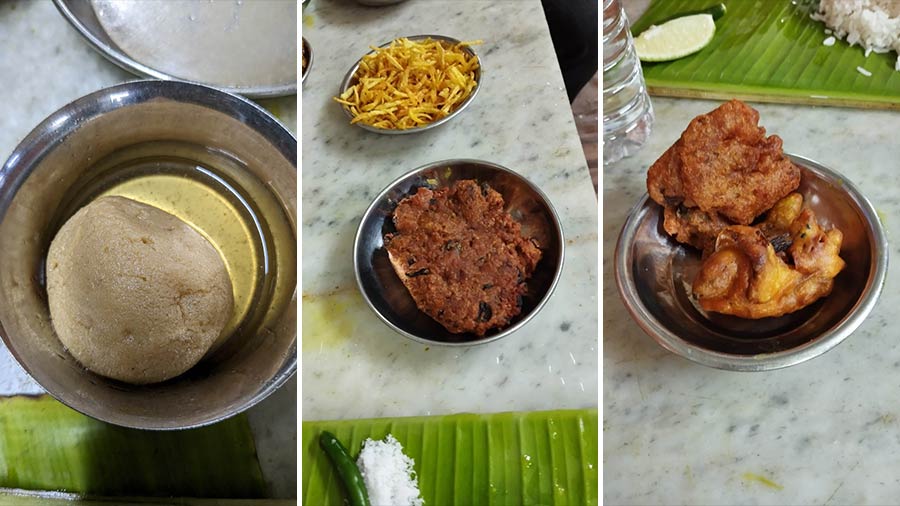 (L-R) In-house gurer rosogolla, maacher dimer bora and kumro phool bhaja
Mark Twain was right, after all, assuming he did say these words. "Part of the secret of success in life is to eat what you like and let the food fight it out inside."
Whether the payesh would agree with mutton curry or malai prawn is an issue best left for the day after, but as long as the items are before you, banish such thoughts.
As Deb rattled off the dishes his eatery offers, a question automatically came to mind. What's more popular: the vegetarian fare or non-veg?
Deb smiled. "The demand for vegetarian and non-vegetarian is almost the same," he said, adding that none of the vegetarian food items has onion or garlic. That's something Tarun Niketan has maintained, in deference to tradition.
Veg or non-veg, the eatery has an unwritten code for its patrons: what one takes, one finishes. In other words, food cannot be wasted on the leafy plate. "That's something we believe in. Out of respect for the toil that a farmer, or everyone who's part of the food chain, puts in," Deb told My Kolkata.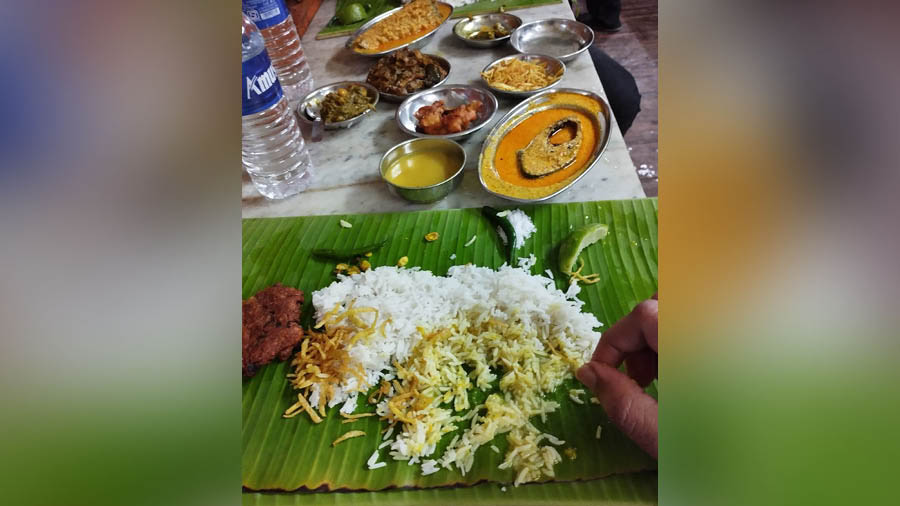 Veg or non-veg, the eatery has an unwritten code for its patrons: what one takes, one finishes
Through the years
Coming back to the eatery's beginnings, Deb says his father, Barun Deb, inherited the business from his father and Deb's grandfather, Tarun. That makes Deb the family's third-generation owner of the eatery. A time would come when the responsibility would be handed over to Deb's son, Amarnath.
How did pice hotels evolve? Most pice hotels, Deb says, are extensions of the 'messbaris', the economical boarding houses that offered a home to countless students, workers, and all those who had moved to the city from villages in search of better opportunities.
"Affordability and a homely feel are the two main features of these eateries. Many times, patrons would make special requests for food to be served at their chosen hour," Deb said.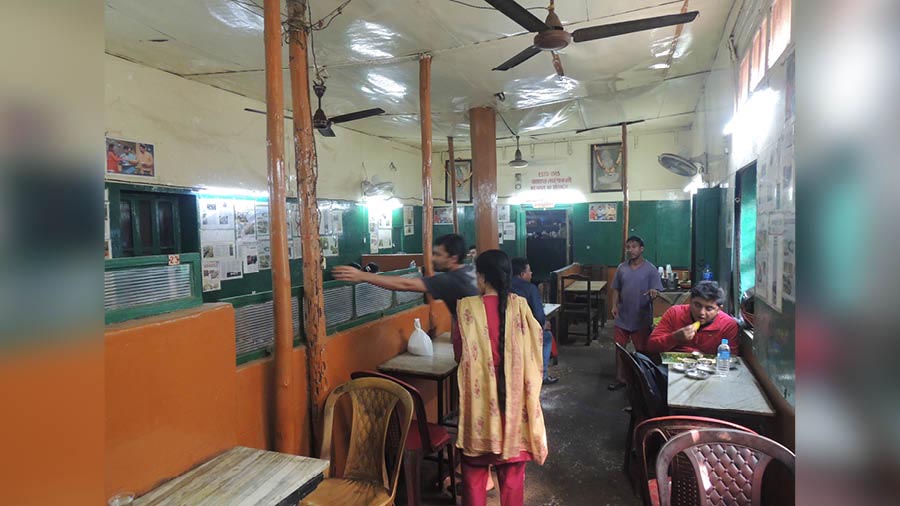 The interior of the eatery. Most pice hotels, Deb says, are extensions of the 'messbaris', the economical boarding houses that offered a home to countless students, workers, and all those who had moved to the city from villages in search of better opportunities
The hours have remained unchanged at Tarun Niketan. The preparation of food begins around 7 in the morning every day and for that arrangements have to be made the night before. The food is ready to be served from around 10am. The eatery has an afternoon break of an hour and a half from 4pm onwards before food is served again from 6pm. A regular meal at the eatery costs about Rs 200 and includes rice, lentils, some vegetable curries and a serving of fish. "The fish served here would most certainly weigh 100g or more, never less," Deb said.
On two special days — Poila Boishakh, the Bengali New Year's Day, and Vijaya Dashami, the day of visarjan of the Goddess Durga — payesh is served free to all those who come for a meal.
What are the challenges before the eatery?
They are pretty much the same for all such eateries here, says Deb. "Labour issues are a major concern. People are more concerned about how much they would be paid and how long they would have to work. Changing demands, the escalating price of raw materials and our need to be economical mean a tightrope walk for most of the time. These are things one can never predict. Also, I don't know if I should say this, the expertise of cooks has been on the wane for long."
A sense of urban romanticism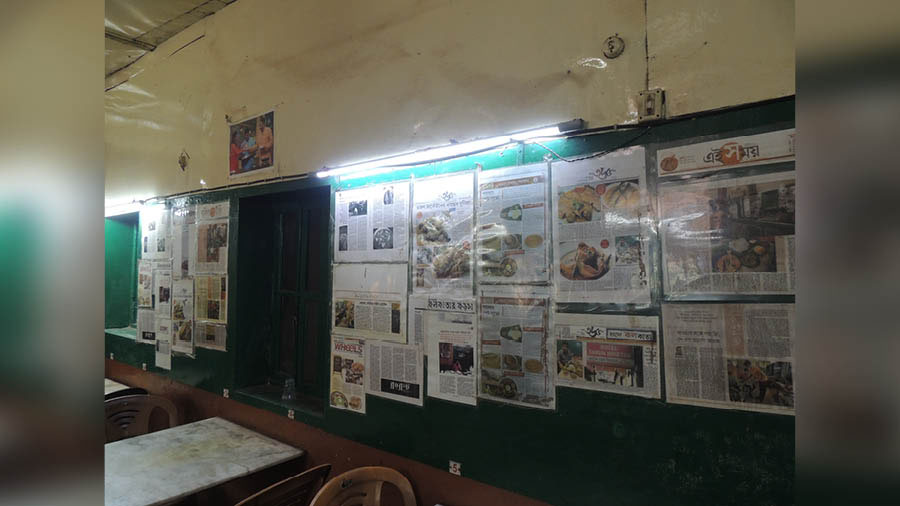 A favourite not only of foodies but the media as well, Tarun Niketan's walls are covered in newspaper articles
But Deb says it was encouraging that people from all walks of life continue to be regular patrons. "Among them are some film personalities and well-known individuals."
Among people from the world of films who have been to the eatery, Deb says, are Deepti Naval and director Imtiaz Ali. Naval, apparently, was second-time lucky. The eatery was closed for its afternoon break the first time she visited Tarun Niketan.
In a way, Tarun Niketan and other such eateries have survived largely because of what can be called a sense of urban romanticism traditionally attributed to pice hotels of Kolkata. It's a mix of engaging aroma and remembrance, not of memories of triumph but the unrecorded struggles of the working class.
Rapid urbanisation, change in people's demands and their expectations meant that somewhere along the way these glorified kitchens had to transform themselves into restaurants and hotels while also offering the option of affordable homely food to those not so affluent.
If one is looking for hygiene, cleanliness and other gourmet requirements, eateries such as Tarun Niketan may not be the ideal place to visit. But if it's to savour Bengali cuisine at its traditional best, flavoured with big helpings of nostalgia, pice hotels are the place to go.
No, these are not the "charitable deceptions of nostalgia", to quote Gabriel Garcia Marquez, although he used the words in a different context. These eateries are indeed charitable to your pocket and offer a spread tinged with memory.