Last week, I was having a very animated conversation with my sister about efficiency. She suggested deleting Instagram from my phone! "Blasphemy!" I cried. "How will I get my daily dose of trends?" I said! Instagram is much more than a photo sharing application. It is news in the making and the influencer culture is stronger than ever. What's more is that it's my ready source of information for all things food. Magazines and newsletters, as informative as they may be, don't hold a candle to the "instant" factor that Instagram offers. The last two years have seen a boom in food trends that can be traced back to the popular app. So, let me take you on a quick spin around the block and get you up to date with what's shaking the Internet.
How did we live without this?
This section is about the oh-so-obvious favourites that I wonder how we ever did without! Simple, good recipes that look great as well as satisfy the soul.
Frosé: Frozen Rosé wine that's turned into a granita-like texture makes for the ultimate cocktail. Move over daiquiri, we have a strong contender for the crown. The innate sweetness of the wine, combined with tender flavour pairings makes this a sureshot hit in the sunny days of summer. So get freezing! It helps that the pretty colour is easy on the eyes and makes for a great Instagram moment. Cheers!
Avo toast: The 2010's breathed new life into avocados, and Instagram made 'avo toast' the national breakfast of the millennials. Simple ingredients that pop off the plate with a feast of colours and textures, this is a game-changer for lovers of all things avocado. If you haven't laid your hands or eyes on one yet, perhaps we should be having a chat!
Japanese Souffle Pancakes: Think wobbly, cloudy goodness soaked in maple syrup, and preferably topped with a kiss of whipped cream. These melt-in-the-mouth pancakes are truly what dreams are made of. Pillowy goodness that makes each bite memorable, a plate is never enough.
Tortilla wrap challenge: This one is simple — one tortilla, four fillings, a few folds and we have a sandwich. This easy, panini-press-friendly snack can be made sweet or savoury. We have tried multiple combinations with huge success. Tomato, bocconcini, hash brown and pesto is our all-time favourite, followed by tandoori paneer, green chutney and onions as a close second. Nutella, Grahams crackers and marshmallows make for a neat dessert wrap.
Baked Feta Pasta: I am an ardent fan of all things 'one pot', so when I came across this recipe, I legitimately flipped out! In a baking dish, throw in some cherry tomatoes, a few cloves of garlic, a block of feta cheese, all drizzled with olive oil. Stick it in the oven and let it work its magic. Throw in some pasta, give it a stir and voila! The easiest, most delicious pasta in town. And, I didn't even break a sweat.
On the fence
Sometimes I like them, sometimes I don't, but that doesn't take away from their star status. Instagram has made celebrities of these recipes. Let me walk you through some of them, and perhaps you can be the judge.
Cloud Bread: This three-ingredient bread that literally looks like a cloud, thanks to the blue food colour, was very interesting to me the first time I ate it. Whipped meringue, stabilised with cornstarch and baked on low heat give it a very fluffy appearance. Airy, and reminiscent of a marshmallow, cloud bread was a one-time hit for me.
Watermelon Cake: A whole seedless watermelon, topped with delicious cream and strawberries, drenched in delectable rose syrup! What's not to love?! A summer favourite, this is a great gluten-free option for cake lovers. However, it does look a lot like a fruit salad once on the plate. Recently, a few cafes offer the watermelon cake lined with pastry and nuts — I am yet to try it, but sounds divine.
Mini Cereal: Breakfast, pancakes and milk are three of my most sought-after words in the AM. The confluence of them is a no-brainer hit. Teeny tiny croissants and pancakes floating around in a sea of milk is a definite delight, but a few bites later, as the pancakes get soggy, the appeal of the meal is on the decline. For cereal lovers, this is a must-try, but for the effort involved, I will stick to my boxed cereal, thank you!
Pasta Chips: I love pasta and who doesn't love chips? I gave this a try the first day I saw it. The process was simple, boiled pasta drizzled with olive oil and herbs, air-fried to a crunchy crisp. The first time I tried a penne, and it turned out super yummy and crisp. The second time I tried a rotini, and although it looked great, the result was a toothy chewy hardness, which was not appeasing at all. I am most definitely on the fence for this.
Sushi everything: Five letters spell love: sushi. The skill and craft that go into making every roll is true mastery. The first time I had a 'sushito', a sushi burrito, a melange of ingredients stuffed in a rice parcel, wrapped in nori, I was a little flummoxed. Sure, it didn't taste bad, but something was off. On the other hand, I have also sampled magnificent sushi cakes that are simply otherworldly. Just adding sushi ingredients to anything and everything doesn't make a dish, it's important to give it it's due respect too.
All that shines is not gold!
Pretty self-explanatory, these trends just didn't do it for me. In my business, clients often ask us to make our food 'Insta-worthy', aka dress it up so beautifully that it could feature on the cover of a food mag. Deconstructed salads, grazing boards and use of edible foliage have a special place in my heart, because not only do they look fabulous, they deliver on the taste front too. This cannot be said for all things that look pretty. Let me offer you a few cases of cat fishing, courtesy viral food trends on Instagram.
Rainbow, unicorn and mermaid foods: Every adolescent girl's dream, unicorns, mermaids and rainbows have made their way into our active imaginations and are ruling the roost. Vibrant colours and glitter make for eye-catching foods that have taken the Internet by storm. I have seen everything from rainbow bagels and grilled cheese to mermaid acai bowls that have a heady shower of edible glitter to contrast with the bright base. Sure, they look divine, but how is adding food colour ever going to change its taste? This is a visual trend I can definitely pass on.
Freakshakes: These are those calorie-laden monstrosities which could replace an entire day's worth of 'no-trition'! I am talking chocolate thick shakes, topped with a brownie, a cookie, a tower of cream and some more chocolate, because whoever heard of moderation? The result — an entire candy shop in a glass, which looks a billion bucks but simply doesn't do it for me.
Dessert Hummus: Those who want to have dessert on a diet, raise your hands. This is exactly the kind of ethos that has made dessert hummus a viral trend on Instagram. Chickpeas doing the tango with chocolate and maple syrup — I am speechless! With flavours like brownie batter, pumpkin pie and even Snickers doodle, these hummus options look delicious but do not live up to the hype. I suggest moderation may be a tastier route to take!
Activated Charcoal: Similar to the rainbow gang, users of activated charcoal rave about its celestial appearance. The lack of coal-hued foods on our palate give this ingredient an air of exclusivity, but it does nothing in the taste category. This too is for the annals of Instagram — a visual treat that falls flat in augmenting the flavour of any food.
The road ahead
The list of viral food trends is long — Gigi Hadid's Spicy Vodka Pasta, Dalgona coffee, carrot bacon, corn ribs and many other recipes have their fair share of takers. I have always maintained, flavour is king, and anything that tastes great, is sure to become a hit.
Share your favourite Instagram trends, or even something new you have discovered with me at vidisha@paprika.net.in
RECIPES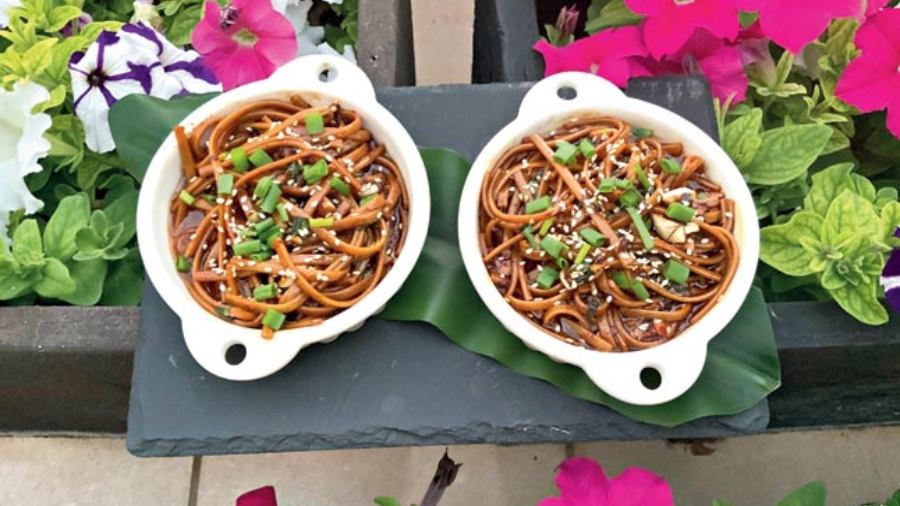 Chilli oil noodles
Ingredients:
• Chilli oil (this gives you a base recipe for chilli oil)
•2tbsp green onion, chopped
• 4 cloves garlic , minced
• 1inch ginger, chopped
• 1tbsp Sichuan chilli powder
• 1tbsp chilli flakes
• 1.5tbsp sesame seeds
• 1/2tsp paprika powder
• 1tbsp dark soy sauce
• 1tbsp soy sauce
• 1/2tsp vinegar
• 3/4tbsp oil
For noodles :
• 400g cooked noodles.
For a smaller quantity, toss a few tbsp of this flavourful oil with your noodles with a side of blanched greens.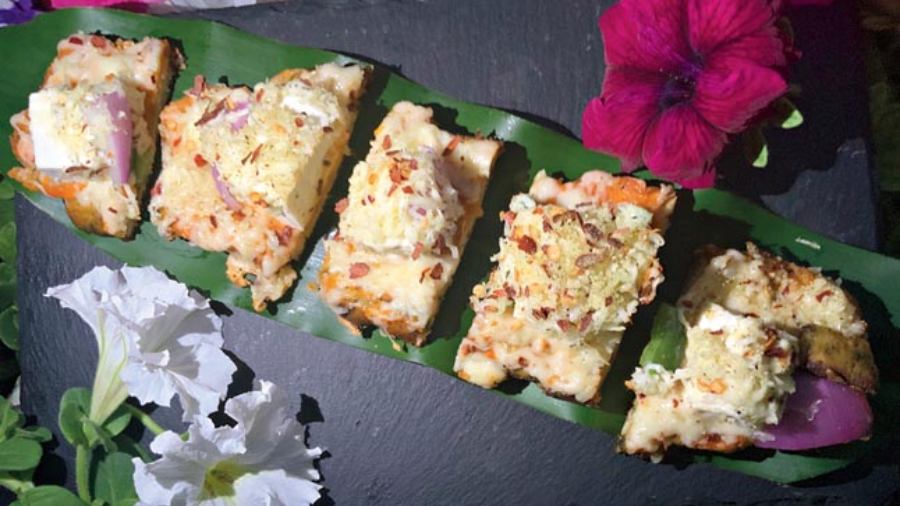 Paneer bites
Ingredients:
• 100g paneer ( cut in small cubes )
• 10g oregano
• 10g chilli flakes
• 50g pizza sauce (homemade or store bought)
• 50g mayonnaise
•10g Schezwan sauce
• 1 onion (cut in small cube)
• 1 green capsicum (cut in small pieces)
• 200g mozzarella cheese
• 10g oregano
• 10g chilli flakes
Method:
1. Take some paneer cubes and season them with oregano and paprika/chilli flakes.
2. Take bread, apply pizza sauce, mayonnaise and Schezwan sauce.
3. Then, add paneer cubes, diced onions and capsicum.
4. Top it with loads of cheese, oregano and chilli flakes.
5. Bake it in an oven at 180C or toast it in a pan on low flame with the lid on, till the cheese melts.
6. Enjoy it hot.
Vidisha Bathwal is the founder of Paprika Gourmet, an exotic artisan catering service in Kolkata. She's also a passionate foodie and a fitness enthusiast