Kolkata's street food scene has seen many additions over the years, from barbequed kebabs to wok-tossed chilli chicken. And Kolkata's momos have also evolved to include new flavours. Now, a unique offering from one of the city's eateries has gone viral — a plate of pop-coloured steamed gondhoraj momos from Leon's - The Fusion Cuisine, located on Lords More in south Kolkata.
What is so special about these momos? It infuses the fresh notes of one of Bengal's favourite ingredients, gondhoraj lebu, with the Tibetan classic for a wholesome snack.
But are the Gondhoraj Momos at Leon's really worth the hype? My Kolkata finds out…
A taste of the trending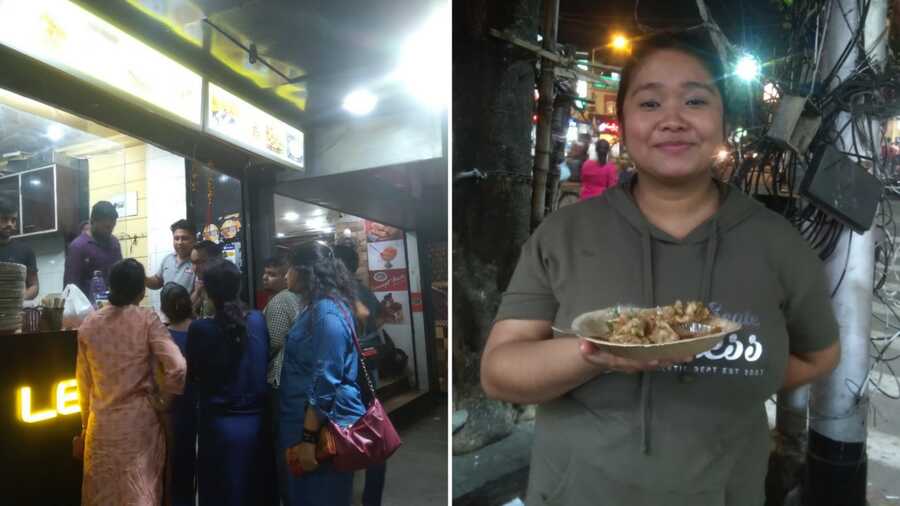 Just off the junction, the shop is thronged by customers hollering for the trending dish
Spotting Leon's is an easy task. It stands just off Lords More with a neon yellow board and a permanent semi-circle of customers shouting, "Dada, ek plate gondhoraj momo, please!" We repeated the slogan ourselves and were soon balancing a bamboo plate of eight viridescent momos.
The Gondhoraj Momos are delicate little parcels, packed with a mix of chicken mince and onions, served with a gondhoraj-coriander tangy vinaigrette and a tomato-chilli sauce. The dish masterfully heroes the deliciousness of the gondhoraj lebu, striking a perfect balance, so the sour notes are never overpowering. The momos are priced at Rs 99 per plate and are available from 1pm to 11.30pm every day.
The team behind the trend
As we devoured the little parcels and savoured every last bite, we caught up with the men behind the sensation — Arijit Roy Chowdury, 36, and Arijit Banerjee, 33.
"We began this venture only nine months ago, in September 2021. I'm a professional chef and worked in the hotel industry for more than 10 years. Since I had knowledge and experience in the food sector, I decided to start something along with my friend," said Roy Chowdury. Banerjee is an IT-professional-turned-entrepreneur who's always had a soft corner for Kolkata's street food.
The duo from Baruipur, knew that if they wanted to attract customers they needed a dish that was unique. After months of brainstorming, scouting for a prime location and perfecting recipes, they came up with gondhoraj momos at the food hub of Lords More.
"We wanted a dish that was different. I have always loved fusion food and the flavour of the gondhoraj lebu. I thought it would go well with momos. And it turns out, it does!" said Roy Chowdury. "The vinaigrette and red sauce that go with the momos is very important, it makes the dish whole," he explained.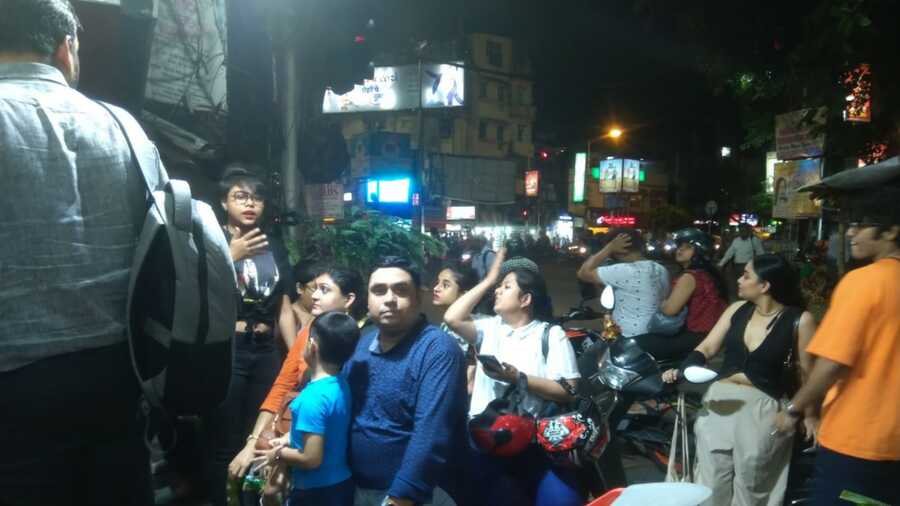 Leon's sells upto 500 plates, roughly 4,000 pieces of Gondhoraj Momos, every day
Roy Chowdury tells us that even though he has a working knowledge of the industry, the restaurant business has been tough to navigate. "We travel 22km from Baruipur to Lords More. Our day begins at 11am and goes on till 2am. It's hard on us and we have a lot of planning to do," he said, adding that it's all worth it because Leon's sells upto 500 plates of Gondhoraj Momo, every day – that's 4,000 momos daily.
"We have a kitchen that is close to our restaurant where we prepare the momos. All we do here is steam them, so we can serve them hot," said Roy Chowdury. The duo makes several trips to and from the factory, transporting the prepped momos as and when necessary.
Why did they pick the name 'Leon's,' we ask. "The name Leon's doesn't really mean anything special to us. It's just a name we liked and thought it would catch on with the crowd," replied Banerjee.
Other best-selling items on Leon's menu are Gondhoraj Fried Chicken (crispy fried chicken flavoured with gondhoraj lebu), Fish Popcorn (balls of deep-fried bhetki), Chicken Drumsticks and Fiery Hot Chicken Wings. "We are on Swiggy and Zomato, but rarely switch on the portal because when we do, we can never manage the number of orders!" smiles Roy Chowdury.
Leon's is a little city joint that cements the fact that in Kolkata, good food is always unassuming.