As a chef, you're constantly seeking out new flavours and culinary experiences. You do so, of course, to broaden your palate and enhance your skills. And then you do so because of the job's professional hazards. 
To create a restaurant menu is most often in contradiction to the desire for adventure. After all, your main goal is to cook the same plate exactly the same way every time one of the many diners walks in through your doors. 
Imagine tasting the same sauce, the same component, the same vegetable and herb a dozen times every hour, through a very long shift. And this happens every day or every week – quite often, years, if the dish is iconic. 
'Chefs want their palates to feel surprised'
Dilip da serves up his fare with a smile
As a working yet eating chef, you're bound to suffer from palate fatigue. It's no wonder that we like our single malts to be massive and late-night noodles to be 3X-spicy. But jokes about our bad habits aside, I think the biggest reason chefs seek out culinary adventures is because they want their palates to feel surprised again. There's undeniably no better rush or inspiration for us than a moment like that. And it's exactly what we want you to feel when we feed you.
Thankfully, when it comes to culinary firsts, no city does it quite like Kolkata. Here, they happen to me every day, every week – at the bajaar, in a different para, in home kitchens and living rooms. But, most often, they happen to me right around the corner of a street. I think the mark of a great culinary city is one where the chefs on the street can out-cook those in restaurants. That, in my opinion, had a big role to play in Eater putting Kolkata on its 2023 list of best places in the world to eat.
Just think about it. A well-wrapped Kobiraji comes pretty close to a well-rolled crab omelette by chef Jay Fai. To marvel at the craft, take a peek inside the Mitra kitchens after you place your order. Or, even easier, have a look at the Bong Eats video. It's hypnotic! Then there's the Kolkata Roll, which definitely rivals the best of doner kebabs and gyros. When it comes to breakfast, I'll always choose Team Kochuri over Teams Deem, Doughnut or Croissant.
A tasting menu… of phuchkas
And then there's the pride of every Kolkatan – the Phuchka. Everybody has their guy, just like the Eater list. I'm a big fan of the vendors on Russell Street, outside Vardaan Market, Forum Mall, and the corner of FD Park in Salt Lake. I like them because their phuchkas are always spot on – tart, toasty, spicy, crunchy and always refreshing.
But the phuchkawala who has my heart sits outside Vivekananda Park. His name is Dilip da. I always go to him when I want to be surprised. And the last two times, he didn't just surprise me – he blew my mind.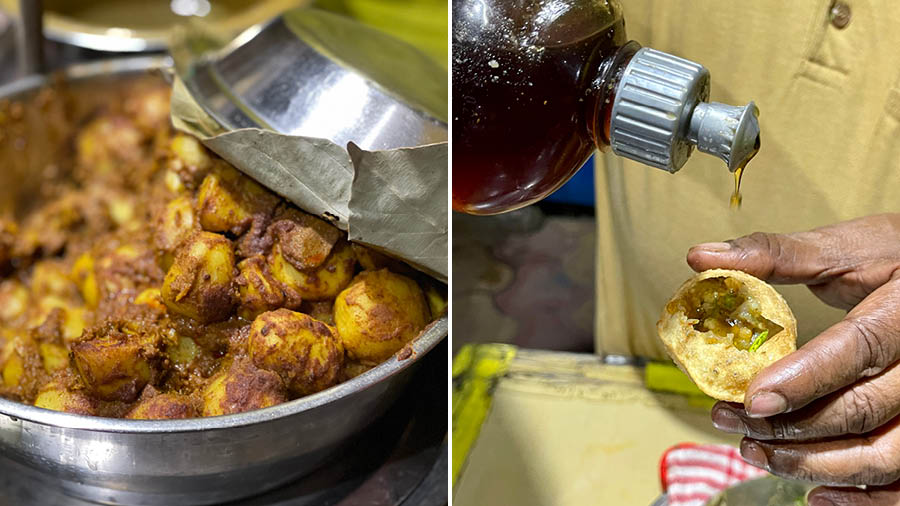 Dilip da's fare is a masterclass in textures and flavours
@instayummraj
The last time something like that happened to me, especially when I ate chaat, was not on the street (with the exception of a recent first taste of Oriya Dahi Bora). Instead, I was gobsmacked when I visited a Gurgaon favourite – Bhawan – where Chefs Kainaz and Rahul masterfully took us through what my fellow diner, Chef Harsh, called a 'Chaat Omakase'. Then – even though I have not eaten this yet – my culinary mind and imagination marvel at the complexity of Chef Varun's Seabuckthorn, Bhetki and Seaweed Pani Puri on the Instagram handle of Masque restaurant. And my first visit to Benaras was just as memorable and delicious as my first flight of phuchkas at Indian Accent.
But what made those two evenings with Dilip da especially unique – and maybe even a chaat experience that was on another level – was that he unknowingly served us a veritable tasting menu almost entirely made up of different kinds of phuchkas, each distinct and unique in their own way. And not one of them felt like a gimmick, or in any way disjointed from the art and history of phuchka-making.
A masterclass from one chef to another
Before I go on to describe the meal, I think I need to provide context and thank the person who, also quite unknowingly, made this happen – the one and only Chef Sanjeev Kapoor. My other visits to Dilip da have always been surprising, because he'll always sprinkle a pinch of a secret bhaja moshla on his dahi phuchka, or he'll smilingly point out the wafer-thin crunch on his puri while we're loudly munching away. But this time, I happened to notice a photo of Chef Sanjeev and Dilip da that the latter had proudly put up. I realised that it was taken on the same day that Chef Sanjeev had visited the Sienna kitchen.
When I told Dilip da about this coincidence, confirming it with a photograph on my phone, he suddenly saw me differently. Not in a bad way, but with a kind of mutual respect – the kind shared between two chefs. It was equal parts creative flexing and doting hospitality. He started this time by saying, "Chaliye aaj hum kuch alag khilayenge".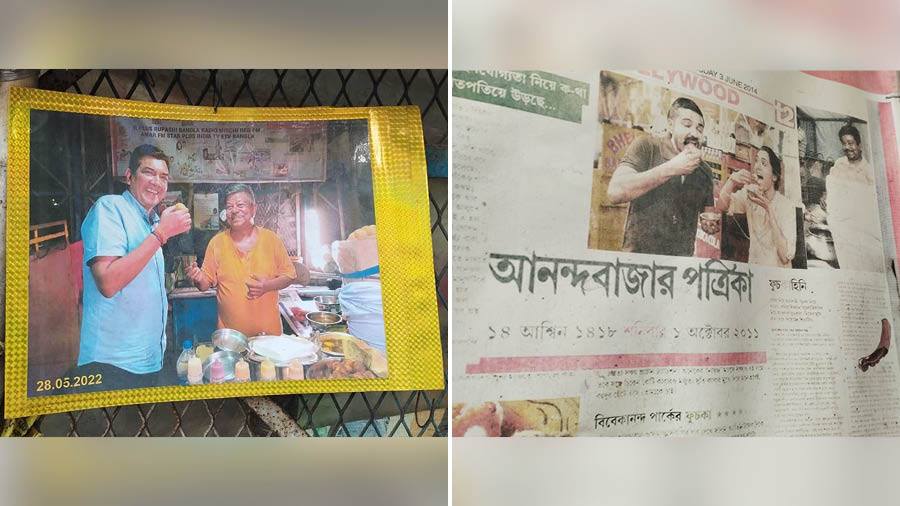 Among eminent food personalities who have appreciated Dilip da's phuchkas is the celebrity chef, Sanjeev Kapoor. The backdrop of his stall also boasts pictures of Chef Ranveer Brar and our very own Bumba da
What followed was a masterclass in phuchka textures and flavours. The first course – and the only one that didn't have the puri – was his signature Aloo'r Dom Chaat with a kiss of bhaja moshla. The tok-jhaal-nonta and ever-so-slightly-mishti flavours of this dish immediately make your mouth water for more. This unique chaat also came with a lesson on the differences between the Jyoti and Chandramukhi potatoes, and why one is good for aloo'r dom while the other is better for mashing. It was really interesting to understand the ingredients from his perspective, especially while he readied his own aloo mash.
After this came hit after hit of phuchkas, going pop in quick succession and progression. The first two to three were straight up and classic, just like a perfectly stirred martini to start off a night at a great bar. And, just like a good mixologist knows how to add accents to a cocktail with garnishes, Dilip da adds gondhoraj leaves and wedges to his water to give it a refreshingly intoxicating fragrance.
Getafix in a mixing bowl
The next two phuchkas had a small variation – the first with a mishti jol, and the next with an extra pinch of green chilli paste, quite similar to the act of adding a small dab of wasabi on rice before compressing a piece of nigiri. Seeing me struggle after the second, and realising just how much of a lightweight I was, he said, "Ek minute dijiye". Next thing I know, Dilip da has opened up a bottle of Thums Up and is playing Getafix in a mixing bowl. I have to say that at this point – especially after the last green-chilli karate kick to my face – I was a little terrified for my tummy and soul. But then I had my first, and second, Masala Thums Up phuchka – and after my fifth, I just couldn't stop grinning. There's just something about the effervescence and the cola flavour that makes this phuchka Magic(ally) Pop like no other phuchka I've had.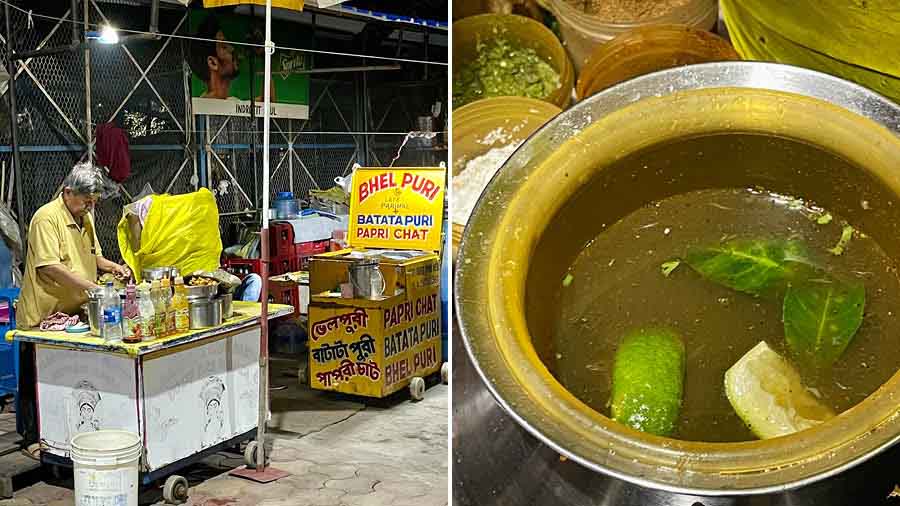 Everything that Dilip da fed Chef Auroni was made with his own hands – from the chutneys and 'moshlas' to the 'jol' and the 'puris'
@instayummraj
Then came the switch from jol to tok doi. Dilip da added a homemade chutney made with aam shotto to one portion of phuchkas, while he stuffed the others with an especially sour aloo mash generously topped with sev. Then, at last, there was a final shukno phuchka, but with a generous drizzle of nolen gur.
The Thums Up phuchka made all of us believers, and not one of us flinched. We, of course, all got a second and third piece of that as well. All I can say is that Benarasis and Purani Dilliwallas sure do make the best kind of saunth ki chutney, but nolen gur on chaat was a revelation, as it's far more delicate. It enhances rather than overpowers – the latter often being the case with the chutney.
Now that the meal is done, I'm going to end this article on a final, sobering note, mostly to add objectivity. I don't, in any way, mean to praise this experience as a mere trend or fad for all things fusion. After all, it is extremely commendable to show such a range and variety of flavours while limited to just one dish over a span of just 20-30 minutes. And while Dilip da does also have many a jar of flavoured fruity syrups hidden up his sleeve, with the exception of the Thums Up, I insisted that everything he fed us be prepared by his own hands – from the chutneys to the moshlas to the jol and, of course, the puris.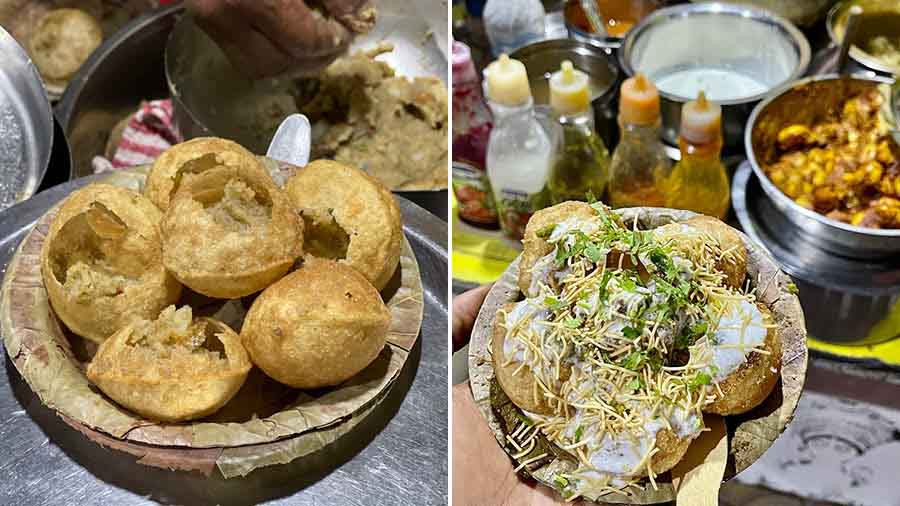 Dilip da's phuchkas – a unique experience for those fond of street food
@instayummraj
A worthy match for any Kolkata restaurant
Last, but not least, to check for consistency, I went back again a month later, this time with a different gang. The experience wasn't as good, but only by a fraction. There were a few small things amiss – the lebu wedges had been sitting marginally longer in the jol than they should have, imparting a little bitterness. Also, we went in a much larger group, so the variation and degree of jhaal couldn't be as closely monitored; thus, a fellow lightweight and I suffered a little. Yet, none of us could deny that it was still a unique experience, and money really, really well spent.
Most important, we all agreed that this tiny street food stall and its chef were a worthy match for any restaurant in the city.
PS – I must give pots and pots of thanks to the good folks of @instayummraj for coming along and taking all the amazing photos. If you haven't read their blog yet, you must. From Purani Dilli nihari to the best of pice hotels, they've written about it all.
A copywriter by training, a Delhi-ite at heart and a probashi Bengali by blood, Auroni Mookerjee used to make ads for a living. A few years ago, he gave up his copywriter's job to cook and feed people full-time, and moved to the deliciously joyous city of Kolkata. Now, he is executive chef and head of the kitchen family at the Sienna Store & Cafe.