The Calcutta Porkaddicts are a diverse group of Kolkatans who have a sole common denominator — an undying love for the hog! In a chat with My Kolkata, a few members of the group shared their favourite ways to cook, perhaps the most beloved pork cut of all — bacon!
Bacon-wrapped asparagus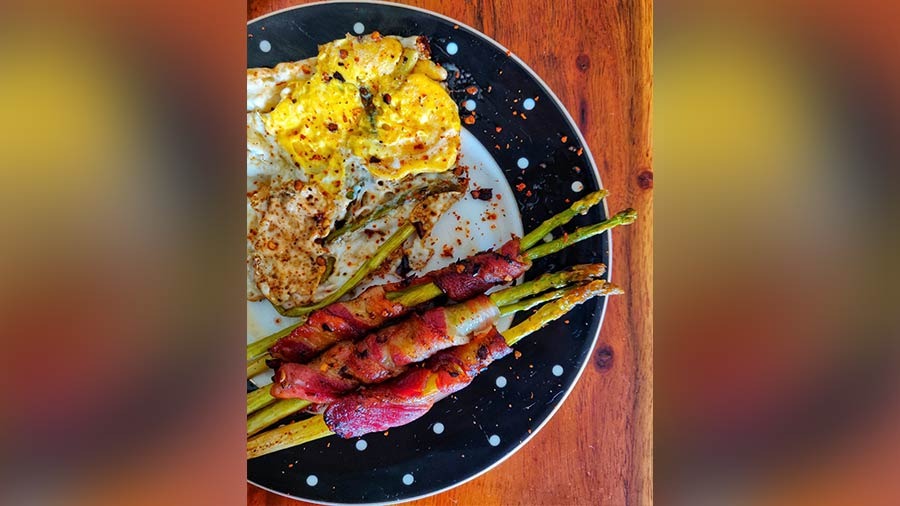 The Calcutta Porkaddicts
The first variation of bacon the Porkaddicts chose was an offbeat offering: bacon-wrapped asparagus. When paired with vegetables, bacon works wonders. Its crunchy texture and smoky notes effortlessly elevate the umami flavours — making veggies a welcomed snack, starter or side! Sinchita Majumdar, the 30-year-old Porkaddcit who chose this particular dish, tells us that when she cooks bacon she prefers to preserve its authentic flavour. "The intensity (of bacon) is something I never want to ever disturb. When I cook bacon it's either simply pan-seared or asparagus wrapped in bacon," says Majumdar, who joined the Porkaddicts in  2021. She elaborates that asparagus is a veggie with a good kick and when paired with peppercorns, lime and peri-peri masala (as per her recipe) the dish is  "deviously delicious!".
Majumdar's quick and easy bacon-wrapped asparagus recipe:
Ingredients:
Asparagus
Bacon
Garlic
Crushed peppercorns/ Pepper powder
Peri-peri masala
Lemon
Method:
Wrap the asparagus with bacon. Sprinkle some pepper and minced garlic, and fry them in a cast iron pan on medium heat. Add some zing with a sprinkle of peri-peri masala or paprika and finish with a squeeze of lemon. 
Bacon brownies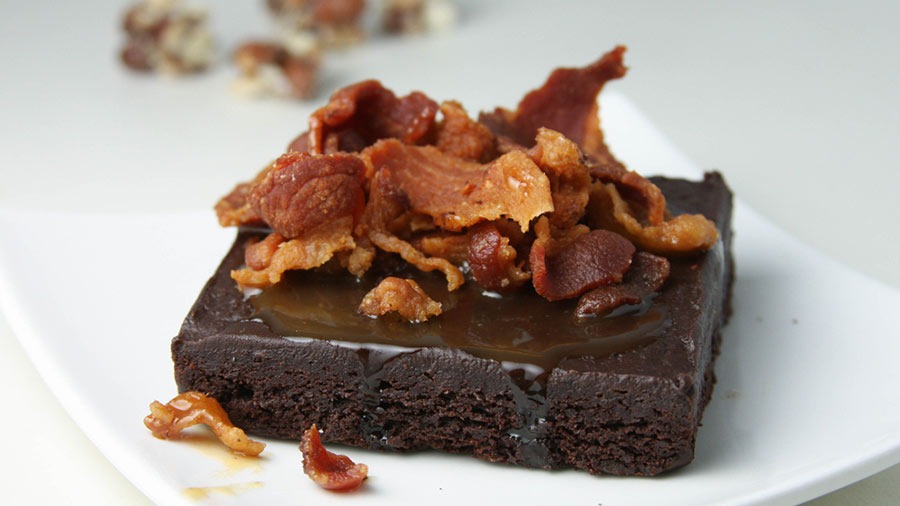 Shutterstock
Next, is a recipe that cradles the sweet tooth. Bacon brownies may sound like a stretch but if you really think about it what's not to love? Chocolate? Good. Bacon? Good. Chocolate + Bacon? Fantastic. The man behind this delight is Debankan Banerjee, a 32-year-old home chef who hopped on to the Porkaddict bandwagon in 2020. "I feel the saltiness of bacon complements the sweet notes of any dessert. Coffee ice cream with bacon crumble is also a banging combination. I once made bacon brownies which were perfectly gooey and delicious! " says Banerjee, who loves experimenting with food, especially bacon.
Banerjee's gooey bacon brownie recipe:
Ingredients:
150 gm of bacon (thin rashers)
2-3 tbsp maple syrup
Butter
200 gm of brown sugar
150 gm flour
75 gm cocoa powder
3-4 eggs
A pinch of baking soda
150 gm grated chocolate (preferably semisweet)
Method:
Cut the bacon into small cubes. Don't use rind in this recipe. Cook the bacon on medium heat till it's crispy. Add the maple syrup (you can use honey mixed with a tbsp of water if you don't find maple syrup) and cook until sticky. Remove the sticky bacon onto a foil. Remember to store the excess grease for later! In a pan, melt the butter, add the brown sugar and mix. Once the sugar completely melts, remove it from the stove. Sift in flour, cocoa powder and baking soda, and add the beaten eggs. Mix well. Add in the sticky bacon bits and grated chocolate. Fold and mix. Pre-heat the oven at 200℃ for 15 minutes. Bake the mixture at 180℃ for 20-25 minutes and your brownies are ready!
A breakfast of bacon (in a cup!)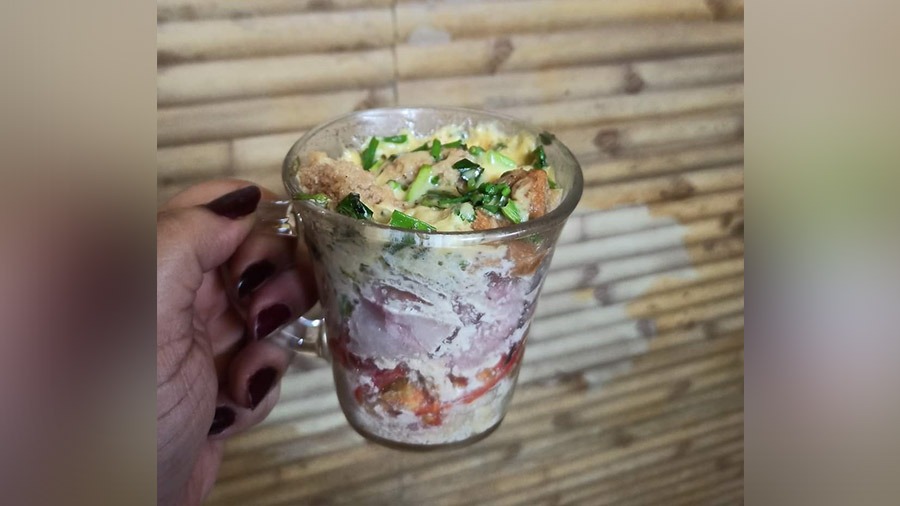 The Calcutta Porkaddicts
The meal that the rasher undoubtedly dominates is breakfast. Eggs go hand-in-hand with crispy, wafer-thin slices of bacon, usually sporting the perfect meat-to-fat ratio. Priyanka Singh Roy Mitra, who's been a Porkaddict since the group's inception, gives us her go-to recipe to beat the breakfast rush. Priyanka believes that the key to cooking the best bacon lies in perfecting its crispy element. "The right amount of crisp, where the fat still retains its softness, is my favourite," she shares. She shares that her favourite dish is the Croque Monsieur — a hot sandwich made with layers of bacon and cheese. She likes to sandwich her bacon and cheese between slices of bread smothered in homemade compound butter (a softened, unsalted butter creamed together with herbs and spice blends), dipped in eggs and then fried. The Croque Monsieur, however, is a task that can not be done justice to while running against the clock. So, this Porkaddict shares one that can be whipped up in minutes.
Bacon in a cup recipe: 
Ingredients: 
1 slice bread
1 egg
2 tbsp milk
1+ 1 tbsp cheddar cheese grated
1 pinch salt
1 pinch pepper
1/tsp of mixed herbs 
Bacon, as much as you want
Spring onion greens, chopped
Veggies of your choice (carrots, capsicum, beans) 
Method: 
Cut the bread into cubes and keep it aside. Lightly fry the bacon and reserve the drippings for later. Toss a few bread cubes in the drippings and fry till crisp. Cut the bacon into pieces and set it aside. In a bowl, add egg, milk, half of the grated cheese, herbs, bacon drippings, salt, pepper, veggies. Mix well. In a microwave-safe large mug, layer with half the bread, half the bacon, and half the egg mixture. Top with spring onions and the remaining cheese and microwave till set (microwave temperatures will vary but three minutes on high should do it). Stuff in a couple of the bacon-fat flavoured croutons and enjoy!