On the afternoon of November 27 in 2016, a group of Kolkatans gathered at an old Chinese restaurant in Tiretti Bazaar for a 'pig out' and The Calcutta Porkaddicts came to be. 
What's a pig out, you ask? One meal dominated by the hog, guaranteed to induce a haze of happiness. 
This diverse group of Kolkata-based pork lovers share a deep love for the city, the people and most importantly, the food. Over the last five years, they have curated unique culinary experiences across the city with the hog as the hero. From Bengali jhol at a hole-in-the-wall joint to pork roast at a five-star, and even momos from the long closed but never forgotten Fat Mamas on the kerb of Tiretti Bazaar, they've pigged out around the city. 
In a chat with My Kolkata, this seasoned group of hog-heads list Kolkata's top 10 pork plates.
Steamed Pork Momos from Blue Poppy Thakali
"I love the steamed pork momos of Blue Poppy Thakali because the pork is always fresh and juicy. Many restaurants in the city use cuts of pork that are usually less tasty in their momos, but Thakali does not," says Debjani Banerji, who's been relishing these Tibetan delights at Thakali for the last few years. 
Whipped up using the most succulent sowbelly, these momos will leave you longing for its porky deliciousness long after you've devoured the last of the lot. Thakali makes their momos traditional to the tee — shaped like half-moons and stuffed with a delicate mix of pork, coriander and onions. Pair them with Thakali's novelty green chilli chutney or their fiery red sauce and you're in for a treat!
Location: 4/1 Middleton Street
Pocket Pinch: Rs 220 per plate
Chilli Pork from Tung Nam Eating House
This old-school Chinese eatery's crispy, fiery pork smothered with caramelised onions and zesty greens is all the rage in Kolkata. In fact, almost every medical student who studied at the nearby Calcutta Medical College has some memory featuring a plate of this restaurant's chilly pork.
"I grew up visiting my grandmother's house which was in Tiretta Bazaar and thus eating Tung Nam's Chilli Pork was a mainstay. The dish has evolved over the years, but the essence of the original recipe is still there," says Surjendra Chakraborti, who has been eating at Tung Nam over the last 25 years.
Location: 24, Chatta Wala Gully, Poddar Court (Tiretta Bazaar)
Pocket Pinch: Rs 220 per plate (approx)
Braised Pork Belly from Kafulok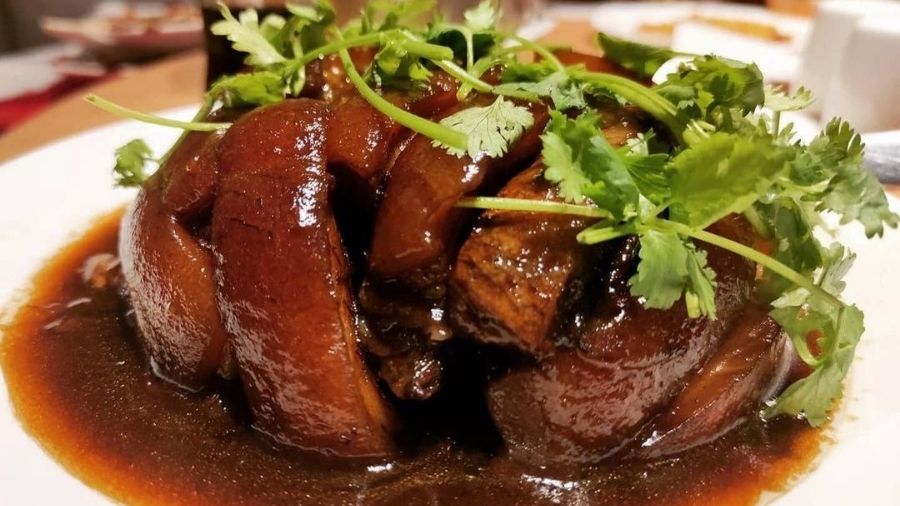 The Braised Pork Belly from Kafulok in Tangra
Courtesy: The Calcutta Porkaddicts
Sweet and spicy, this braised belly goes best with a steaming pot of rice. "Pork belly needs to be cooked just right. You can't overcook it and you definitely can't undercook it. Walter Chen at Kafulok does it just right!" says Captain Arinjit Guha, who's been a part of  The Calcutta Pork Addicts since its inception. 
The Braised Pork Belly is not on Kafulok's regular menu and needs to be pre-ordered. One can make a request at the restaurant itself, but this seasoned customer advises you to call the restaurant at least one day in advance. This way, Walter (the owner) ensures a good cut is procured! 
Location: 47, Gobinda Khatick Road, Tangra
Pocket Pinch: Rs 650 per plate (approx)
Pork Siu Mai from Chin Wah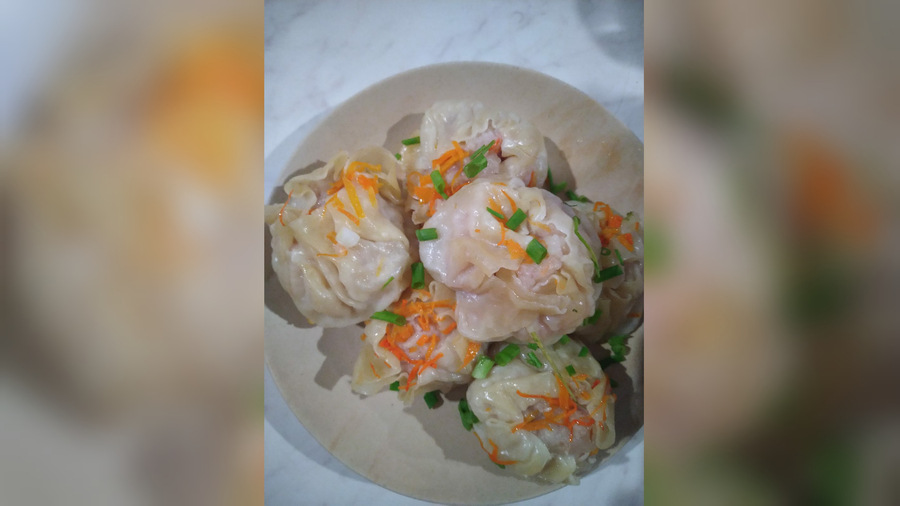 The Pork Siu Mai from Chin Wah on Temple Street
Courtesy: The Calcutta Porkaddicts
"This dish isn't available everywhere, but it's on Chin Wah's regular menu. The presentation is great and the flavour is spectacular. If you ask them, they'll even send them out in a bamboo basket," said Dr Geetin Murmu.
The umami flavours of a steamed siu mai will warm the cockles of your heart. The ones at Chin Wah's are flavourful parcels of pork, celery and onions in a luscious wrap. Slather some of their in-house red chilli paste, or drizzle a bit of soy sauce for the perfect rainy day delight or a pick-me-up on a trying day. 
Location: 2A, Temple Street
Pocket Pinch: Rs 250 per plate (approx)
Pork with bamboo shoot from Tangra eateries
"Pork with bamboo shoot is a dish unique to Kolkata. I can't choose one specific restaurant in Tangra; all of them make it really well. Everyone knows that Kolkata has its own take on Chinese food and Tangra does this best," says Manish Mukul Ghosh, who's been visiting the restaurants in Tangra for about five decades.
Pork with bamboo shoot is a simple Naga dish flavoured with soy sauce, rice wine, peanut oil and minimal spices to make sure the flavour of the meat is retained — a refreshing change from the spicy vindaloos and kosha jhols.  
Location: Tangra eateries
Pocket Pinch: Rs 450 per plate (approx)
Orange Glazed Pork Chop from Five Mad Men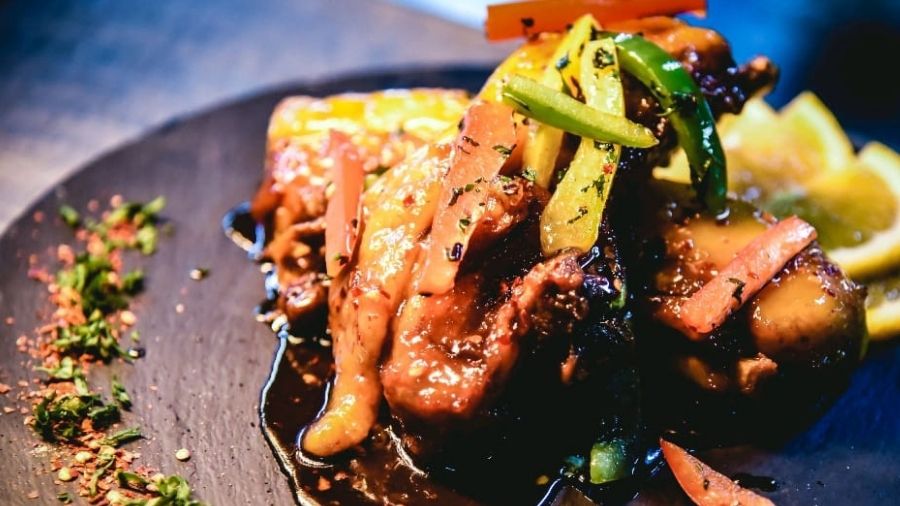 The Orange Glazed Pork Chop from Five Mad Men in Salt Lake
Courtesy: The Calcutta Porkaddicts
A good pork chop is a hard score no more. This chic pub at Sector V offers a delectable orange-glazed pork chop that has pork addicts mesmerised. "This pork chop doesn't just appeal to your taste buds, it's visually appealing as well. My favourite thing about this dish is that the entire slab of meat is dressed with orange glaze and once pork gets a sweet taste, it's irresistible," says Sayon Mitra.
The pork chop at Five Mad Men is a thick slab of pork belly with sweet-citrusy notes from the zesty orange glaze and earthy flavours from the meat, rounded off with a mild kick from the garnish of chilli flakes. This dish will more than make up for all those years you missed out on a good pork chop.
Location: Omega Building, Salt Lake Electronic Complex, Sector 5
Pocket Pinch: Rs 645 per plate
Pork Laal Maas from PriServes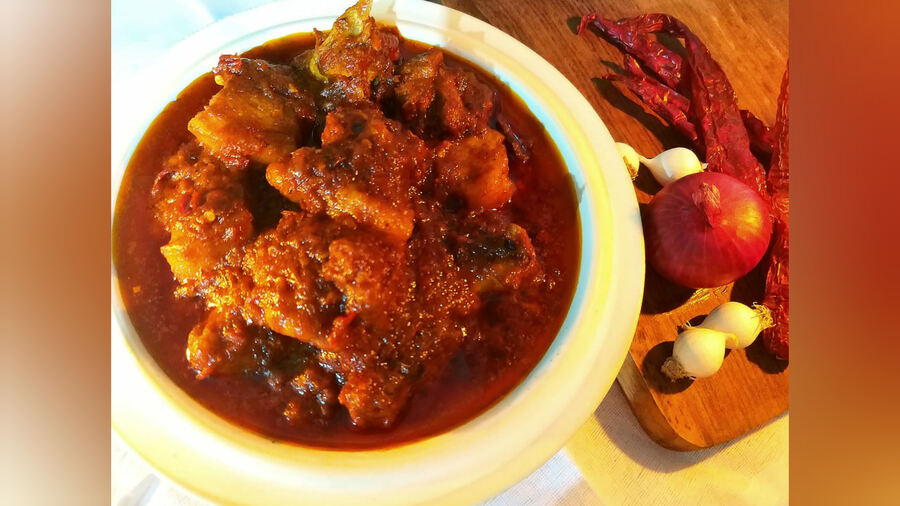 The Pork Laal Maas from PriServes
Courtesy: The Calcutta Porkaddicts
Laal maas is a Rajasthani dish that heroes Mithania chillies, a variety of red chillies grown in a cluster of villages in Jodhpur. Pritha Dutta, who runs the home kitchen PriServes, shares that an authentic laal maas sets popular Indian spices such as coriander and cumin aside and instead allows the rooted flavours of garlic and onion to take centre stage. 
"The Pork Laal Maas from PriServes is one of the most interesting pork dishes I have ever eaten and I'll never forget it," says Ayan Ghosh, who hopes to add it to the menu of another Calcutta Pork Addicts event soon.
To order: Call 9836182999 to place an order; orders need to be placed at least three days in advance.
Pocket Pinch: Rs 300 per plate.
Braised Pork Belly from Yauatcha
Yauatcha's Braised Pork Belly is the chain's signature dish and a pop pick in the city. Pork belly imported from Belgium goes through three different methods of cooking — boiling, frying and braising — and is served with mantou or steamed buns. 
"This dish may not be the most unique dish available, but it's definitely one of the top dishes in Kolkata. I really like it!" says Gargi Bannerjee.
Location: 33, Syed Amir Ali Ave (Quest Mall)
Price: Rs 1,750 per plate
Pork Dry Fry from Jaluk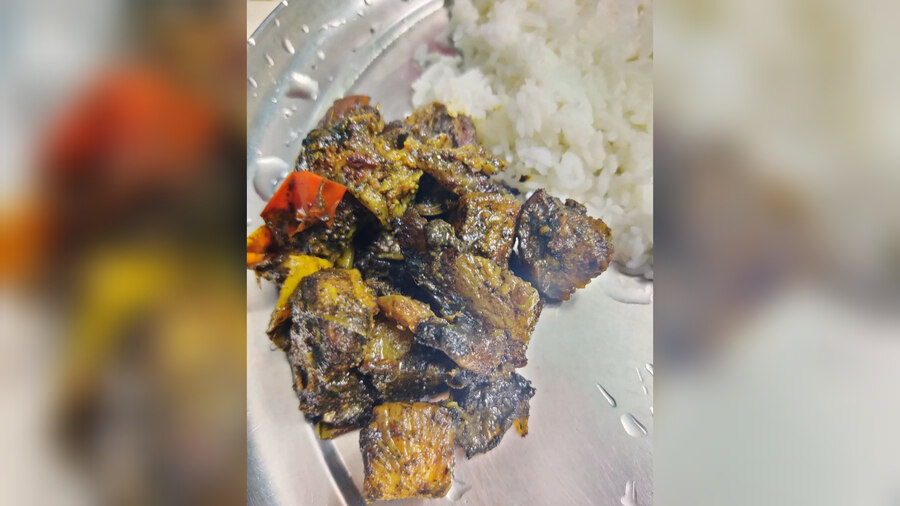 The Pork Dry Fry from Jaluk in Salt Lake
Courtesy: The Calcutta Porkaddicts
Jaluk is an unassuming haunt in Salt Lake which serves Assamese and other Northeast Indian dishes. The Pork Dry Fry is a Naga-styled smoked pork served with frizzled onions and chillies. Extremely versatile, the dish can be savoured as a starter, as a side to rice or noodles, or simply with a bowl of muri.  
"This dish is the BOMB with hot rice and dal! It's one of my guilty pleasures and if I'm ever feeling down, I either go and eat this dish or order it," says Poorna Banerjee, who introduces anyone and everyone to Jaluk so they can taste the mouth-watering pork dry fry.
Location: Nayapatti Main Street, Sector 5, Salt Lake
Pocket Pinch: Rs 200 per plate.
Pork Biryani from The Saffron Tree
The Saffron Tree is one of Kolkata's most recent fusion restaurants and it makes a delightful pork biryani. A rich, aromatic creation, this biryani has the rich flavours of rendered pork fat, desi ghee and saffron strands.
"Most Kolkatans will usually pick a Chinese or a European dish [when talking of pork dishes]. But, my personal favourite is a Mughlai dish, the Pork Biryani from The Saffron Tree. Biryani is already close to every Bengali's heart and the introduction of pork to the dish just makes it all the more delightful," says Rajarshi Basu, 26, who's been one prong of The Calcutta Porkaddicts since he was a college student.
Location: 100, Raja Basanta Roy Road
Pocket Pinch: Rs 170 per plate
The Calcutta Porkaddicts are organising a virtual 'Swine Fest' at the end of this month. Follow their Facebook page for more information.