One of Bengal's quintessential and sort of quirky festivals is Jamai Sasthi — the day the son-in-law or jamai of the house is pampered with food and adoration, and he too must take a gift especially for his mother-in-law, who traditionally cooks the food. Today, the celebrations have moved from homes to restaurants and fanned off Bouma Sasthi, too, at least in some instances. The city's much-loved Bengali-cuisine restaurant Oh! Calcutta has on offer a spread that will surely leave everyone licking fingers.
On three days this week — Jamai Sasthi and over the weekend — Oh! Calcutta will be serving a Jamai Bhoj buffet packed with some much-sought-after delicacies across its Kolkata locations. In addition, the restaurant chain has also come up with a Jamai Bhoj meal box, which will be packed with take-away versions of some dishes on the menu, and can be ordered to be delivered to the jamai's doorstep not only in Kolkata but also across the cities where Oh! Calcutta has a presence in the country.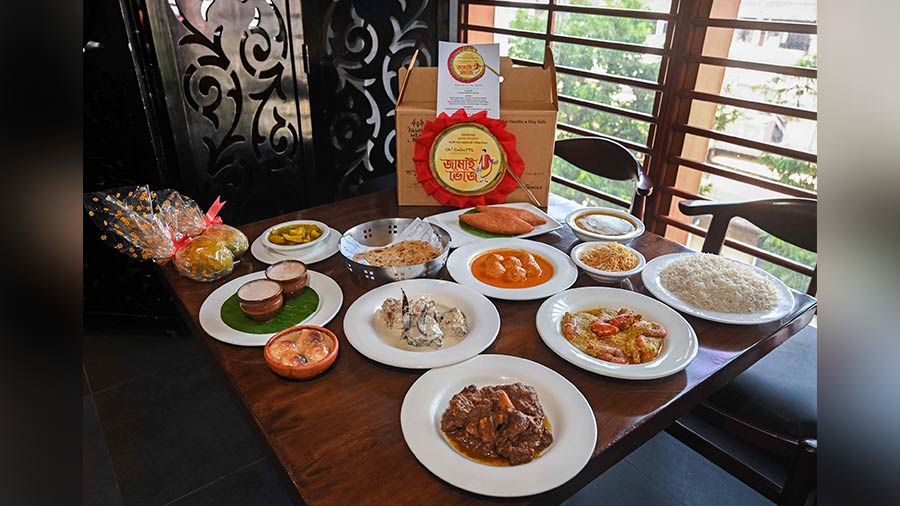 Oh! Calcutta also has a Jamai Bhoj meal box, that can be ordered for delivery
Beyond the buffet
Speaking to My Kolkata, deputy general manager of Speciality Restaurants in Kolkata, Ankur Kishore Mandal, said, "What we have on offer for Jamai Sasthi 2023 is broadly divided into two parts. The first part is the buffet that we have arranged for Thursday, May 25, on the occasion of Jamai Sasthi. The second comprises the spread that we will be offering for lunch on May 27 and 28, on the weekend immediately after. We decided not to have this spread on May 26 as by experience we know that our patrons have their own choices they enjoy on Friday."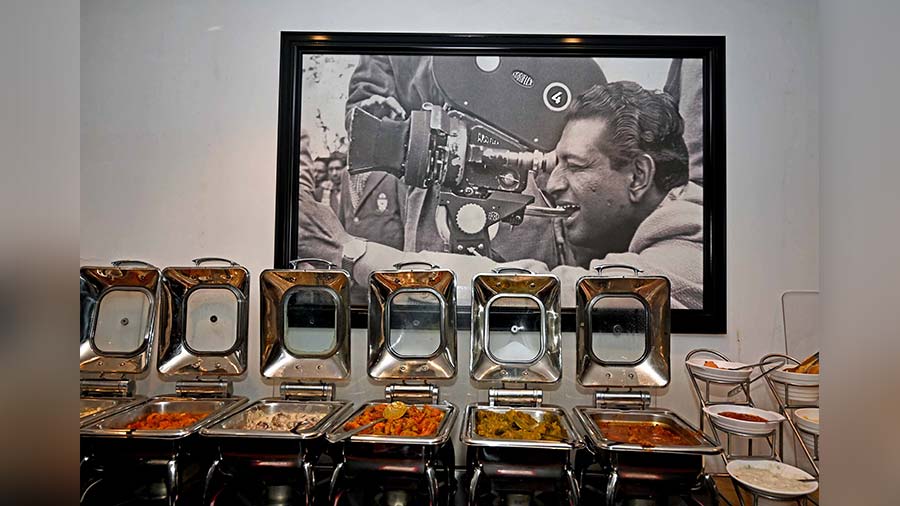 The Jamai Sasthi special buffet
The buffet spread on Thursday is to celebrate the tithi on which the occasion falls while the weekend is usually a time that families gather for a meal and they can celebrate with the commemorative spread.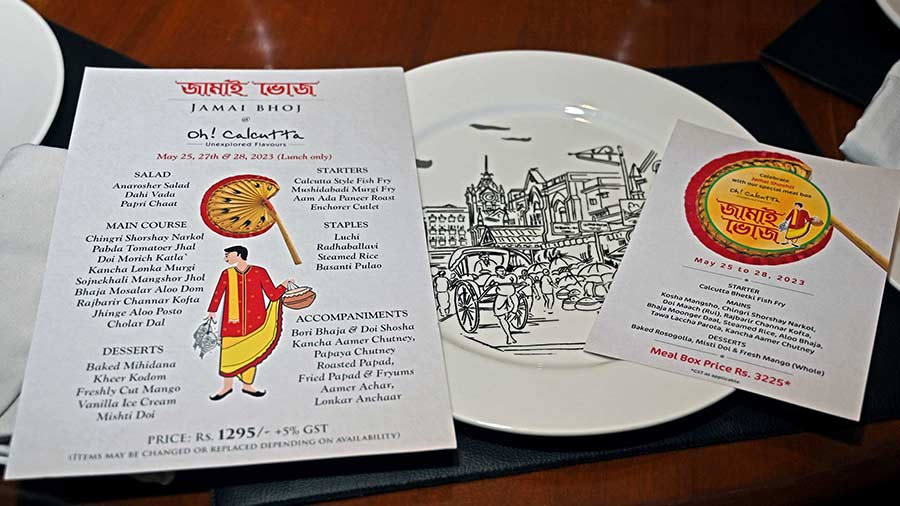 Specially designed menus for the occasion
Asked to share his personal views as a jamai on the idea and the goodies that are on offer, Mandal mentioned how for all Bengali families the day has always been one of joy and sumptuous food offerings. Oh! Calcutta's current offer would serve to strengthen those happy bonds with a handsome spread that is both contemporary and traditional.
"The menu for the Jamai Bhoj has been decided after a lot of deliberations and it includes anything and everything that Bengalis consider special. This all-encompassing menu is perhaps what serves as the USP of the entire preparation."
The Jamai Bhoj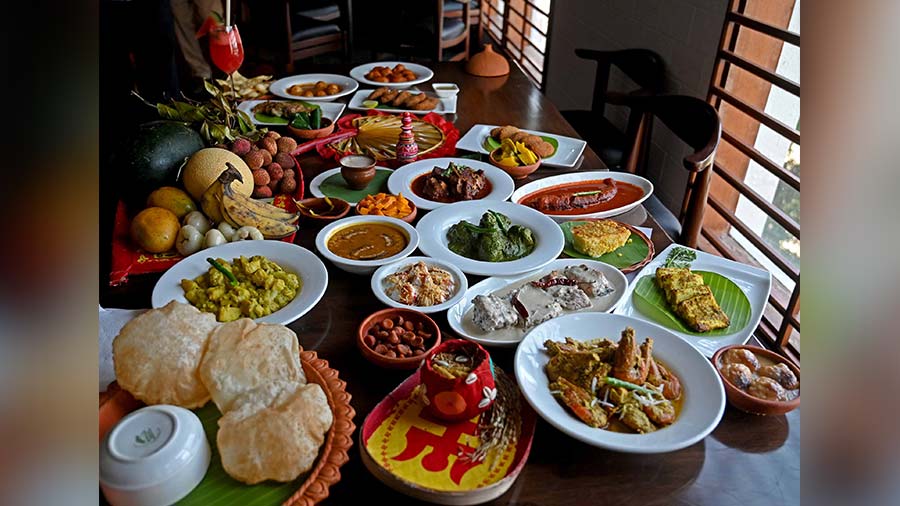 The Jamai Bhog spread and meal box has a selection of festive Bengali dishes like Chingri Shorshay Narkol, Kosha Mangsho and more
The lavish spread will include starters such as Calcutta Style Fish Fry, Murshidabadi Murgi Fry, Aam Aada Paneer Roast, Enchorer Cutlet, while the main course will have a delectable selection of Chingri Shorshay Narkol, Pabda Tomatoer Jhal, Doi Morich Katla, Kancha Lonka Murgi, Sojnekhali Mangshor Jhol, Bhaja Mosalar Aloo Dom, Rajbarir Channar Kofta, Jhinge Aloo Posto, and Cholar Dal. The staples will include Luchi, Radhaballavi, Steamed Rice and Basanti Pulao. For desserts there will be Baked Mihidana, Kheer Kodom, mangoes, vanilla ice cream and, of course, Mishti Doi.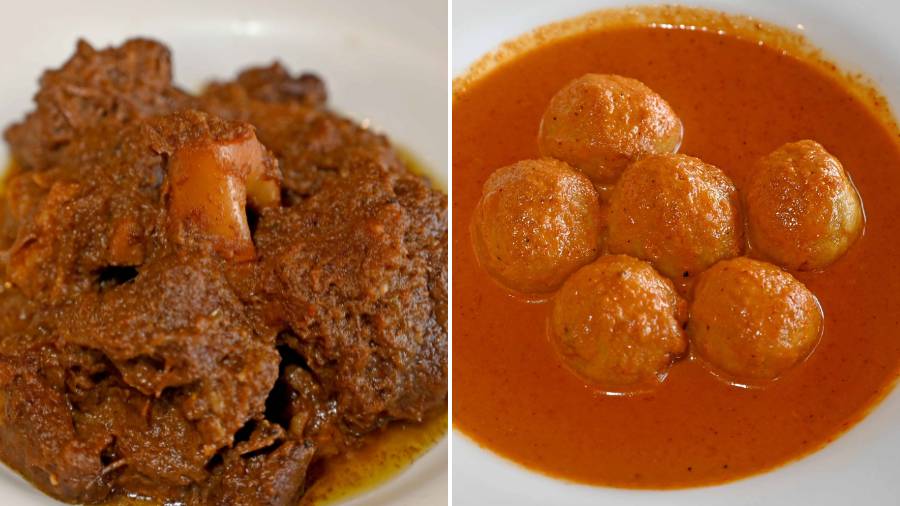 Kosha Mangsho and (right) Rajbarir Channar Kofta
There will also be an extensive array of accompaniments such as Bori Bhaja and Doi Shosha, Kancha Aamer Chutney, Papaya Chutney, Roasted Papad, Fried Papad and Fryums, Aamer Achar and Lonkar Anchaar. A refreshing array of salads and small eats including Anarosher Salad, Dahi Vada and Papri Chaat, will also feature on the menu.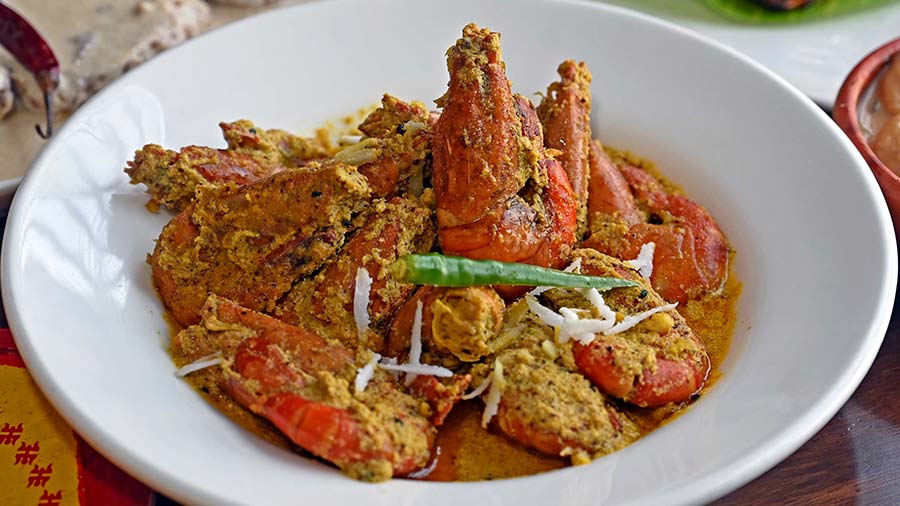 Chingri Shorshay Narkol
What's more is that though these items are specially curated for the lunch buffet menu, patrons will also be able to order items a la carte when dining at Oh! Calcutta for lunch or dinner on all three days.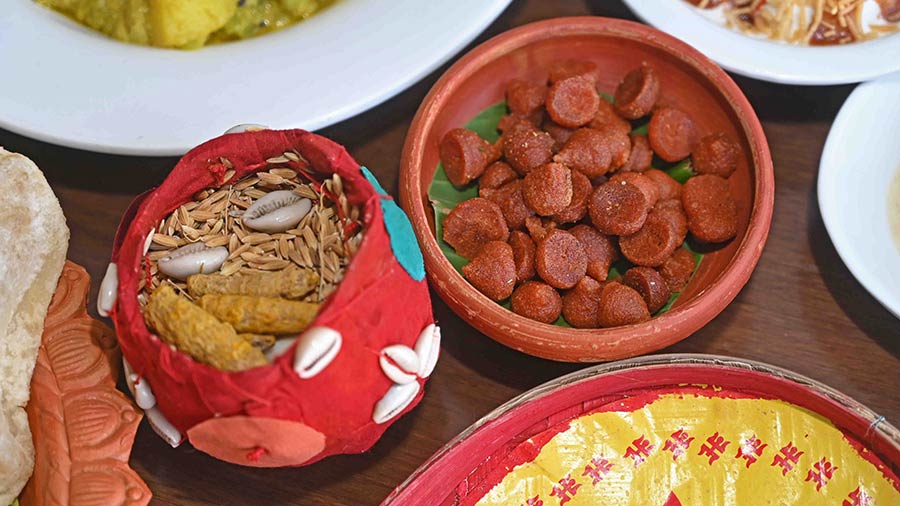 The menu features interesting accompaniments like Bori Bhaja (in picture) and Doi Shosha
The other charm of the event, Oh! Calcutta's innovative meal box, will have age-old specials such as Calcutta Bhetki Fish Fry, Kosha Mangsho, Chingri Shorshay Narkol, Doi Maach (Rui), Rajbarir Channar Kofta, Bhaja Moonger Daal, Steamed Rice, Aloo Bhaja, Tawa Laccha Parota as well as Kancha Aamer Chutney, along with Baked Rosogolla, Mishti Doi and a whole fresh mango — the typical fruit served during the occasion — for dessert.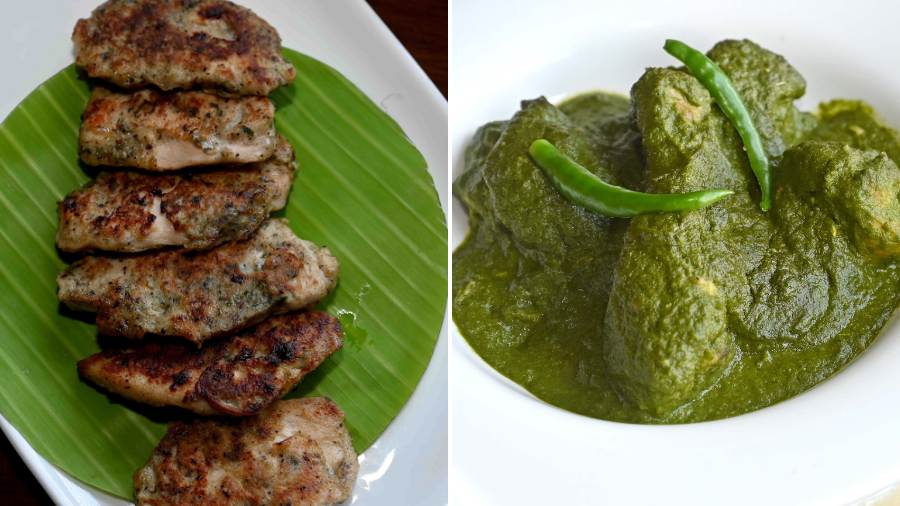 Murshidabadi Murgi Fry and (right) Kancha Lonka Murgi
Also named Jamai Bhoj, the box is especially designed for families who are unable to get together for a celebration on the day and will be delivered by Oh! Calcutta's delivery partners. The service will be available for both lunches and dinners in Kolkata and in cities where there is an Oh! Calcutta restaurant. The menu remains the same, and will be made in Oh! Calcutta kitchens across Kolkata and in the different cities namely, New Delhi, Mumbai, Bangalore and Hyderabad.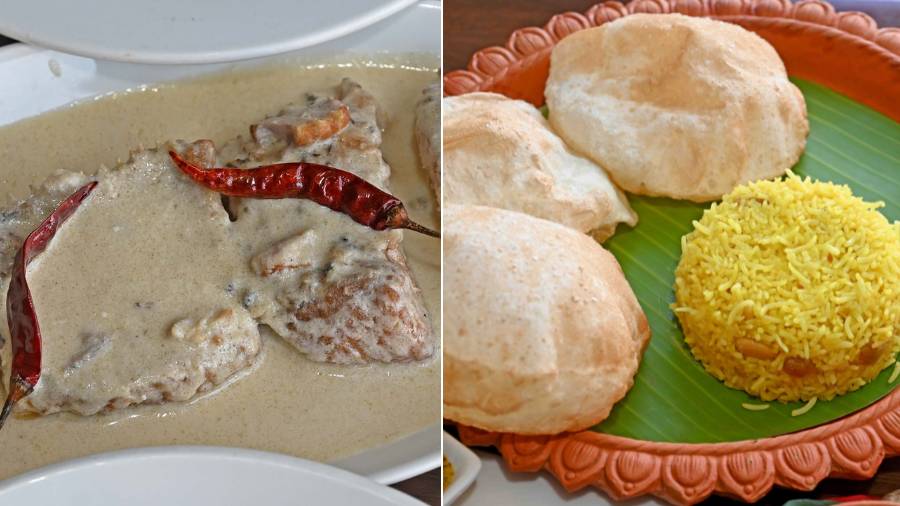 Doi Morch Katla and (right) Luchi and Basanti Pulao
The Jamai Bhoj buffet, priced at Rs 1,295 per head, will be available at Oh! Calcutta's Kolkata locations on May 25, and the items will be available on the menu in Kolkata on May 25, 27 and 28. The Jamai Bhoj meal box, priced at Rs 3,225, will be available for delivery and takeaway from May 25-28, at Mumbai, Pune, Kolkata, Bengaluru, Hyderabad, Delhi, Noida and Gurugram.