The mango season is here and the king of fruits is reigning over Kolkata markets. The sweet aroma of ripe mangoes has filled the air as buyers take their pick from a wide variety.
Delectable desserts, shakes and smoothies to chire/muri makha or simply the fruit on its own — mango in any form is delicious and every variety has its own distinct taste!
The price of mangoes depends on the variety and also varies from one market to another. Ahead of Jamai Sasthi, prices have started creeping up at most markets.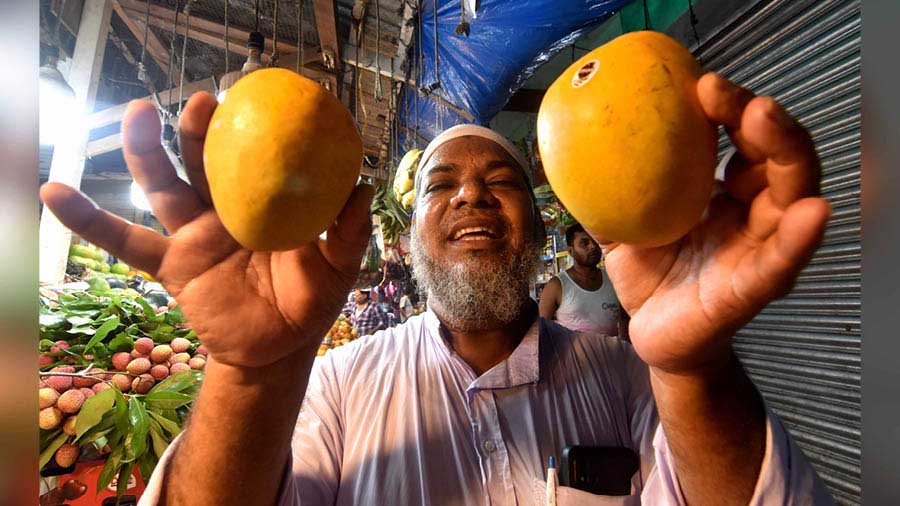 Fruit-sellers at most markets said there has been no dearth in supply of the fruit this season
Ashim Paul
My Kolkata toured some markets in north and south Kolkata to find out more about the seasonal delight. Fruit-sellers at most markets said there has been no dearth in supply of the fruit this season but some said customers have been complaining that the crop this year is less tasty. "That's what our regular customers have been telling us. Compared to last year, the fruit tastes bland," said Suraj Ray, a fruit-seller at Lake Market. Shymal Malakar at Jadu Babur Bazar blamed it on the untimely rain. "This is what I get to hear from the farmers," Malakar said.
Mechua fruit mandi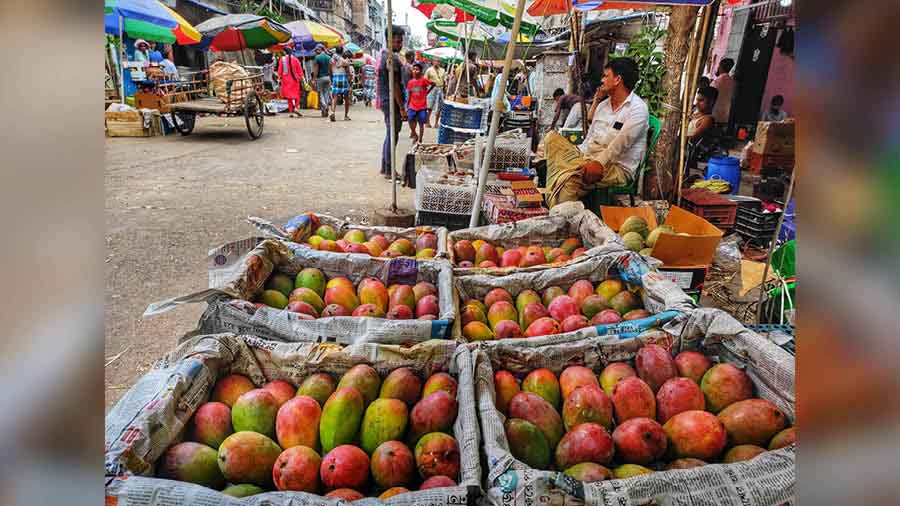 Barnini Maitra Chakraborty
Talking of wholesale markets, the first that comes to mind is the Mechua fruit mandi at Burrabazar. Fruit sellers from different corners of the city source the fruit from here. Usually, one has to buy either a whole crate or at least a palla, which means a 5kg package. Himsagar, Lyangda, Golapkhash, Gobindobhog, Kancha Meetha and many other varieties are available. The cost of Himsagar varies between Rs 30 and Rs 60 per kg while Golapkhash or Lyangda are priced between Rs 60 and Rs 70 per kg. Mangoes are sourced from different parts of the country. Chennai, Basirhat, Santipur are some hotspots for mangoes.
College Street market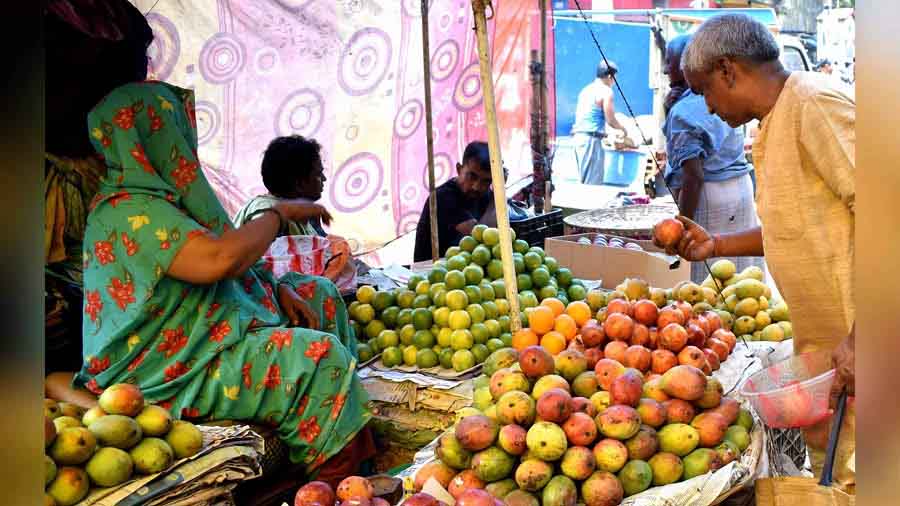 Barnini Maitra Chakraborty
The next wholesale market is College Street. The Boi Para takes on an entirely different look when the market opens around 11.30pm. The tram tracks are taken over by wicker baskets and crates of mangoes, most of them sourced from Basirhat and Santipur. Himsagar, Lyangda, Golapkhash are the main varieties available though some other varieties like Gobindobhog and Chausa can also be found. Here, too, one needs to buy at least 5 kg of the fruit. The cost of Himsagar varies from Rs 30 to Rs 40. Lyangda costs around Rs 60 per kg. Golapkhash is priced at around Rs 40 to Rs 60 for a kg. The wholesale market closes by 4am and later in the morning, fruit sellers with their small stalls are seen in the area just beside the Bornoporichoy Market. The rates are higher than the wholesale market which operates at night. The rate of Himsagar varies between Rs 40 and Rs 70.
Sealdah market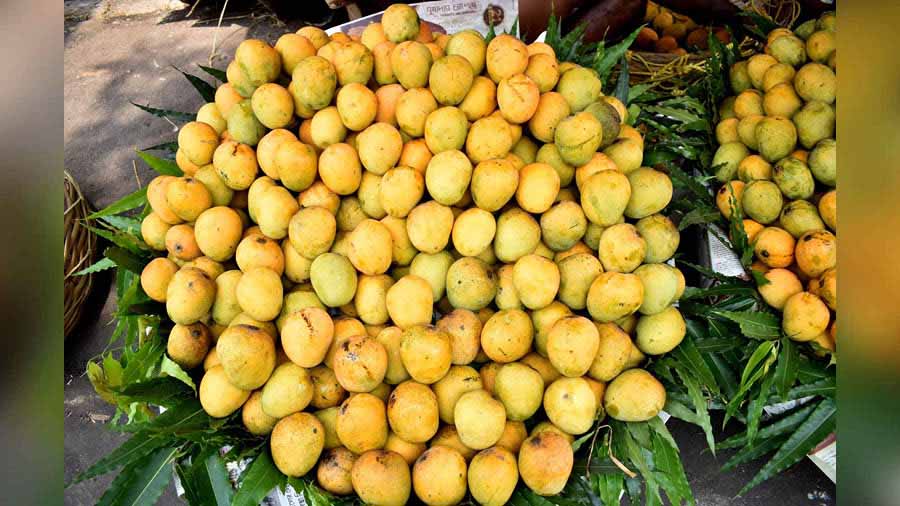 Ashim Paul
Sealdah is known to be the cheapest among all fruit markets. Though you can get mangoes throughout the day, the wholesale fruit market operates between 11 pm and 7 am. Leave aside Baithakkhana or Koley market, the entire area near Sealdah station gets jammed with wicker baskets laden with mangoes. Himsagar can cost as low as Rs 20 per kg. The Himsagar price tag can be between Rs 30 and Rs 40 while Lyangda and Golapkhash are priced around Rs 40 and Rs. 60. The retail rates vary between Rs 40 and Rs 60 for Himsagar while the Golapkhash rates are pegged between Rs 60 and Rs 70 per kg.
Shyambazar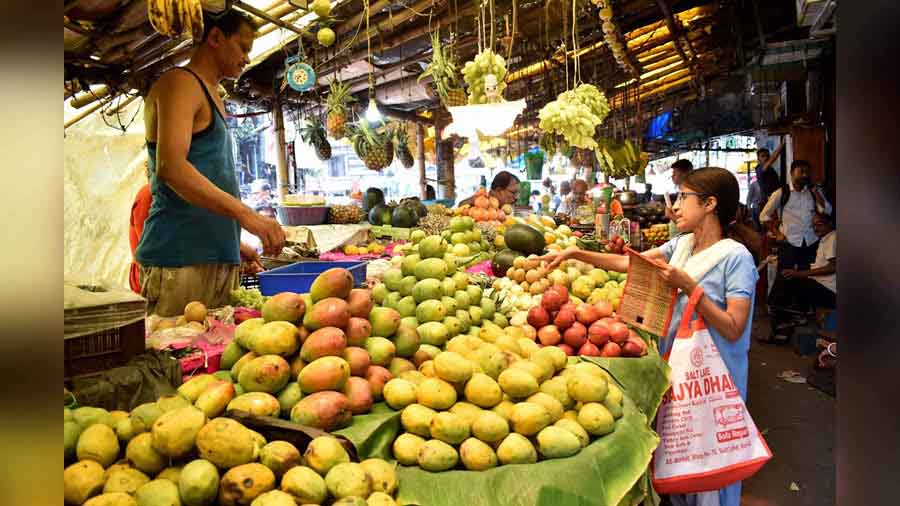 Ashim Paul
The Shyambazar fruit market is one of the most popular markets of north Kolkata. Here, the crop is available at retail rates. While Himsagar rates vary between Rs 50 and Rs 70 per kg, the price of Golapkhash can go up to Rs 100 per kg. With Jamai Sasthi coming up, the rates are likely to go higher. A regular customer of the market, Sumita Mukherjee has been buying mangoes from the market for twenty years. "Since my marriage, I have always bought mangoes from here. Usually, the quality of fruits is good here but this year the mangoes are not that sweet because of scarcity of rain. Now that the monsoon is approaching, I am hopeful. I usually buy two to three kg every two to three days. Though we eat almost all varieties of mangoes available here, Himsagar is the most preferred one."
Jadu Babur Bazar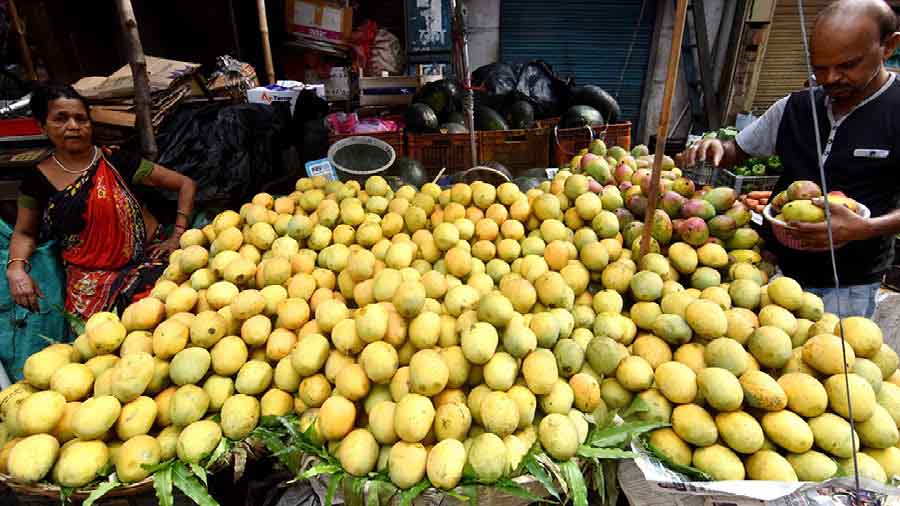 Ashim Paul
Having a huge Punjabi, Gujarati and Marwari community in the vicinity, this market in Bhowanipore sells the best vegetables and fruits in Kolkata. As of now, there are five varieties of mangoes available here. While the demand is good, the customers are not happy with the quality. Lyangra, Himsagar, Golapkhas, Alphonso and Magnaphuli are creating all the buzz. "Alphonso is the most expensive at Rs 780 per kg, the rest are priced between Rs 60 and Rs 120 per kg," said Malakar, adding that the price varies on a daily basis. From next week, Gobindobhog and Chausa will be available and there might be differences in quality. "Alphonso is mostly bought for gifting. Other varieties are for regular consumption," said Sedeb Halder, another vendor.
Lake Market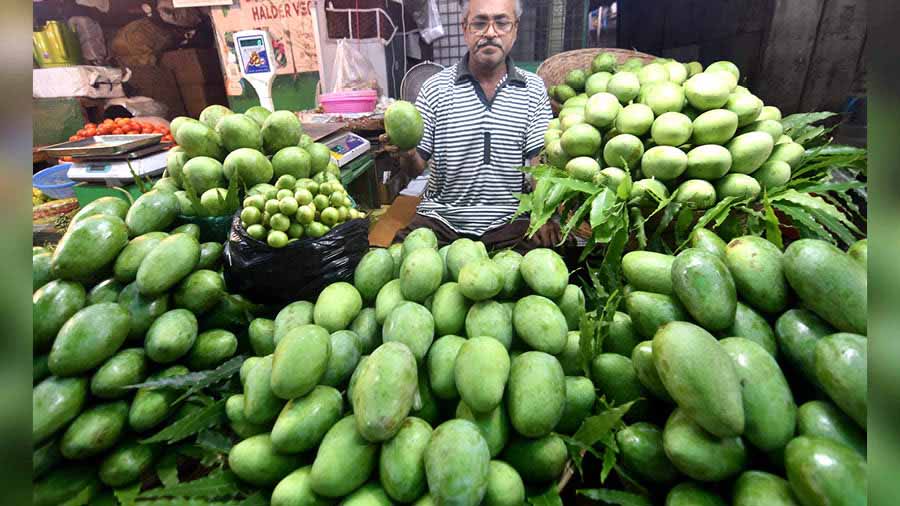 Ashim Paul
"What you won't get anywhere in Kolkata you can get here. That's why pgood eople come here to shop despite the higher price tag," said Suraj Ray, a Lake Market fruit seller. And this (mango) season, too, the scenario is no different. Once a stronghold of the south Indian community, Lake Market was known for the spices needed to make dosa, idly and rasam. But the market sells top quality fish along with vegetables and fruits. "Besides Lyangra, Himsagar, Golapkhas, Alphonso and Magnaphuli, we have Tota and Dussehri. The Golapkhas are of better quality, but Lyangra and Himsagar are not up to the mark. We are waiting for the better lot to arrive," said Ananta Shaw, a fruit vendor. The price of Alphonso is Rs 800 per kg, while other varieties would come between Rs 100 and Rs 130. "Among these varieties, Tota is very good, but mostly bought by juice-sellers. The price is Rs 300 per kg," said Shaw.
"We have the usual varieties of mangoes this year, but they aren't of very good quality. Jamai Sashthi is approaching and my daughter and son-in-law are coming from the Netherlands. I am sure by then, good quality mangoes will be available. Otherwise, I am planning to buy Alphonso for them," said Ashima Paul, a homemaker.
Gariahat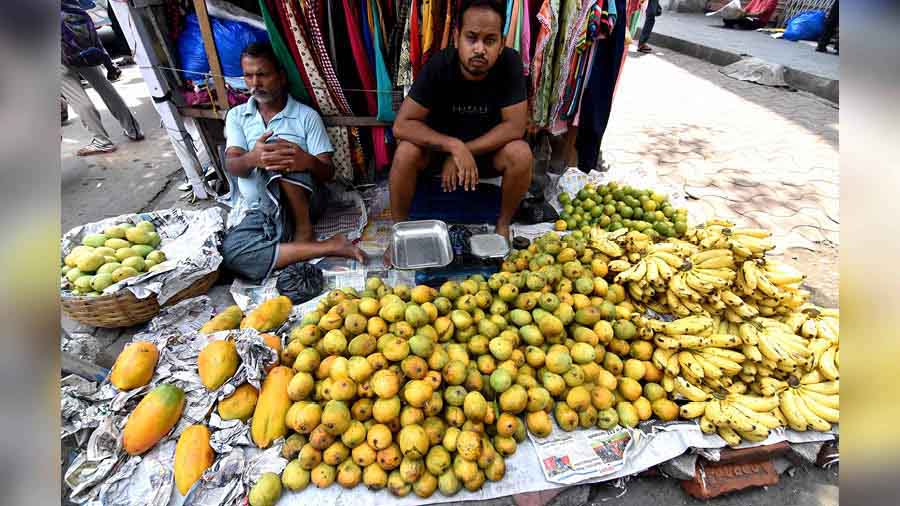 Ashim Paul
This market is no different than others. Having almost the same varieties, the sellers are hoping for better quality from next week. We found some low-graded Fajli for Rs 70 per kg, but there weren't many takers. "From June, we would have good quality Fajli and Lakshmanbhog from Malda," said Jayanta Das, a vendor. Besides, Lyangra, Himsagar, Golapkhas, Alphanso and Magnaphuli are available in the market at the similar price range.