When it comes to talking about food, Kolkata and the relationship between the two, who better than champion restaurateur Anjan Chatterjee? The founder and managing director of Speciality Restaurants was in Kolkata to herald the start of the festive season and share updates about the group's expansion plans. In a free-wheeling interview at Mainland China's Gurusaday Road branch, Anjan da talks about his Durga Puja memories, love for Kolkata food and a few of his favourite things.
My Kolkata: Is there a Durga Puja memory you cherish?
Anjan Chatterjee: My father was one of the founders of the Shiv Mandir at New Delhi Kali Bari. I remember this one time, when the puja and related activities were going on, I was supposed to be in the puja area. However, I saw some fish being fried and I quietly escaped to eat one! I didn't have enough money with me because I was only nine years old, and I remember asking an uncle next door to lend me some money so that I could eat that fried fish. I got a scolding from my father, but that's how much I have always been drawn to and loved food.
How do you usually celebrate Durga Puja?
Durga Puja is all about food, friends, Ma Durga and Puja'r bhog. I always remember my childhood during this time and it's always a celebration with family and friends. It's an opportunity to meet each other and celebrate the occasion, and food is a very big attraction.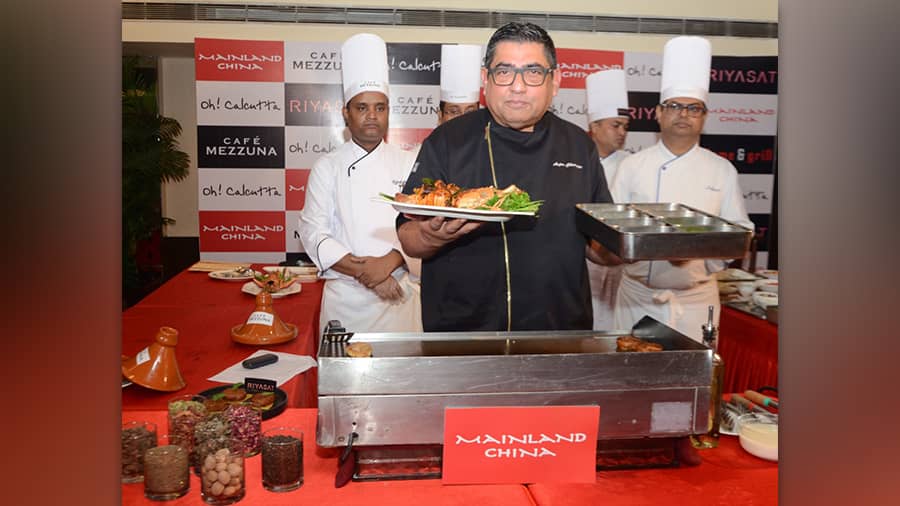 Anjan Chatterjee at Mainland China's Gurusaday Road branch. Speciality Restaurants is looking to open three Mainland China restaurants nationally in the next 18 months in the Fine Dine category
Amit Datta
Do you think the celebration of the festival has changed over the years?
Life is evolving and change is the only constant. But, fortunately, even with the younger generations, the value system has not gone away. Maybe the khichuri has become a pulao — that's what I would call a transition, but the food and celebrations are still going strong. As I said, the generations will change, but celebrations will not.
What is your favourite thing about Kolkata?
The soul of Kolkata! When I come here I really feel very connected and warm. People have the time to invite and welcome you. Also, the adda! Muri te adda, cha-e adda, rum-er opor adda!
What is your favourite meal when you are home?
Alu phulkopi diye maachher jhol and bhaat, for sure! On a rainy day, it is bhuni khichuri, papad bhaja, omelette and ilish maachh bhaja. The sides accentuate the flavours!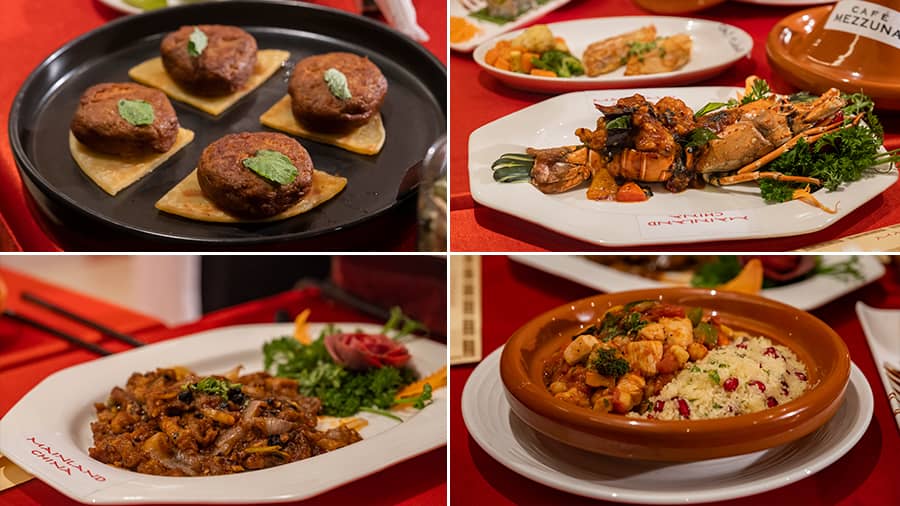 Some of the dishes that will be a part of Speciality Restaurants' Puja-special menus. From opening Only Fish in Mumbai in 1992, Speciality Restaurants now has restaurants dotting the country along with an international presence in countries like Bangladesh, Tanzania, Sri Lanka, UAE and the United Kingdom
Ritagnik Bhattacharya
You once wrote that if the dishes were really delicious, your father would ask, "Aajke bajaar ta key korechhe?" (Who visited the daily market today?) Which are your favourite bazaars in Delhi and Kolkata?
Whenever I get the chance, I go to Khan Market in Delhi, or if in Kolkata, I will, 100 per cent, go to Gariahat Market, Lake Market or Maniktala Market — that's where we get our ilish from, from Bablu Babu.
From Only Fish to Oh! Calcutta — you put Kolkata food on the map of India. And now, you've taken it to London with Chourangi…
It's been my dream, from the time my children were studying in London, to open a restaurant there. London is the Mecca of food.
I believe in the saying, "Differentiate or die." I could have taken Riyasat or Mainland China there, but we decided to take Kolkata cuisine. There are two reasons for that — first, because I'm passionate about the cuisine and second, because I passionately believe Indian food is the best food in the world.
The flavours and ingredients of Indian cuisine are still unexplored outside. I knew that ingredients like mouri (fennel), kalo jeere (nigella seeds) and even methi (fenugreek seeds) would hit them with flavour. These ingredients have always been around, we just needed to put them into a regional perspective.
What is the one dish that you introduced to your friend and Chourangi partner Aditya Ghosh?
Aditya is a very big foodie and has been an ardent fan of the food of Oh! Calcutta and Mainland China. So, when we were doing the trial, we surprised him with a Gondhoraj Murgi and a Panch Phoron Lamb Rack, which he loved.
What makes Bengali cuisine stand out from the perspective of a restaurateur taking it to London?
Every part of India has a uniqueness and local influence. As a country, India has four regions and each of them has something unique about their food. Variety is the spice of life and the palate needs change. In London, you get everything and there are many restaurants there, but when you take a new cuisine there, it surprises people. Which is why Malai Curry, Gondhoraj Murgi and even the humble Paturi are going places.
Your family is a big part of your journey…
In this whole journey, it is essential to give credit to my wife Suchhanda, who has been the architect and force behind the interiors of all the restaurants for a long, long time. My daughter is also a foodie and my children have seen their parents cooking all the time. My son Avik enjoys modern food and he's a big fan of Japanese food, but he loves coming home to a humble maachher jhol or a murgir jhol. When your family starts getting into the business, it's a different kind of a journey.
Finally, can you share a memorable response you've received from a patron at Chourangi?
A lady started crying and we all were holding our breath worrying if something was wrong with the food. She was eating the Mutton Biryani, she ate the alu and the mutton and then started sobbing. She called me through a colleague of mine, and on approaching her, she said, "Aapni amaar jibon-er joto ambition chhilo puro kore diyechhen. Eikhane Kolkata biryani kothao paina (you have fulfilled my life's ambition. We don't get Kolkata biryani here) and I've been living in London for over 40 years."
That passion for food and the power of nostalgia is magical.