For Bengalis, mutton is more than meat, it is an emotion, and also the cushion we need after really long days, hungry days, or when the weekend finally arrives. Be it a bowl of soothing stew or a rich, spicy curry — mutton is G.O.A.T. (and also literally so)!
So, here are four recipes — from jhol to uff ki jhal — to celebrate the succulent goodness that brings the biggest smile to our faces.
Mutton liver curry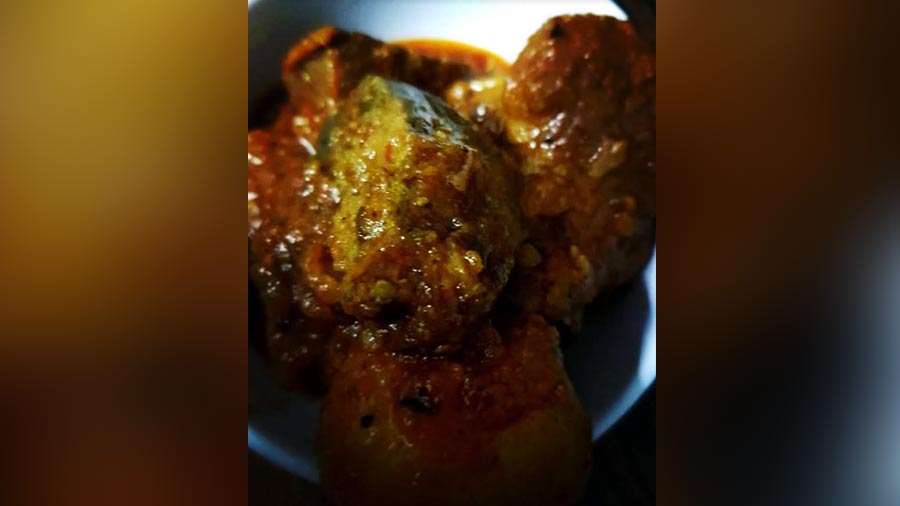 Pooja Mitra
Mutton liver curry is not just one of the #soulfood recipes, but is also an unfailing instant mood lift. Team it up with hot rice, some onions and a chilli, and head straight to bed for the weekend bhat ghum.
Ingredients:
1 kg mutton liver
3-4 large onions finely chopped
3 tablespoons ginger-garlic paste
2 tablespoons green chilli-lemon juice paste
4 tablespoons tomato-dry red chilli-dry red chilli powder paste
2-3 large potatoes cut into medium-sized cubes
2-3 green chillies slit
1 tomato chopped into cubes
3 tablespoons whole cumin-coriander paste
Mustard oil
Ghee
Salt
Sugar
1 tablespoon turmeric powder
1 bay leaf
1 dry whole chilli
1 cinnamon stick
2 cloves
2 cardamom pods
1 teaspoon whole garam masala paste
Recipe:
Marinate the mutton liver with 2 tablespoons of mustard oil, 1 tablespoon each of — ginger-garlic, green chilli and lemon juice, tomato-dry red chilli powder and cumin-corinder paste. Add 1½ teaspoons of salt and turmeric powder.
Let it rest for a minimum of 15-20 minutes
Shallow dry the potatoes and set aside
In a kadhai, add mustard oil, 1 tablespoon ghee and let it heat. Add bay leaf, dry red chilli, whole garam masalas one by one and allow the spices to temper. Add onion, a pinch of salt and sugar. Give a good stir and cover the kadhai, letting the onion turn golden-brown and aromatic
Remember to keep the flame on low to medium
Once the onions are ready, add ginger-garlic paste and cook for 2-3 minutes. Add the turmeric powder, salt, sugar, green chilli and lemon juice, tomato-dry red chilli powder, cumin-corinder pastes one after the other, with a gap of 3-4 minutes, so that every spice paste gets time to cook and release its aroma. The last spice is a ½ tablespoon of garam masala paste, after which followed by a good stir, the spices need to be cooked together till they release oil to the surface
Add mutton liver and mix with the spices. Cook on medium flame for 5 minutes, and then cover and cook till they are half done
Add the potatoes, chopped tomato and slit green chillies and cook everything together for another 3-5 minutes
Add desired amount of water and cover. Keep the flame medium to lowCheck if the liver and potatoes are ready along with the seasonings
Switch off the flame. Add a tablespoon of ghee and the remaining garam masala paste and cover for 3-4 minutes
Serve piping hot with rice or Indian bread of your choice
Mutton kosha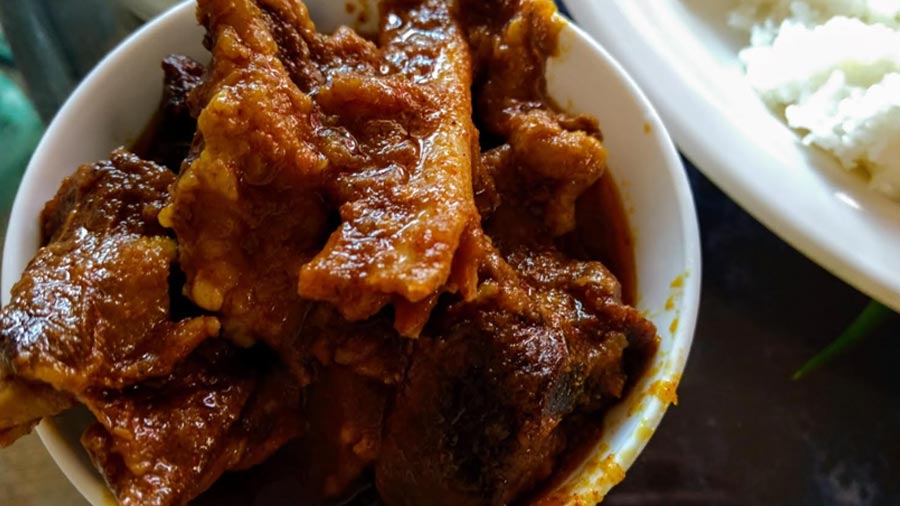 Pooja Mitra
Is it just us or does mutton kosha remind you too of Parambrata's sassy Dwitiyo Purush dialogue — "bangla bhasha aar mutton kosha niye kintu kono chyangramo na"? Maybe it's time for a rewatch this weekend, while you make this mutton kosha, followed by some pashbalish joriye ghum!
Ingredients:
1kg mutton (80:20 meat-fat ratio)
4-5 large potatoes cut into halves
4 large onions finely chopped
3 tablespoons ginger-garlic paste
1 tablespoon green chilli paste
2 tablespoons tomato paste
1 whole garlic
1 whole tomato cut into half
3-4 slit green chillies 
1 bay leaf
2 dry red chillies
3 tablespoons fresh garam masala paste
1 and ½ tablespoon cumin and coriander powder mixed together or a paste of both in 1:1 ratio
Salt
Sugar
Turmeric powder
Red chilli powder
½ teaspoon black pepper powder
Mustard oil
Ghee
3-4 tablespoon hung curd, beaten
50gm mutton fat cut into cubes
Recipe:
Marinate the mutton with 4-5 tablespoon chopped onions, 1 tablespoon each of — ginger-garlic, green chilli, tomato pastes. Drizzle some mustard oil, 2 tablespoons ghee, 2 green chillies and curd. Add 1 tablespoon salt, turmeric powder, red chilli powder and mix everything well. Cover and refrigerate overnight or at least for an hour
Marinate the potatoes in salt, turmeric and red chilli powder and deep fry
Take half of the chopped onions and make birista (caramelised onions)
In a kadhai, add mustard oil and 1 tablespoon ghee. Once the oil is heated, add a pinch of red chilli powder and let it turn red-black only for 30 seconds. Add bay leaf and dry red chillies and allow them to change colour. Next in line are the spice base musts — chopped onions that should be cover-cooked till golden brown, ginger garlic paste, tomato, cumin - coriander, garam masala and green chilli pastes. Add a pinch of salt, sugar, ½ teaspoon red chilli powder (kashmiri, preferably for just the colour), birista (caramelised onions) and turmeric powder. Cook till they leave oil on the surface
Add the marinated mutton, mutton fat and begin the koshano — 5 minutes in high flame, uncovered, followed by covered cooking for 30-40 minutes. Don't forget to keep stirring periodically
Meanwhile, marinate the whole garlic with salt and black pepper powder, with a little mustard oil. Grill on open flame for 30 seconds and keep aside
Coming back to the mutton, add the required amount of water (remembers, it's not jhol, but kosha) and salt
Add the grilled garlic, chopped tomatoes and the potatoes
Cover cook till done. You can also transfer the mutton into a pressure cooker after the koshano stage
Check seasoning and serve then and there. Why wait!
Sunday mutton jhol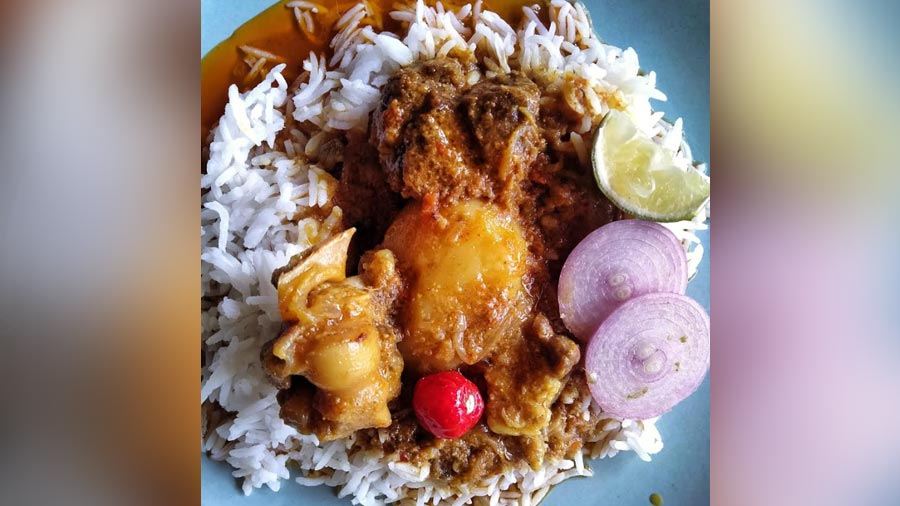 Pooja Mitra
Gorom panthar jhol, with whole potatoes, carrots and onions, when poured over equally hot rice, with onion, green chilli and lemon wedges on the side, is pure Bengali-style bliss.
Ingredients:
1 kg mutton (90:10 meat - fat ratio)
7-8 whole potatoes, peeled
7-8 sambar onions, peeled
2 whole tomatoes, peeled
4 green chillies slit
1 whole garlic
2 large carrots cut ¼
2 onions finely chopped
2 and ½ tablespoon ginger-garlic-green chilli paste
Salt
Sugar
Turmeric powder
Red chilli powder
6-8 tablespoons hung, beaten curd
1 bay leaf (preferably unripe)
½ cinnamon stick
1 clove
2 cardamom pods
5-6 whole black peppercorns
1 dry whole chilli
2 kaffir lime leaves
Mustard oil
Ghee
Recipe:
Marinate the mutton with salt, curd, 1 tablespoon ginger-garlic paste, turmeric powder and red chilli powder for at least an hour
Shallow dry the potatoes and carrots and keep aside
In a kadhai, add mustard oil and heat. Add bay leaf, cinnamon, cloves, cardamom pods, dry whole chilli and blackpepper corn and let them sizzle
Add the onions and fry till they are golden and tender. Add ginger garlic paste, turmeric powder, red chilli powder and beaten curd one after the other at a gap of 3-4 minutes each
Once the spice base is ready, add mutton and cook for minimum 25 to maximum 35 minutes, in low to medium flame, covered
Transfer the mutton to a pressure cooker, add water (enough so it is a jhol), potatoes, carrots, sambar onions, green chillies and tomatoes. Add salt and a pinch of sugar
It should ideally take 2-3 whistles for everything to be ready, but it is advisable to check after the second whistle to take the call
Add the lime leaves and boil only for 1-2 minutes for a lemony after taste. Lime leaves tend to make gravies bitter, so boiling for a long time is not advisable
Once ready, check seasonings, drizzle some ghee on the top and dig in right away
Mutton stew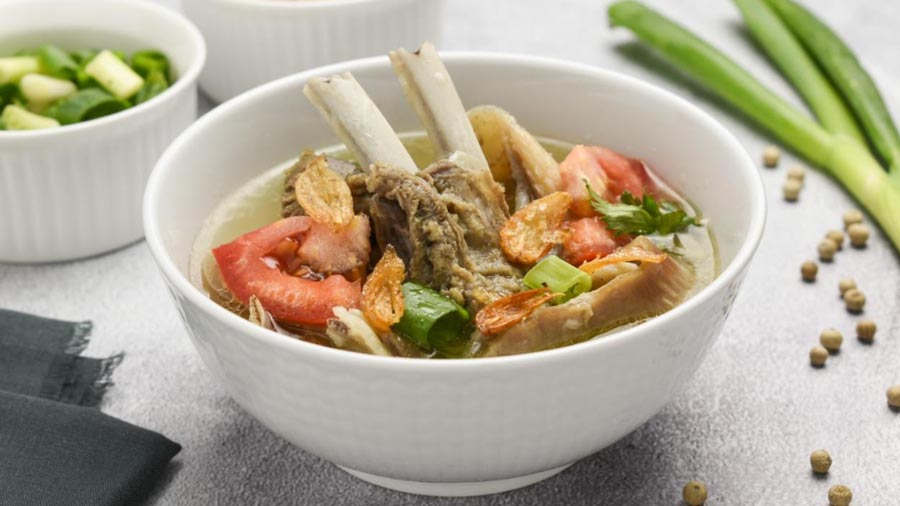 Shutterstock
This rich, milky stew, with the goodness of veggies and the bite of mutton, with a dollop of butter on the top, is more than enough to prepare you for Monday and just about anything!
Ingredients:
1kg mutton (80:20 meat - fat ratio)
10-12 baby potatoes or 6 whole small potatoes
3 carrots cut into medium sized pieces
3 tomatoes cut into halves
4 onions cut into halves
6-7 beans cut into medium size each
8-10 button mushrooms cut into halves
1 small cauliflower cut into medium flowers
1 broccoli cut into medium flowers
1 tablespoon finely chopped lemongrass
3 green chillies slit
3-4 whole garlic pods
1 large onion finely chopped
2 tablespoon grated ginger
2 and ½ tablespoon green chilli - dry red chilli - black pepper corn paste (2:1:3:1 teaspoon ratio)
1 small cup coconut milk in room temperature
Salt
Sugar
½ teaspoon red chilli powder
1 bay leaf
1 cinnamon stick
2 cloves
2 cardamom pods crushed
1 star anise
1 teaspoon nutmeg powder
½ teaspoon shah jeera
1 dry red chilli whole
1 teaspoon blackpepper crushed or powder
Mustard oil
8-10 tablespoon melted butter
Recipe:
Marinate mutton with 1 tablespoon ginger- garlic, green chilli - dry red chilli - black pepper corn pastes with 3 tablespoons butter, a pinch of salt and sugar
Shallow fry the veggies in 3 tablespoons butter, including the onions and tomatoes
In a pressure cooker, add mustard oil and heat. Add bay leaf, cinnamon stick, cloves, cardamom pods, star anise, nutmeg and shah jeera and whole dry red chilli and temper
Add the onions and stir fry till golden. Add whole garlic pods, grated ginger, dry red chilli - black pepper corn paste and cook for 4-5 minutes
Add the marinated mutton and cook for 20-25 minutes under the lid. Don't attach the lid tight
Add warm water, add the veggies excluding the onions and tomatoes.
Add green chillies, seasosings and cook for minimum two whistles.
Open the lid and add the tomatoes and onions and cook for one more whistle. Point to note, tomatoes and onions should only be added when the mutton just needs one more whistle cook
Open the lid and add the coconut milk. Cook at medium to high flame for 2-3 minutes. Sprinkle some black pepper powder, check seasonings, some melted butter and switch off the flame
Garnish with lemon grass and serve straight from the oven