The festive weekend is almost upon us and it's time to feast on sweet treats! The city's many bakeries have fired up their ovens to bring us delicious Diwali hampers. Confectioners old and new, from home bakery Saldanha Bakery and iconic Kookie Jar to the newly opened Brown's, have a host of goodie boxes to choose from. Whether you're stocking up for a party or looking for gifts, hunting for chocolates or baked goods — here are seven city bakeries that have the best Diwali treats.
Cookies and baklava from Dunkel Braun
In the last one year, this vegetarian bakery opened two outlets in Kolkata, the first in Deshapriya Park and the more recent two-storey cafe-bakery in Salt Lake's Sector 1.
Dunkel Braun (German for 'dark brown' and a hue sought by every baker) has stocked its offline and online shelves with "more than 50 kinds of gift boxes". We recommend the Golden Assorted Baklava Box, Handmade Delight Combo Gift Box and the Assorted Sugar-Free Cookie Box. Of course, you can customise your own box, too. Pack them with cookies, baklava, makhana, brownie, dry cakes and more. The best part? Every hamper comes with a diya made by the children from Lotus Rescue NGO.
How to order: The starting range is Rs 750 for the Pink Cookie Box, which contains six assorted cookies. "One can order through the website or our bakeries in Deshapriya Park and Salt Lake. There are lots of varieties with customisation and combos," says founder and CEO Sandeep Gupta.
Large Nut Pies and tarts at Kookie Jar
Self-curating a box of sweets and savouries lends a happy feel - it's like plucking nuts and berries from trees that you can carry home into a basket for that special someone. At Kookie Jar, you can do the same with freshly-baked goodies like tarts and cakes, picking your favourite nut-and-berry bakes and fitting them into a decorative tray or box. "We've kept empty trays and boxes in the shop and we're encouraging people to curate their own boxes to add a personal touch," said Puja Kapur, one half of the sister team behind the 1985-established confectionery. Some of the festive items to line those trays are Chocolate Crunch Tarts and White Chocolate 'n' Strawberry Tarts, and even a Travel Cake. Call us nutty but what we also love are the Large Nut Pies that come in big round boxes!
How to order: Drop into any of the five outlets of Kookie Jar (Rawdon Street, Alipore, City Centre, Hindustan Park and Rene Tower in Kasba).
Edible patakas from Rouge Cafe
How adorable are these edible patakas? Munch on marzipan chakris, crackling anars, chocolate bombs and smiley rockets and let your festive feel take flight. The bakery and cake shop at Purna Das Road and Ballygunge Circular Road also has Diwali gift hampers filled with sweet treats. Get your regular, medium or large gift boxes which contain almond cakes, candles and flowers, chocolate chip cookies, dark chocolate brookies, macarons and more.
How to order: DM on social media or order boxes via online delivery apps. The starting price range is Rs 666.
Chocolate boxes from Saldanha Bakery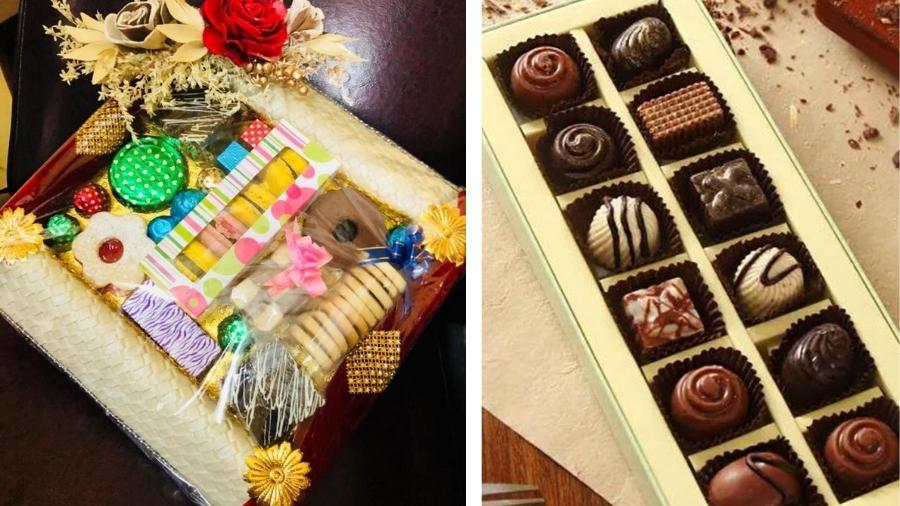 Saldanha Bakery's Diwali menu sees hampers, chocolate boxes, festive-themed cakes and luxe cupcakes. The chocolate boxes make for neat gifts — they are curated with an assortment of chocolates (strawberry, blueberry, hazelnut and caramel) and come packaged in a festive box. If you're looking to order Saldanha's traditional sweets and savouries, pick up the hampers. "We have a good mix of our traditional items like walnut cake and cheese straws and popular picks from our new menu such as chocochip cookies, blueberry muffins, French macarons and tomato bread in our hampers," says Alisha Alexander, the fourth-generation baker-owner of Saldanha Bakery. All hampers are customisable according to budget.
How to order: Call or Whatsapp +91 98308 80080 (the bakery needs 24 hours notice).
Price on request.
DIY hampers from Brown's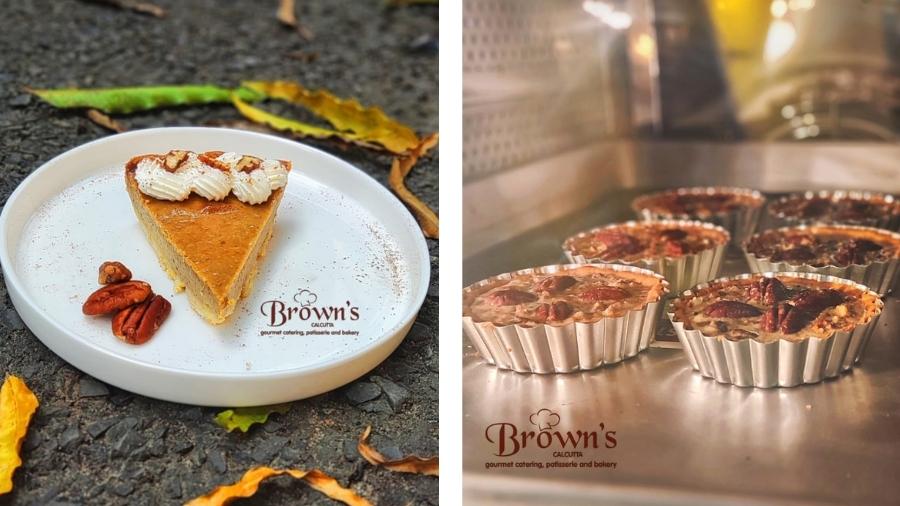 "We couldn't offer Diwali specials before because our portions were always too big but now that Brown's has opened a cafe we're offering DIY hampers for customers to curate themselves. You choose your favourite items from our menu and we'll add them to a gift box specially designed for the festive season," says Vanita Tondon, owner of Brown's. Items that are hot-sellers at the newly-opened bakery are the New York-style Cheesecake (sold by the slice and served along with a mixed berry compote), Pumpkin Pies, Gluten-free Almond and Sour Cherry Tortes and Pecan Tarts.
How to order: Visit the cafe at 174 Sarat Bose Road, Lake Terrace, Bhowanipore (next to Dunkel Braun). Prices on request.
Cupcakes & more from Mrs Magpies
The Diwali Special Box of 8 neatly packs in a sweet stack of cupcakes, macarons, fudge, tarts, chocolate and more. Check out the items in the link below.
With the festive feel on till the end of the month, the Pujo BhojOn offer of selecting 8 cupcakes in a box has been extended. These handcrafted gourmet cupcakes have a pujo twist. Available in different designs with Marzipan toppings, they are bound to win your heart.
How to order: Sweep it from the Southern Avenue and Salt Lake outlets of Mrs Magpie. The Diwali Special Box is priced Rs 499 and the cupcake box at Rs 475.
Tea Cake Hampers from Little Pleasures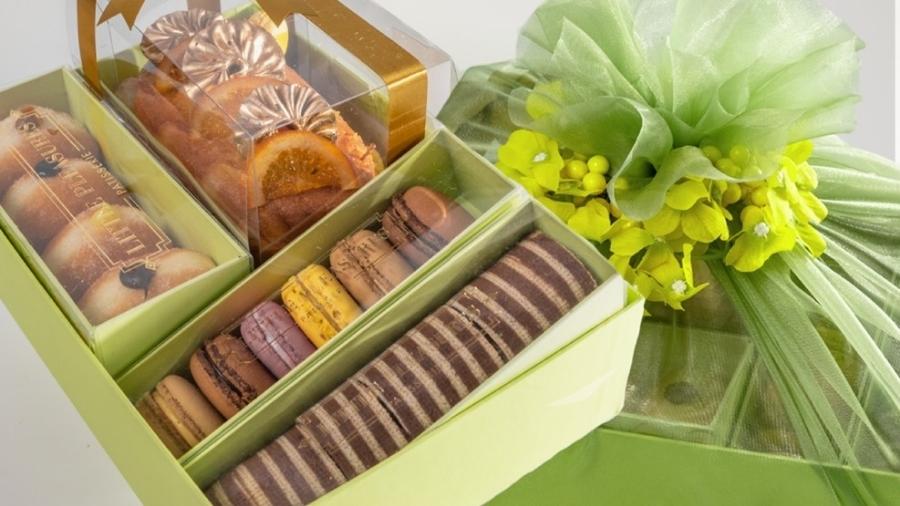 Love a light, airy tea cake? Little Pleasures Patisserie, the artisanal bakery spearheaded by chef Shripriya Gupta Seth, has a number of delectable Tea Cake Hampers on offer this Diwali. Flavours up for grabs are their signature Lemon Tea Cake along with Ferrero Rocher and Orange, Truffle Fudge, Belgian Macaron and Intense Chocolate Belgian Ferrero. Eggless variations of tea cakes are also available, at an additional cost. Teacake hampers are an offbeat offering so they definitely merit exploration!
The bakery is also offering artisanal gelatos (try the Mint Chocolate Twist, Dark Chocolate Caramel Brownie and Vanilla Madagascar), French Macarons, Doughnuts (the lemon curd and raspberry variations are delightful) and specially curated hampers beginning at Rs 2,800.
How to order: Call or Whatsapp 9830544866 / 9073644866 / 9831091723 to place orders 24 hours in advance. Tea cakes begin at Rs 1,350/lb, Gelato at Rs 850 for a box of four and French Macarons at Rs 650 for a box of six.