Tucked away in a small bylane is the only Goan-run bakery in Kolkata. The walls of the Saldanha Bakery have witnessed over 90 years of baking and family life. Although it might seem as though time has stood still here, it has actually moved with the tides of change. The motion-sensing sanitiser at the door, for one, is a reminder of how rapidly our world has turned.
When the pandemic hit in March 2020, the bakery grappled with the biggest challenge it has had to face. It adapted and emerged victorious, rising from the heat, much like a delicious loaf of their freshly-baked bread.
From traditionalist to millennial: each Saldanha generation added to the oven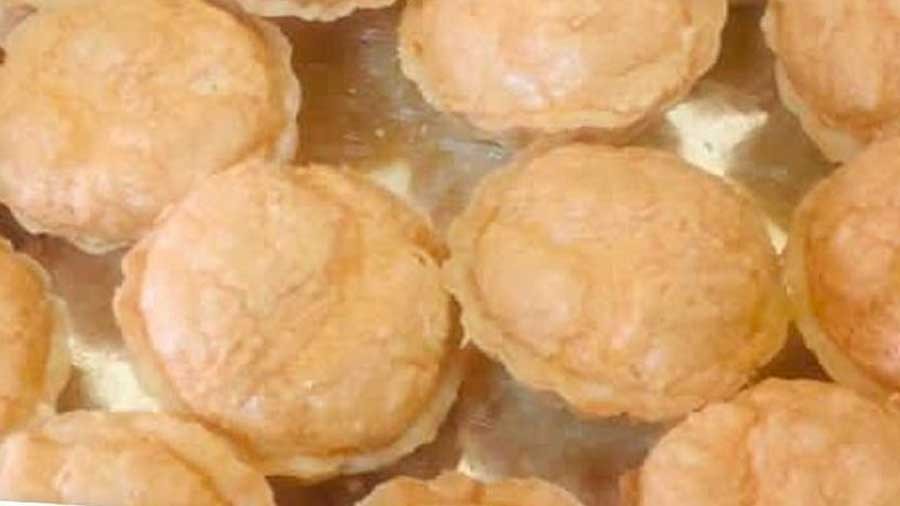 Cheese puffs from Saldanha Bakery
The bakery was started in 1930 by Ubelina Saldanha and her husband, Ignatius. Goodies were sent all over the city in black boxes that old-timers still remember. When Ubelina's son, Denzil, and his wife, Mona, took over, they improved the logistics and introduced some enduring bestsellers such as the walnut cake and coconut macaroon.
Denzil's daughter Debra, who is passionate about customer satisfaction, introduced many savoury items such as quiches, corn puffs and envelopes, as well as more options of birthday cakes and wedding cake slices.
Her daughter Alisha, in turn, brought a whole new dimension to the business with her Le Cordon Bleu training. Now French macarons, choux pastry and meringues entice the well-travelled palate as they tango alongside old favourites and customised cakes.
Lockdown learnings: adapting to the new normal
The lockdown caused a sudden loss of bulk business for the bakery. But the Saldanha women were resilient. They talked to friends, family and regular clients, and several brainstorming sessions later, started delivering essential bread to apartment complexes. Contactless delivery and sanitisation became top priority.
The Saldanhas have always treated customers as family. During the lockdown, they developed wholesome items such as wraps, hotdogs, hamburgers and different types of bread to help clients struggling to cook.
Saldanha is the only Goan-run bakery in the city. "During the pandemic, the Goan Association of Bengal (GAB) reached out to the community through online programmes for special occasions like The Feast of St. Francis Xavier and carols evening. We sent Saldanha's treats to participants to thank them," says GAB President, Derek Fernandes.
Saldanha cakes are a testament to the spirit of Kolkata and the way the city celebrates. Saldanha has baked for festivals such as Puja, Diwali, Eid and Chinese New Year. "Cakes have become a universal language," says Alisha.
The latest makeover
Last year saw a major overhaul for the brand, including a new logo, an extended menu and a bigger presence on social media. While the family had always discussed implementing better branding, the lockdown gave them the time to put this into action.
The new logo features a whisk and a rolling pin, symbolising the bakery's identity as a boulangerie and patisserie. Recently, their presence on social media has also grown exponentially. They have received a positive response and more visibility for their products.
The festive season at Saldanha's
Christmas at Saldanha's sees a menu filled with classic picks and new offerings. "We can't leave out grandpa and grandma's favourites — lemon drops and coconut macaroons!" exclaims Alisha.
Cheese puffs, sausage rolls and chicken patties are snacky savouries on offer along with sweet treats like rum balls and dark chocolate brownies, the perfect syzygy for high tea on a winter afternoon.
Saldanha's novelty fruit cake and walnut cake are mainstays, come Christmas. This year, a special rich fruit cake packed into a decorative Christmas-y tin, snuck onto their menu. Other interesting items that make for cute, luxe gifts are their French macaroons (chocolate, blueberry, strawberry and hazelnut), blueberry muffins and assorted chocolates.
What it means to be a family-run bakery
The pandemic may have turned many into home chefs, but the Saldanhas are the original bake-from-home family, which is what sets them apart from new-age mechanised bakeries. When introducing a product, they always put themselves in the customers' shoes.
Are there any disadvantages to being family-run? "We can never go on holiday together," sighs Alisha. But the pros outweigh the cons because the business is based on goodwill and the family tastes every ingredient it uses, so there's no compromise on quality.
What's next?
Saldanha is looking at reaching out to new places, stepping up delivery, and focusing on the expansion of their products and client base. About what's next on the menu cards, Debra says, "It depends on what our customers want next. Their wish is our command!" So, foodies, go ahead and make a wish!
Bite-sized Saldanha's trivia
Top 3 best-selling items: Walnut cakes, coconut macaroons and chicken envelopes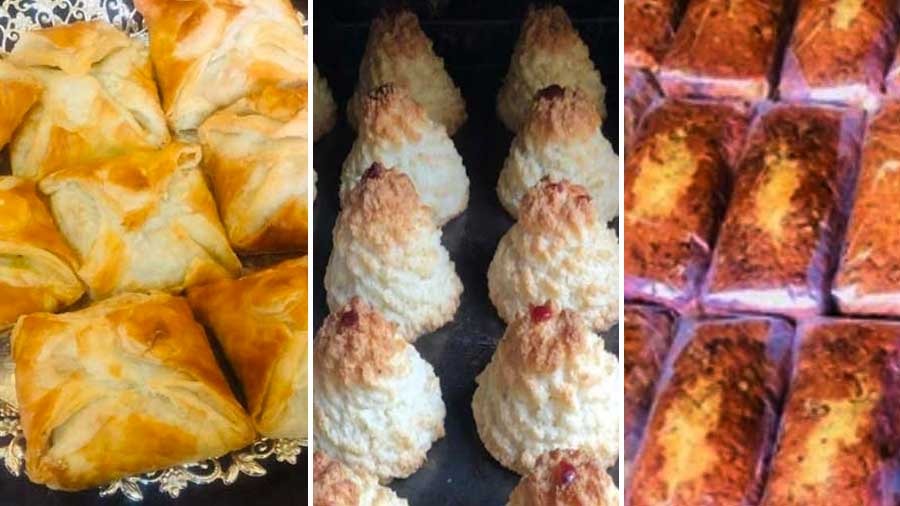 (L-R) Saldanha's chicken envelopes, coconut macaroons and walnut cakes
An item whose recipe has been untouched since the beginning: The rich fruit cake. We still use the recipe created by our great grandmother, Ubelina.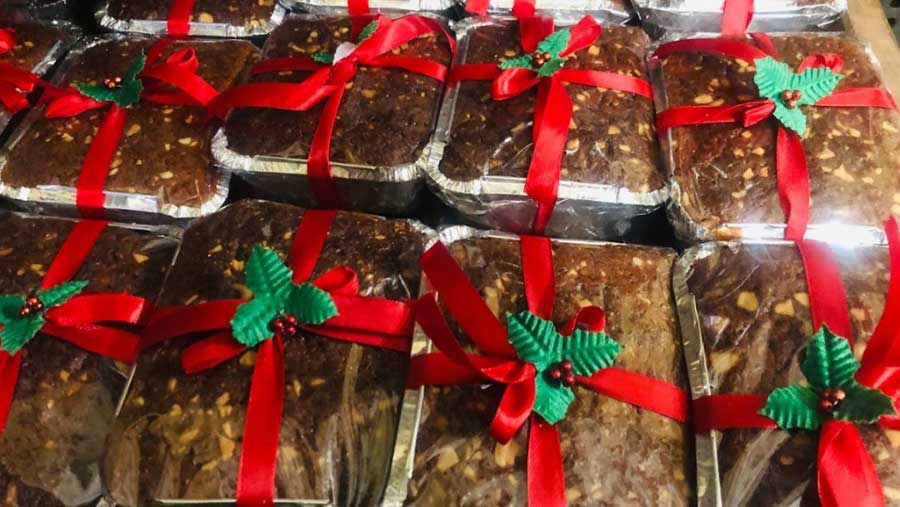 The rich fruit cake recipe was created by Ubelina Saldanha
Favourite new item: Mushroom and Cheese Quiche
Their oldest customer: A lady in her 90s who has been on the board of many schools.
Best compliment they've received: "Mr Guenter Wehrmann (former German Consul General in Kolkata) said ours was the best cake this side of the subcontinent."
When they're not baking as a family, they are: Making melody!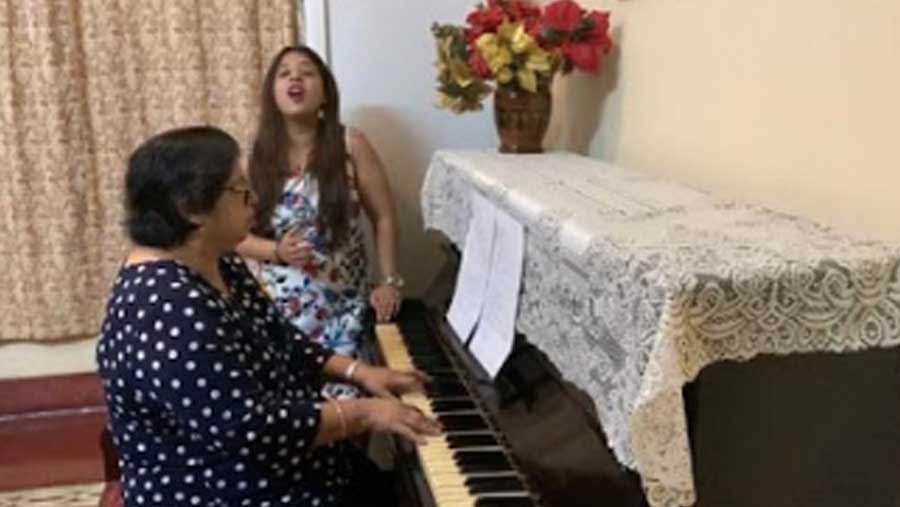 Alisha and Debra make melodies when they're not making cakes
[Additional inputs by Lygeia Gomes]