It's that time of the year when festivities are in full swing. Choosing a gift for your loved ones may seem like a mammoth task, but worry not. Go all out this Diwali with an irresistible list of gourmet gift hampers that have been specially curated by popular city joints. Be it Italian or Burmese, vegetarian or non-veg meals — now you can get them all in exquisite gift boxes and hampers. Trust us, your friends and family will love it. My Kolkata lists some of the options you can try this Diwali.
For the coffee lover:
Curated hampers from Barista
If you have that family member or friend who has coffee running in their veins, brew-ten their day with customised gift hampers from Barista. The coffee chain has launched a range of coffee assortments and merchandise so you can curate your own hamper. "For the festive season, we have artisanal cookies, brownie tubs, variants of nuts coated with fine chocolate, and salted almonds and cashews,'' says Rajat Agrawal, CEO, Barista Coffee. Throw in a sipper, festive blends of coffee and beans, or even a French Press or Mocha Pot for those who like to brew their cuppa. The hampers are available till the Diwali week, although some products may last till year-end.
How to order: Visit the website or stores across Kolkata. Products start at Rs 800.
For the chef at home:
Pasta & Burrata hamper from Sorano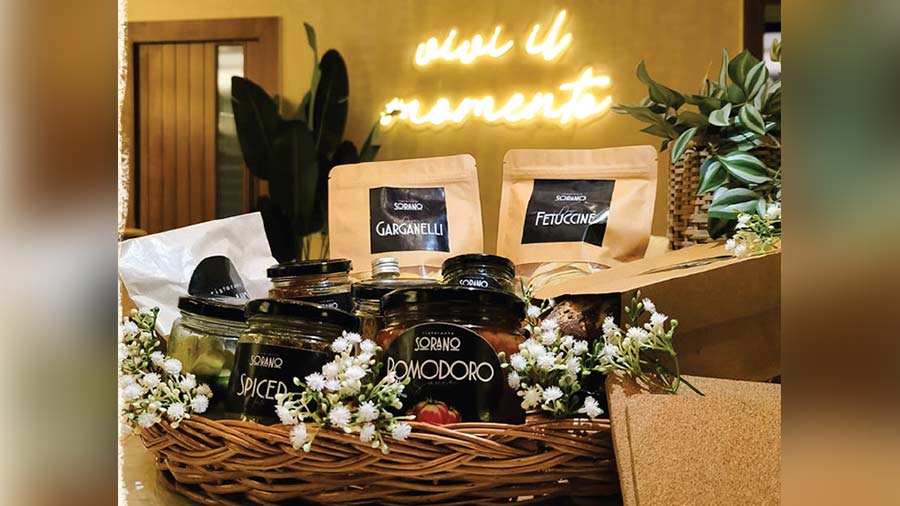 A festive gift hamper from Sorano
Roll up your sleeves and be the Antonio Carluccio of your home as you whip up an Italian meal with some of the finest ingredients from the house of Sorano. This contemporary dining space in Harrington Mansion on Ho Chi Minh Sarani, has launched two Diwali hampers – The Sorano Pasta Hamper and Diwali Burrata Hamper.
Dry Garganelli Pasta, dry Fettuccine pasta, sourdough bread, herb-infused mozzarella, chilli and herb oils, pesto and pomodoro sauces find their way into the Sorano Pasta Hamper. The Burrata Hamper includes homemade burrata (who doesn't love this plump ball of soft milk cheese?), cherry tomatoes, balsamic caviar, pesto sauce, basil leaves and herb oils.
How to order: Call or WhatsApp 9831818192 or visit the restaurant. The hampers start at Rs 2,650.
Pantry Gift Box from Burma Burma
Enjoy the flavours of Burma with a Pantry Gift Box from this vegetarian restaurant chain. The box packs in Khowsuey Curry Paste (simply add coconut milk to the paste, and your Khowsuey curry is ready), Lotus Stem Chips and Burmese Seasoning - Hot and Spicy (spice up your fries, wedges or steamed corn). There's also Crunchy Nuts Mix, an assortment of fried garlic chips, beans, toasted peanuts and sesame. "It's a perfect topping for your salads and super fun to have straight from the bottles too," shares Ankit V Gupta, co-founder and director, Burma Burma.
How to order: The gift box is priced Rs 1,349 and can be ordered on the Burma Burma Shop website.
For the health buff:
Foodie Bags from The Yellow Straw
Sandwiches, juices and salads for Diwali? Take the path less chosen this season and take the guilt-free route. The Kolkata-based smoothie and juice jar brand, founded by Vikram and Piyush in 2014, has come up with Foodie Bags. "The Foodie Bags range from 'tea/ coffee-and-sandwich bags' to 'fresh juice-and-salad bags'," says co-founder Vikram Khinwasara. There's even a Cocktail Party Mixer Bag, and DIY Fresh Foodie Bag. The Yellow Straw promotes sustainability and all your foodie bags will be packed in environment-friendly jute bags.
How to order: Available online through delivery apps or in-store at The Yellow Straw outlets in Salt Lake Sector 1 (near City Centre Metro), Sarat Bose Road, Acropolis Mall, Lake Mall, Tollygunge and Eco Space. These bags start at Rs 570.
For the vegetarian:
Diwali Gift Box from Grace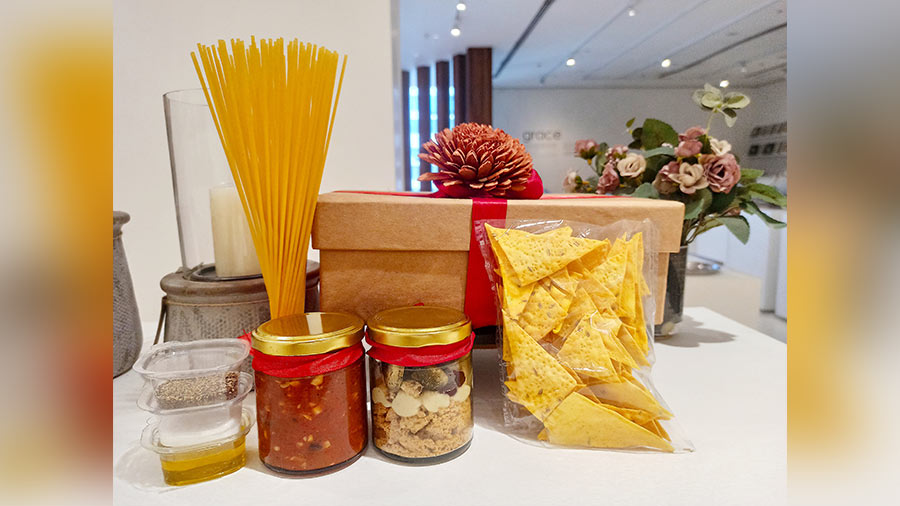 Vegetarian Diwali gift box from Grace
Experience a flavourful vegetarian Diwali gift box, filled with spicy, sweet and all kinds of flavour bombs! Grace, the progressive vegetarian dine den at the Kolkata Centre for Creativity, creates edible art using local produce. Each gift box contains homemade nachos, a DIY Pasta Kit with all the ingredients you require and Besan Laddu with cashew cream and dry fruit crumble.
How to order: Contact 9836752666 / 033 6623 2337 to pre-order the gift boxes till October 26. Gift boxes need to be pre-ordered 12 hours in advance, and are priced at Rs 750.
Petit Fours Hamper from To Die For
Have a sweet tooth? Then this Petit Fours Hamper by To Die For will perk up your sweet antennas for sure. "The Petit Fours contain four desserts of four pieces each. Choose from Rose Water Milk Cake, Saffron and Pistachio Bon Bon, Orange and Ginger Shards, Carrot Macaronade, Lemon and Basil Pavlovas and Passion Fruit Jujubes among others. One can pick any four desserts from an option of six items," says Shashvat Dhandhania, chef and owner of the Ballygunge Park Road's vegetarian European restaurant and patisserie.
How to order: Contact +91 9674916624. The hamper costs Rs 800.
For the cafe loyalist:
Festive Baskets from Suchali's Artisan Bakehouse
Think crackers, croutons, cream cheese, cakes, bread and granola. The gift baskets from this Sector V bakehouse are available in two different varieties – Classic Diwali Hamper (with an eggless option), and Festive Baskets, which also come with eggless options. The baskets pack in products like Lemon and Thyme Cream Cheese, Biscotti, Granola, Croutons, crackers, croissants and more. The brand, which also has a presence in Mumbai and Delhi, landed in Kolkata in May 2022.
How to order: Visit the website; products start at Rs 2,500.
Gift Hamper from Waypoint Cafe and 1920 Bakery
This European restaurant at 32B Sarat Bose Road has collaborated with 1920 Bakery to bring you a fully customisable gift hamper this Diwali. "On offer are products like Waypoint Coffee, Jar Cheesecakes, Brownie, Raspberry Chocolate Babka Bomb, Cheese Chili Garlic Bread, Korean Garlic bread and more. You can pick your combination like a salad bar as well,'' says Karan Malhotra, owner, Waypoint Cafe. The cafe is also known for its book club sessions in the city.
How to order: DM on social media or call 8240675813. Prices for hampers start at Rs 1,100.