A motley crew of food enthusiasts gathered on a balmy afternoon in a Kolkata cafe. On the tasting menu was a part of regional cuisine not often featured on restaurant menus — a selection of small fry.
The 'Choto Maach Potluck,' a joint event by Sienna Cafe and The Locavore on September 8, at Sienna's Hindustan Park address, brought together chefs, home cooks and foodies to sample a part of Bengal's culinary culture that is a part of everyday Bengali food, but does not see the limelight often.
Chef Auroni Mookerjee, who helms the popular cafe's kitchen, has been a significant voice in Kolkata's culinary scene for guiding the narrative of eating local in the city and this was one more chance to celebrate the diverse offerings of Bengal.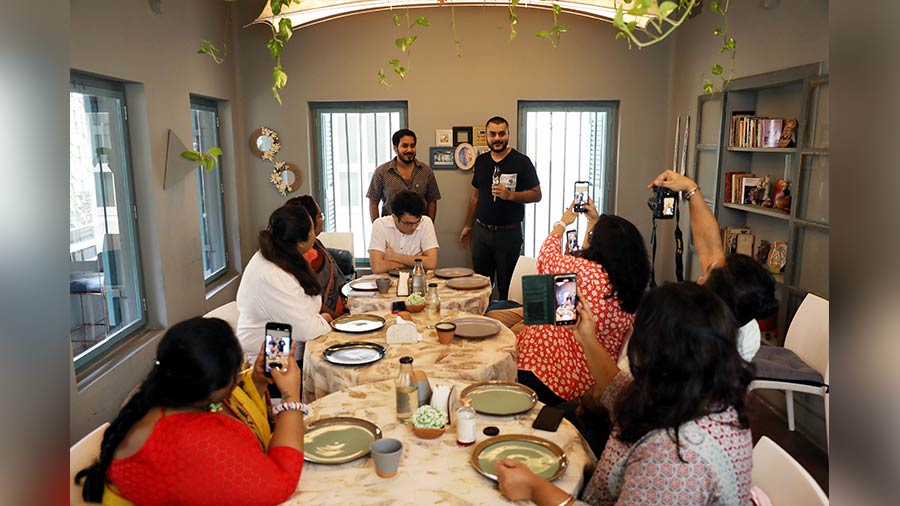 A welcome noted by chefs Auroni Mookerjee (in black) and Thomas Zacharias at the potluck, which featured a variety of 'choto maachh' dishes made by Kolkata home chefs
Joining the crew was another name the Indian culinary scene and food lovers are familiar with, chef Thomas Zacharias. The former executive chef of The Bombay Canteen was in Kolkata as 'The Locavore chef.' The Locavore, Zacharias's (Zac) most recent venture, is a platform that brings together stories of local, regional food through various platforms. This was The Locavore's first official event and as Zac said, "It couldn't have had a better start" than to see a community coming together talking about (and savouring) local food.
Rediscovering small fry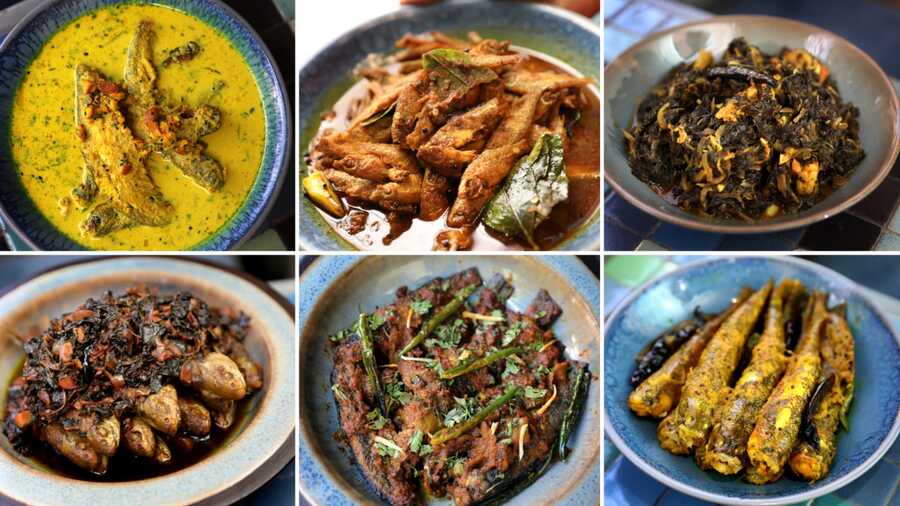 Among the dishes were preparations like (L-R, clockwise) 'doodh pabda', 'mourala tok' in a tamarind base, 'meshtha shaak' with prawns, 'bele maachh tel-jhol', 'achari' style 'tyangra' and a 'bata maachh' preparation with red amaranth and jackfruit seeds
There were over 10 courses brought out in the next couple of hours, all featuring a plethora of small freshwater fish — choto maachh — from the tiny kaachki (Ganges river sprat) to the bigger bacha (a type of catfish).
Home chefs and foodies from around the city brought the traditional flavours from their kitchens — recipes passed down generations, experiments with familiar flavours, innovations on known recipes — to present a selection of some of the region's most diverse plates of flavours. And there wasn't a single jhol or shorshe-jhal in sight.
Traditions and techniques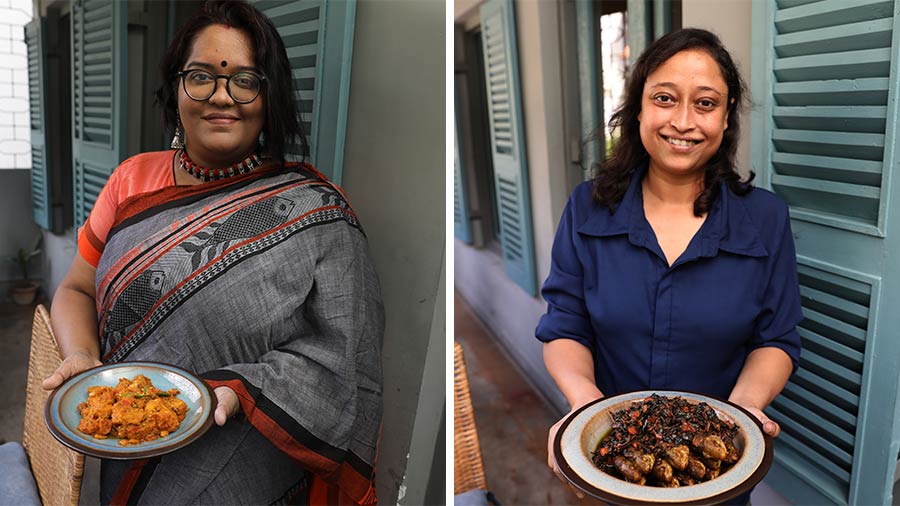 (L-R) Debarati Dasgupta and Sayani Sengupta with their 'bok maachh' and 'bata maachh' preparations
Home chef Debjani Chatterjee Alam could not be present at the event, but the koi (climbing perch) in a light methi-mouri jhol (fenugreek and fennel gravy) that came from her kitchen was a dish highlighting exactly how varied one type of local ingredient can be within a singly overarching cuisine.
The bony bata (labeo bata) was taken out of its shorshe jhaal avatar with a red amaranth and jackfruit seed dish by Sayani Sengupta, while Shreya Kanoi's doodh pabda had a robust hit of ginger, setting it apart from the usual pabda curry.
The bird-billed bok maach (kaikka or gar) is not your regular-looking fish and may put some people off cooking it by its appearance. But it makes for a wonderful rosha with onions, tomatoes and all the much-loved spices, as Debarati Dasgupta's potluck pick showed.
Inventions and heritage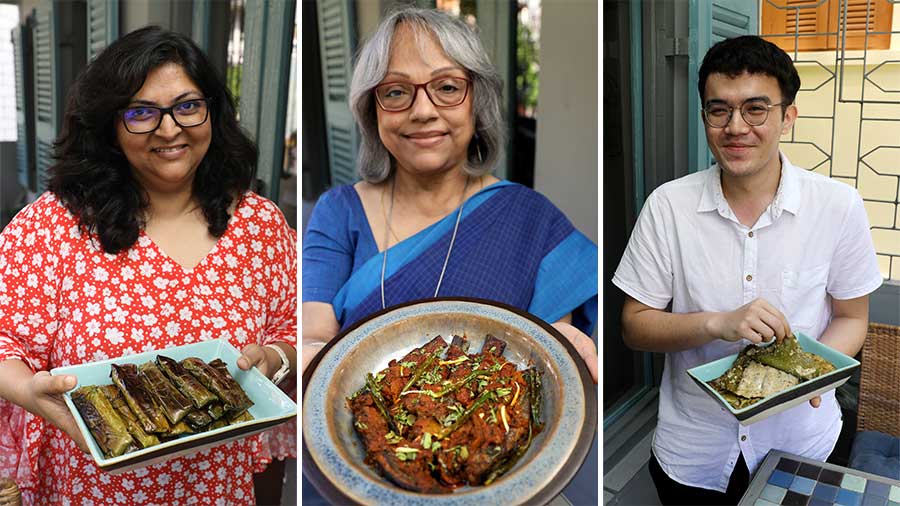 (L-R) Madhushree Basu Roy, Shanta Ghosh, Lalrinzuala Khiangte with their 'topshe', 'tyangra' and 'parshe' dishes
From budding chef Lalrinzuala Khiangte's kitchen came a parshe (freshwater mullet) paturi that had smoked bamboo shoot-infused coconut milk. "It makes it more suited to my milder palate and is also inspired by my Mizo heritage," said the young cook. Growing up in Kolkata, Lalrinzuala's knowledge of Bengali food came from spending time with his Bengali neighbours and quizzing the women about various recipes. The first paturi he tasted from their kitchen was too spicy for him, so the next time, the women added a local ingredient widely used in milder curries – coconut milk.
For lawyer and food researcher Sanhita D Sensarma, this was a chance to show off another less-explored side of Bengali food – Bengali-Burmese cuisine. The sweet-sour meshtha (gongura) shaak with prawn, and a bacha maachh tel-jhol lightly flavoured with onions, garlic and coriander leaves. In contrast, Swati Ghosh Bhaduri's bele (scribbled goby fish) tel-jhol had a hint of ginger, a little twist to the recipe that matriarchs have passed down to her.
For Shanta Ghosh, the mind and smiling face behind Sienna's foundation, cooking is therapy and experimenting with flavours makes her happy. Her tangy achari preparation of tyangra (Gangetic mystus) showcased that the choto maachh need not be limited to the confines of any cuisine, and it could just as easily be adapted to a different cooking style.
'Ghoti', 'Bangal' and everything in between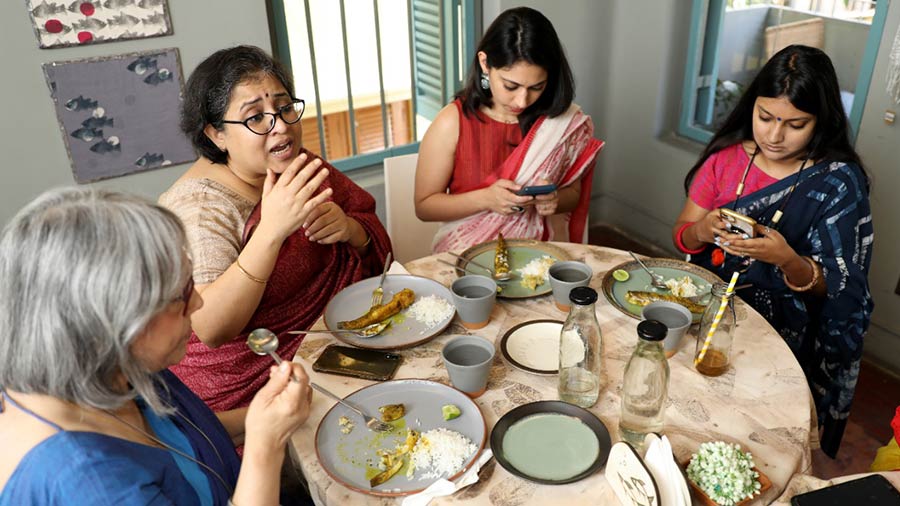 Phone cameras were trained on plates, snapping the various 'choto maach' courses through the afternoon
As ought to happen, where there is Bengali food, there is a discussion about Ghoti and Bangal cooking. The friendly feud between Ghotis (those traditionally from West Bengal) and Bangals (those with roots in modern-day Bangladesh) is age-old and unresolved. When it comes to choto maachh, it is more often the Bangal dishes that feature these fish, and the reasons range from economical to geographical. But that is not to say that Ghotis don't have the choto maachh cooking in their repertoire.
Madhushree Basu Roy has Ghoti roots and her husband Anindya Sundar Basu is Bangal. The unique mix of cultures and recipes only mean a more varied feast of Bengali delicacies to sample, like the topshe (mango fish) paturi and the kalia that Madhushree brought to the potluck.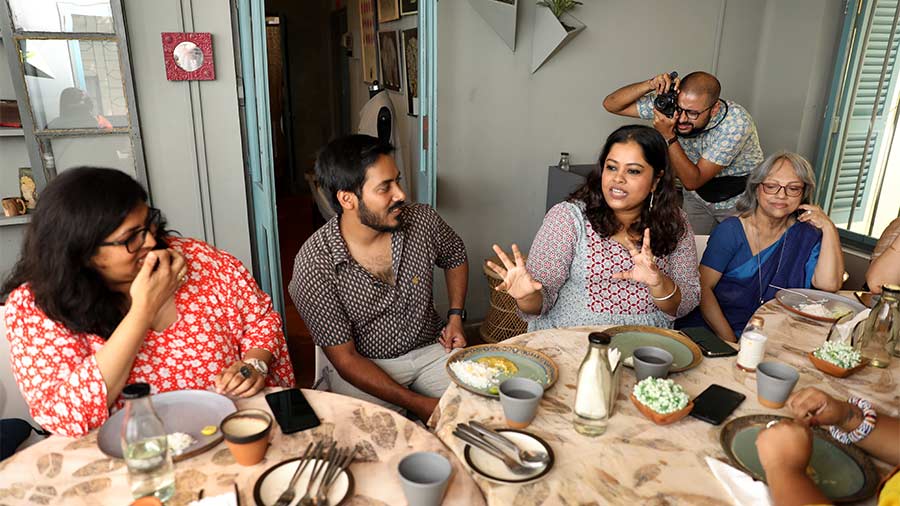 The nuances of the 'Ghoti' - 'Bangal' food feud made for an interesting section of the afternoon
For Dolon Dutta Chowdhury, there's not a Ghoti in sight in her family. "We're a big family of Bangals, no one even thought of marrying a Ghoti!" she quipped, as everyone tucked into a piquant, tamarind-based mourola (Indian anchovies) tok from her mother's kitchen.
The robust fish flavour of the maacher tel chorchori that came from Soma Kundu's kitchen was a nod to old culinary traditions.
Traditions and cuisines with a long history, especially the kind peppered with displacement and socio-economic changes, often feature head-to-tail or root-to-tip cooking and the pescetarian meals of Bengali cuisine are no exception. While the tel and dim are savoured preparations, most often when speaking of ilish, the tradition of cooking with fish innards is not as widespread anymore.
Recipes and revelations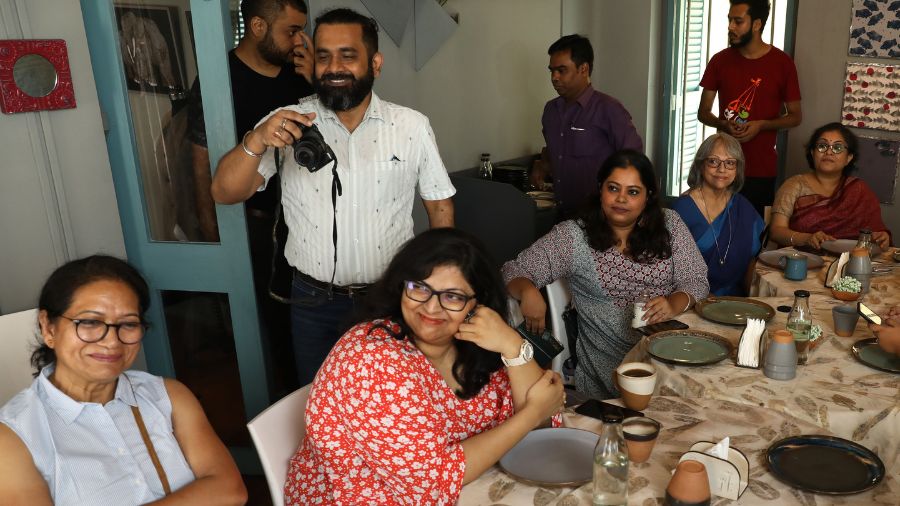 The potluck brought together home chefs, food entrepreneurs and avid food enthusiasts from the city
"The celebration of lesser fish is slowly being forgotten," said Zac, as the feast came to an end. The idea to base a potluck event and bring people together with choto maachh was not only to highlight the parts of regional cuisine that are often considered lesser but can be equally rewarding, but also to be aware that we have all the means needed to conserve our food resources like fish within the reaches of our own community cooking traditions. Overfishing has affected many prized Bengali catches, including the hilsa. Looking into a way of bringing back recipes and ingredients from our own backyards and making them popular again could be a catalyst for change.
"There's also a sense of loss for these foods that we no longer see or experience as much, that seems to be affecting people, and the need to preserve them also stems from that," Zac added.
The stories of grandma's curries or grandfather's penchant for spotting the freshest catch should not be memories limited to older generations. The obscure, lesser discussed, not often served ingredients and dishes only make a culinary tradition richer. The fact that a dozen dishes from Bengali (and Bengali-inspired) kitchens from the same city could all taste distinctly different from each other only cemented that fact.
Taste tests and takeaways
For Auroni, the week's experience that culminated into the potluck and to have Chef Zac as part of the journey was more than cooking; it was about inspiring a community. The "magical thing that happened," said the chef, is that the "inspiration was a two-way thing."
"The thought was always how to inspire, not just a Calcutta community, but the larger global community and shine a light on everything that's great about this state and region. I think this was one small and important step, and I'm hoping there will be many more such things," said Auroni.
"As Bengalis we often tend to get comfortable in our spaces and be content within ourselves. But if we have to grow to be something world class, we cannot do that," he added. Having chef Zac here, and the potluck, was a step to inspire the culinary community in Kolkata to be better, and not in a competitive way. This was maybe a small step to get the conversation going about thinking about traditional Bengali food with a fresh perspective.