Back in his hometown Kochi, chef Thomas Zacharias usually spends Onam with his family. "We do what we love to do always — which is talk about food while we're eating and then talk about the next meal and the one after!" he laughs. However, this year, the founder of The Locavore is in Kolkata for a Choto-Maach Potluck at Sienna Cafe & Store. So instead of "multiple sadhyas", it was an afternoon of 'adda and ranna' with the city's home chefs on Thursday. During the lockdown, his #CookwithTZac series on Instagram gained an enviable fan following and here are two recipes hand-picked by the Malayali chef for My Kolkata readers.
CABBAGE THORAN
Kerala-style sauteed shredded cabbage with grated coconut and curry leaves.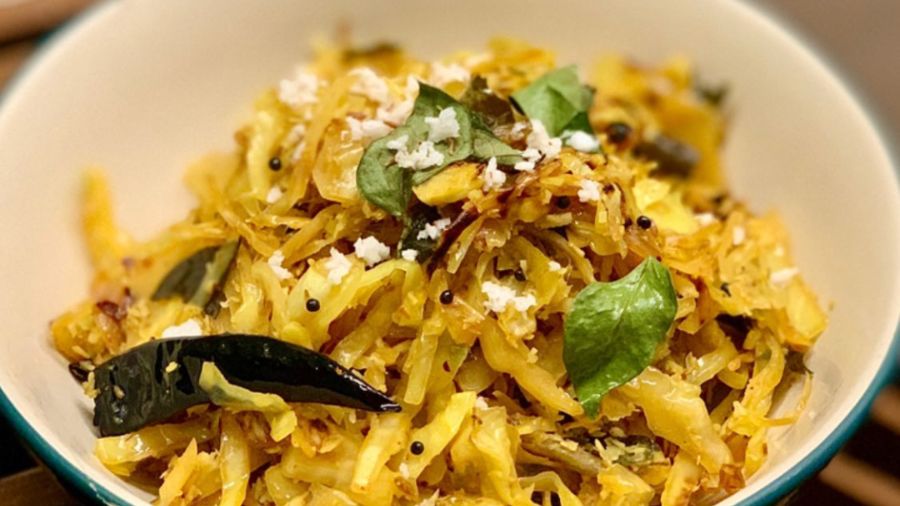 This recipe is delicious, but also super simple. It reminds me of home and childhood, and my family and grandmother. It's super versatile, you can switch the cabbage for any vegetable… even some fish! The scope of substitutions in a thoran recipe is unparalleled. You can make it with any green leafy vegetables (spinach, laal saag etc), gourds (yam, karela, tendli, lauki), pumpkin, beans, carrots, cauliflower, beetroot, practically anything! So, when you're trying this recipe at home, go crazy! Even a combination of vegetables will work. 
Ingredients
Cabbage: 1
Half a fresh coconut sliced
Onion: 1 (optional)
Mustard seeds
Turmeric powder
Whole green chillies
Coconut oil
Cumin seeds: 1 tsp
Whole dried red chillies: 3
A fistful of curry leaves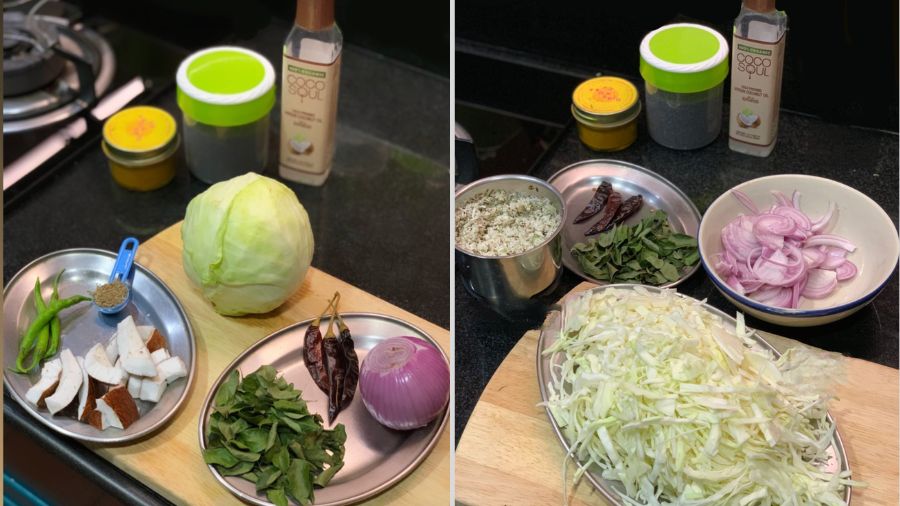 Ingredients — before and after prep
Preparation
Slice the onions. Onions are not part of the traditional recipe but I like the flavour they add to the thoran. You could totally leave it out, though
Slice the cabbage – don't worry about it being too thick or thin, the variation adds texture
Grind the coconut, green chillies and cumin seeds
Method
Heat some coconut oil on medium flame
When the oil gets hot, add black mustard seeds. When the mustard seeds start to sputter, add curry leaves and whole dried red chillies
Bloom for a few seconds and then add the sliced onions
Season with salt and saute the onions. The traditional recipe doesn't require the onions to brown but I like to take the onions to this stage of golden brown deliciousness and then add the turmeric powder
Cook out the raw flavour of turmeric for a few seconds and add the chopped cabbage.
Season with salt and cover with a lid so the cabbage can cook in its own steam. Give a little shake so the onions at the bottom don't burn
Wait patiently for the cabbage to wilt. Continue to cook on medium-high heat for the browning to happen.The key to making a good cabbage thoran is to make sure you get the doneness of the cabbage right. You want it to be cooked through yet retain some crunch
Taste and adjust seasoning if required
Add the ground coconut, green chilli and cumin mixture
Note: You don't want to add a lot of water to this dish, just a little bit. It's meant to be dry and cook in the moisture of the vegetable itself
Add a pinch of sugar. I also like to add a tsp of white vinegar to make the flavours more well-rounded
Plate the dish and garnish with grated coconut!
ERISSERY
This is a recipe made for Onam Sadhya. The traditional recipe of Erissery uses pumpkin, but I have used sweet potato. This recipe takes me back to Onams spent in Kerala during my childhood!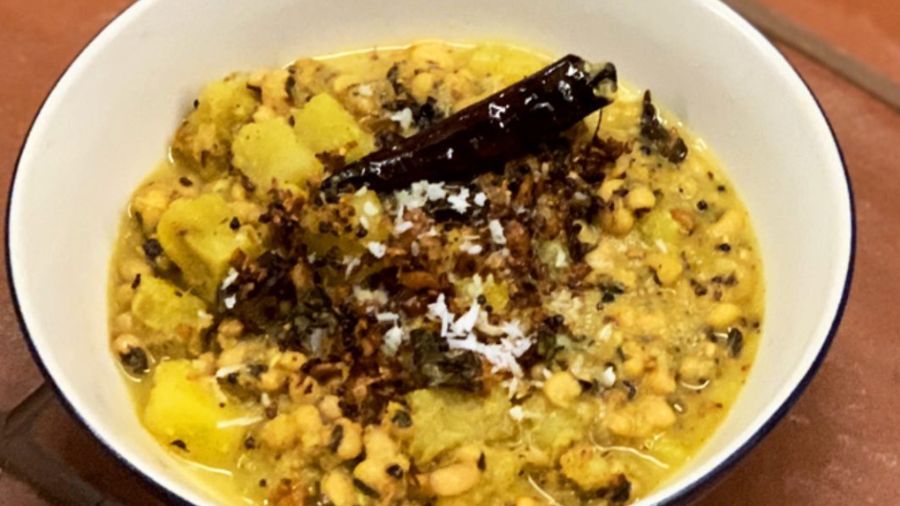 Ingredients
For the curry:
Chawli or black-eyes peas
Sweet potato: 1
Half a fresh coconut
Green chilli
Whole cumin: 1 tsp
Salt, turmeric and red chilli powder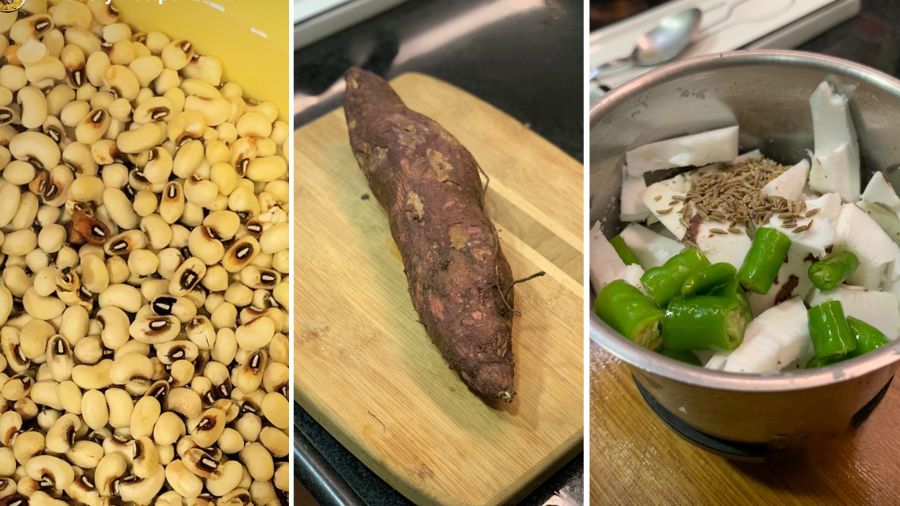 The primary ingredients for Erissery
For the tadka:
Coconut oil
A fistful of curry leaves
Mustard seeds: 2 tsp
Fresh grated coconut: half cup
Dried red chillies: 2-3
Preparation
Soak the chawli or black-eyes peas for two hours
Make a paste of fresh coconut, green chillies and whole cumin in the grinder
Method
Curry
Pressure-cook or boil the chawli or black-eyes peas
In another pan, cut the sweet potato into cubes and cook with water, salt, turmeric and red chilli powder. Leave it a little uncooked so it doesn't turn into mush by the time the cooking process is done
Add the chawli to the sweet potato
Add the paste of coconut, green chillies and whole cumin
When it is cooked, add the tadka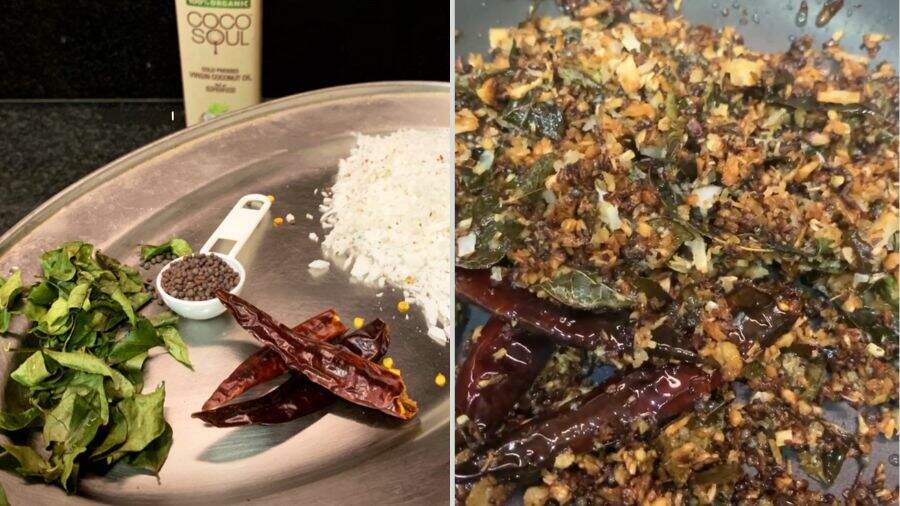 Tadka ingredients and the making
Tadka
Heat coconut oil, splutter the mustard seeds, add green chillies and curry leaves (don't forget to drain the water from the leaves well before adding). Then add the grated coconut
Slow roast the tadka till the coconut is nice and brown
Add the tadka to the curry