People travel to Santiniketan for various reasons — art, cultural festivals, retreats, or shopping for handicrafts — but it's rarely about the food. There are always the 'when you are in Santiniketan you must eat at' places like Banalakshmi and Ghare Baire where you get incredible Bengal staples — various preparations of fish, mutton and chicken, different kinds of rice served with a dollop of fresh, homemade ghee, quintessential shukto, bhajas and more. 
But that takes care of two, maybe three meals of your weekend in Santiniketan and the rest is left to regular fare at the homestay or hotel you are putting up at, or roadside shop delights (of which Santiniketan has plenty). But if you are that Bengali who wants to get away from the bhaat-mangsho or dal-aloo posto when you are on a holiday, then Santiniketan has had very little to offer. Until now.
On our weekend away at Santiniketan recently, we discovered a couple of places that should be added to 'when you are in Santiniketan you must eat at' list, each very different from the two on the list, and definitely worth planning your itinerary around.
THE CREEK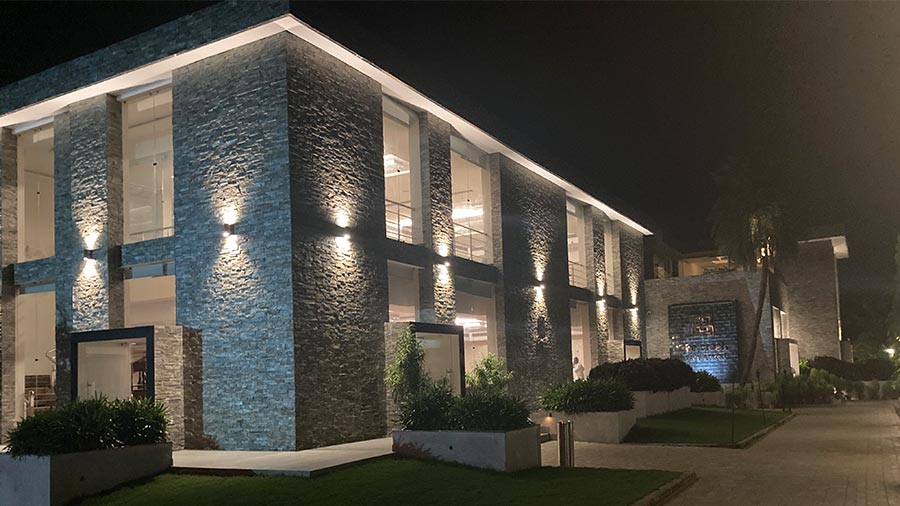 The restaurant at this boutique resort in the heart of Santiniketan has a varied menu that covers everything from North Indian to Bengali to Oriental and surprisingly good Continental. The decor is simple with floor-to-ceiling windows that provide a view of the green lawns during the day. There was such a large selection to choose from, we barely took a small bite. Wish we had time to go back for a second round.
We tried…
The Oriental Salad, made with bell pepper, tomato, onion and spring onion, tossed in a tangy sweet chilli sauce topped with fried mei fun that adds just the right amount of crunch. Be warned, the spice quotient is on the higher side.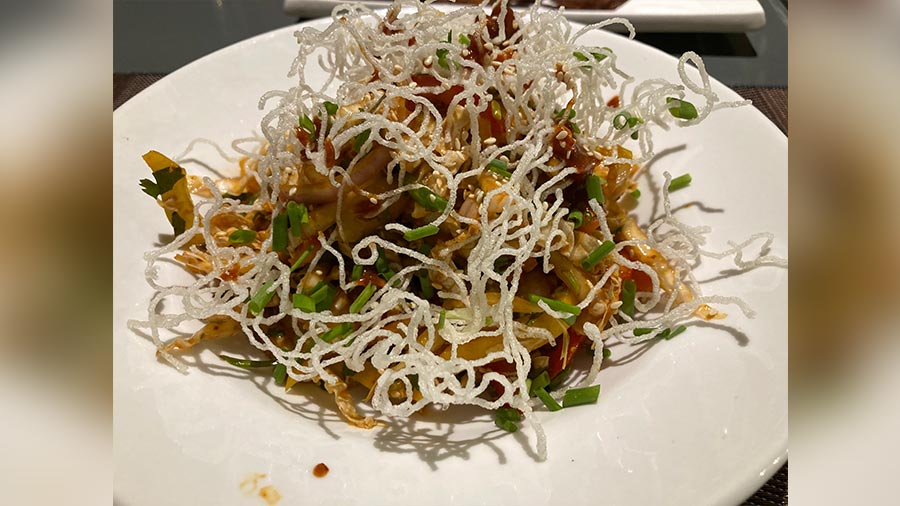 Potato Wedges, because you can never go wrong with potatoes. Crispy on the outside, soft on the inside and covered with a tangy masala, it is served with tartar sauce.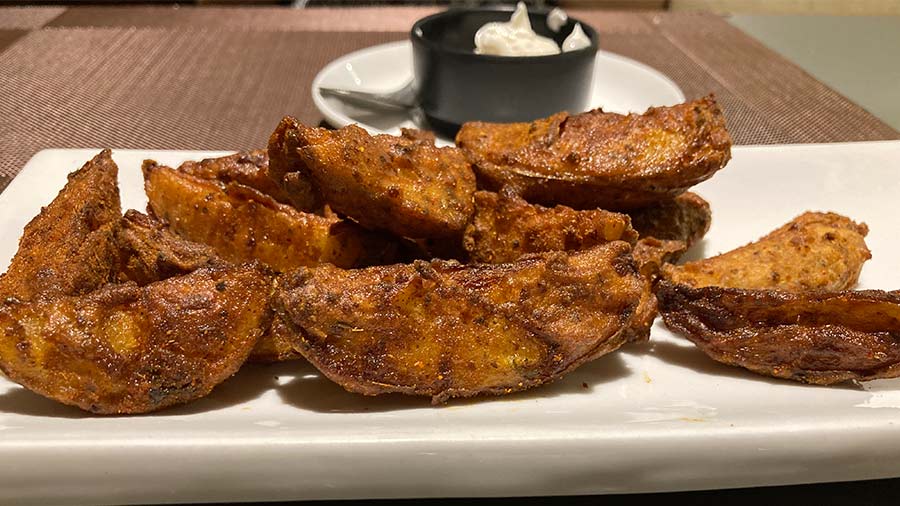 The Shredded Minted Mutton, another appetiser, which was the winner of the meal. The bite-sized pieces of soft mutton, served with veggies, were delicious and the mint is a burst of flavour on your tongue without being overpowering.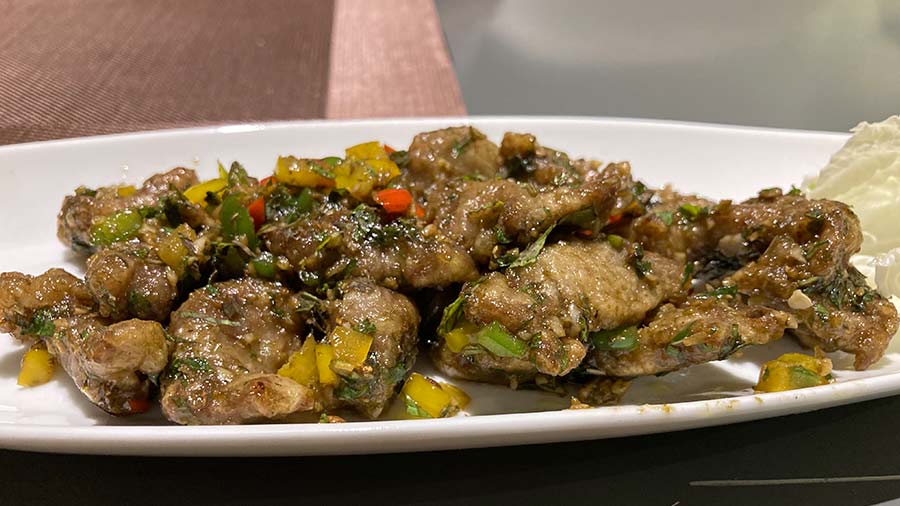 The Mushroom, Chicken Sausage Pizza that was soft without being doughy with a cohesive flavour of button mushroom and sauteed chicken sausages and really cheesy. Yum! If you like pizza, we recommend you order this instead of Domino's, which is also available in Santiniketan now.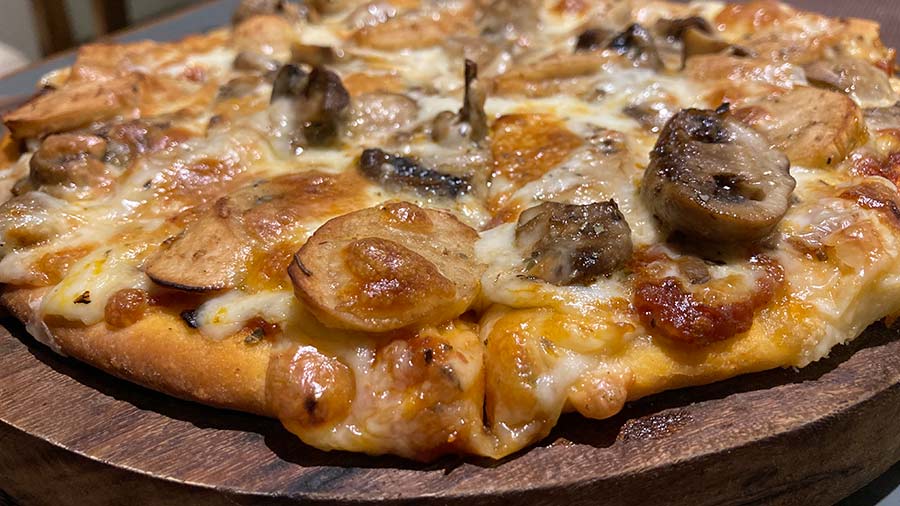 AMOLI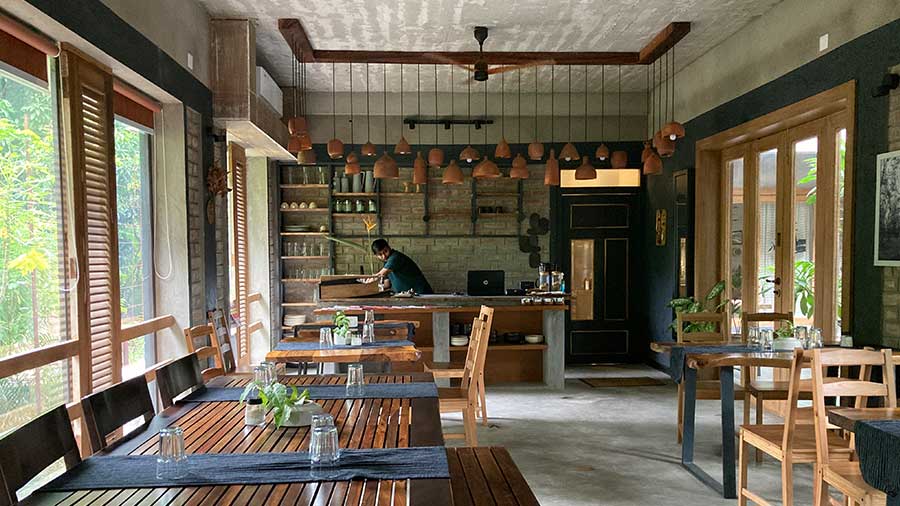 Tucked away on a narrow road in Ratanpally, Amoli blew us away. The cafe attached to this four-room luxury bed-and-breakfast was definitely not something we were expecting in Santiniketan. Minimalist but arty, the decor of the cafe is testament to Minku (Bidisha) Tagore's skills as an interior designer. So is the menu, which has been curated by her. Bright and sunlit during the day, cosy and warm in the evening, it is the perfect place to while away time. And that's before you start making your way through the menu. Everything is made with olive oil, including the cakes, and if you call well ahead you can even ask for off-the-menu stuff like a grilled or baked fish. The place employs local people as staff, training them for various roles, including in the kitchen. Minku even plans to turn it into an all-female kitchen.
The prices might be a little more than usual-Santiniketan, but it is worth every penny.
We tried...
The Americano, and yes we need to mention the coffee because it is really good. And that is not something you can say about some of the cafes in Kolkata. The domain of Minku's husband, Aloke, the coffee will hit the spot for coffee lovers who are tired of the instant coffee on offer elsewhere.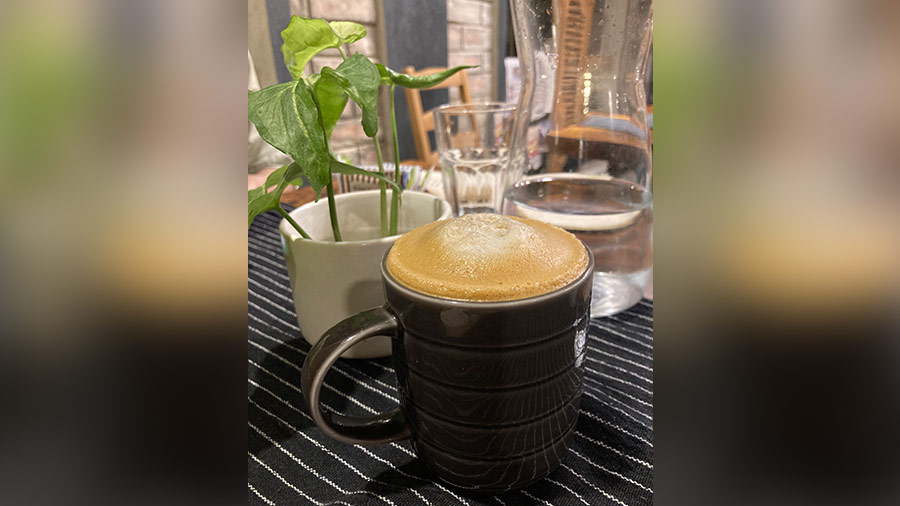 The Shepherd's Pie, which is one of the best we have tasted in a while. The dish, with a layer of mashed potato as base and minced meat on top, is served with bell pepper, apple and pomegranate salad. We liked it so much that we went back and ordered it again.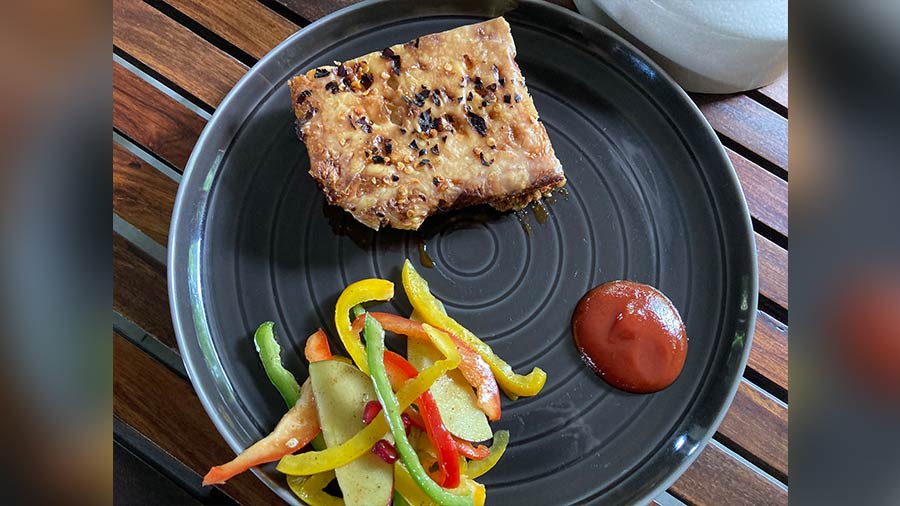 The Sapo Rice, a brothy rice dish with mushroom, veggies, eggs and minced chicken. Styled as a Continental khichuri, this light and peppery dish is the perfect comfort food after a whole day's sight-seeing.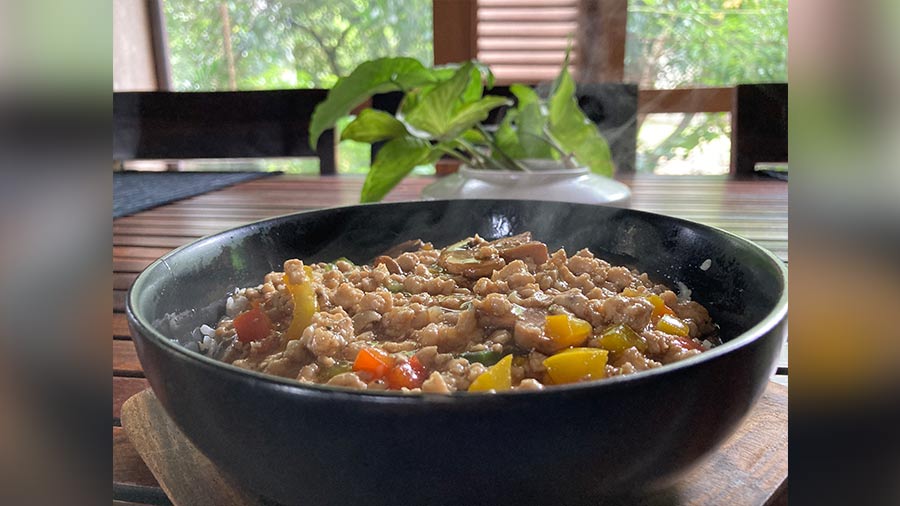 The Tomato, Almond and Cream Cheese Bruschetta was, again, one of the best we have had. A layer of thick cream cheese is topped with tomatoes with a few almond shavings. This refreshing mouthful is served with a dollop of mint cream sauce to offset the tomato. We also tried the Prawn and Green Apple Bruschetta, with the green apple adding the right amount of tartness to the dense savouriness of the prawn, but the former still remained our favourite.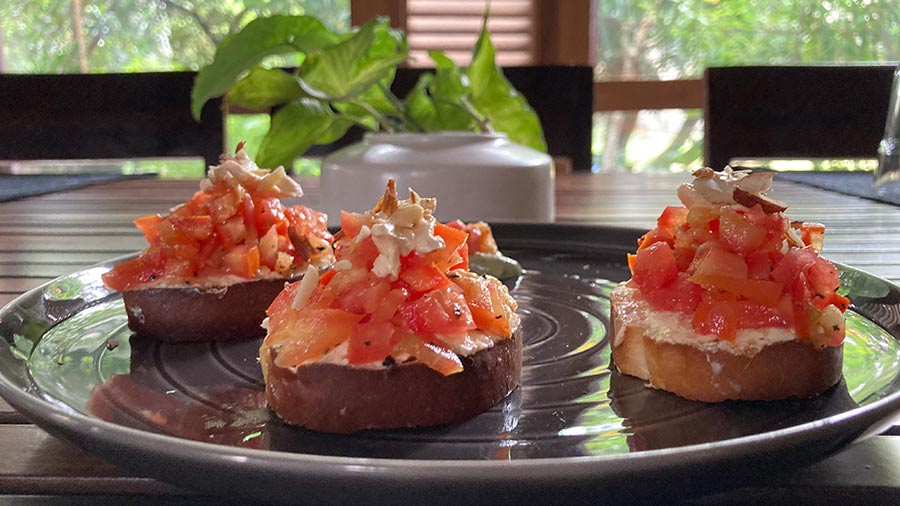 The Mutton Tagine was nothing short of a party in the mouth. The flavourful slow-cooked Moroccan stew with soft on-the-bone mutton is served with pita bread, fried potatoes and a hummus dip. If you love your mutton other than the kosha mangsho, this is definitely recommended.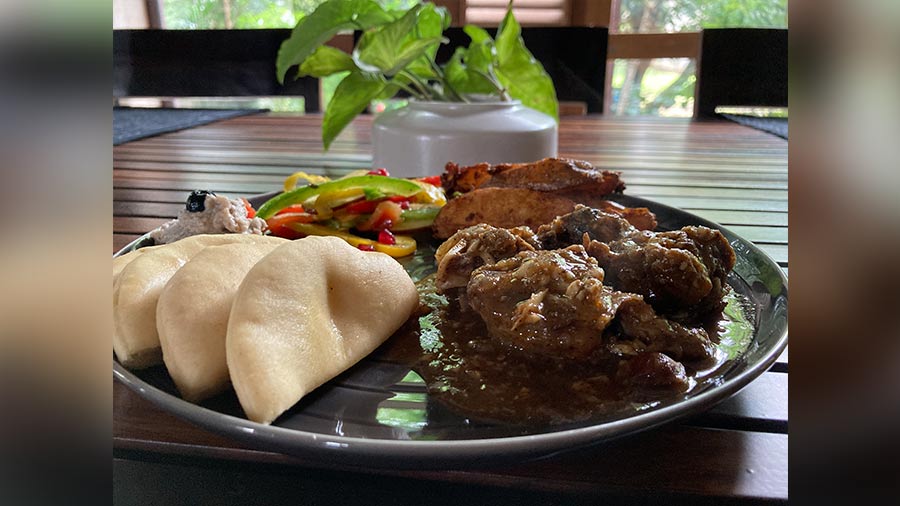 A lot of desserts. There was the Chocolate Truffle, a light cake made with dark chocolate, interspersed with layers of chocolate ganache. The Orange Upside Down, an orange sponge cake with orange marmalade, tasted like homemade heaven. The Blueberry Cheesecake was light and not too overwhelming. The winner, however, was the Baked Cheesecake – dense, creamy and beautiful. And we are not ashamed to say that we went back for seconds.
ANANDA RESORTS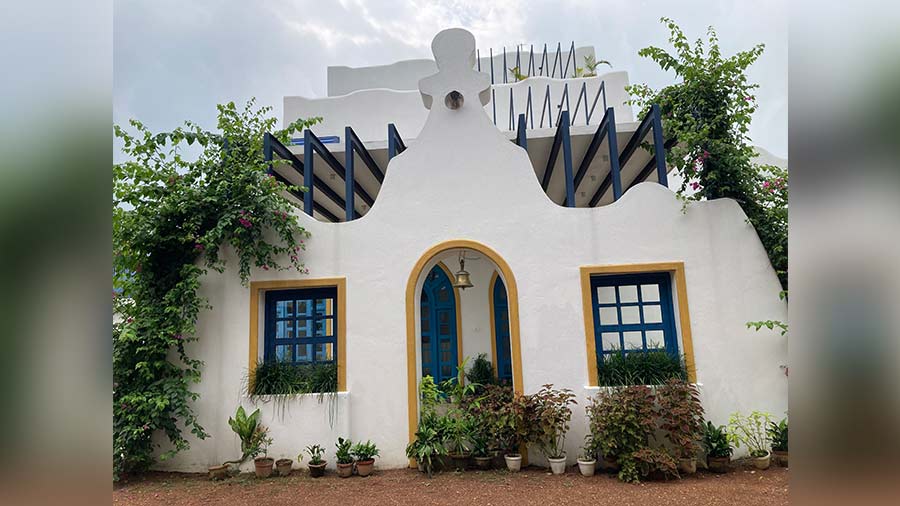 Around 16km away from Bolpur, this luxury resort seems to have created a buzz among residents but no one seems to have been there to taste the food. So we made a beeline for it. We were blown away by the Santorini-in-Santiniketan vibe with picturesque rooms that open onto either the swimming pool or the lush green fields that surround the property. It is a beautiful place. The food had its moments but could not live up to the look-and-feel of the space.
We recommend…
The Australian Fried Chicken, which is strips of chicken, thin crunchy bread crumb crust, dusted with dried spices and served with mayo, which leaves an aftertaste without being overly spicy. Hot off the pan, this is delicious.