Maggi — the consoling two-minute midnight snack, the block of noodles in our tiffin boxes, the taste of home away from home — is more than just an instant snack. For many Indians, it is an emotion. Despite the food safety controversies that surround Nestle's 'once-banned' product, it seems to twist its way into our cheat and comfort meal days. 
Everyone has a very specific preference when it comes to a bowl of Maggi — piping hot, cold and coagulated, dry or watery, cheesy, "extra masala", with tomato sauce, dollops of butter or a sprinkle of bhujia. Pick any because even the most hopeless chef can't make a bad bowl of Maggi! 
We skipped around town on a Cheese Maggi trail, looking for some popular places that serve up a plate of "do-minute mein khushiyan" (happiness in 2 minutes). 
Nick 'N' Nack
The first stop on our Maggi trail was Nick 'n' Nack — a hop, skip and a jump away from Forum on Elgin Road. Nick 'n' Nack is arguably the best Maggi shop in the city and has held this title steady for years. It offers 10 variations of the instant snack — from a spicy Cheese Jalapeno Maggi to a rooted Mushroom Maggi. The Cheese Mushroom Maggi is what we'd recommend — a cheesy Maggi dotted with mushrooms sauteed in butter. You could also ask them to throw in corn and onions to elevate the dish! Nick 'N' Nack caters to spice lovers, so must-tries at the corner shop are Schezwan Maggi and Cheese Peri Peri Maggi.
They levelled up this year with a cloud kitchen called Nik Nak so now you can order Maggi, Wai Wai, burgers, sandwiches, ramen, dip jars and more via Swiggy.
Location: 4A Roy Street (off Elgin Road)
Agarwal's Pav Bhaji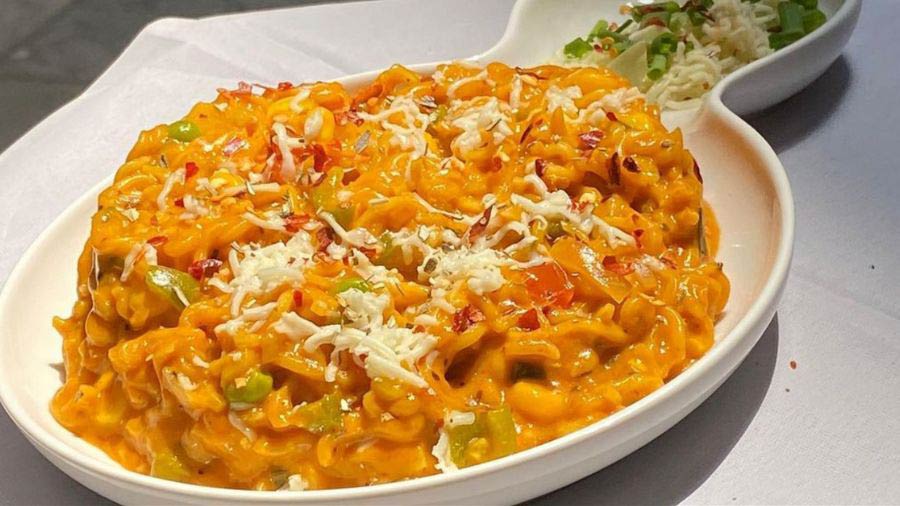 @agarwals_pavbhaji/ Instagram
The second shop we visited is famous among college-goers. Just outside Vardaan Market, in the lane going towards Wood Street, stands Agarwal's Pav Bhaji. Apart from pav bhaji, momos and nimbu shikanji, the kiosk serves one of the best plates of Cheese Maggi in south Kolkata. The Maggi is stirred up with cheese powder, generous amounts of butter and a dash of milk, which gives it the creamiest texture. Grated cheese is then added on top. Wolf this down while it's hot and the cheese is just melting. Other variations of the snack at the eatery include Veg Corn Maggi, Veg Corn Cheese Maggi and Fried Maggi.
Location: Camac Street (near Vardaan Market) and Girish Park (near Ram Mandir)
Delights
Delights, located bang opposite the back gate of St. Xavier's College has been treating students' hunger pangs for decades. "The eatery was opened in 1970 and people have been enjoying our food for 52 years," said a representative of the restaurant. The vegetarian eatery serves a Vegetable Cheese Maggi and a Cheese Maggi that is a dry concoction, packed with masala. Of course, they're also known for south Indian dosas, idlis, vadas, uttapams and a number of beverages — both hot and cold — to wash it down with. Open from 8am to 8pm, Delights is currently not serving Maggi till colleges reopen.
Location: 3B Short Street (near St. Xavier's College back gate)
Maggiwala
An eatery dedicated to Maggi? Say hello to Maggiwala. Breakfast or morning snack, the three-year-old brand offers varieties like Three-Cheese Maggi, Cheese Blast Maggi, Egg Maggi, 5 Veggies Maggi and Chicken Maggi. They claim not to break the Maggi before cooking so you can slurp the noodles the whole length. Some of the other snacks served here include Wai Wai, Buldak Noodles, Kurkure Bhel and Sweet and Spicy Corn. Maggiwala is available on Swiggy and Zomato so you can tap away to get your treat home.
Location: 75 Ibrahimpur Road (100m from Jadavpur 8B bus stand)
Nandu JEE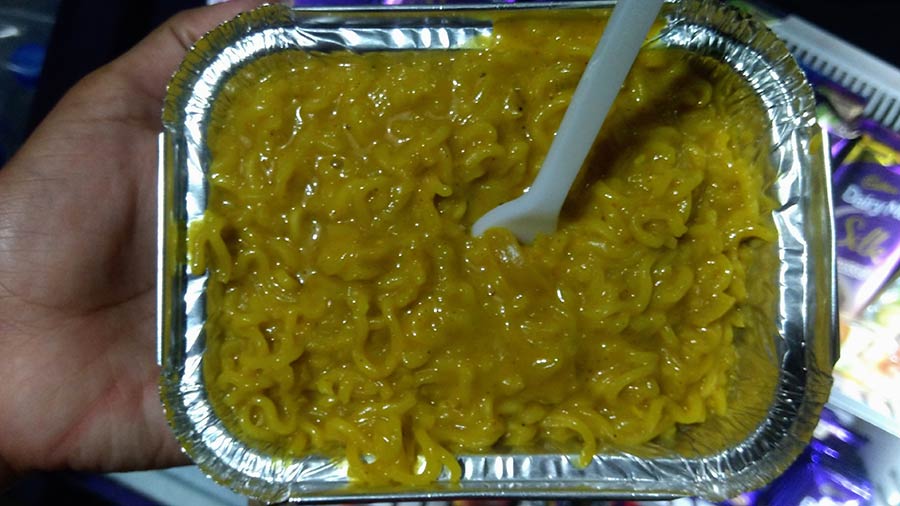 Nandu's, the popular spot for Maggi on Moira Street, was our final stop. Nandu 'Jee' has been whipping up comforting plates of Maggi for decades, garnering a very loyal clientele over the years. 'Nandu Ji, mera wala banaiye, please' is the most spoken sentence at the store-turned-Maggi dukan, and Nandu Ji remembers everyone's order. The little eatery makes its Maggi as per customer preference. Want fried onions? No butter? Or less masala? Ask and you shall receive.
Location: 10A/1, Moira Street, Kolkata, West Bengal 700017