Anxiety and pressure cost Deepika a medal, say former coaches
The world number one had won a hat-trick of medals at the World Cup Stage 3 in Paris last month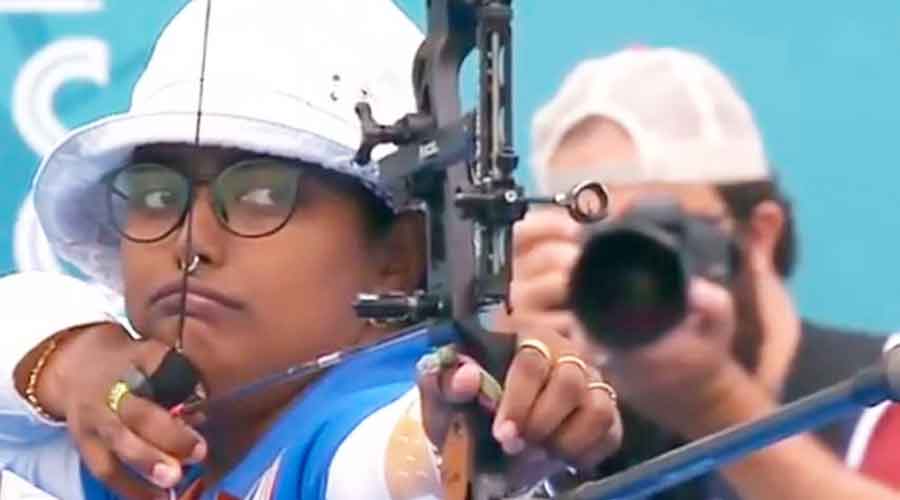 ---
Jamshedpur
|
Published 31.07.21, 07:54 PM
|
---
Jharkhand archer Deepika Kumari lost a golden opportunity to end India's medal drought in Olympics with her exit from the Tokyo Games on Friday.
Deepika lost her quarterfinal match 0-6 to top seed An San of South Korea in the women's individual event at the Yumenoshima Park Archery Field.
The 27-year-old world number one archer's former mentors at the elite Tata Archery Academy in Jamshedpur Purnima Mahto and Dharmendra Tiwary feel that anxiety and pressure cost Deepika a medal. Moreover, she could not focus on her current form.
Both Mahto and Tiwary went to the Rio de Janeiro Olympics in 2016 as coach of the national squad.
"I think Deepika lacked the mental strength and also lost focus on her current form. Anxiety and pressure to win the elusive medal could have put an extra load on her. We have lost yet another opportunity to win a medal in the Olympics," said Mahto, a Dronacharya awardee.
According to her, Deepika should have concentrated on improving her poor shooting. "Deepika, instead of trying to improve her shooting, remained focussed on scoring 10. This, I think, put more pressure on her which only compounded the problem and made her lose focus," Mahto, who was the coach of Indian team at the World Cup Stage 3 in Paris last month, said.
Deepika won a hat-trick of medals -- women's individual, team and mixed team -- in Paris to become the world number one archer. She won the mixed team gold with her husband Atanu Das, who also lost his pre-quarterfinal 4-6 to Takaharu Furukawa of Japan on Saturday.
Tiwary, also a Dronacharya awardee, said pressure in Olympics is much more than other international events. "So, mental strength holds the key when it comes to performance. Deepika looked bogged down by the pressure even though her opponent was not in great form. Deepika also seemed to lose focus on her form. We cannot win medals in the Olympics if our archers lack mental strength," he pointed out.
Tiwary said he was optimistic that Deepika will not disappoint this time. "It was her form which had made me optimistic of a medal. But failings in mental strength put paid to all hopes. Deepika also failed to win a medal in London (2012) and Rio de Janeiro (2016). Archery is more mental than physical," he stressed.
The seasoned coach has always laid stress on mental strength when it came to Deepika when she trained at the Tata cradle in Jamshedpur. He had helped Deepika overcome bouts of nervousness in the run-up to the 2016 Rio Olympics.