'Reverse' probe: Cow, cow, cow… (two people also died)
Police chief says probing of cow deaths before investigating murder of inspector is called 'reverse investigation'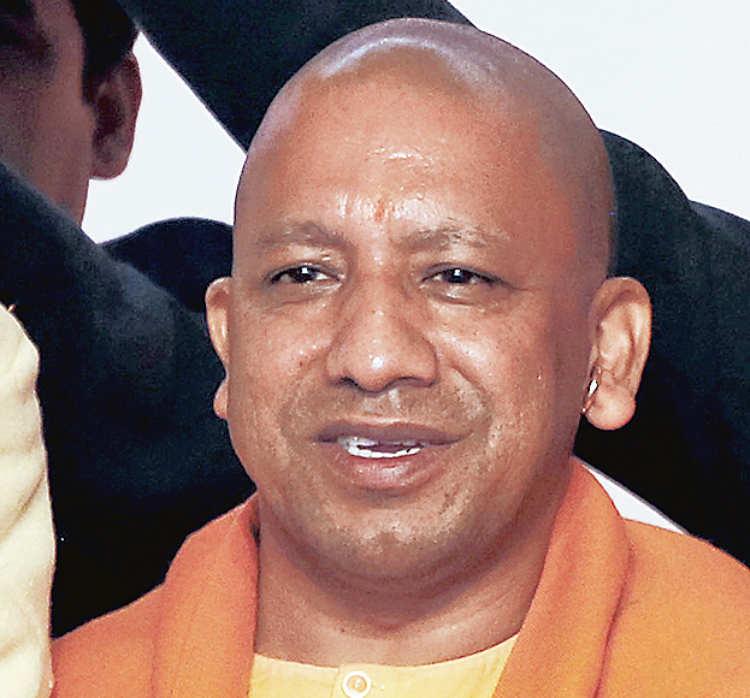 Chief Minister Yogi Adityanath is said to have spent two hours discussing the deaths of the cows, and 15 minutes on the deaths of Inspector Subodh Kumar Singh and Sumit Kumar Singh
The Telegraph file picture
---
Lucknow
|
Published 05.12.18, 10:44 PM
|
---
The Yogi Adityanath administration in Uttar Pradesh has got cracking on the Bulandshahr investigation — to find out who killed 25 cows.

Chief minister Adityanath has ordered strong action — against cow slaughterers.
Two persons, one a police inspector and the other an undergraduate student, were also gunned down in the western Uttar Pradesh town on Monday after a crowd hijacked the cow carcasses that were about to be buried and paraded them to ignite passions.
"What happened in Bulandshahr is part of a larger conspiracy. How and why did cow meat reach there? Why was that place chosen? Why was that particular time chosen? What situation led to this?" director-general of police O.P. Singh told reporters in Lucknow on Wednesday.
The DGP called it "reverse investigation". "We are conducting a reverse investigation," Singh added.
Word emerged during the day that chief minister Adityanath devoted much attention to the death of the cows at a meeting on Tuesday night with the chief secretary, the principal secretary (home), the additional DGP (intelligence) and the DGP.
Sources claimed that the meeting went on for two and a half hours and the chief minister discussed the deaths of inspector Subodh Kumar Singh and Sumit Kumar Singh for about 15 minutes.
"He focused mostly on how the cows were killed and how the carcasses were brought to Mahav. He wanted to know about slaughterhouses in the nearby areas and whether they were legal. He asked about the action taken against illegal slaughterhouses and whether the police had ever tried to find out if the legal ones were following all government rules," said a police officer.
The account could not be verified with the chief minister but multiple sources said on Thursday that Adityanath had ordered strong action against those who kill cows. "The district magistrate and senior superintendents of police of their respective districts would be accountable for cow slaughter. They are supposed to stop such incidents at any cost," Adityanath was quoted as saying at the meeting.
DGP Singh did say those named in the two FIRs — one filed by Bajrang Dal leader Yogesh Raj complaining about cow slaughter and the other related to the vandalism and the murders in which Yogesh is the prime accused — would not be spared.
Yogesh is still at large but a video has surfaced showing him claiming innocence but narrating a version that differs from the FIR he had filed. Starting with "Jai Shri Ram", Yogesh said "some people informed me that carcasses had been found in Mahav village and I went there with my associates".
In the FIR, Yogesh had said he saw the accused slaughtering the cows. He had named six Muslims, including two minors. Four of them were arrested on Wednesday. "They ran away when we shouted," Yogesh had said in the FIR.
In the video, Yogesh signs off by saying "I have nothing to do with the second incident (the violence and the murders). Why will the Bajrang Dal do such things?"
DGP Singh, asked whether it was an attempt to vitiate the atmosphere ahead of the anniversary of the demolition of the Babri mosque on December 6, said: "We are looking at all angles."