UP Assembly polls: At campaign crossroads, rediscovery of tahzeeb
Sidharth Nath Singh, spokesperson for the state BJP government, had accused Akhilesh of stealing water faucets while vacating his official bungalow in June 2018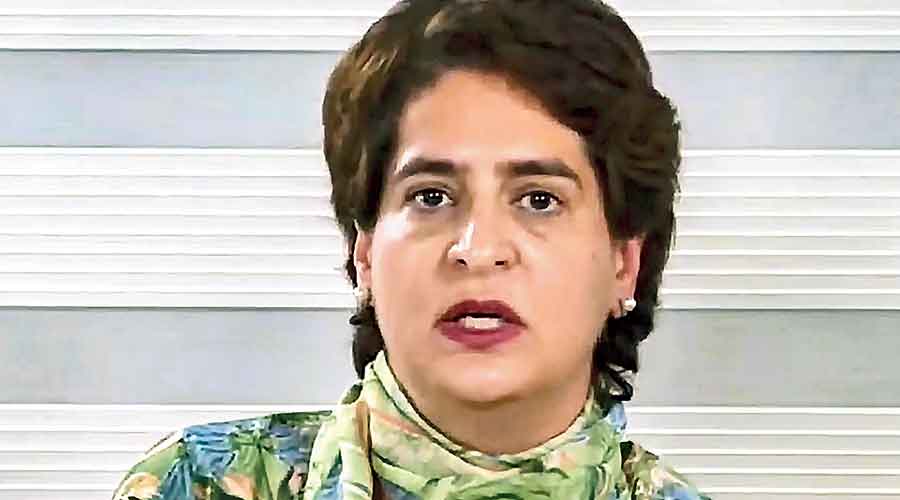 Priyanka Gandhi Vadra.
PTI Photo
---
Lucknow
|
Published 05.02.22, 03:25 AM
|
---
At 8.57pm on Thursday, Samajwadi Party president Akhilesh Yadav tweeted: "Ek dua salaam, tahzeeb ke naam (Greetings in the name of culture)."
एक दुआ-सलाम ~ तहज़ीब के नाम pic.twitter.com/dutvvEkz5W

— Akhilesh Yadav (@yadavakhilesh) February 3, 2022
With the text was a picture that showed Akhilesh and Rashtriya Lok Dal president Jayant Chaudhary standing on a rath (bus) with their hands folded and facing Congress general secretary Priyanka Gandhi Vadra, sitting atop an SUV on the other side of the road.
The two election processions had intersected in Bulandshahr city of western Uttar Pradesh.
At 9.56pm, Priyanka tweeted back with a video, saying: "Hamari bhi aapko Ram Ram (My greetings to you too)."
एक दुआ-सलाम ~ तहज़ीब के नाम pic.twitter.com/dutvvEkz5W

— Akhilesh Yadav (@yadavakhilesh) February 3, 2022
The video shows a smiling Priyanka looking at Akhilesh and Jayant, whose parties have struck an alliance ahead of the Uttar Pradesh Assembly elections while the Congress is going it alone.
Some other videos circulating on social media show Priyanka, Akhilesh and Jayant waving at one another.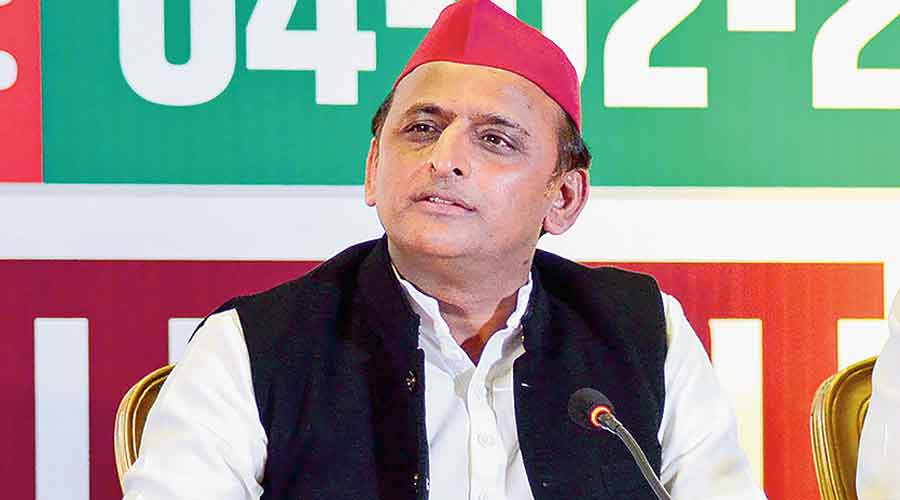 The Bulandshahr encounter offers a rare show of respect and goodwill among leaders of political parties at a time when voicing arrogance and spewing vitriol at opponents have been the norm in the state and the country as a whole.
Workers of political parties too have tended to clash when they run into each other at campaign time. But in Bulandshahr, the supporters of either side were seen cheering and clapping.
Less than a month ago, on January 11, BJP and Samajwadi workers had clashed in the Konch Nagar area of Jalaun district, leaving two people injured.
As the two groups were crossing each other, BJP members had chanted: "Akhilesh tonti chor hai (Akhilesh steals water taps)."
Samajwadi members had hit back with: "BJP vidhayak chor hain (The BJP's MLAs are thieves)."
Soon, punching and kicking broke out. The brawl continued for about five minutes before police, who were standing at a distance, separated the two groups. Sidharth Nath Singh, spokesperson for the state BJP government, had accused Akhilesh of stealing water faucets while vacating his official bungalow in June 2018. Akhilesh had said he had removed only stuff he had himself bought.
Samajwadi and BJP workers had previously clashed in Jhansi, on July 9 last year, during the panchayat elections.
This Assembly poll season, the Congress has already made a gesture of political courtesy towards the Samajwadis by desisting from fielding candidates in Karhal and Jaswantnagar, the seats Akhilesh and his uncle Shivpal Yadav are contesting.
Asked about the possibility of post-poll alliances if there's a hung House, Priyanka had told a news conference in Delhi on January 21: "If such circumstances arise, I would be open to considering that…. We would certainly want our agenda for the youth and women to be fulfilled if we are going to be a part of any such dispensation."
Before the two processions crossed each other's path in Bulandshahr on Thursday, Jayant had at a joint news conference with Akhilesh praised the rural job guarantee scheme, launched by the Congress-led UPA government, while hitting out at the BJP.
"The finance minister didn't mention the Mahatma Gandhi National Rural Employment Guarantee Act in her budget speech on February 1. This act had saved lakhs of farmers after they fled from their workplaces to their villages during the lockdown," Jayant, whose party has a strong farmer base, said.
"It was under this scheme that they got work in their villages during the pandemic, when the BJP governments at the Centre and the state had left them in the lurch."
Prime Minister Narendra Modi had in a speech in Parliament on February 27, 2015, described the job scheme as a "living monument to your (the Congress's) failures". But the programme has been widely acknowledged to have played a sterling role in containing rural misery during the pandemic.